This orange-cranberry vinegar and marinade recipe is easy to make, easy to can and tastes great!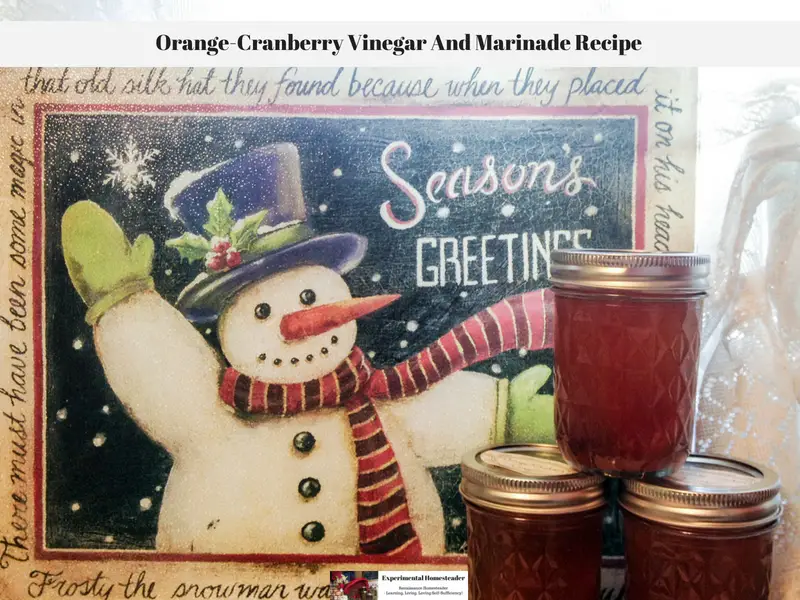 Perfect For The Holidays
Two of the main fruits one thinks of around the holidays are oranges and cranberries.
These flavors – alone or combined – seem to compliment other foods that are generally on the holiday menu.
Combined – the taste of oranges and cranberries – is a perfect marinade for turkey and chicken.
This vinegar is easy to make ahead of time – and I suggest you do – so the various ingredients that make up the vinegar have plenty of time to combine and mellow.
Makes A Great Gift Too
Not only does this orange-cranberry vinegar offer the perfect way to spice up your holiday meats, but it makes an excellent gift that is pretty and practical.
Keeping a variety of flavored vinegars on hand – along with squares of colorful fabric and ribbons – is an ideal way to make sure you have a gift for that unexpected guest that is sure to arrive over the holiday season.
Here is the recipe for the Orange-Cranberry Vinegar.
Canning instructions are included.
The marinade recipe follows this one.
Print
Print
I highly recommend the following articles:
Use the buttons in the upper right hand corner to share this article with friends or family who might find it useful. Pin the picture below to your pinboard on Pinterest for future reference.