Nothing tastes as good to me as home canned green beans in the middle of winter, which is why I wanted to share the process of preparing fresh green beans with you.
The ones I am preparing today were actually picked yesterday, which isn't ideal, but sometimes you just do the best you can.

Even though they are a day old, they are still fresher than the ones that come from the grocery store and you can still can them.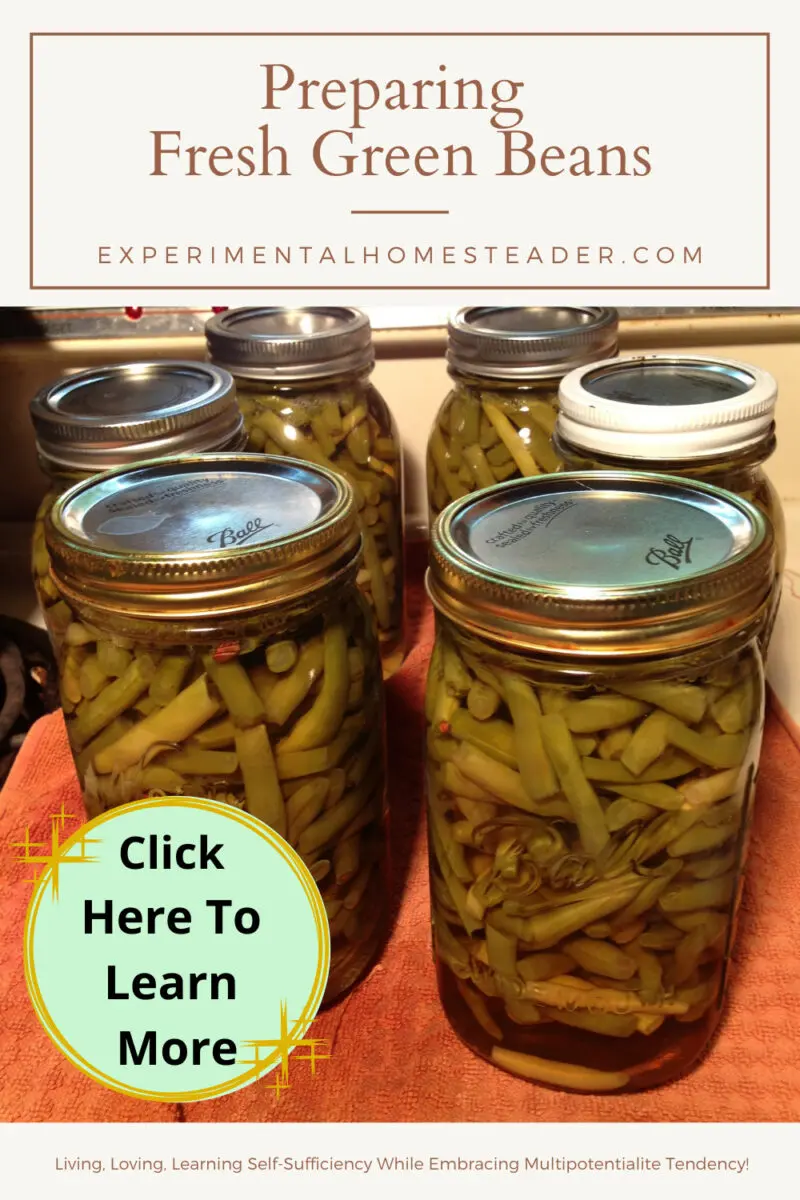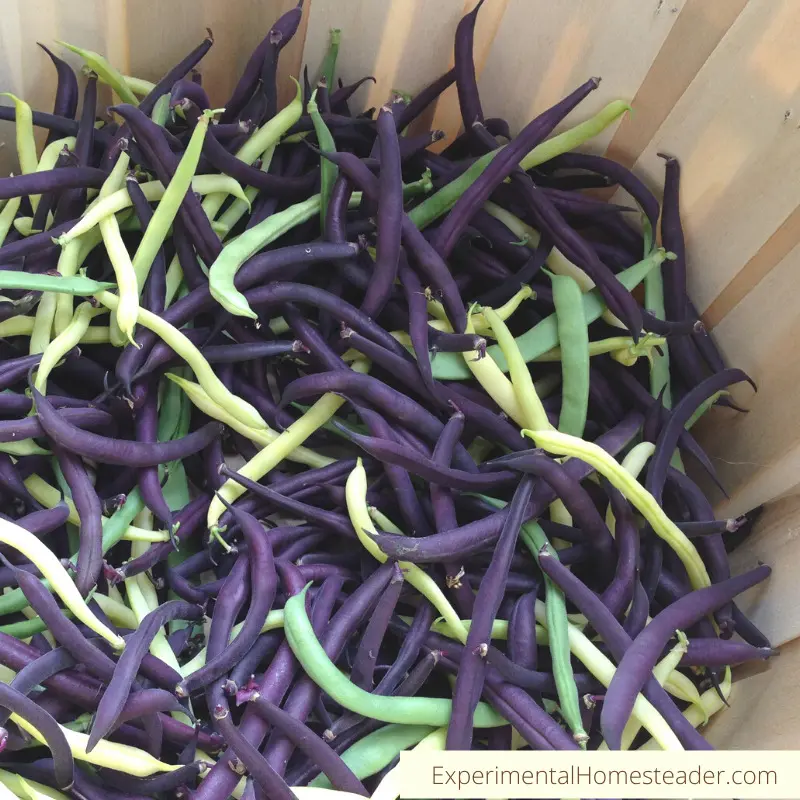 The First Step Of Preparing Fresh Green Beans
I made a video that I hope you watched that shows the first step in the process of preparing fresh picked green beans – whether they came from your garden, someone else's garden, a farmer's market or the fresh produce section of your favorite grocery store – to help you follow the process.
Once this process is complete, the green beans will be ready for the next step – and the process to complete that step depends on what you are going to do with them.
The first step is to rinse off the green beans and then start snapping both ends off of the green beans.
You can feed the ends to your chickens or pigs if you have some or put the ends in the compost pile.
Then snap each green bean in half – unless it's extra long and then you can snap it into thirds.
Basically each green bean piece needs to be approximately two inches long – but don't overthink this step!
If it's a little bit smaller, that's ok.
Sometimes little bits of leaves or other types of plant material stick to green beans. so be sure to inspect them and remove any plant material or bugs as you are preparing the green beans.
You may get a little bit of bean beetle damage on your green beans.
Now there's nothing wrong with the green bean unless it has a lot of damage.
Simply remove the bean beetle damage and give it to your chickens, pigs or even compost it.
Sometimes a knife is helpful for removing damage especially if you don't have sharp fingernails.
If it's a large area, you can just snap that area off and keep the good portion of the green bean.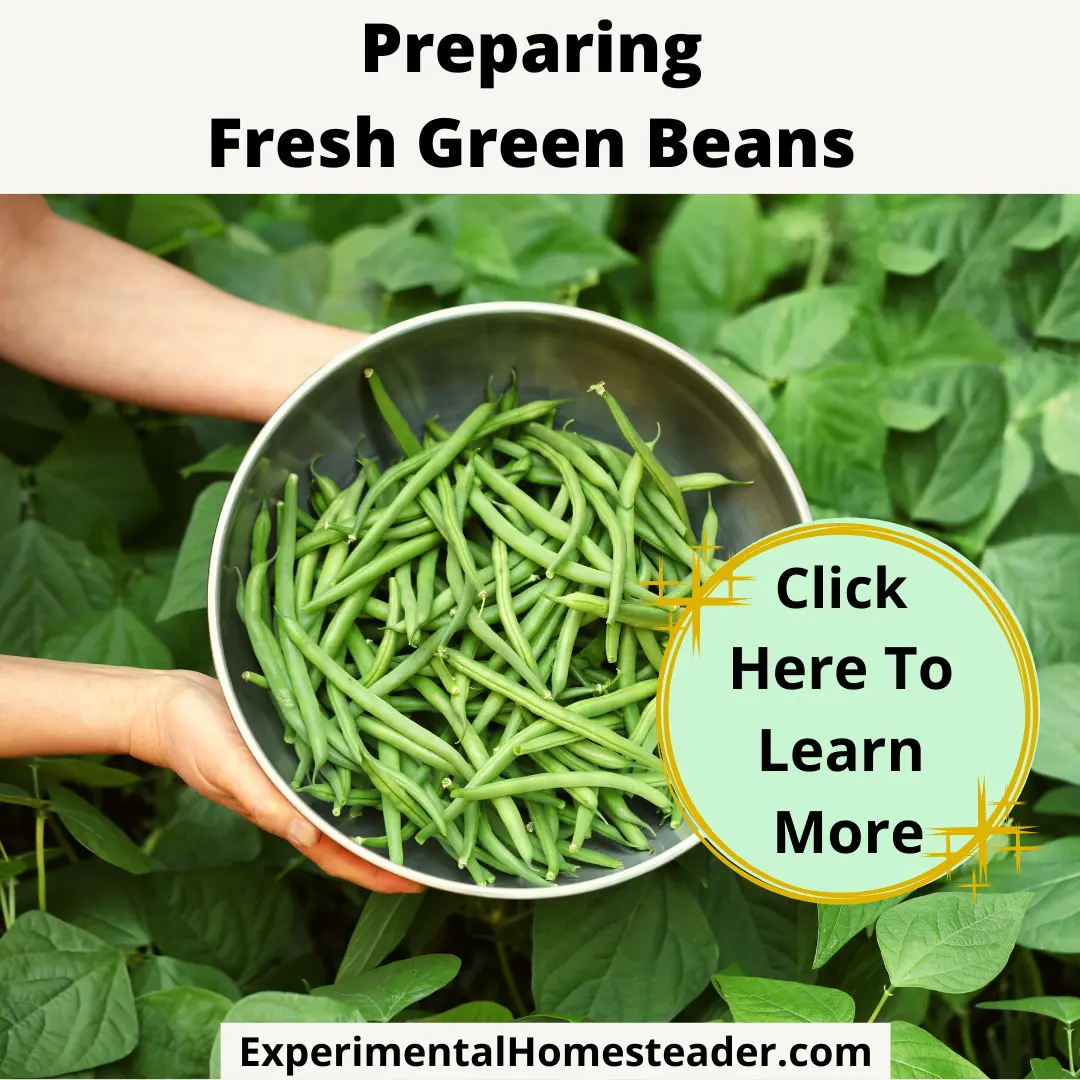 Next Pack The Green Beans Into Your Canning Jar
Before I can these, I will fill the bowl with water several times and dump it through a strainer just to rinse them off a few more times. 
I can pack quite a few green beans into a quart canning jar, which is plenty of food for a family.
If you are new to canning, it might be a bit harder for you to get your canning jars packed tightly, but you will learn.
I prefer to raw pack my green beans, so that is the recipe I am going to share with you.
I do use a recipe from the Ball Complete Book Of Home Preserving.
It is very important to always use tested recipes from a reliable source because canning recipes do change and some things that once were considered safe to can are no longer safe.
The last thing you want to do is make yourself or your family sick with a bad batch of home canned food.
Here is the recipe I use.
Print
Preparing Fresh Green Beans
Author: Sheri Ann Richerson
Prep Time:

1 hour

Cook Time:

40 - 45 minutes

Total Time:

1 hour 45 minutes

Yield:

7 quart

1

x
10 1/2

to

17 1/2

pounds

fresh green beans, washed and broken up into 2 inch pieces
Hot water
Canning salt* (optional)
Instructions
Pack raw green beans broken up into 2 inch pieces into a canning jar as tightly as possible to within an inch from the top of the jar. Do not be afraid to gently press down on the green beans in the jar to help compact them.
Add the canning salt if you are using it to the top of the canning jar. The amount is per jar.
Add boiling water to the canning jar. Use a butter knife or bubble popper to help release any trapped air bubbles. Be sure to leave an inch of air space at the top of the canning jar.
Sterilize your lids and bands, then wipe the top of the canning jar to dry it off.
Place the lid on the canning jar and follow with the band.
Screw down the band until resistance is met, then tighten it fingertip tight.
Place the canning jars filled with the green beans in a pressure canner.
Adjust the water level in the pressure canner according the pressure canner manufaturer instructions.
Lock the pressure canner lid and bring it to a boil.
Vent steam for 10 minutes, then close the vent – making sure to use your pressure canner manufaturers instructions.
Once the pressure canner has reached 10 pounds pressure, process pint canning jars for 20 minutes and quart canning jars for 25 minutes.
Turn off the heat and allow the pressure to return to zero. Never open a pressure canner lid until the pressure has fully released as it could explode!
Wait two minutes after the pressure has returned to zero before opening the vent and removing the lid.
Once the canner lid is removed, wait for 10 minutes before removing the jars.
Sit the jars on a towel on a table away from the heat of the oven and allow them to cool overnight.
Remove the bands and check the lids to make sure they are sealed. If they are tightly sealed, go ahead and label the lid with the name of the item and the date. If they are not sealed, refrigerate them and use them right away or reprocess using new bands. Be sure to check the top of the jars if they did not seal to make sure there are no small cracks or chips you didn't see.
Keywords: green beans, canning green beans
Recipe Card powered by
How Long Does A Quart Jar Of Green Beans Last?
Since we are a family of two – and my husband doesn't eat many vegetables, a quart jar will last two to three meals.
I typically prepare the entire jar and put the leftovers in the refrigerator.
That way instead of spending 45 minutes cooking the green beans and liquid down, all I have to do is heat up the leftovers.
If you prefer to just take out what you want, you can set the leftovers in the canning jar in the refridgerator and it's good for up to a week that way.