I prefer to can apples even though it is more work in the beginning, so having a few favorite apple canning recipes is important.
I have canned them with and without peels.

Most people peel theirs before canning, but it is really up to you what you do.
If you don't mind the peels, don't bother removing them.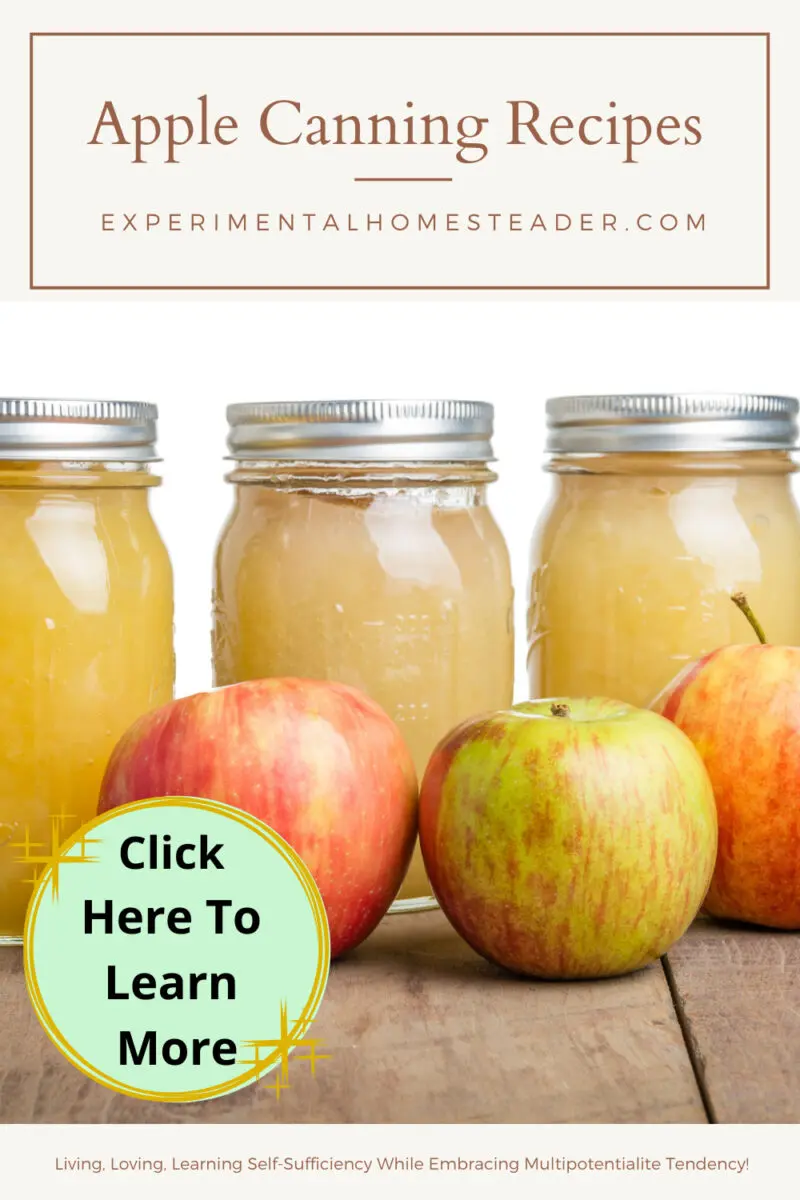 A Brief History Of Canning
Apple canning is the process of preserving apples by sealing them in canning jars.
This process has been around for many years and finds its origins in the middle of the 19th century.
The first person to develop apple canning was Parisian confectioner Nicolas Appert known as the "father of canning", who published his method in 1810.
He wanted to find a way to preserve food without relying on drying it, smoking it, fermenting it or pickling it, which at the time was the only methods available for food preservation.
How to safely store food back then was such a big problem that the French Army offered 12,000 francs to anyone who could find a way to safely preserve food.
Apple Canning Recipes For Winter Preservation
Canning apples is a great way to preserve and store the apples for use during the winter.
The process of canning, while not required, does add an extra layer of protection for our apple harvest so the apples do not go bad during storage.
The canning process starts with peeling and coring your apples so that they are ready to be used in other recipes such as apple pie or turnovers.
The peels left over from peeling and coring can be used in apple cider vinegar, apple chips or jelly.
Next, you need to sterilize your jars by either boiling them in water for five minutes or running them through a dishwasher on high heat.
Even if you run them through a dishwasher, I highly suggest sterilizing the jars by boiling them in hot water.
If you don't sterilize your jars then any bacteria that may remain on them will
Numerous Apple Canning Recipes
There are many recipes for canning apples and I think I have tried them all, however, a friend said to me one day that canning apples in a plain syrup was the best way because they can be used for anything.
I thought about this and decided she was right.
Once you can apples for a specific purpose they may have an ingredient in them that makes them unsuitable for another use, so now I can all my apples using a light syrup.
Here is my recipe.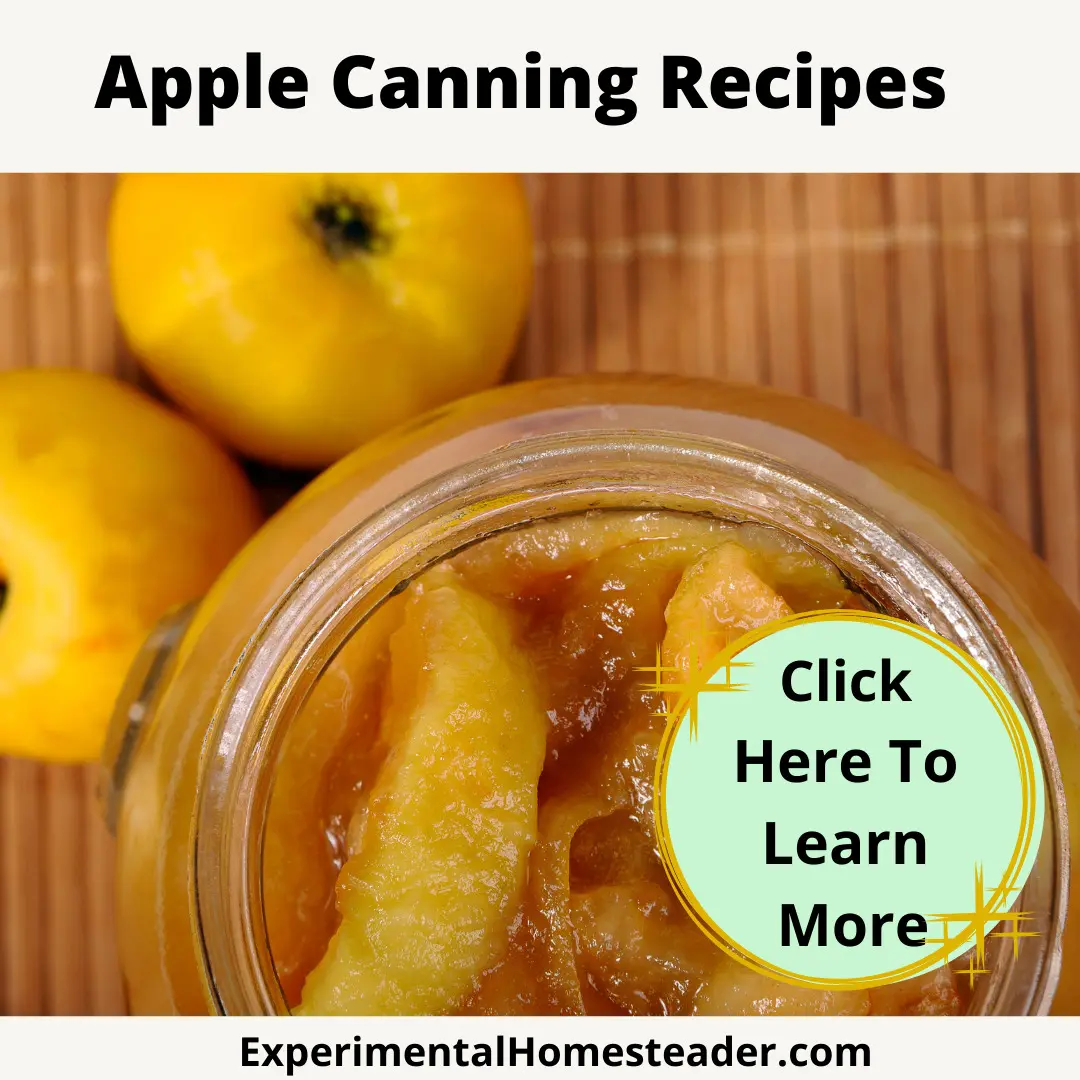 Print
Apple Canning Recipes
Instructions
Combine sugar and water in a stainless steel pan.
Bring to a boil, stirring constantly.
Once the sugar is dissolved, reduce the heat to low so the syrup remains warm.
Fill clean, sterilized canning jars with apple quarters. Be sure to run your fingers around the tops of the jars before using them to check for tiny nicks. If you find any, those jars are no longer useful for canning.
Cover the apples with the water and sugar syrup you just made. Leave 1/2 inch air space at the top of the jar.
Wipe the top and edges of the jar with a clean, damp cloth.
Put a clean, sterilized, new lid on the jar, add the band and screw it down until it is fingertip tight.
Process both pints and quarts for 20 minutes.
Turn the heat off under the canning pot once the 20 minutes is up.
Remove the lid, but allow the jars to sit under the water for 5 minutes longer.
Carefully remove the jars. Set them aside and allow them to cool overnight.
Remove the bands and check the seals by gently prying them with your fingertips.
If the jars are sealed, replace the bands, label and store in a cool, dark, dry place.
If the jars are not sealed you can either select a new lid and attempt to seal the jars again or put the food into your refrigerator and use it up.
Recipe Card powered by
Ideas For Using Canned Apples
Canned apples are a very convenient fruit to have on hand, and can be used in a variety of dishes.
Canned apples are a perfect substitute for fresh apples when it comes to fruits.
These are soft and sweet.
They are packed with nutrients too.
Canned apples are also easy to store and have a long shelf life.
You can use these canned apples in different ways or purposes, some of which are listed below.
You can use them in baking muffins, brownies, bars or cakes.
You can also add them to your oatmeal for a healthy breakfast option.
Canned apple slices make for a great addition on salads or as an accompaniment with any dish that needs some spicing up with sweetness and flavor.
Canned apples can also be used for making apple pie, making apple sauce, making fried apples or any of your other favorite apple recipes.
You can even turn canned apples into apple jelly.