Disclaimer: I received a Shiitake Mushroom Kit for free from Fungi Perfecti in exchange for my honest review. All opinions are my own.
We received a Shiitake Mushroom kit from Fungi Perfecti, so in this post, you'll learn all about dehydrating shiitake mushrooms as well as a little bit about the growing process.

While shiitake mushrooms are great to grow and eat fresh, you are able to extend their life by dehydrating them for later.
Getting Started Growing Shiitake Mushrooms
I set up the Shiitake mushroom kit in the corner of the kitchen and was able to get the kit started.
However we decided within a week or so to move the Shiitake Mushroom kit to the basement since it really needed darkness for the mushrooms to get started.
Later on, we moved it to the greenhouse once the mushrooms were growing, setting it in a corner that was partially shaded.
The saucer the kit sat in with rain water and waited to see what would happen.
We noticed more Shiitake Mushrooms were beginning to form.
This was super exciting as it's fun to watch your efforts and hard work turn into real food!
Yesterday we removed those mushrooms noticing more were forming underneath of the ones we were removing.
We know that they will continue to produce additional mushrooms that we can eat or sale and this is exciting.
To try your hand at growing mushrooms, I encourage you to visit Fungi Perfecti and choose one of their ready to grow kits.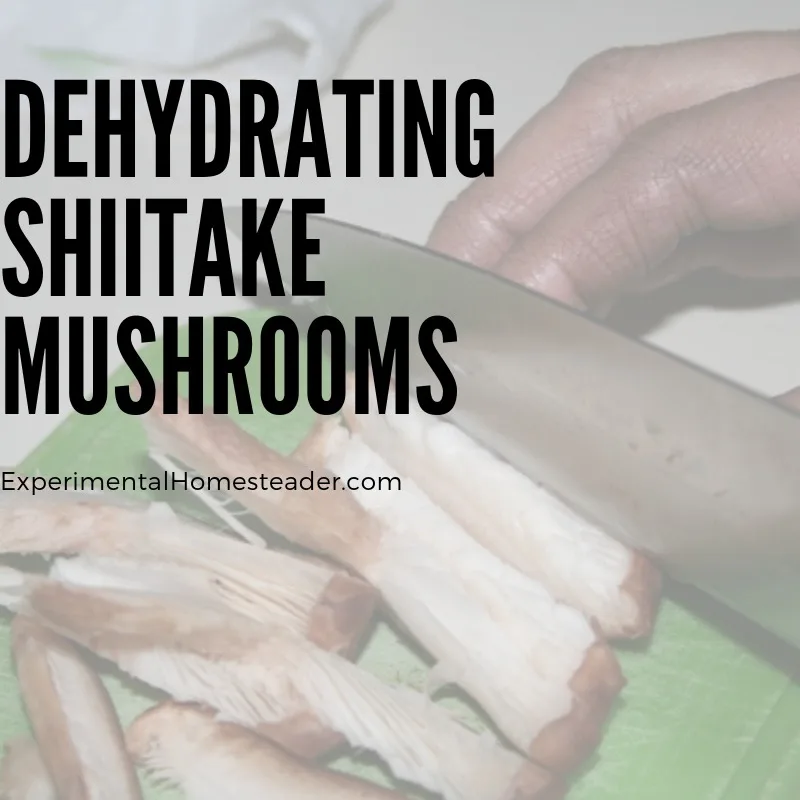 Shiitake Mushrooms Are Not Poisonous
Some people tend to stay away from all mushrooms because they are fearful that they contain poison.
While it's super important to educate yourself on the types of mushrooms before eating them, you can rest easy that shiitake mushrooms are not poisonous.
In fact, eating Shiitake Mushrooms are a healthy choice!
So, here is what you need to know about dehydrating Shiitake Mushrooms right in your own kitchen!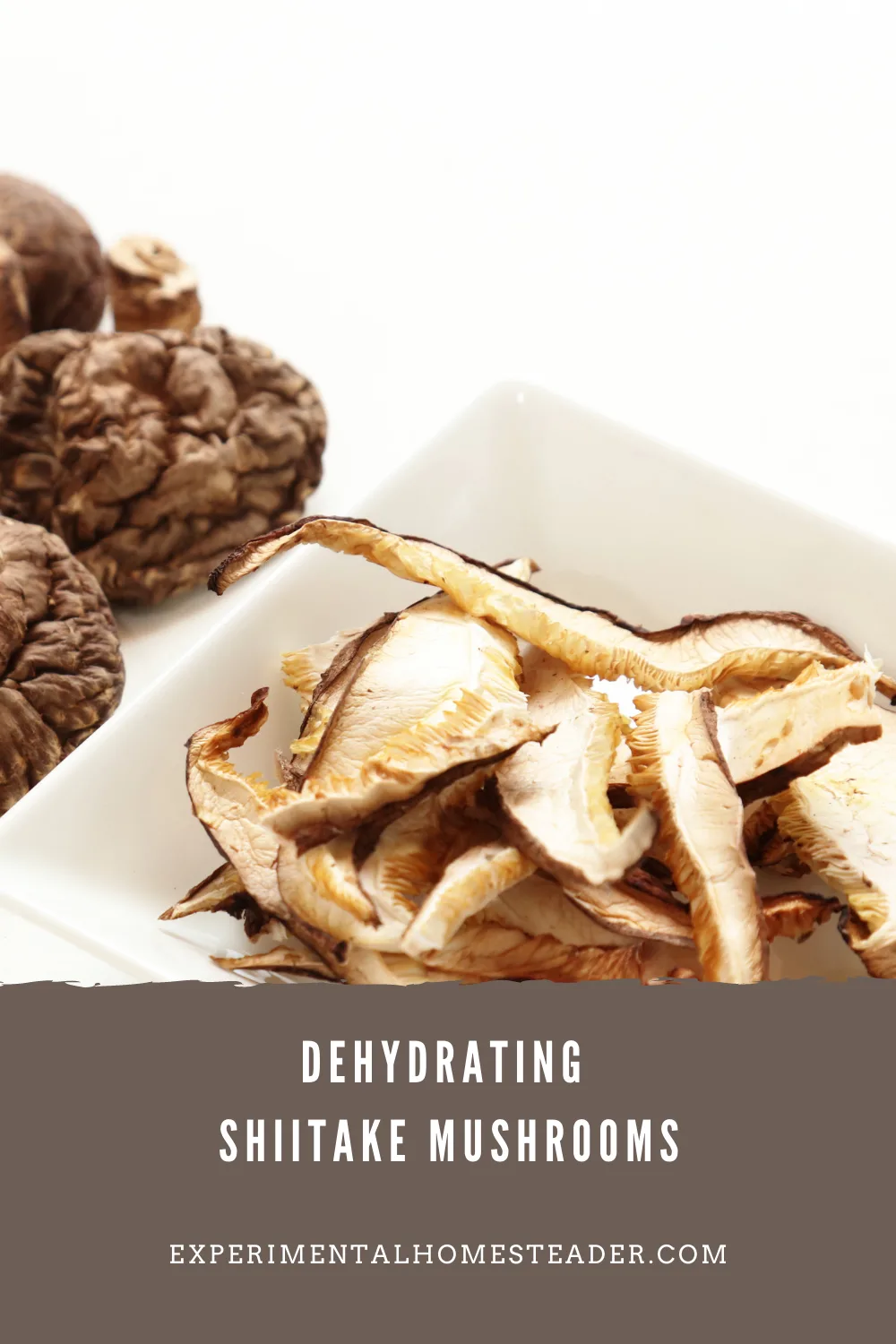 Print
Dehydrating Shiitake Mushrooms
Author: Sheri Ann Richerson
Prep Time:

30 minutes

Cook Time:

8 hours

Total Time:

8 hours 30 minutes

Yield:

1 cup

Category:

Condiments

Method:

Dehydrating
Shiitake Mushrooms – fresh
Instructions
Once the Shiitake Mushrooms were removed, we brought them inside and rinsed them under cold running water, then set them aside on a plate.
The next step in the process involved cutting them into either 1/8 inch slices or 1/4 inch slices and removing any of the stem pieces that were tough.
My initial concern was that these slices looked pretty big and I was not sure they would dry quickly.
The instructions I found on dehydrating mushrooms said they should dry within 6 to 8 hours.
Once all the Shiitake Mushrooms were sliced, it was time to put them onto the dehydrator tray. I have several dehydrators, some with fans, some without fans. I chose to use one without a fan that simply used a gentle heat only. Jerry felt this method would be the one that most resembled drying in natural sunlight.
I laid the pieces of the Shiitake Mushrooms onto the drying rack, making sure there was plenty of space around each piece so the heat could easily circulate and they would dry evenly.
Every hour I would go in and turn the Shiitake Mushrooms over so the heat could heat both sides equally.
Within about six hours, the mushrooms were dry.
I left them sit on the trays in the dehydrator overnight so they would cool and I could check to make sure they were done.
I checked them for dryness by trying to bend one. It snapped easily, so I knew they were done.
From the dehydrator tray they went into a glass jar with a screw on plastic lid.
The jar was labeled with the contents and the date, then put into a cool, dark cabinet for storage.
Keywords: dehydrating shiitake mushrooms, shiitake mushrooms, dehydrate mushrooms
Recipe Card powered by

Can You Eat Dried Shiitake Mushrooms?
While it's possible to eat them, the taste and flavor aren't going to be appealing.
Before deciding to take a bite, you'll want to rehydrate them following the simple steps below.
That way, they're plump and get back some of the deliciousness they had when they were fresh.
How Do You Rehydrate Shiitake Mushrooms?
After you've taken the time to dehydrate them, it's not hard to rehydrate them for later use.
All you need to do is start a pot of boiling water on the stove.
Once that water is boiling, drop in the dehydrated shiitake mushrooms and let them boil for about 20 minutes, give or take.
You'll notice that after that time, they're back to their original size!
If they still look too small, boil them for an additional five minutes.
You can then proceed in adding them to any recipes that you want.
Another option is to soak them in room temperature water or another liquid such as a broth.
You can also toss them into a homemade soup base and they will rehydrate on their own as the soup cooks.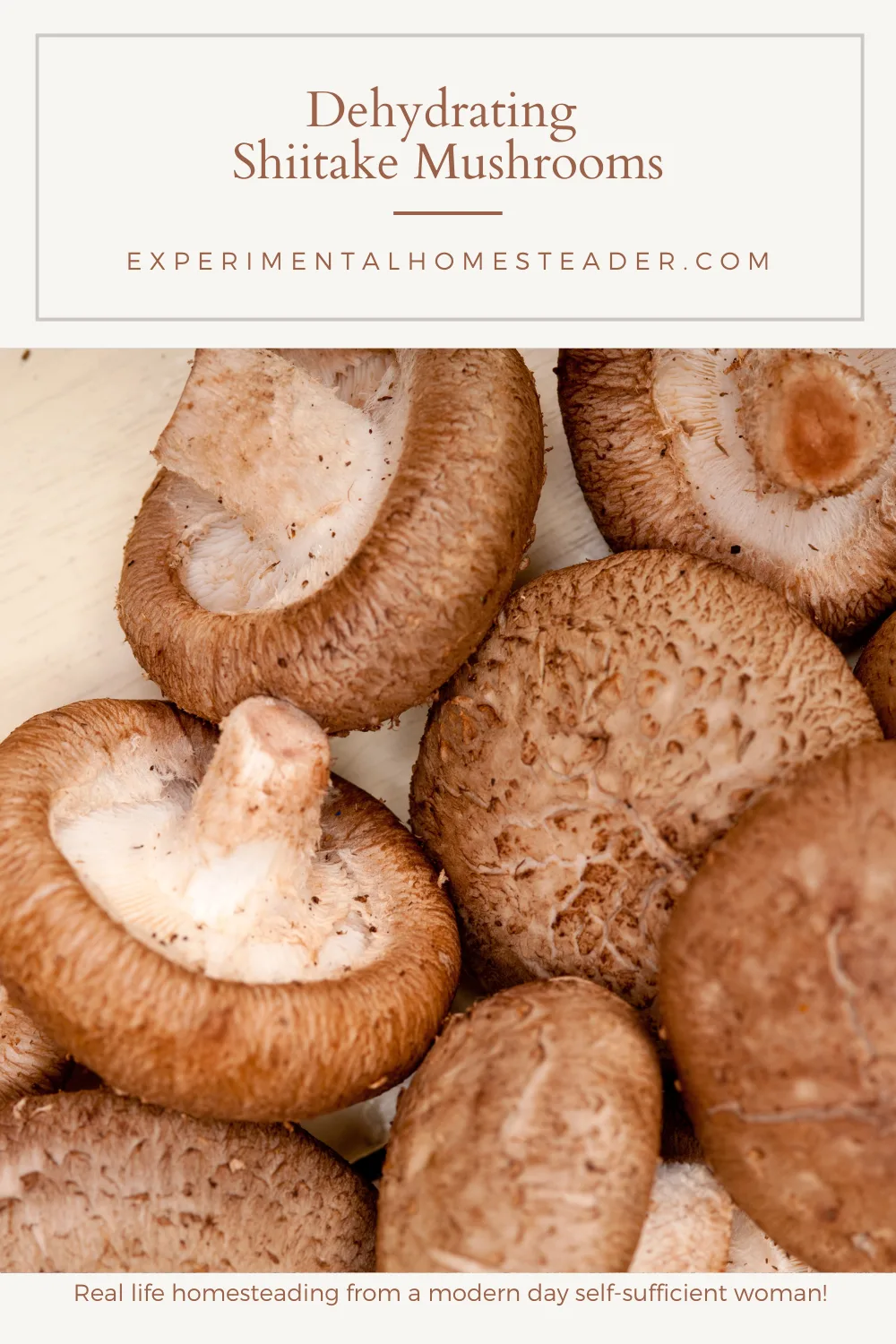 How Do You Store Dehydrated Mushrooms?
Once you dehydrate them, you'll want to store them in a sealed plastic bag or airtight container.
My favorite place to store them is in canning jars.
It is recommended to keep them in the refrigerator or the freezer after they are dehydrated and in containers.
Leaving them out on the counter can cause them to go bad quickly but keeping them in a cooler temperature can help their longevity.
How Long Will Dehydrated Shiitake Mushrooms Last?
As long as you are sealing them properly and storing them in a cool, dry place, they can last up to nine months!
That's quite the timespan for fungi.
However, their quality might begin to degrade after six months in storage.
There you have it.
As you can see, dehydrating shiitake mushrooms doesn't have to be a scary process!
These simple steps will ensure that you are doing it properly the first time.
Questions or comments?
Leave them in the comment section below!
For those of you who love mushrooms, or like to hunt mushrooms, be sure to check out this article on Morel Mushrooms – Nature's Frugal Food.