If you're looking for an easy organic goat milk soap recipe that starts with a pre-made organic soap base, look no further!
Best of all, this organic goat milk soap recipe gives you the option to use a store bought organic goat milk soap base or make your own using your favorite goat milk soap recipe and organic ingredients including your own goat milk!

Instead of using a goat milk soap base recipe that I made myself, I decided to purchase the base just to see what the actual ingredients are and how it stacked up against soap made from scratch.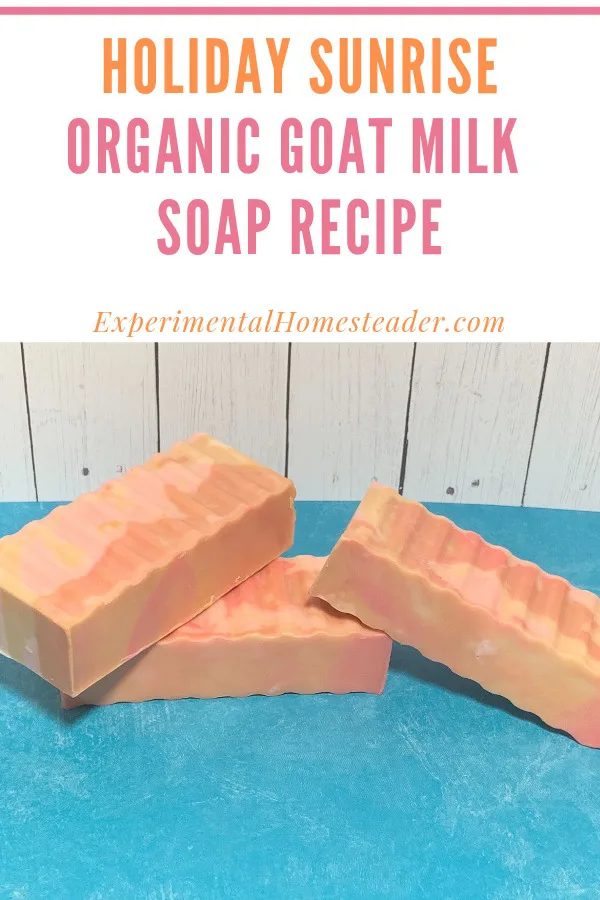 Organic Goat Milk Soap Base
I have to admit I really liked working with the pre-made organic goat milk soap base and I loved how easy it was to add in the essential oils of my choice.
I liked that the ingredients in the organic goat milk soap base I chose were simple and ones I would use in a homemade soap recipe.
When the organic goat milk soap base arrived, it was very smooth and kind of soft, which at first worried me.
My first thought when I cut into it was, this cuts just like soap I make myself when it is freshly cured and ready to be removed from the mold so it can finish the curing process.
However, once the goat milk soap base was melted, the essential oils were added and it was molded, then cured for six weeks, the soap was hard.
It lathered up nicely, was able to get dirty hands clean and was long lasting.
I intend to use this particular organic goat milk soap base again to make soap when I am simply running out of time to do it all from scratch.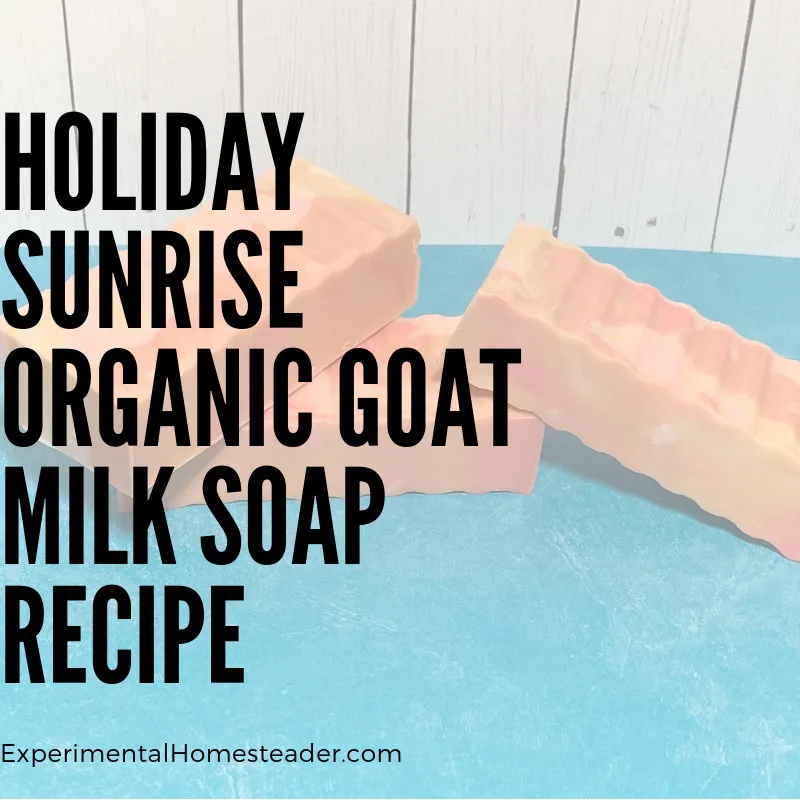 Organic Goat Milk Soap Recipe
Here is my recipe for a soap I decided to call Holiday Sunrise due to the colors of the soap once it finished curing!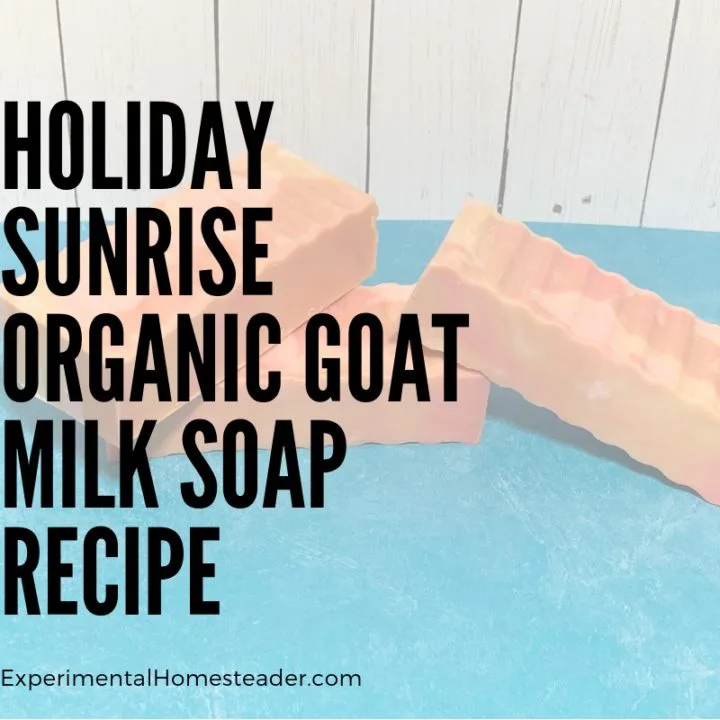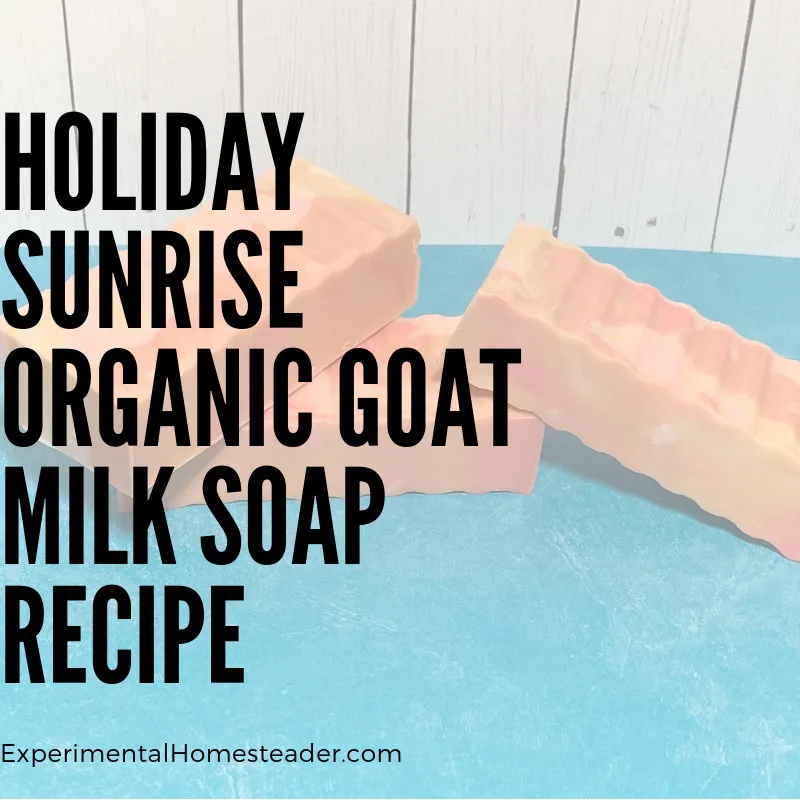 Holiday Sunrise Organic Goat Milk Soap Recipe
Additional Time:
1 month
11 days
14 hours
Total Time:
1 month
11 days
15 hours
30 minutes
Instructions
Combine the essential oils in a glass container and set them aside.
Measure both melt and pour soap bases and put them in a soap melting pot or double boiler to melt.
Once the soap bases are melted, remove them from the heat and stir to combine them.
Separate the soap into three containers. Glass measuring cups work perfectly for this.
Add the pink mica powder to one glass measuring cup and the gold mica powder to a second glass measuring cup.
Stir to combine.
Allow the soap to cool slightly and then add in the essential oils.
Stir to incorporate the essential oils into the soap.
Pour a layer of white soap in the bottom of the soap mold, reserving just enough to make one more thin layer in the mold.
Pour the pink soap on top of the white soap.
Add the rest of the white soap to the top of the pink soap.
Scrap out any remaining pink soap from the glass measuring cups and add it on top of the white soap.
Top it all off with the gold soap, reserving just a little bit of the gold soap.
Let the soap sit for a couple of minutes then drizzle the rest of the gold soap on top. If the soap has set long enough, the soap you drizzle with not completely sink into the soap, but rather sit on top of it which is how the rough surface on the top of the soap is made.
Set the soap mold aside and let it dry overnight.
Once the soap is cooled and fully hardened, place your hand over the top of the soap mold and turn it upside down over a sink. The soap will come out.
Set the soap on freezer paper and cut it into bars.
Set the bars aside, on freezer paper, and allow them to cure for at least two weeks. I like to cure mine for six months and then wrap them in Saran Wrap to store.
Notes
*most vanilla and rose essential oils are pre- mixed with an oil and this is ok.
Why Make An Organic Goat Milk Soap Recipe?
The reasons vary a lot on why someone might want to make an organic goat milk soap recipe.
For me it is all about knowing what is in my soap and avoiding allergies.
I have a really hard time with store bought soaps because most of them contain artificial scents that are overpowering and that is something both myself and my husband have allergies to.
I also don't like buying products that contain ingredients I can't pronounce or have no idea what they are.
I also really like the idea of customizing my soaps.
I can make them any color I like using micas, which are natural or I can simply leave the soap its natural color.
Scents are easy to mix in glass containers so I can get a whiff of them before I actually put the scent into the soap base.
This is great because I know almost immediately if I am not going to like the scent or have an allergic reaction to it.
I also have the option to lightly scent the soap or make the scent a little stronger, which is often the preference of other people when I make soap to sell.
Of course, there are many other reasons why someone would want to make an organic goat milk soap recipe.
What are your reasons?
Feel free to leave them in the comment section below!
Melt And Pour Soap Making Recipes