Learn how to make bird shaped bread with this tutorial.
It's fun to create bread or dinner rolls in usual shapes and this bird shaped bread is no exception.

Think of it like working with play dough.
If you can imagine it, you can create it.
The difference is, bread rises and continues to rise during the baking process so – like my bird, it may look great when it goes into the oven, but come out looking different.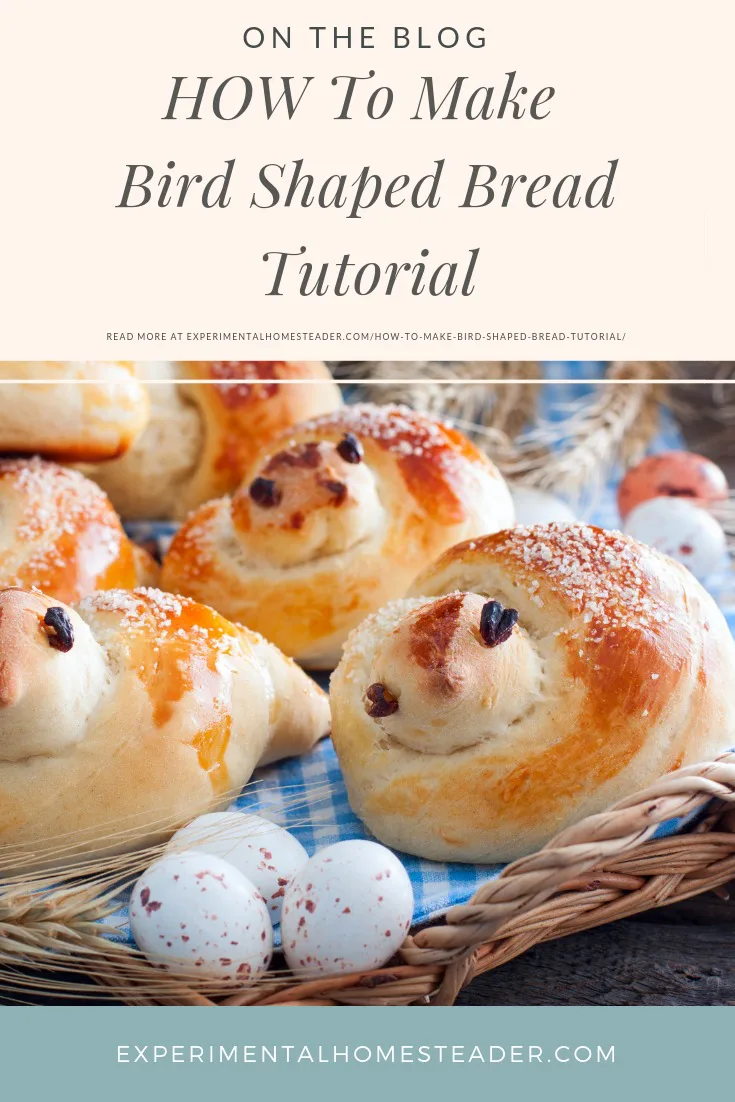 How To Make Bird Shaped Bread Look Good
One way to make your bird shaped bread look great is to insert candy or other edible items that do not degrade if they are baked.
Colored bread dough is one option, simply insert it where you want the eyes or other noticeable features to be before you bake your bread.
To help it adhere to the bread you shaped to look like a bird, use a little water to dampen the existing dough as well as the colored dough.
Adding herbs to the bread dough – or decorating the dough with flax seed, poppy seed or other grans before you bake it is also another great way to add texture, dimension and features such as eyes, beaks and wings.
There is also the option of painting features on after the bread is baked and cooled.
Use food coloring straight or dilute it in water or vodka.
This would be a fun project for kids and parents to do together, not to mention a great way to have your kids or grandkids help out in the kitchen.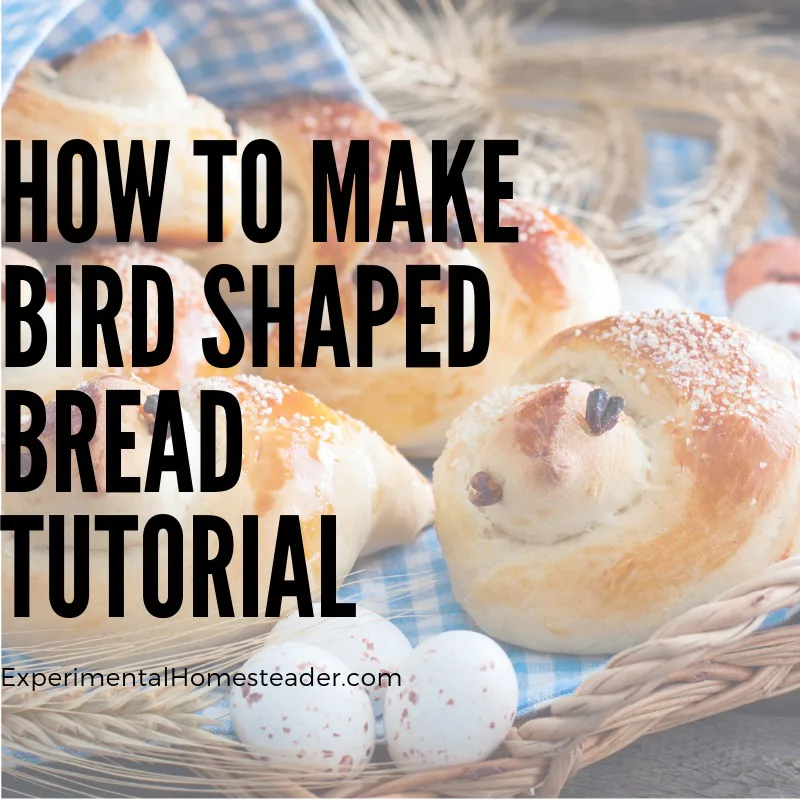 How To Make Bird Shaped Bread
The first step is to think about how large I wanted the bird shaped bread to be when they were done cooking.
I knew they would be double the size – and maybe even end up slighter larger – so I started out by making them half the size I eventually wanted them to be.
It is important to grease your hands and work surface well before doing this or the dough will stick.
I chose to grease my hands with a bit of vegetable oil instead of flour, although flour is an option.
I tore off two small pieces of dough from a batch of bread dough.
I rolled one piece into a log shape for the body and the other, smaller piece into a circle for the head.
Once the pieces of dough were rolled into shape and proportionate to one another, dampen both pieces of dough with a little water.
Then set the head on top of the body and lightly pinched the two pieces of dough together to form the bird shape.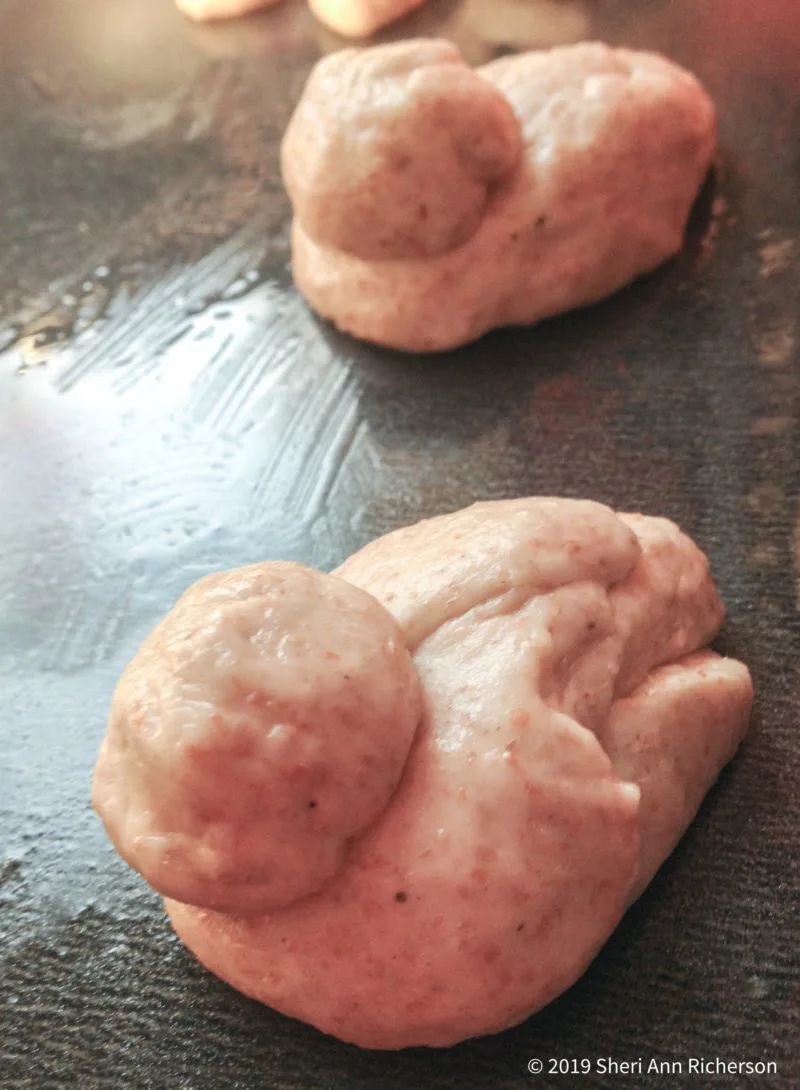 Use a little water to smooth out the dough.
Then began to sculpt the bird using a bamboo skewer and your hands.
I wanted my bird to have a pointed tail so I gently pulled the back of the bird body into a pointed shape and pinched and pressed the dough into the shape I wanted.
Then use the bamboo skewer to press the shape of the birds wings into the body.
Press deeply to make sure when the bird was baked you could still see the outline of the wings.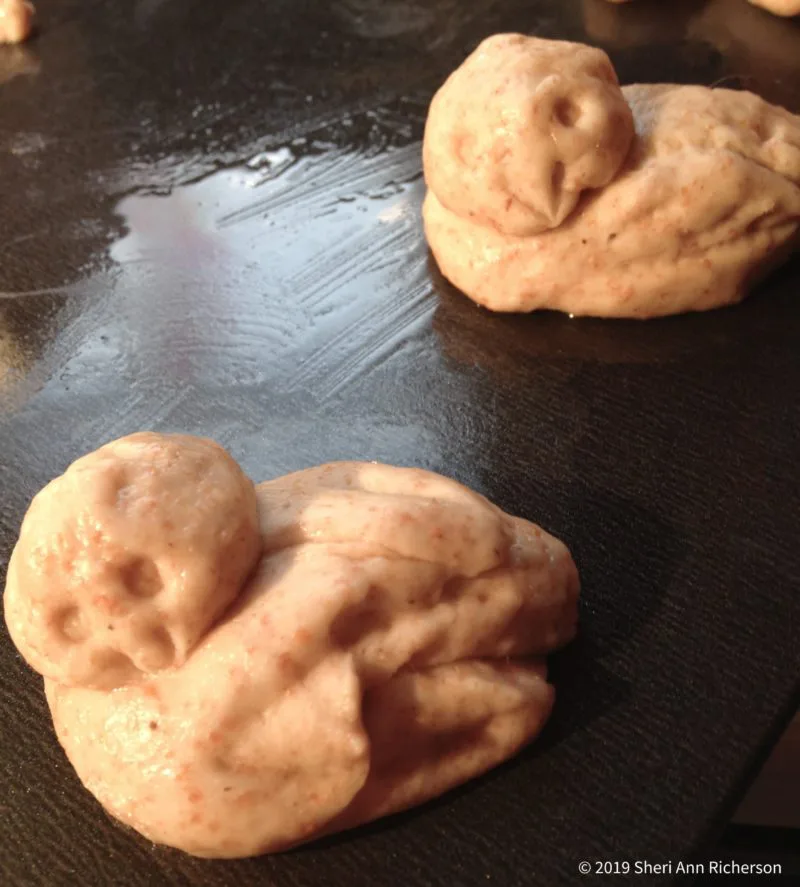 The last step is to use the bamboo skewer to create the wings, birds eyes and beak.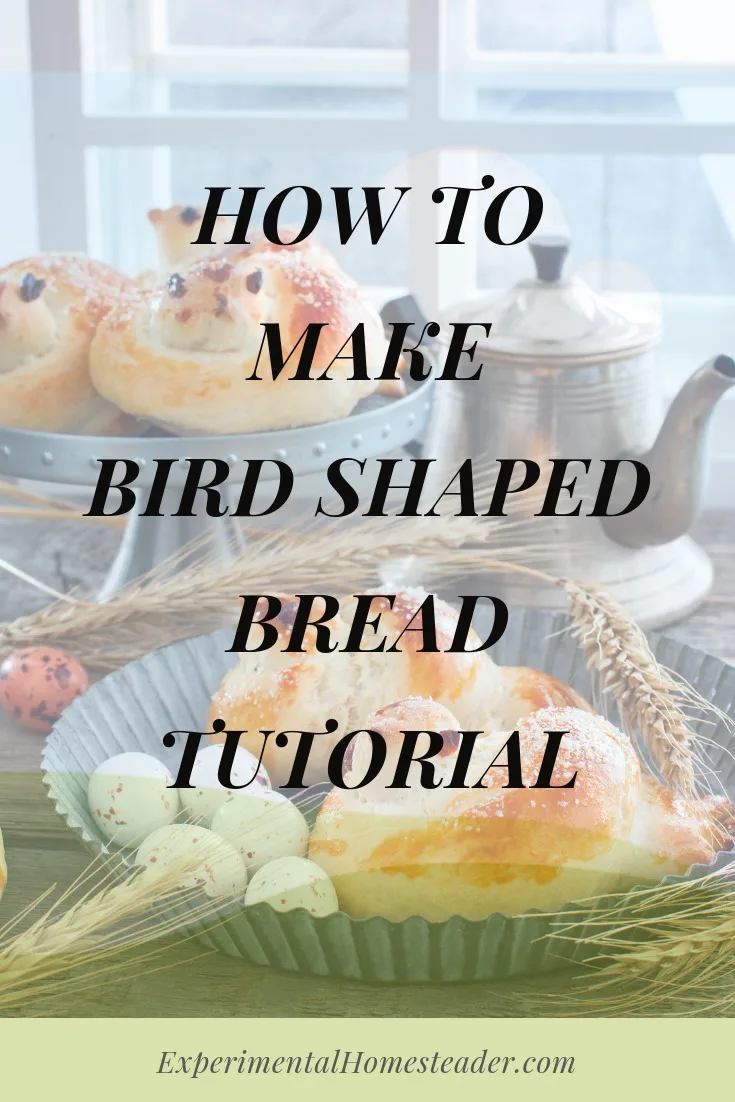 My Favorite Honey Wheat Bread Recipe
Here is one of my favorite bread recipes:
Print
Honey Wheat Bread Recipe
Author: Sheri Ann Richerson
Prep Time:

2 hours 40 minutes

Cook Time:

25 minutes

Total Time:

3 hours 5 minutes

Yield:

1 1/2

pound loaf

1

x
Category:

Bread

Method:

Bake
Instructions
Make sure the water you use is warm, but not hot, then stir the yeast into the water and set it aside.
Mix well.
Add the honey, Extra Virgin Olive Oil and the yeast mixture.
Stir until the the dough is moistened and all the ingredients combined.
Sprinkle a light coating of flour on your hands and onto the area you intend to knead the dough on.
Place the dough onto the floured area. The dough should be sticky.
Knead the dough for 10 to 12 minutes. The dough should feel soft like a baby's bottom and easily form into a ball shape. 
Sit the dough aside to rise for about an hour – or until it is double in size.
Punch the dough down in the center and then shape it into whatever shape you want.
Allow the shaped dough to rise for another hour – or until double in size.
Bake at 400 degrees Fahrenheit for 20 to 25 minutes.
Slather butter on top to soften the crust, remove from the pan and allow to cool slightly before serving.
Notes
Bread Machine Users – combine all ingredients and follow the instructions on your bread machine.
Keywords: how to make bird shaped bread, bird shaped bread rolls, bird shaped bread
Recipe Card powered by
Final Thoughts On How To Make Bird Shaped Bread
This is a really fun project!
I'd love for you to share some photos of the bird shaped bread you make if you decide to do this project.
You can use any bread recipe you like, but the one I shared here works great.
Give it a try and let me know how it turns out.