This easy homemade dinner rolls recipe is baked inside a wood stove in a cast iron skillet.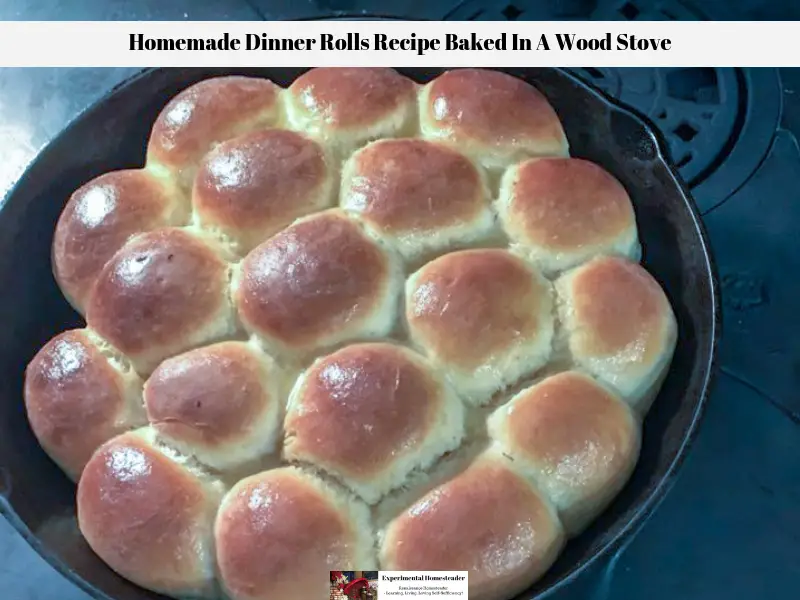 There are technically two ways to bake this homemade dinner rolls recipe on a
wood burning stove
.
This particular recipe talks about how to make them inside a wood stove, however it is also possible to bake them on top of a wood stove if you don't have a way to sit a pan level inside your
wood burning stove
.
Tips For Baking This Homemade Dinner Rolls Recipe In A Wood Stove
This recipe is easier to make using an old fashion wood burning cook stove because they have an oven similar to what we have today, only smaller.
This means there is no chance of wood ash getting on the dinner rolls or the bottom scorching because the
cast iron skillet
was set too close to the fire.
However, if you don't have a regular wood burning cook stove, there is no reason why you cannot try this inside a regular
wood burning stove
or even on top of it.
Here are some tips for baking this homemade dinner rolls recipe in a wood stove.
Place a grate inside the wood stove that sits slightly above the wood ashes and is level to place the cast iron skillet on.
Be sure the flames have died down and all that you have left is hot ashes.
Cover the skillet for the first ten minutes and then remove the cover to finish baking them and to allow them to brown on top.
Do not get in a hurry because the time it takes to make this recipe is going to vary depending on how hot the inside of your wood stove is.
Keep an eye on what you are doing so you do not overcook or burn the dinner rolls.

Here is the homemade dinner rolls recipe:
Print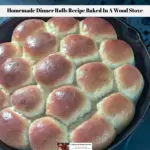 Homemade Dinner Rolls Recipe Baked In A Wood Stove
---
Author:

Prep Time:

10 minutes

Cook Time:

20 minutes

Total Time:

30 minutes

Yield:

18 dinner rolls

Category:

Breads

Method:

Wood Burning Stove
Ingredients
1 cup plus 2 tablespoons warm water
⅓ cup oil
2 tablespoons active dry yeast
¼ cup sugar
½ teaspoon salt
1 egg
3½ cups flour
---
Instructions
Check the temperature of your wood stove using a wood stove thermometer to make sure it is around 350 degrees Fahrenheit. If it is hotter, open the oven door to cool it down and if it is cooler, add some small twigs to heat it up.
In a large bowl combine the water, oil, yeast and sugar. Set this aside and allow the mixture to rest for 15 minutes while you prepare the other ingredients.
Add 2 cups of the flour, the salt, and the egg to the yeast mixture and stir to combine.
Add the remaining flour ½ cup at a time making sure to mix the flour into the dough before adding more.
Separate the dough into 18 equal sized sections.
Roll each section into a ball.
Place the dough balls into a cast iron skillet. They will be close together and this is ok.
Let the dough rise in the cast iron skillet for 10 minutes.
Cover the cast iron skillet with a domed lid.
Place the cast iron skillet in the oven and bake for 10 minutes.
Remove the lid and continue baking another 10 minutes, or until the tops are just golden brown.
Once the tops are golden brown, remove the cast iron skillet and place it on top of the cast iron oven to brown the bottom of the biscuits. This takes about 5 minutes.
Notes
Note: If your cast iron oven is hotter than 350 degrees Fahrenheit, the time for baking this homemade dinner rolls recipe is going to change. For example, if the oven is closer to 400 degrees Fahrenheit this recipe might be done in as little as 10 minutes.
Keywords: homemade dinner rolls recipe, homemade dinner rolls, homemade dinner rolls, cooking wood stove, cooking wood burning stove
Recipe Card powered by
Final Thoughts About Making This Homemade Dinner Rolls Recipe In A Wood Stove
Brushing the top of the dinner rolls with a little butter as soon as they are finished baking is going to keep the top of this homemade dinner rolls recipe a little softer, but don't worry it won't make them soggy, even if some of the butter drips down into the cast iron skillet.
For those who do not have a wood burning stove, as mentioned above this recipe could be made over an open fire, but make sure the flames have died it.
It could also be made inside of a standard oven in a cast iron skillet.
However you make this homemade dinner rolls recipe, the point of the article was to show you that even if the grid goes down for whatever reason such as a winter storm or natural disaster, you can still eat good homemade food by practicing your cooking skills ahead of time on other types of stoves.
For those of us who heat or cook with wood, this homemade dinner rolls recipe is perfect because we can make it without needing a standard gas or electric oven.
I hope you will give this recipe a try and leave your thoughts or questions in the comments section below.
I highly recommend the following articles:
Use the buttons on the right hand side of the page to share this article with friends or family who might find it useful. Pin the picture below to your pinboard on Pinterest for future reference.