This goat milk butter recipe is super easy to make regardless if you use a blender or butter churn.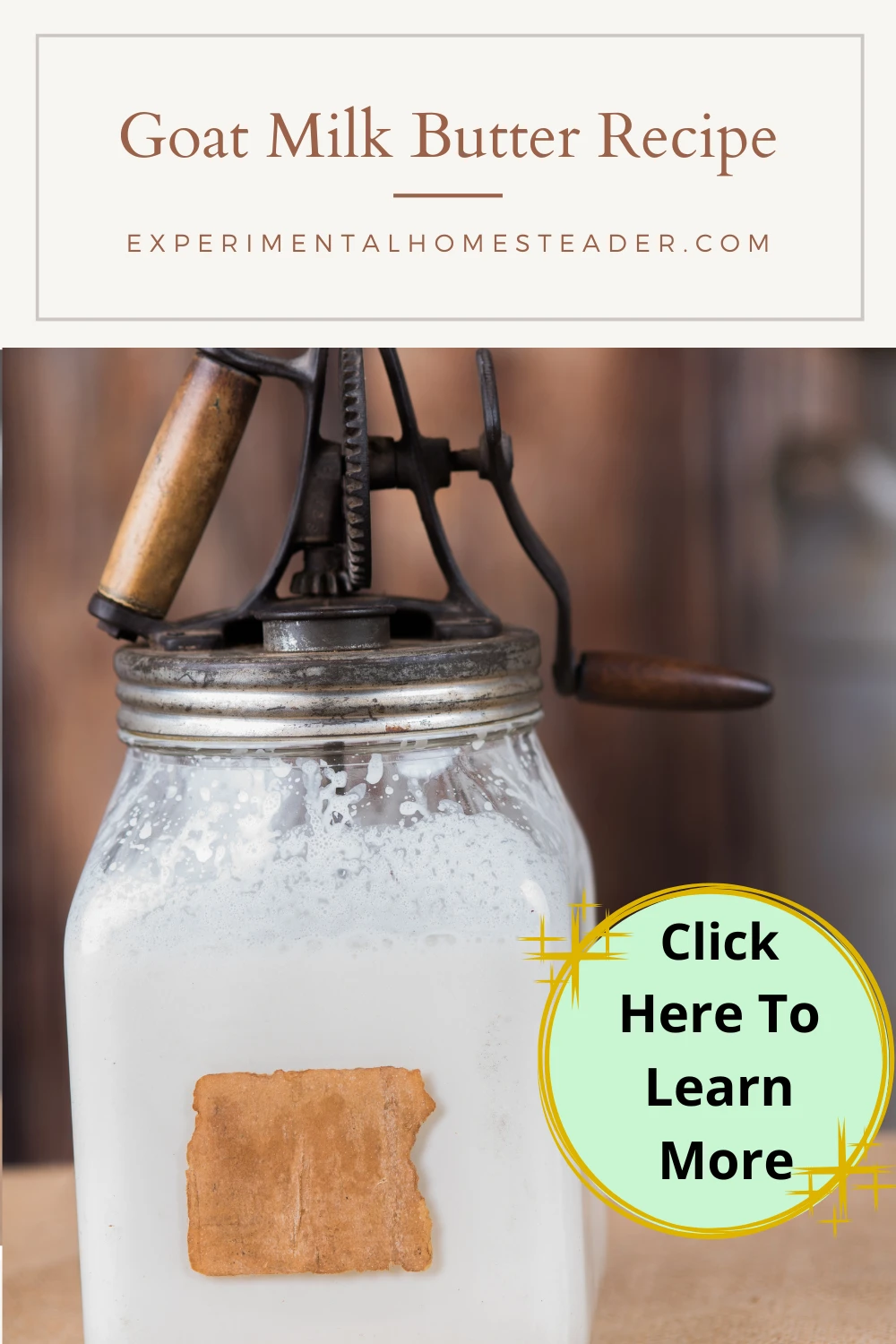 What Does Goat Milk Butter Taste Like?
Goat milk butter tastes just like regular store bought butter.
It does not have an "off" taste as long as you start with good quality goat milk and heavy cream.
I have never noticed it developing an "off" taste even when I made it and then froze it for several months.
The color is slighlty different because I do not add food coloring to my butter.
The only additives I use are a pinch of salt and on occassion a few dried herbs.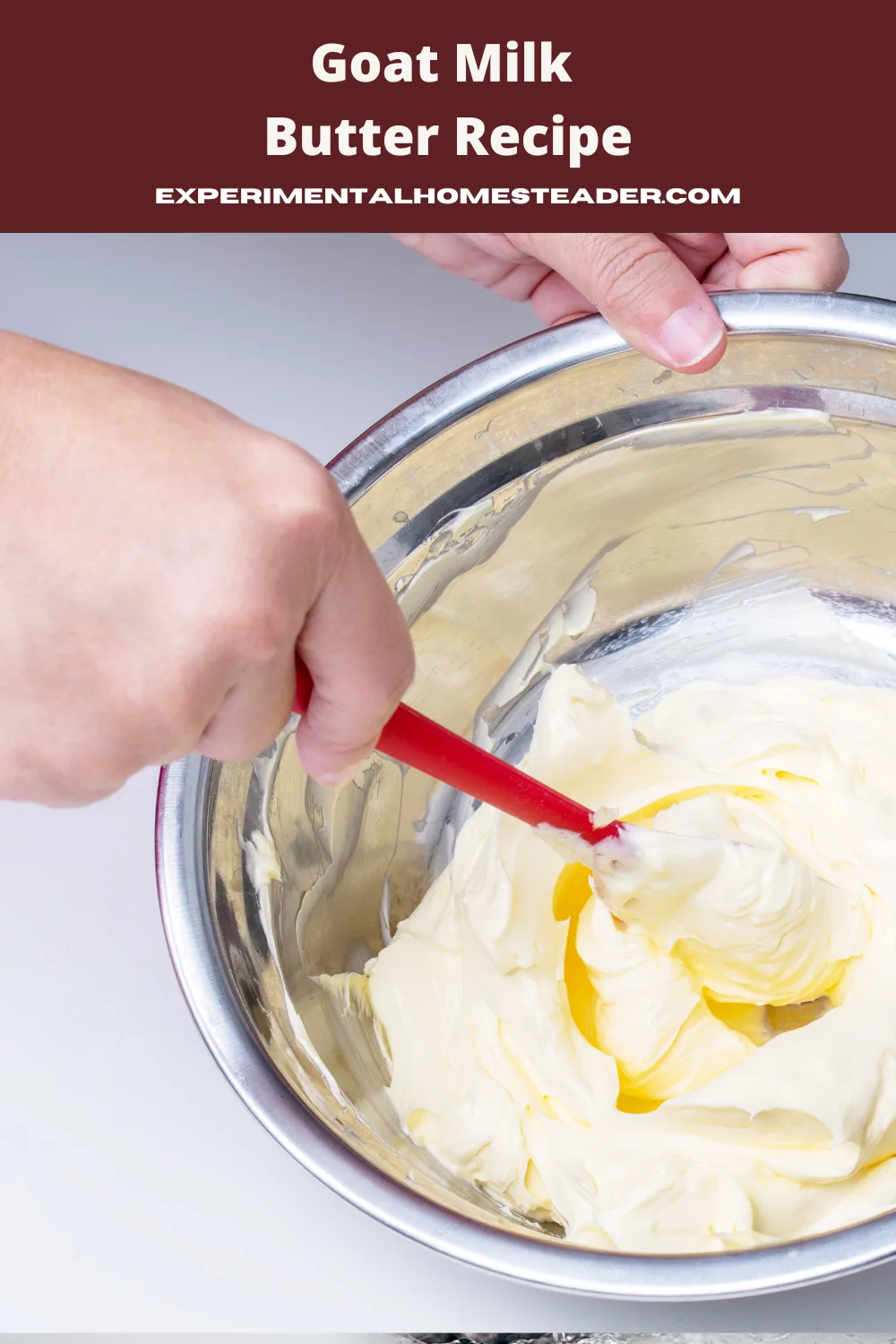 Making Butter From Goats Milk
It is a great way to use the cream off the top of the goat milk as well as the extra goat milk you have on hand before it goes bad.
It is ok to use frozen goat milk or frozen cream as long as you thaw it first.
Homemade butter tastes great plus you know exactly what is in it!
Use homemade butter to sear meat or in anyway you would normally use store-bought butter.
Watch The Videos To See How To Make Butter From Goats Milk
Watch how easy it is to turn jars of heavy cream to finished butter.
In the first two videos a blender is used and in the third video an antique butter churn is used.

How To Make Goat Milk Butter
Below is the actual text instructions for how to make goat milk butter.
Print
Goat Milk Butter Recipe
Author: Sheri Ann Richerson
Prep Time:

10 minutes

Total Time:

10 minutes

Yield:

1/2 cup

1

x
Category:

Condiments

Method:

No Cook
Instructions
Put the heavy cream into a blender. You can use a butter churn if you have one.
Turn the blender on medium high and blend the heavy cream for about 5 minutes. If the blender seems to be bogging down, add a small amount of goat milk to make the contents less dense.
Once the heavy cream has turned into butter, carefully pour the buttermilk into a container and put it back in the refrigerator. You can use it in recipes or simply drink it.
Scoop the butter out and put it in bowl with cold water.
Wash the butter by using a spoon to press it in the water to expose all areas of the butter. This washes the excess buttermilk out so the butter does not spoil.
Repeat the washing process several times until the water runs clear.
Once you are sure the butter is clean, squeeze as much excess water out as possible using a spoon.
Pour the excess water off the butter.
Sprinkle the salt on top of the fresh butter and work it in with a spoon. Additional water will come off the butter. Simply pour this water off.
Add in any herbs, fresh flowers or other spices you might want and mix well to combine them. This is an optional step.
Refrigerate the butter either in a butter bell or a covered dish.
Keep an eye on it the first day because additional water will accumulate in the dish. Just pour this off.
Notes
Note: This butter lasts a week in the refrigerator and about two months in the freezer.
Keywords: goat milk butter, homemade butter, butter
Recipe Card powered by
Goat Milk And Goat Meat
Recipes, DIY and more! All related to goat milk and goat meat.
Goat Milk And Goat Meat
Recipes, DIY and more! All related to goat milk and goat meat.