It is so easy to make homemade tomato soup in a dutch oven using fresh tomatoes, or if tomatoes are out of season, using tomatoes you froze or canned and the taste is unbelievably delicious!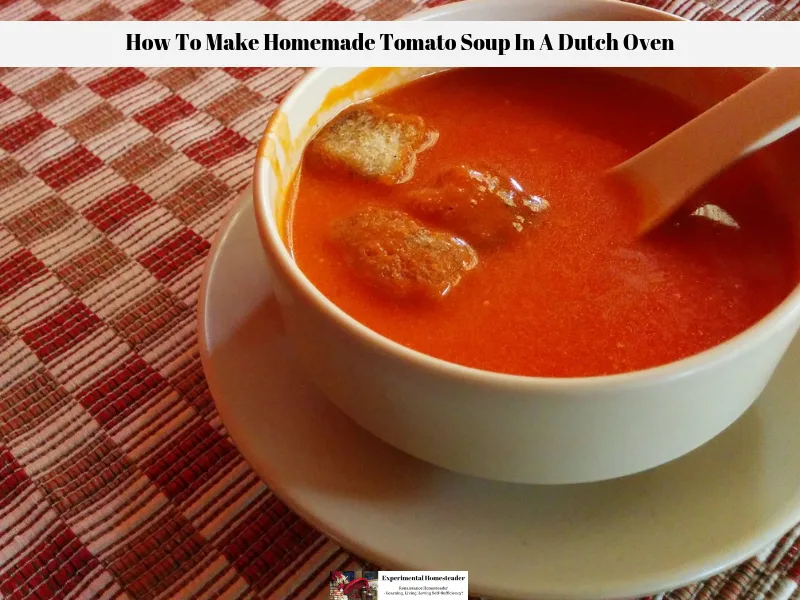 Why I Feel Homemade Tomato Soup In A Dutch Oven Is Better
Canned tomato soup simply does not compare to fresh homemade tomato soup – and since this is so easy to make from scratch right in your kitchen, why settle?
During the summer getting fresh tomatoes at a reasonable price is easy, but during the winter tomato prices go up.
However if grow your own tomatoes and preserve them you already have access to the tomatoes and let's face it, tomato soup is a perfect meal for those cold winter days.
Especially when you pair is with a homemade grilled cheese sandwich!
How To Prepare Fresh Tomatoes For Winter Use
Simply wash, quarter and freeze fresh tomatoes – peel and all if you wish because once the tomatoes are frozen and then thawed, the peel will come right off.
You can also can or dehydrate them if you prefer.
In the event you are planning to freeze or dry the tomatoes for winter use, it is wise to weigh them ahead of time and then package them making sure to label the package well so you know what the original poundage is.
This will make your life so much easier when it comes time to grab them to use in a recipe and also means less possible waste.
Once you are ready to use the tomatoes you preserved, just get them out of the freezer or pantry.
Frozen tomatoes need thawed and dehydrated tomatoes need hydrated, but canned tomatoes are ready to be drained and used immediately just like fresh tomatoes.
Here is my recipe for homemade tomato soup in a Dutch Oven.
Print
Homemade Tomato Soup In A Dutch Oven
Author: Sheri Ann Richerson
Prep Time:

10 minutes

Cook Time:

12 minutes

Total Time:

22 minutes

Category:

Soups

Method:

Stovetop
3

lbs of sun ripened tomatoes

1 2/3 cups

of chicken or vegetable stock

3 tablespoons

of tomato puree or tomato sauce

2 tablespoons

balsamic vinegar

2 teaspoons

sugar
Fresh chopped basil leaves (about a handful)
Salt and black pepper to taste
A little creme fraiche and croutons to serve (optional)
Instructions
Wash the tomatoes well if they are fresh and place them in a large bowl. Frozen, dehydrated or canned tomatoes do not need to be washed.
Pour boiling water over the tomatoes and leave them sit in the hot water for 30 seconds.
After the 30 seconds is up, drain the boiling water and add enough cold water to cover the tomatoes. This helps them cool and makes it easy to remove the skin.
Peel the skin off all tomatoes and cut each tomato into quarters. If you do not wish to remove the skin you can omit step 3 and 4. Be aware however the even when you blend the tomatoes up some of the skins will remain rolled into tiny pieces.
Place the tomatoes in a large pan, then pour chicken or vegetable stock over the tomatoes.
Bring this mixture to a boil and quickly reduce the heat to low.
Simmer the mixture gently for approximately 10 minutes, then stir in the tomato puree, vinegar, sugar and chopped basil leaves. Season with salt and pepper to taste.
Continue to simmer the tomato soup while stirring frequently for 2 more minutes.
Allow the soup to cool slightly and then transfer it to a food processor or blender and blend until smooth.
Transfer the soup back to the pan and reheat it taking care not to bring it to a boil.
Serve the fresh, homemade tomato soup in warm bowls and top with a little creme fraiche or croutons if desired.
Keywords: soup in a dutch oven, homemade tomato soup, tomato basil soup, tomato soup recipe, tomato soup homemade, homemade tomato soup recipe, homemade tomato soup easy
Recipe Card powered by
Final Thoughts About Making Homemade Tomato Soup In A Dutch Oven
Homemade tomato soup in a Dutch Oven really is easy to make and best of all you can cook it on a stovetop, over an open fire or on top of a wood burning stove.
I love that this recipe only takes a few ingredients and that it is possible to keep all of these ingredients on hand so you don't have to run to the store to get them unless of course you want fresh tomatoes in the middle of winter!
This recipe is also perfect for those days when a winter storm is raging right outside your door.
I hope you will give this recipe a try.
Feel free to leave your questions or comments below.
I highly recommend the following articles:
Use the buttons on the right hand side of the page to share this article with friends or family who might find it useful. Pin the picture below to your pinboard on Pinterest for future reference.