Learning how to make nasturtium butter is just one of the fun and tasty ways to use these delightfully vibrant colored edible flowers.
The flowers can be chopped up and added to butter, seafood sandwich fillings or added to salads or even salad dressings.

They also make a great natural dye when added to white frosting, as well as a gorgeous garnish on cakes or on the side of a plate.
Plus they are easy to grow in the ground, in a hanging basket or in a window box so you can always have fresh edible flowers on hand for your recipes during the summer.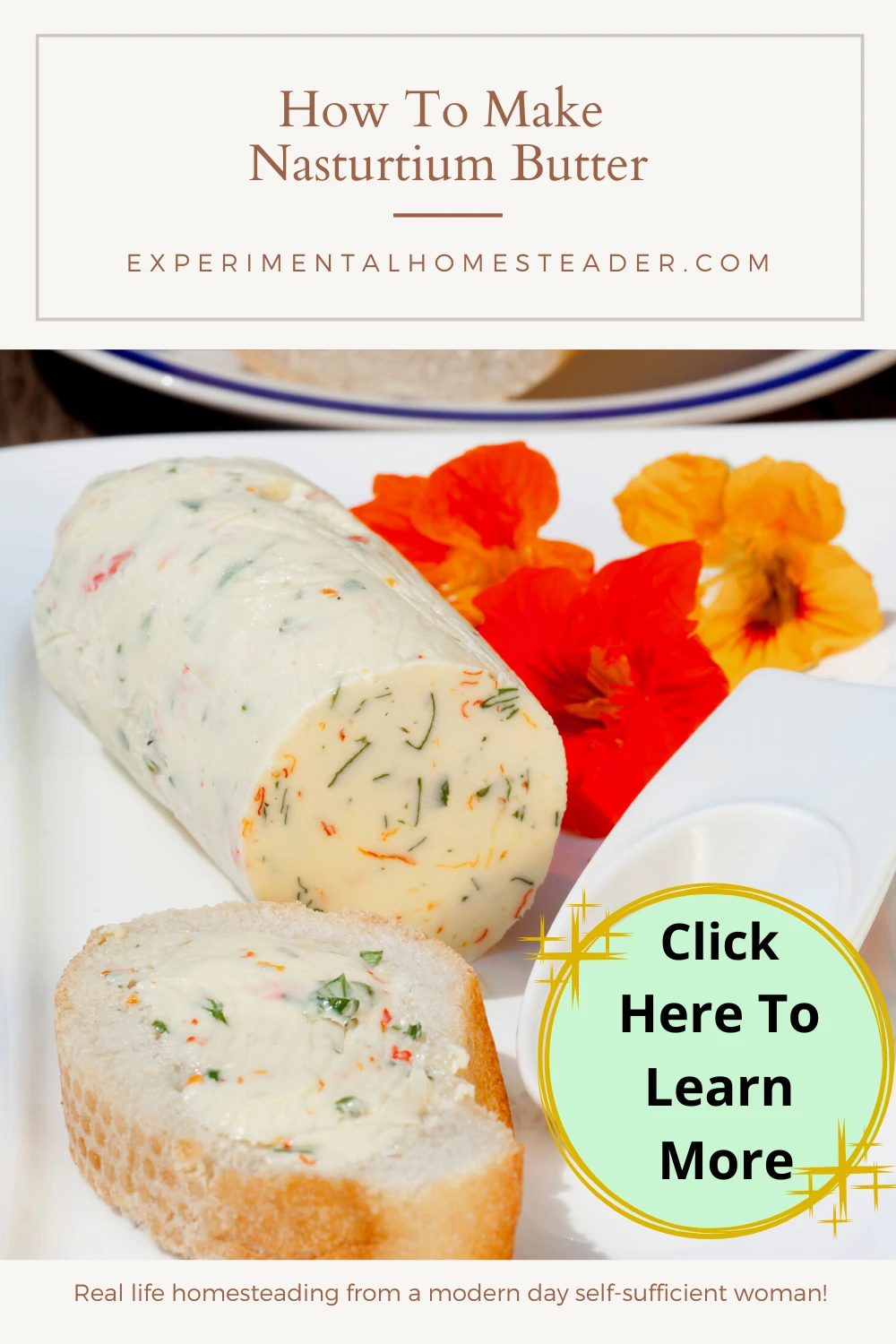 Why You'll Love This Nasturtium Butter Recipe
Nasturtium flower butter combines the delicate peppery flavor of nasturtiums with cold butter thus opening up all sorts of possibilities.
You can use the nasturtium flower petals, or the sepals, which is the green part of the stem that connects and holds the nasturtium flowers together.
Nasturtium leaves are also edible, but be sure to choose young leaves for this particular recipe.
In addition to adding a unique taste to your recipes when you use nasturtium butter, it looks really pretty in a butter dish or spread on food and as you may know, nasturtiums are rich in vitamin C, sulfur, and is said to have many other health benefits.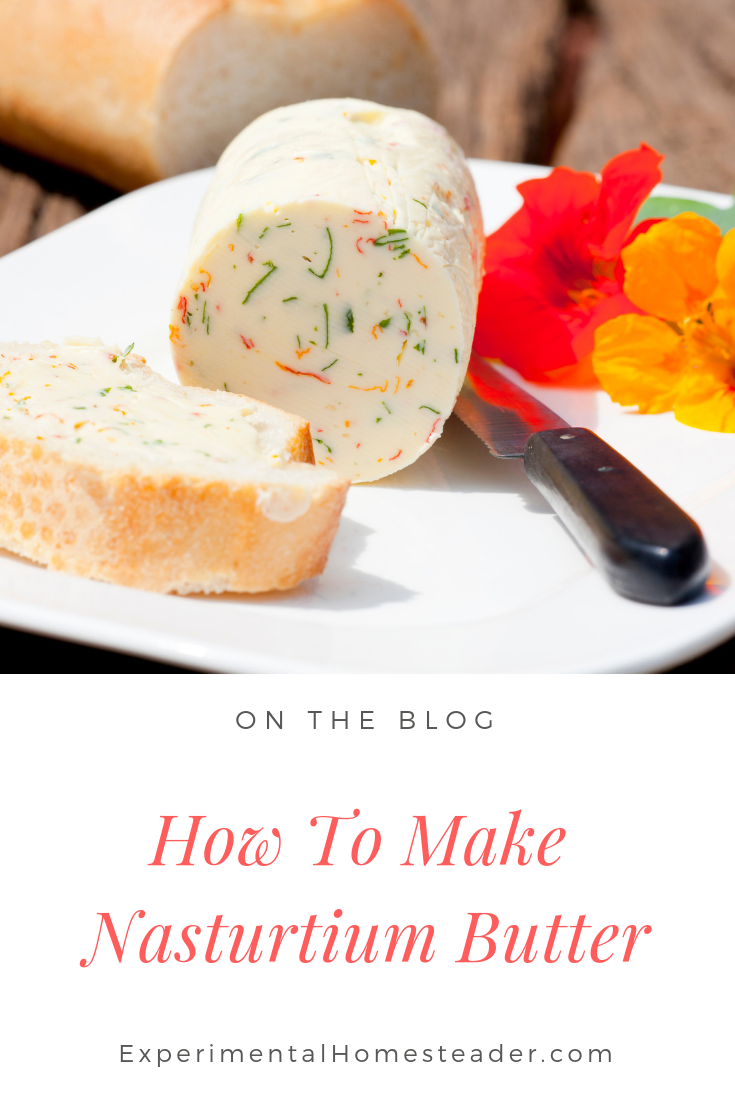 Equipment You Need To Make Nasturtium Flower Butter
In order to make nasturtium flower butter you are going to need the following items.
Ingredients Needed To Make Nasturtium Butter
Butter – unsalted, homemade butter is best, but use what you have.
Lemon zest
Nasturtium blossoms and young leaves – be sure to choose unsprayed, organically grown blossoms and leaves.

How To Make Nasturtium Butter
The recipe below explains how to make nasturtium butter using just four ingredients.
You can use store bought butter for this or homemade butter if you make your own.
For those who like a more complex butter, try adding some dill weed or a lemon flavored herb such as lemon thyme or lemon basil to the mixture.
Print
How To Make Nasturtium Butter
This is a lemon flavored nasturtium butter.
Author: Sheri Ann Richerson
Prep Time:

30 minutes

Total Time:

30 minutes

Category:

Dairy

Method:

No Cook
1/2

cup

butter

2 teaspoons

lemon zest

1 tablespoon

lemon juice

3 tablespoons

finely chopped nasturtium blossoms and young leaves from unsprayed, organically grown plants
Instructions
Place the butter, lemon zest and lemon juice in a medium sized mixing bowl.
Use a fork to blend the ingredients well until the lemon zest and juice are evenly distributed throughout the butter. If you are not real big on the taste of lemon, use a bit less. You can taste the butter as you go to see if the lemon taste suits you. The peppery taste of the nasturtiums will increase the longer the butter sits.
Dice the nasturtium flowers and leaves using herb scissors or a knife. If you prefer smaller pieces of nasturtiums, feel free to grate them or combine the ingredients in a blender. Note however that the nasturtiums may change the color of the butter if you do this.
Add the diced nasturtiums flowers and leaves.
Blend gently with a fork.
If you are going to use the butter in less than two weeks, you can put it into a glass or plastic container with a lid or a butter bell if you have one, then refrigerate it.
If you are going to freeze the butter for future use, roll it into a small log, snuggly wrap it with parchment paper making sure to twist both ends to secure the paper tightly around the log of butter.
Wrap aluminum foil or plastic wrap around the parchment paper.
Place the sealed butter in a freezer bag, then put it in the freezer.
Thaw the butter in the refrigerator prior to using it. This should take no more than three hours ideally, but I have seen it take several days, so plan ahead .
Serve the butter with corn muffins, biscuits, steamed vegetables, boiled or roasted new potatoes, salmon, or chicken. It makes a pretty spread for chicken or ham salad sandwiches.
Keywords: how to make nasturtium butter, nasturtium butter, nasturtium butter recipe, edible flowers recipes
Recipe Card powered by

What Can You Do With Nasturtium Butter?
Nasturtium butter can be used on anything you would use butter on, as long as the slightly peppery taste of the nasturtiums would not pair badly with your recipe.
Here are some foods I recommend trying nasturtium flower butter on.
Risotto
Toast
Muffins
Fish
Vegetables
Soups
Dinner rolls
Eggs
Steak
Chicken
Potatoes
Above all, experiment!
If you make nasturtium butter, try it in your recipes in place of regular butter and see how they turn out.
You might just find out your family loves the taste of nasturtium butter.
Popular Additions To Nasturtium Butter 
When making compound butters, many times people add more than one  edible flower or herb.
The one thing to keep in mind when doing this is that nasturtiums have a delicate flavor, so choose herbs or edible flowers that compliment the nasturtium and don't overpower it.
Here are some recommendations.
Flat-leaf parsley
Pansies
Marigolds
For best results, limit the combination to two or three different herbs, seasonings or edible flowers.
If you add too much in, the flavor mix might not taste good at all and could end up being so overpowering that no one will eat it.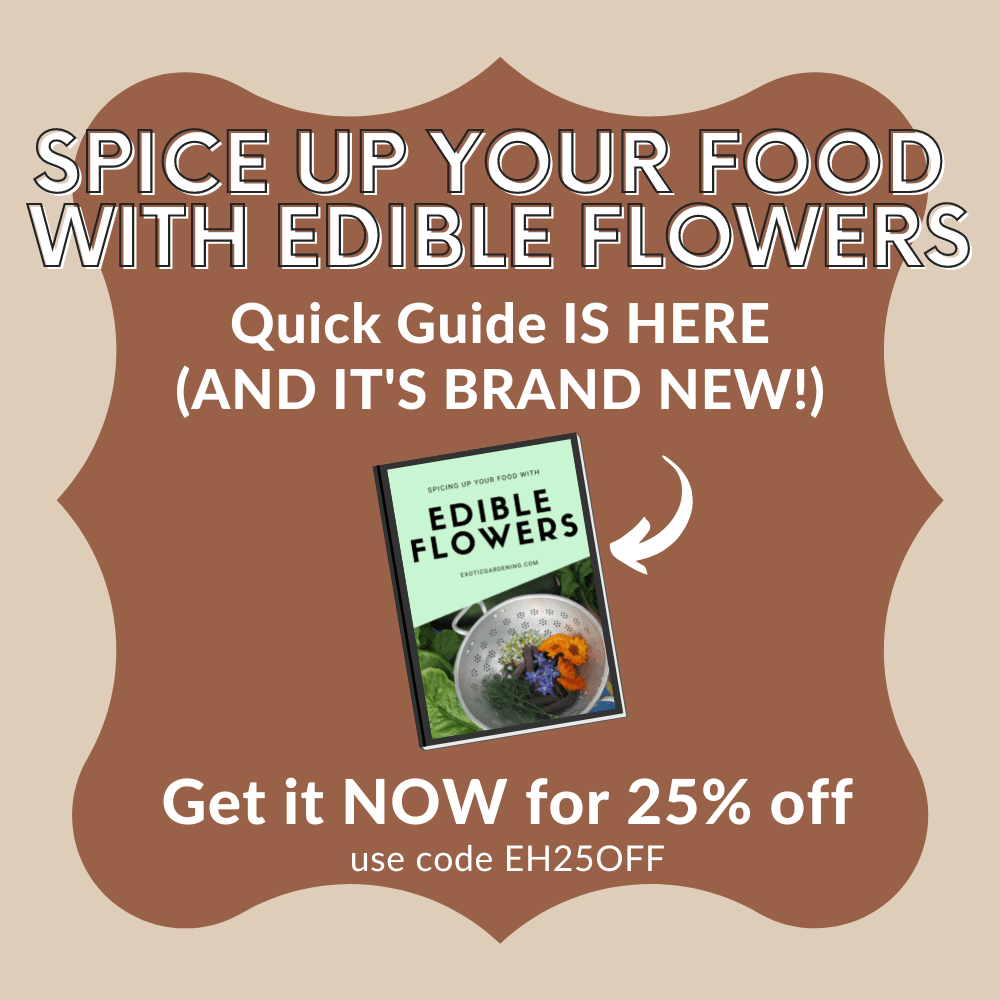 If you're ready to learn more about Spicing Up Your Food With Edible Flowers, then grab my Quick Guide!
How To Preserve Nasturtium Butter
As mentioned in the recipe, freezing butter is a great way to make up a large batch when the Nasturtium flowers are in bloom and preserve it for winter use.
It is important to make sure the butter is throughly wrapped and sealed in a freezer bag or freezer container.
Butter is known to pick up strong odors when it is close to them and in a non-porous container, such as plastic.
I have never had frozen butter pick up any odors, but I am always careful to make sure everything else in the freezer is already frozen and that the butter is well sealed.
The butter will last frozen for six to nine months.
Plan on a minimum thawing time of at least three hours, however from personal experience I encourage you to place it in the refrigerator a day or two before you plan to use it.
Do not thaw frozen butter at room temperature.
How To Store Nasturtium Flower Butter
As mentioned above, you can easily freeze nasturtium flower butter for use at a later date and this is a great way to get a taste of summer long after the season has ended.
However for most people, storing their butter in the refrigerator is the best solution. 
Then there are those that prefer to leave their butter at room temperature.
The key to understanding if this is a safe practice is knowing if you used salted or unsalted butter, what your kitchen temperature is and if you are using a dish or a crock to store your butter in.
Commercially prepared butter that has been pasteurized and is salted is generally safe to leave sit out for a day or two as long as your kitchen temperature is not higher than 70 degrees Fahrenheit, according to the FoodKeeper App from the USDA.
If you are using homemade butter to make this nasturtium flower butter recipe, then be sure to store it in the refrigerator.
How Long Will Nasturtium Butter Last In The Refrigerator?
Butter stored in the refrigerator typically lasts one to two months, however the quality may not be as good after four to five days, so I recommend using it quickly.
It is best to make the nasturtium butter 24 hours before you need it to allow the flavor of the nasturtiums and other herbs or edible flowers to fully be absorbed by the butter.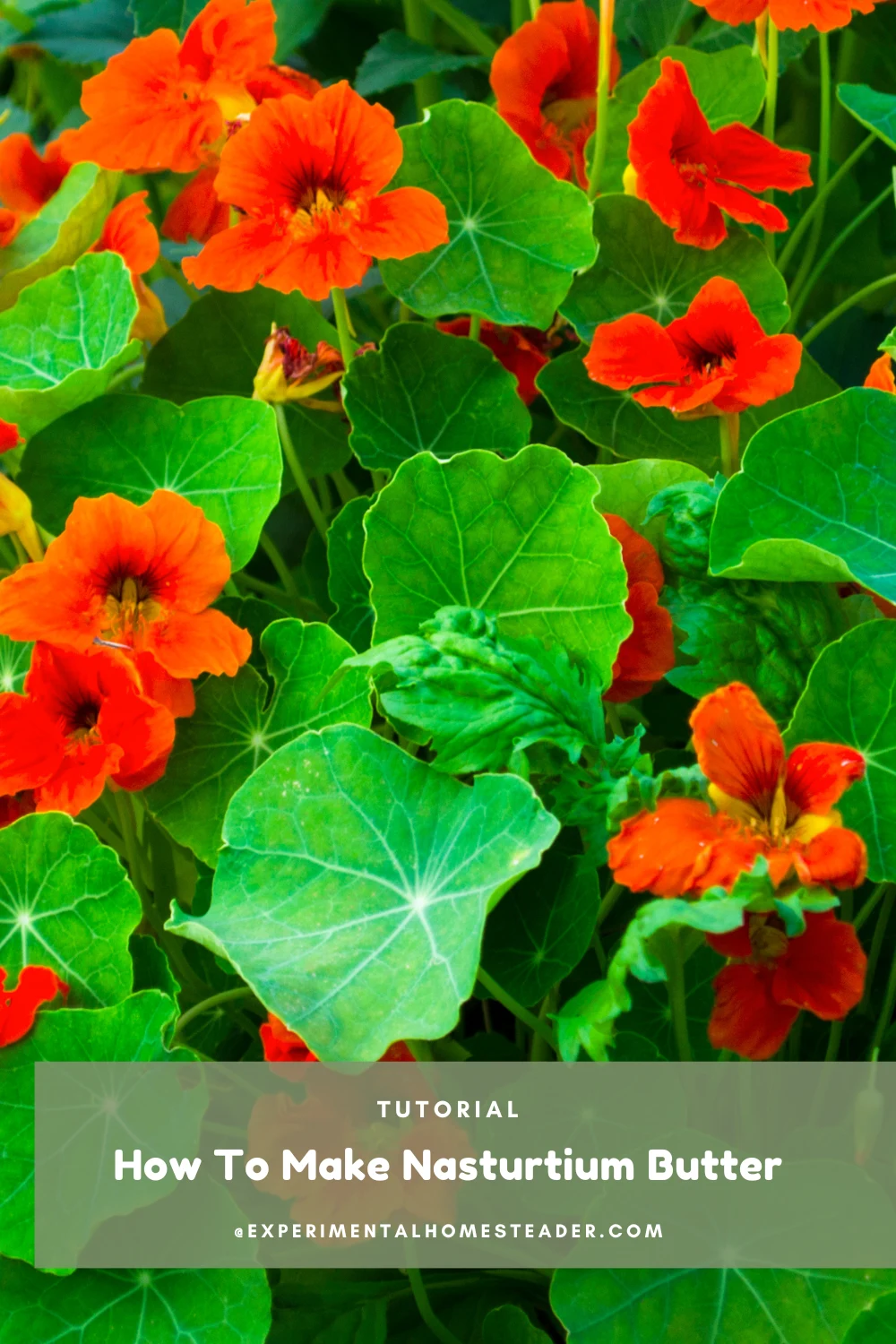 Why Grow Nasturtium In Your Garden
Now you have an idea of what you can do with nasturtium flowers and leaves – but this is only the tip of the iceberg.
There are many nasturtium flower and leaf recipes out there, so what are you waiting for?
They are easy to grow and you can get started growing them today!
Nasturtiums are not only colorful additions to your garden, but are beneficial in the vegetable garden.
Nasturtiums are known for deterring bean beetles and aphids.
Nasturtiums are often grown for their bright colored flowers that make a great addition to salads.
Both the flowers and the young leaves are edible.
Be sure to use only organically grown Nasturtiums in your recipes.