Well, howdy there, fellow gardeners and kitchen enthusiasts!
If you're anything like me, you've found yourself knee-deep in summer squash or zucchini at some point.

The struggle is real, right?
I mean, we plant those seeds, nurture those vines, and before we know it, our gardens are bursting at the seams with these vibrant green beauties.
It's like a squash explosion that even our neighbors can't escape!
But hey, don't start giving those extras away just yet.
I've got a nifty little trick up my apron sleeve that'll turn your surplus summer squash into a downright addictive snack – oven-baked summer squash fries.
Yessiree, we're putting those garden gems to good use right here in my cozy homestead kitchen.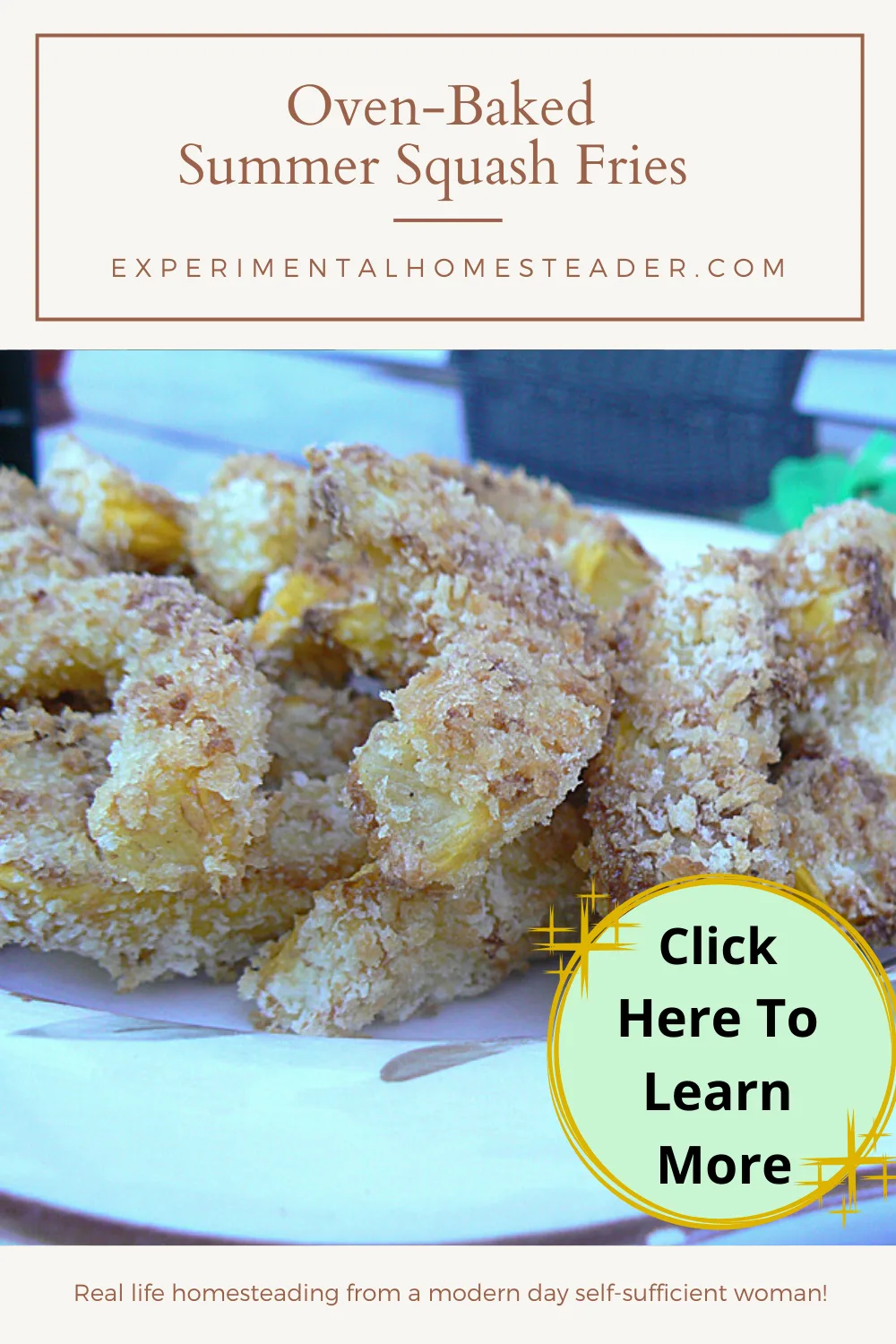 Squash or Zucchini: A Close Kinship
Ever wondered about the difference between summer squash and zucchini?
Not much, to be honest!
They're like distant cousins, sharing a strikingly similar flavor and texture.
So if you've got zucchinis on hand, no worries – you can easily use them in this recipe.
Farm to Table Magic
Step into the world of homesteading, where self-sufficiency and the farm-to-table ethos reign supreme.
At the heart of our homestead kitchen, we cherish every morsel that springs from the earth.
That's why we've tagged this post with 'farm to table' and 'homestead kitchen' – to share the enchantment of cultivating our own ingredients and savoring the fruits of our labor.
Here, we're all about living off the land and making the most of every garden harvest.
Enter our delightful Oven-Baked Summer Squash Fries, a culinary transformation of surplus summer squash into crispy, golden delights.
It's a celebration of resourcefulness and a connection with the land, all in one recipe.
As fellow homesteaders, we understand the joy of growing our food, nurturing it, and transforming it into delicious dishes that grace our tables.
So, come on in, join the conversation, and let's explore the magic of farm-to-table living together.
Discover the satisfaction of being truly self-sufficient, one homegrown ingredient at a time, in our cozy homestead kitchen.
Crafting Your Own Squash Fries
Alright, fellow homesteaders, let's roll up our sleeves and dive into the heart of the matter!
Making these squash fries is a breeze, a true testament to our resourceful homestead kitchen.
Here's what you'll need: summer squash (or trusty zucchinis), a gentle drizzle of olive oil, and your favorite seasonings.
Personally, I'm a fan of mustard powder, paprika, a dash of salt, a sprinkle of pepper, all tied together with that touch of olive oil.
So, let's not waste a moment.
Grab that garden-fresh squash, slice them up, generously season to your heart's content, and pop them into your hot oven.
We're on our way to crafting crispy, golden squash fries that'll transport you straight to homestead heaven.
Print
Oven-Baked Summer Squash Fries
1

medium summer squash

2

eggs

1 1/2

cups

breadcrumbs (try panko breadcrumbs for a crunchier texture)

1 teaspoon

paprika

1 teaspoon

mustard power
Salt and pepper
Olive oil
Instructions
Preheat your oven to 400 degrees Fahrenheit.
Grease a large baking sheet with olive oil.
Cut your summer squash into wedges. Be sure to remove the larger seeds.
Whisk the eggs in a dish.
In another dish, combine the bread crumbs, paprika, mustard powder, salt and pepper.
Start by dipping the wedges, one by one, into the egg mixture and then the bread crumb mixture. Place each wedge on the greased baking sheet. Continue until all the wedges are done.
You can bake the wedges for about 30 to 40 minutes until they are soft inside and golden brown on the outside. If you want a more golden texture, drizzle or spray some olive oil on top of the wedges. Turn the wedges over half way through baking.
Serve the oven-baked summer squash fries with ranch or another favorite dip.
Keywords: farm to table, homestead kitchen, oven-baked summer squash fries, garden surplus recipes, crunchy squash snacks, seasonal cooking, oven-baked snack, crispy garden fries
Recipe Card powered by
A Pleasant Surprise
Now, here's where the magic happens, my fellow homesteaders.
I'll confess, the first time I sunk my teeth into these fries, I was in for a delightful surprise.
They transform right before your eyes in that toasty oven, crisping up to golden perfection.
And that savory seasoning mix?
Well, let me tell you, it's pure bliss on your taste buds.
Trust me, you won't be able to resist reaching for more.
It's a promise I can confidently make.
There's something deeply satisfying about creating a garden-to-table snack that not only tastes incredible but also carries the pride of knowing you've made the most of your harvest.
That feeling of accomplishment, my friends, is like no other, and it's what makes our homestead kitchen endeavors so utterly rewarding.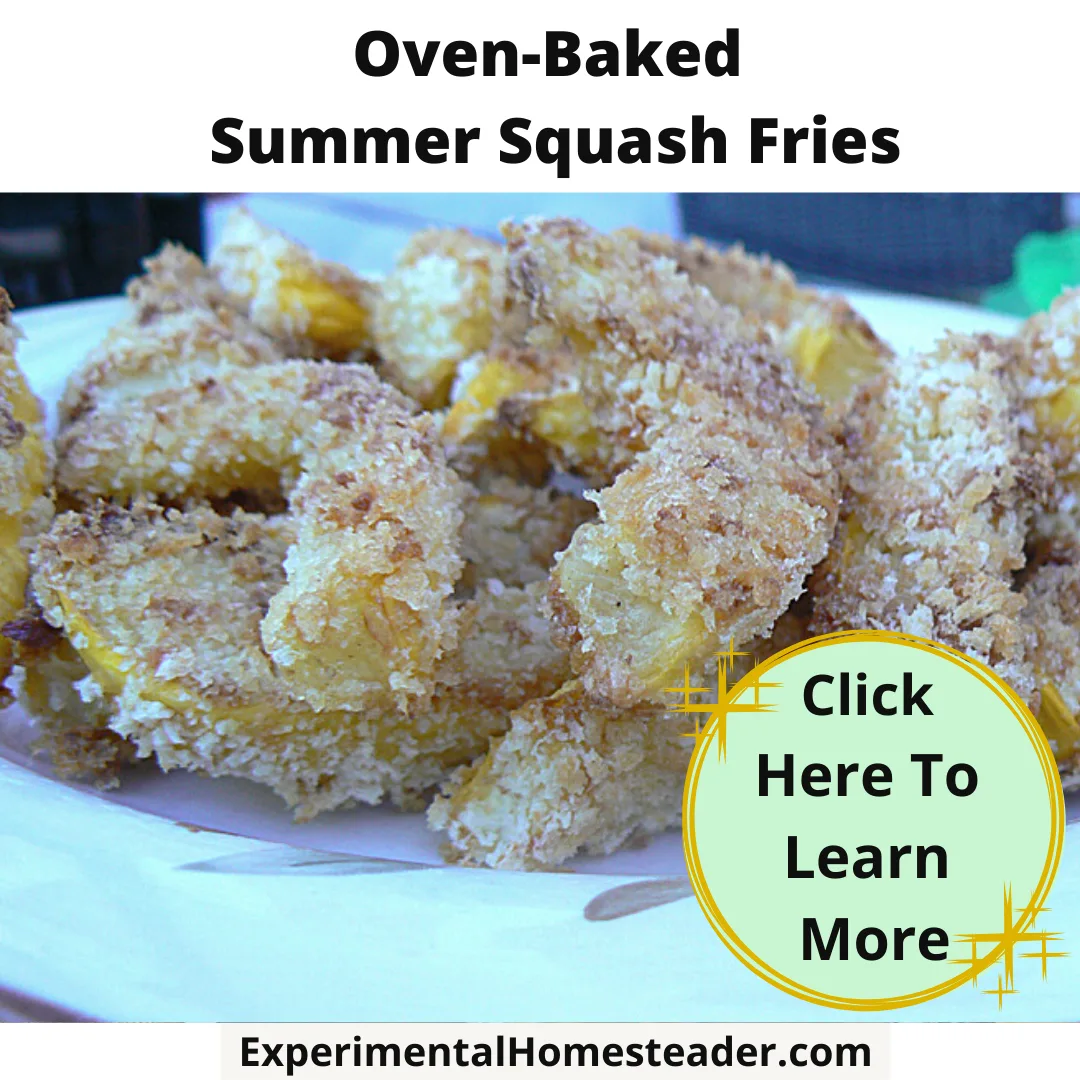 Share Your Garden and Kitchen Tales
But hey, don't just take my word for it. I want to hear from you!
Do you have any go-to recipes or clever tricks for using up your surplus harvest?
And let's not forget the stories from your kitchen adventures – share your farm-to-table tales with me, right here in my homestead kitchen.
We're all in this together, folks, and that's what makes it so darn special.
Homestead Kitchen Q&A: All About Oven-Baked Summer Squash Fries
Q: What inspired you to create this Oven-Baked Summer Squash Fries recipe?
A: As a homesteader, I'm passionate about using every bit of our garden harvest. So, when faced with a surplus of summer squash, I set out to make a delicious snack, and the fries were born!
Q: Can I use zucchinis instead of summer squash in this recipe?
A: Absolutely! Zucchinis work perfectly as a substitute; just keep an eye on them while baking as they might cook a bit faster.
Q: What seasonings do you recommend for the fries?
A: I love a mix of mustard powder, paprika, salt, pepper, and a drizzle of olive oil. But feel free to get creative and use your favorite seasonings.
Q: Do the fries turn out crispy in the oven?
A: Yes, indeed! You'll be pleasantly surprised by how crispy and golden they become while baking.
Q: Can I make a large batch of these fries and store them for later?
A: While they're best enjoyed fresh, you can store any leftovers in an airtight container in the fridge. Just reheat them in the oven for that crispiness.
Q: Are Oven-Baked Summer Squash Fries a kid-friendly snack?
A: Absolutely! Kids tend to love the crunchy texture, and it's a sneaky way to get some veggies into their diet.
Q: How long does it take to prep and bake these fries?
A: The prep is quick, taking about 10-15 minutes. Baking time is around 30-40 minutes, depending on your oven's temperature accuracy.
Q: Can I grow summer squash and zucchinis in containers if I have limited space?
A: Yes, both summer squash and zucchinis can thrive in large containers, making them great choices for small-space gardening. Try growing them vertically on a trellis to save even more space.
Q: What's your favorite dipping sauce for these fries?
A: I adore a simple homemade garlic aioli, but ranch dressing or marinara sauce works wonderfully too.
Q: Any tips for reducing food waste in a homestead kitchen?
A: Absolutely! Get creative with recipes to use every part of your produce. For example, you can use squash blossoms in salads or stuffed as appetizers.
Q: What other homestead recipes do you recommend for garden surplus?
A: Pickling and canning are excellent ways to preserve excess harvest. Try your hand at homemade pickles or jams.
Q: How can readers share their own farm-to-table experiences with you?
A: I'd love to hear from fellow homesteaders! Share your stories and photos on social media with the hashtags #FarmToTableMagic and #HomesteadKitchen.
Q: What's the most rewarding part of homesteading for you?
A: It's the sense of self-sufficiency and the joy of nurturing a deep connection with the land. Knowing where your food comes from is incredibly fulfilling.
Q: Any future homestead kitchen projects or recipes you're excited about?
A: I'm currently experimenting with homemade fruit preserves using our orchard fruits, so stay tuned for those delightful recipes!
Q: What's your advice for someone just starting their homesteading journey?
A: Start small, be patient, and embrace the learning process. There's a world of satisfaction waiting for you in your homestead kitchen.