When it comes to Halloween table decorating, you're probably thinking of the usual pumpkins, candles, and spooky decor.
But what if I told you there's a unique and sustainable twist you can add to your Halloween ambiance?

Enter the enchanting world of "Halloween Oranges."
Imagine your table adorned with luminaries made out of orange peels, casting an eerie and warm glow.
It's a brilliant idea that lights up the night in a way that's both rustic and magical.
But how do you achieve this enchanting Halloween look while staying true to your green and organic living values?
Well, let me show you how.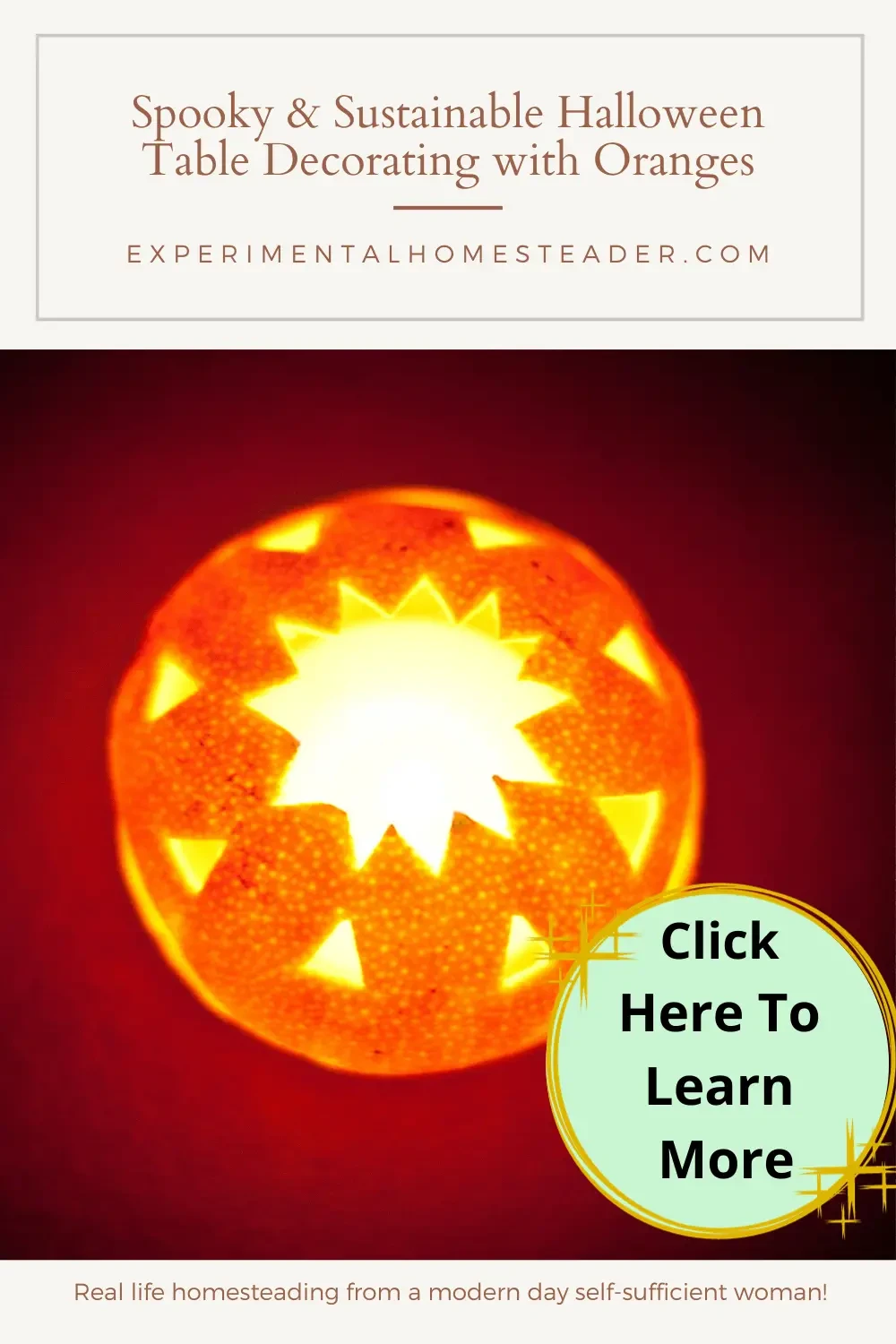 Lighting Up Your Halloween Night
The heart of this Halloween table decorating idea lies in the illumination.
Traditionally, these orange luminaries were lit with regular candles, and they do create a mesmerizing effect.
However, in our modern world where safety is a concern, especially with kids, pets, or large gatherings, LED candles are a safer and equally captivating alternative.
The choice between traditional or LED candles is entirely up to you, depending on your preferences and circumstances.
Whichever you choose, the result will be spellbinding.
A Modern Twist on Halloween Table Decorating
Now, let's talk about the crafting process itself.
Making these orange peel luminaries is a delightful twist on traditional Halloween decor.
Instead of relying on the usual decorated jars or candleholders, we'll be harnessing the rustic charm of orange peels.
It's a surprisingly simple yet creative endeavor that will leave your guests in awe.
Just imagine the look on their faces when they see these unique luminaries.
The beauty of this project lies in its versatility.
Oranges are not a typical luminary material, and that's precisely what makes them so special.
They're readily available, eco-friendly, and add a touch of organic charm to your Halloween table.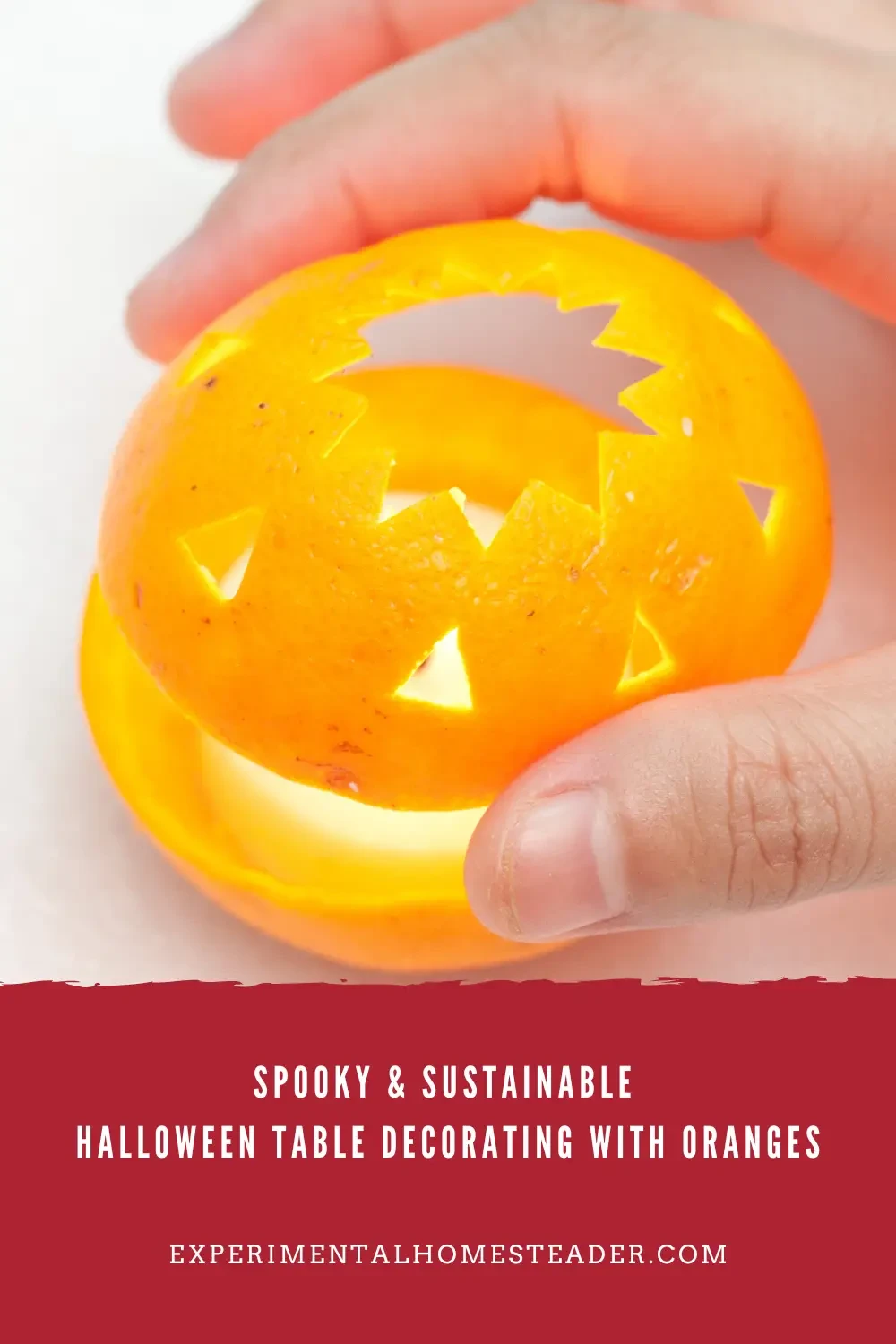 Naturally Scent Your Halloween Home
Now, here's a secret bonus that comes with your orange luminaries: a natural air freshener.
It might require a tad more patience, but the result is entirely worth it.
As the candle inside the orange peel luminary burns, it releases the natural, citrusy fragrance of the orange peel.
It's like having a natural air freshener right on your table, and it adds an extra layer of authenticity to your Halloween experience.
So, how exactly do you transform an ordinary orange into a unique Halloween table decoration?
Let's break it down.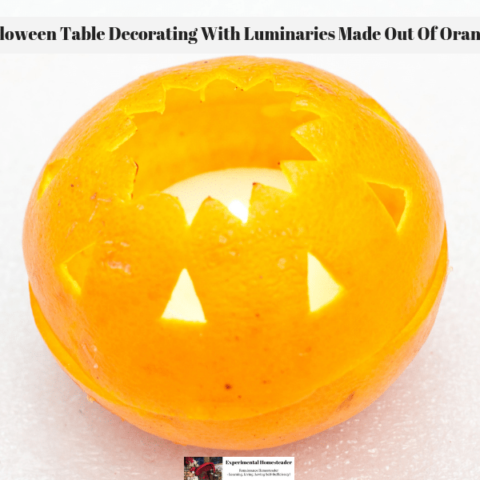 Halloween Table Decorating With Luminaries Made Out Of Oranges
Materials
one orange
a tea light candle (either a real candle or an LED tea light candle)
Tools
lighter or matches (if you use a real candle)
a small knife
Instructions
Gather all the things you need for this tutorial.
Create a horizontal cut around the orange by running a knife around the upper one-third portion of the orange.
Gently remove the orange peel making sure to preserve the shape of the peel since this will be used for this tutorial. We do not need the fruit, so you can set it aside to eat.
Cut a hole out of the top of the orange peel.
Cut out a design around the edges of the hole. In the orange in the photo, we created small triangle spikes. This upper part of the peel will serve as the cover of the luminary. The bottom section of the bottom orange peel will house the tea light candle.
Cut out more designs on the orange peel cover. The design of the cover will enhance the overall aesthetics of the luminary once the tea light candle is placed inside the orange peel.
Place the bottom of the orange peel where you want the luminary to be since moving it once the candle is inside of it is a bad idea.
Place the candle on the bottom of the orange peel. Light the candle with a lighter unless you are using an LED tea light candle, in which case you would just turn it on. Using a kitchen lighter is safer than a typical lighter for this luminary.
Place the orange peel cover on top of the orange peel body. Take your time and be careful when you do this since there is a possibility that the orange peel lining might get burned if the flame touches it and the overall look of the orange luminary would be ruined.
Sit back and enjoy your orange luminary.
Notes
Caution: Be careful if you use a real candle. Be sure to extinguish the flame if you leave the room and be sure to sit it someplace out of reach of children and pets.
Expanding Your Halloween Decor with Oranges
Creating these orange luminaries is just the beginning of your Halloween adventure.
There are numerous ways to incorporate Halloween oranges into your decor theme.
Here are some creative ideas to consider:
1. Orange Garland: Instead of traditional pumpkin garlands, string together slices of dried oranges to create a unique and fragrant garland for your fireplace mantel or table centerpiece. The natural citrus scent will fill your home with a refreshing aroma.
2. Orange Jack-o'-Lanterns: Carving pumpkins is a beloved Halloween tradition, but why not add a twist this year? Carve spooky faces into oranges for mini jack-o'-lanterns that can be placed around your home or used as place card holders for your Halloween dinner.
3. Orange Centerpieces: Hollow out a few extra oranges and use them as small vases for autumn flowers or dried arrangements. They'll add a pop of color and fragrance to your Halloween table.
4. Orange Potpourri: Don't let those scooped-out orange peels go to waste. Dry them out, mix them with fragrant spices like cinnamon and cloves, and create your own Halloween potpourri. Place it in small bowls around your home for a natural and aromatic touch.
5. Orange Treats: In the spirit of reducing waste, use the leftover orange flesh to create delicious Halloween treats. Make orange juice, smoothies, or even orange-flavored Halloween cocktails. You can also create candied orange peels or orange-infused desserts.
Final Thoughts on Your Halloween Ambiance
As the sun sets on Halloween night, these orange luminaries will come to life, creating an enchanting atmosphere on your table or throughout your home and garden.
It's a captivating way to embrace the spirit of Halloween while staying true to your values of DIY, organic living, and sustainability.
So, this Halloween, let your creativity flow, and illuminate your celebrations with these charming luminaries made out of oranges.
Whether you use them indoors or outdoors, they are sure to cast a spell on all who see them. 
Incorporating Halloween oranges into your decor not only adds a touch of uniqueness but also aligns with your eco-friendly lifestyle.
It's a wonderful way to celebrate this spooky holiday while staying true to your values of green and organic living.
Remember, Halloween is all about creativity, and with your DIY skills, you have the power to transform the ordinary into the extraordinary.
So, embrace the magic of Halloween oranges and let your imagination run wild this spooky season.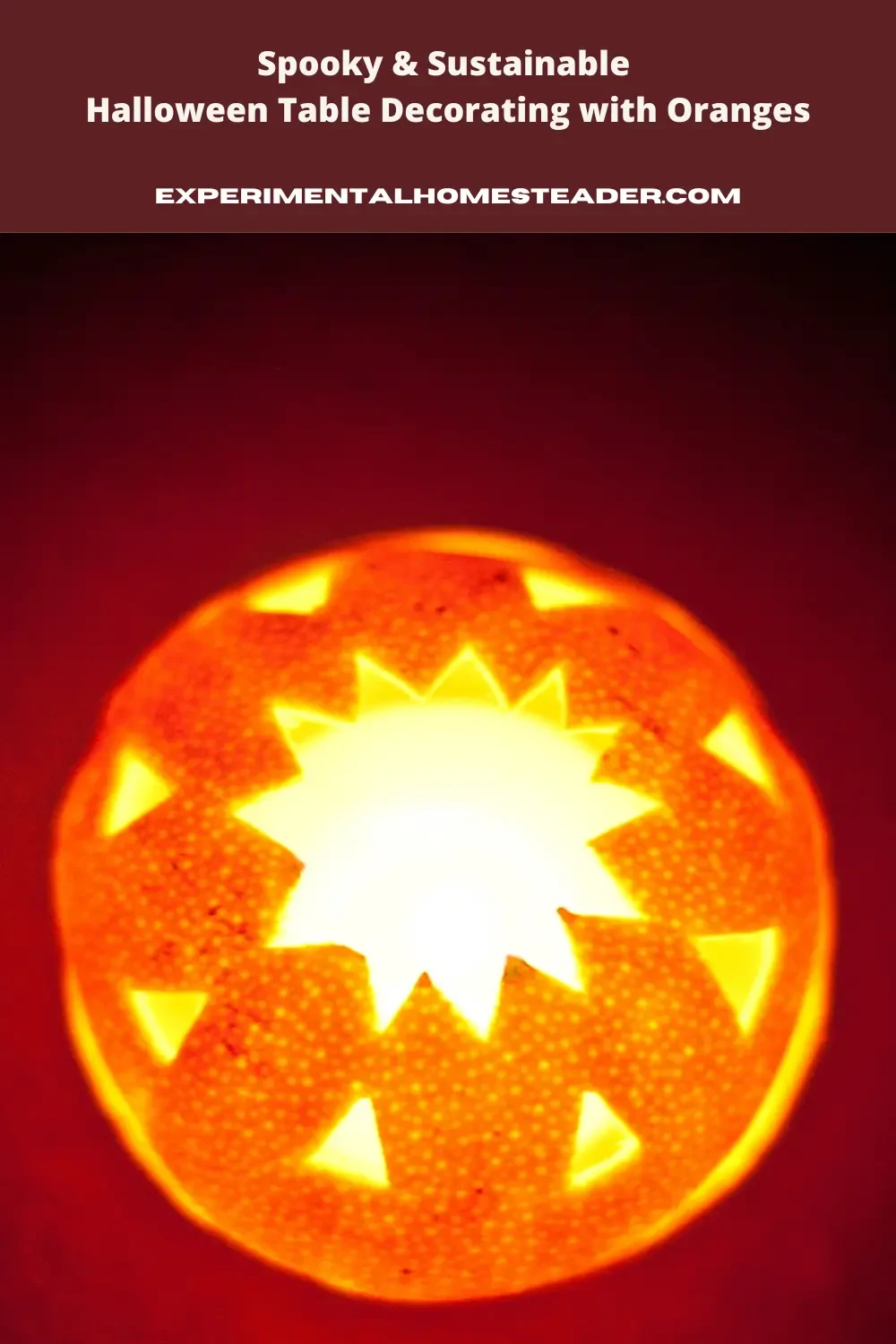 Unraveling the Magic: Your Halloween Orange Luminary FAQs
Q. What materials do I need to make orange luminaries for Halloween?
A. To make orange luminaries, you'll need oranges, a knife, a spoon, your choice of candles (traditional or LED), and optional decorations like cloves for added aroma.
Q. Are LED candles safe to use inside the orange luminaries?
A. Yes, LED candles are a safe and excellent choice for lighting your orange luminaries, especially in situations where traditional candles may not be suitable, such as around kids or pets.
Q. Can I eat the oranges after hollowing them out for luminaries?
A. Absolutely! Don't let those scooped-out orange flesh go to waste. You can use it to make delicious treats like orange juice, smoothies, candied orange peels, or even orange-infused desserts.
Q. How do I create designs on the orange peel luminaries?
A. You can carve spooky faces or intricate designs on the orange peels, much like you would with a pumpkin. A sharp knife or small carving tools work well for this purpose. Let your creativity shine!
Q. How long do the orange luminaries last when lit?
A. The burn time of your orange luminaries will depend on the size of the orange and the type of candle used. Typically, they can last anywhere from a few hours to an evening of Halloween festivities.
Q. Can I use orange luminaries as outdoor Halloween decorations?
A. Yes, orange luminaries can be used both indoors and outdoors to create a magical Halloween ambiance. However, be cautious with traditional candles outdoors, especially in windy conditions.
Q. Are there other ways to incorporate Halloween oranges into decor besides luminaries?
A. Absolutely! You can create an orange garland, make mini jack-o'-lanterns, use hollowed-out oranges as vases, or even make homemade potpourri from dried orange peels and spices. The possibilities are endless!
Q. How can I make my Halloween decor more eco-friendly and sustainable?
A. Using natural materials like oranges, opting for LED candles, and repurposing orange peel leftovers for treats are all eco-friendly choices. You can also consider using reusable or biodegradable decor items.
Q. Can I customize the fragrance of my orange luminaries?
A. Yes, you can personalize the aroma of your orange luminaries by adding cloves, cinnamon sticks, or other fragrant spices inside the hollowed-out oranges before placing the candle. Experiment with different combinations to create your desired scent.
Q. Are there any fire safety precautions I should take when using traditional candles in orange luminaries?
A. When using real candles in your orange luminaries, be sure to place them on non-flammable surfaces and keep them away from flammable materials. Never leave them unattended, especially if there are kids or pets around. Consider using candle holders or votive cups for added safety.
Halloween Decorating And Craft Ideas