When it comes to Halloween, it's all about the treats, and what could be more delightful than these cheese broomsticks?
They're not just delicious; they're also a creative and healthy addition to your Halloween party spread.

Imagine the smiles on your guests' faces as they see these adorable broomstick snacks.
In this DIY-inspired post, we'll guide you through the simple steps to create these cheese broomsticks that are sure to be a hit at your Halloween party.
Cheese broomsticks are a fantastic way to infuse a bit of magic and whimsy into your Halloween gathering.
With just three simple ingredients – cheese, pretzels, and green onion leaves – you can create a snack that's not only delicious but also visually captivating.
These broomsticks can be a part of your party decor and will surely be a conversation starter.
Whether you're hosting a spooky soirée or a family-friendly get-together, these cheese broomsticks are a must-try addition to your Halloween menu.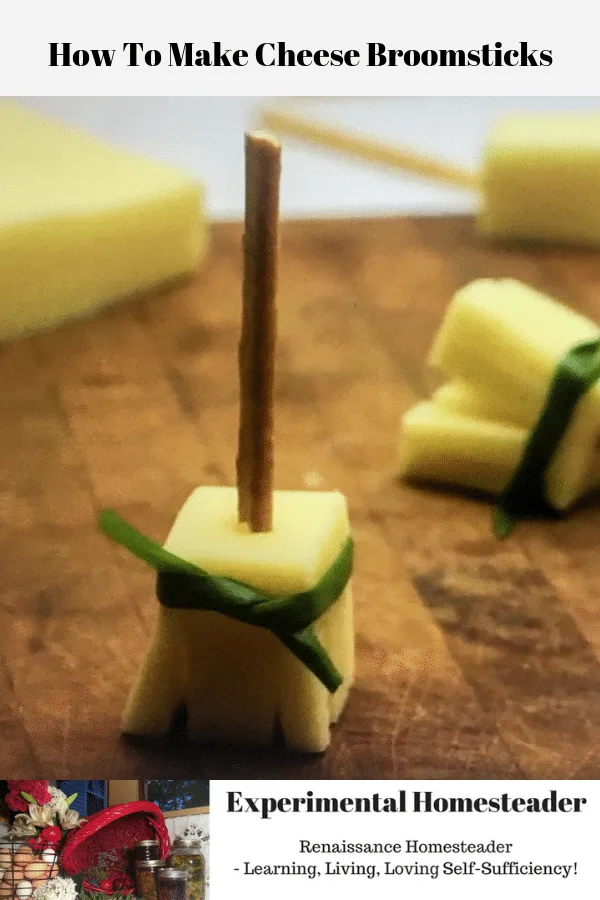 A Thematic Halloween Food Table
Pairing these cheese broomsticks with other Halloween-themed decorations, such as the cute toilet paper witches, not only adds to the ambiance but also allows kids of all ages to participate in the party preparations.
It's not just about the food; it's about the entire experience.
And let's not forget the food table theme.
These broomsticks are a perfect fit.
They're not just a treat; they're part of the decor, making your Halloween gathering even more engaging.
To make things even more exciting, you can serve them with a Halloween-colored, non-alcoholic party drink.
The combination is sure to have everyone talking about how cool your Halloween buffet table is.
How to Make Your Own Cheese Broomsticks
Now, let's dive into the process of creating these enchanting cheese broomsticks.
Whether it's your first time making them or you're a seasoned DIY homesteader, these are a must-try.
You'll find that these steps are as easy as they are fun.
Step 1: Gather Your Ingredients
Before you begin, make sure you have all the necessary ingredients ready.
Lay out your cheese, pretzels, and green onion leaves.
It's always a good idea to use fresh and high-quality ingredients for the best results.
Step 2: Preparing the Cheese
Start by cutting the cheese into thin strips.
These strips will be the broom bristles.
You can also get creative here.
If you have the time and inclination, you can use food coloring or food color markers to paint the cheese, giving it a more realistic broomstick appearance.
Step 3: Assembling Your Broomsticks
Now it's time to assemble your broomsticks.
Take a pretzel stick, and insert the cheese strips into one end.
Make sure they stick out like broom bristles.
You can use as many cheese strips as you like, depending on the desired broomstick thickness.
Step 4: Adding the Finishing Touch
To complete your cheese broomsticks, tie a small piece of green onion leaf around the cheese and pretzel stick.
This gives your broomstick a pop of color and adds a delightful earthy flavor.
Creative Variations
If you have more time or a flair for creativity, you can experiment with different aspects of your cheese broomsticks.
For instance, consider using food coloring or markers to paint the cheese for a more realistic broom look.
Another fun idea is to purchase longer pretzels and break the tops off to create a jagged appearance for your broomsticks.
However, if you're serving these to younger kids, it's best to avoid sharp, broken pretzel tops for safety reasons.
Print
How To Make Cheese Broomsticks
Author: Sheri Ann Richerson
Prep Time:

5 minutes

Total Time:

5 minutes

Yield:

1

2

1

x
Category:

Snacks

Method:

No Cook
10.6 oz

(

300g

) cheese

12

pretzel sticks

12

green onion leaves
Instructions
Cut the cheese into squares.
Thinly slice the squares cheese about 3/4 of the way through the cube. Do not cut all the way through the cheese square.
Place the sliced side of the cheese towards the table.
Insert the pretzel stick into the top of the cheese slice to create the broom.
Pull a small piece of the green onion off and tie it around the top of the cheese square. Continue doing this until all the cheese brooms have green onion ties.
Serve or wrap and refrigerate if you are making these ahead of time.
Keywords: halloween recipes, halloween snacks, snacks, quick easy recipes, recipe
Recipe Card powered by
Elevate Your Halloween Buffet with Spooky Delights
If you're looking to create an unforgettable Halloween buffet table, your options are practically limitless.
Alongside the charming cheese broomsticks, there's a world of other spooky and delicious treats that can add a spine-tingling touch to your party.
Let's explore some of these ghoulish delights:
1. Mummy Mini Pizzas: Transform ordinary mini pizzas into eerie mummies by adding strips of mozzarella to resemble mummy bandages. A couple of olive slices for eyes, and you've got yourself a delightful yet slightly spooky treat.
2. Monster Sandwiches: Get creative with your sandwich-making skills by using various ingredients to create monster faces. Olives for eyes, bell peppers for mouths, and a whole lot of imagination. It's a fantastic way to serve a crowd-pleasing favorite with a spooky twist.
3. Apple Monster Mouths: For a healthier option, slice apples into wedges and insert slivered almonds to create "monster teeth." Add a bit of peanut butter to "seal" the mouth, and you've got a delicious and nutritious Halloween snack.
4. Halloween Sausage Fingers: These are simple yet eerily realistic. Use cooked sausages, cut on one end to resemble a fingernail, and score lines for knuckles. A bit of ketchup as "blood" will give your guests a shiver down their spine.
5. Mozzarella-Stuffed Mummy Peppers: Hollow out mini bell peppers and stuff them with mozzarella cheese. Wrap them with strips of phyllo dough, and bake until golden. The result? Adorable and delicious mummy peppers.
In conclusion, while the cheese broomsticks are a delightful addition to your Halloween party, they are just the tip of the iceberg when it comes to creative and spooky treats for your buffet table.
These ideas not only provide a visual feast but also engage your guests in a playful and memorable culinary experience.
So, embrace the spirit of Halloween, get creative in the kitchen, and make your celebration unforgettable.
And don't forget to print off the cheese broomstick recipe and keep it in your favorite recipe box for easy access whenever you need it.