Coconut milk soap is popular because it is so creamy.
In fact, some people consider it to be the creamiest of all the milk soaps.

This is because coconut milk has a high percentage of fat, however the scent does not carry though into the soap.
So if you want coconut scented soap, go ahead and add the milk, then add small shred of coconut which will act as an exfoliant and some coconut scented oil made for soap making.
With so many people starting to make coconut milk soap at home, here are five tips to make sure your soap making is successful.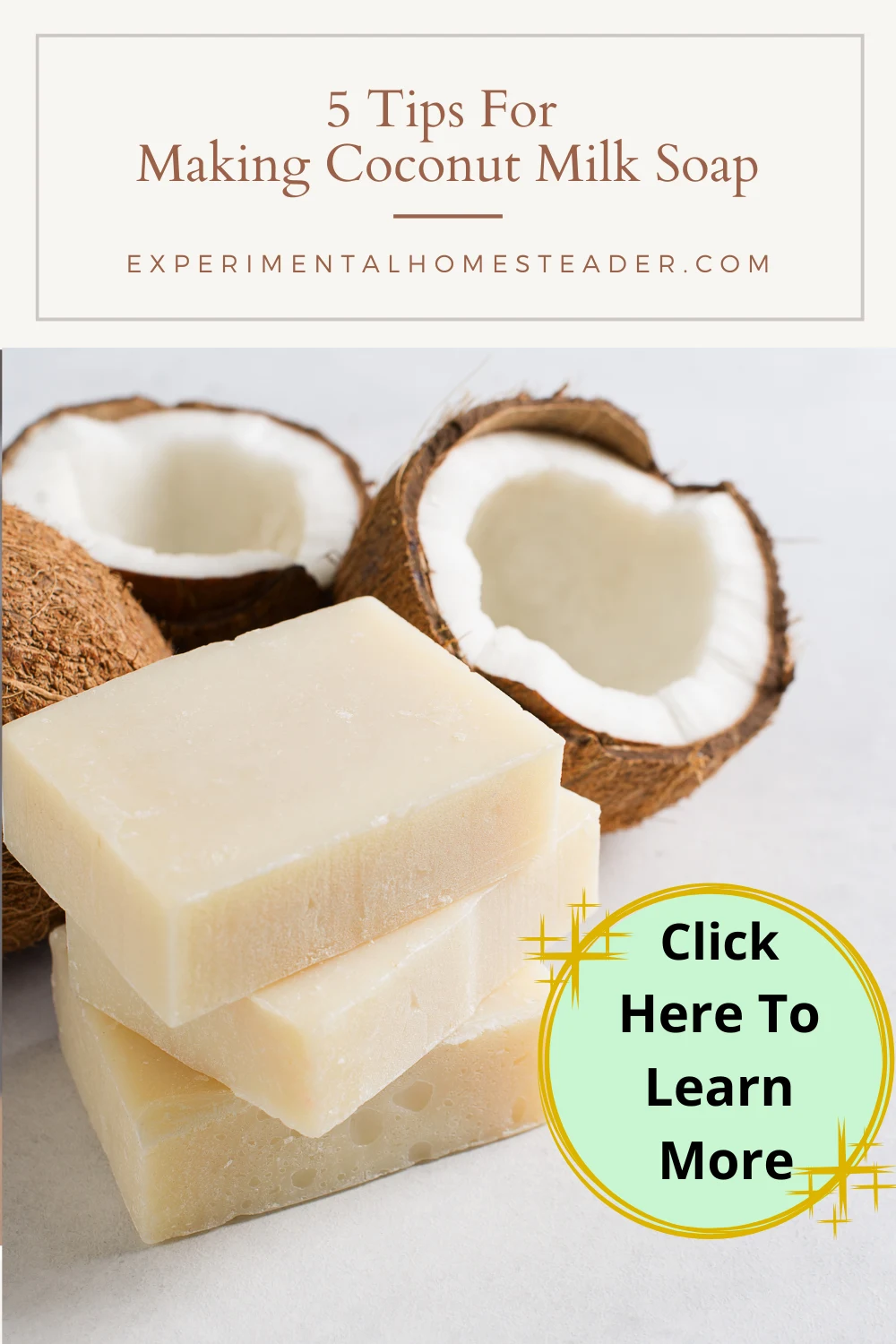 Tip #1 – Substituting Coconut Milk
Yes, you can switch out goat milk or whatever type of milk your soap recipe calls for and use coconut milk instead.
You can also switch out some of the water in the recipe and use coconut milk in place of it.
For example, if your recipe calls for 32 ounces of water, use 22 ounces of water and 10 ounces of coconut milk.
Tip #2 – Replacing All The Water
Yes, you can replace all the water in your coconut milk soap recipe with coconut milk – or any other type of milk you want.
You can even mix milk types if that's what you want to do.
Just keep in mind, especially if this is your first time making a milk soap, that milk contains sugars that scorch when high temperatures are reached.
When you add lye to any soap making liquid, it can easily raise the temperature up to 200 degrees Fahrenheit.
This will cause the milk to scorch.
While the unpleasant, ammonia-like smell will eventually dissipate, the yellow color of the soap will remain.
It won't ruin your soap, but you won't end up with pristine white soap either.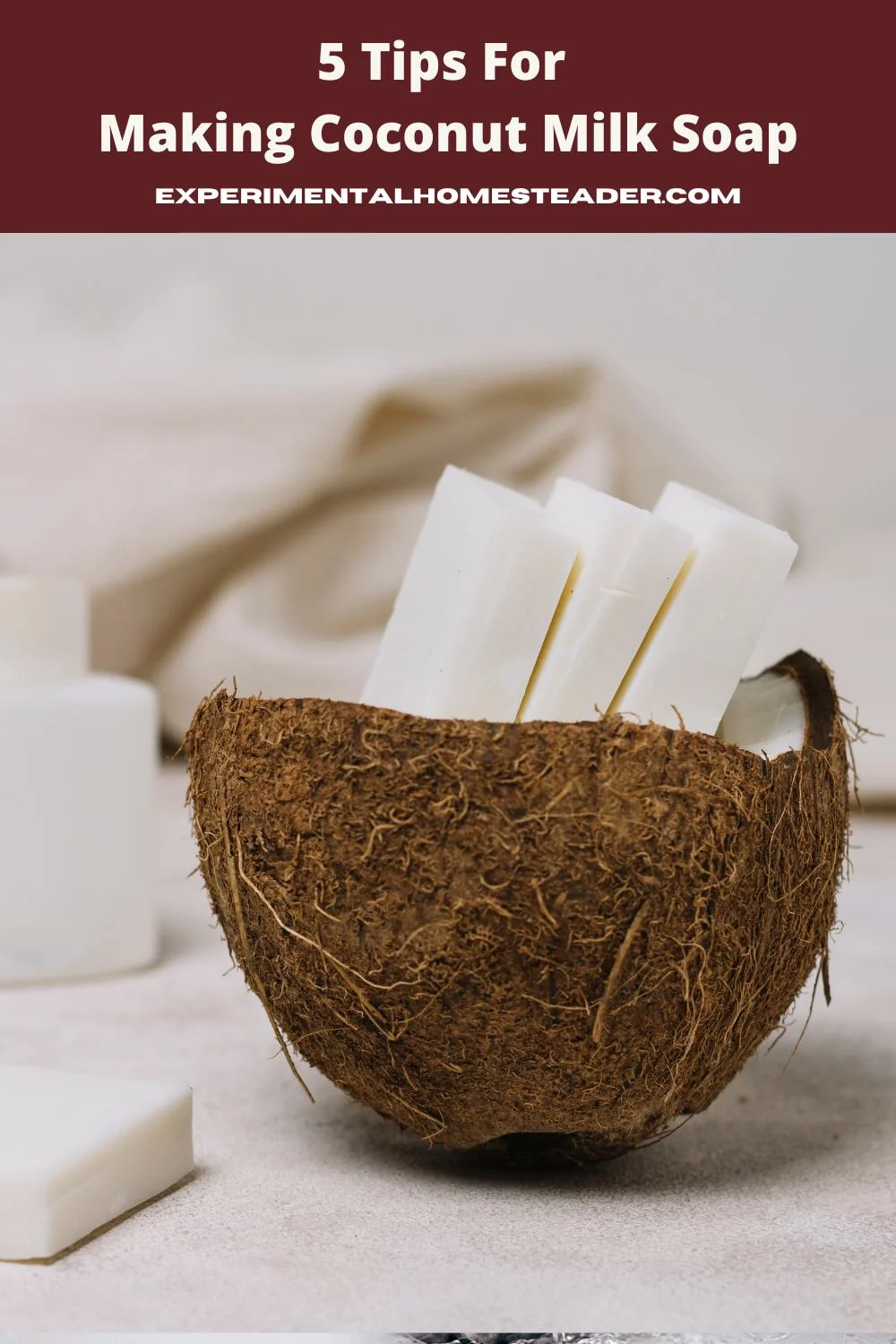 Tip #3 – How To Add Coconut Milk To Cold Process Soap
If you are making a cold process coconut milk soap, make sure your coconut milk is cold.
Refrigerate the coconut milk soap until the lyes and water are somewhere between 70 degrees Fahrenheit and 85 degrees Fahrenheit.
Alternatively you can freeze the coconut milk until it is a slushy and use it, but do not freeze it solid.
Once the milk is cold and you are at trace, add the cold milk into the soap recipe and finish your soap per the soap making directions you chose.
Adding cold coconut milk at trace keeps the temperature lower when the milk is added and prevents the sugars in the soap from scorching and discoloring the soap or causing it to have an unpleasant smell.
Tips #4 – How To Add Coconut Milk To Hot Process Soap
The process is pretty much the same as adding coconut milk to a cold process soap recipe, however instead of refrigerating the milk, you want to freeze it.
It is very important that the temperature of the milk is as low as possible, so ice cubes that are rock hard are ideal.
When you add the lye to the milk, do so slowly.
You will notice the milk cubes melting.
Do not rush this process or the milk will burn and you will get a discoloration and an unpleasant smell.
It can take up to fifteen minutes to add five ounces of lye, so again give yourself plenty of time.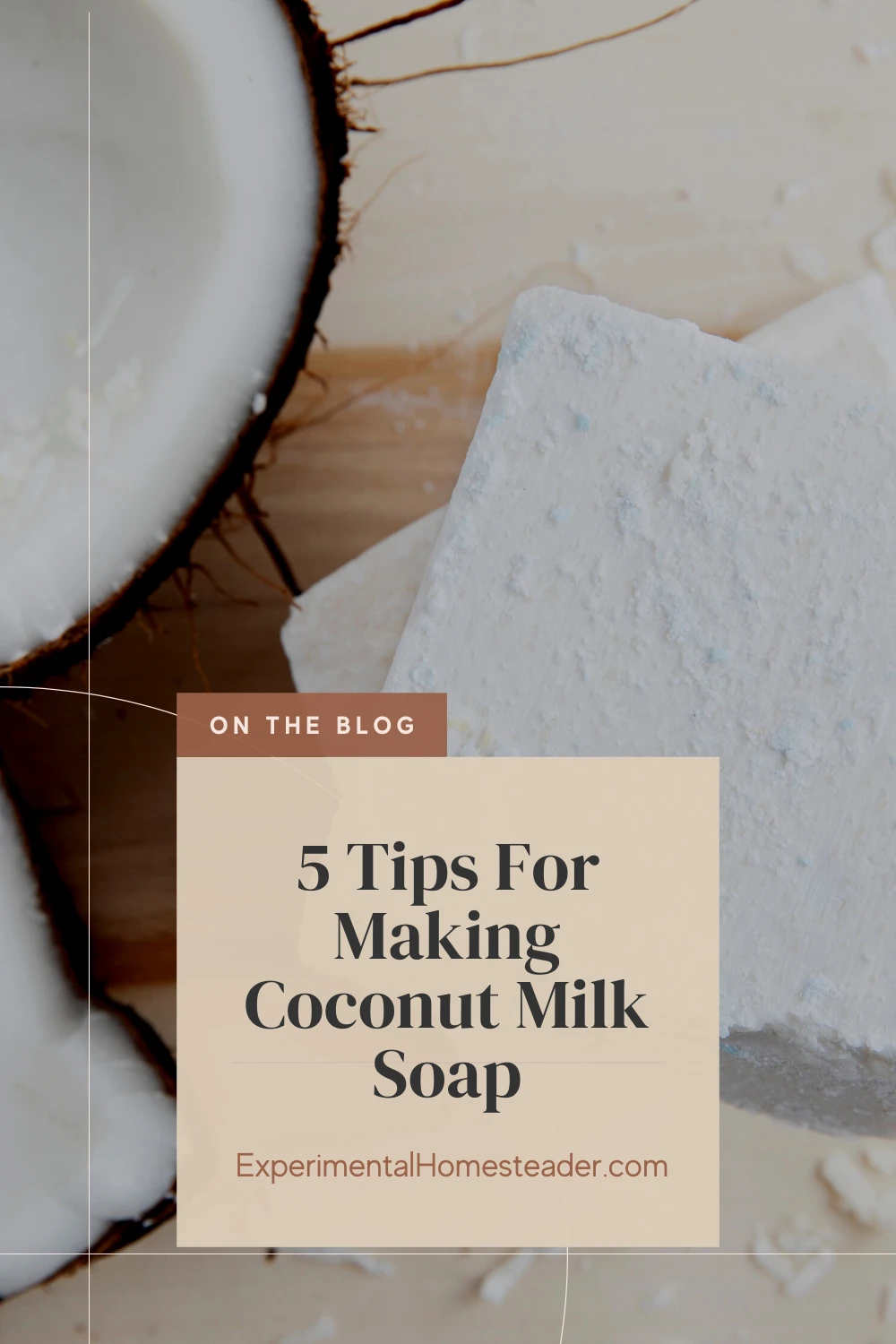 Tip #5 – Set Some Coconut Milk Aside 
If you are making a hot process soap, set aside about 1/2 cup of coconut milk soap.
The amount of coconut milk you set aside will vary depending on your recipe.
When the hot process soap is done and of a vaseline consistency, go ahead and add the coconut milk soap to it.
Mix it well and pour the soap into the molds.
Adding additional milk at this stage not only makes it easier to pour into the molds, but it also makes the soap lighter and more nourishing.
F.A.Q. 
Q: Which milk is better for soap making?
A: This is a personal preference and depends on what outcome you are looking for. Here are a few examples:
Goats milk produces a creamy, moisturizing soap with small bubbles.
Soy milk produces a soap with a dense, creamy lather.
Coconut milk produces a soap with resilient, creamy, medium sized bubbles.
Other animal milks such as corn, sheep, donkey, horses and yaks produce soap very similar to goats milk.
Vegetable sourced milks such as rice and almond produce soaps similar to either coconut milk or soy milk.
Q: How long can you freeze milk soap?
A: 24 hours, otherwise ir can scorch.
Q: What are the four basic methods of soap making?
A: They are:
cold process
melt and pour
hot process
rebatch
Q: How can I make a creamier soap?
A: By replacing the water with milk, yogurt or aloe vera juice.
Q: What are the three main ingredients in soap?
A: All soaps contain these three main ingredients:
oil or fat
lye
water or milk
data-shortcode="mv_create"
data-attributes='{DQUOTEkeyDQUOTE:DQUOTE211DQUOTE,DQUOTElayoutDQUOTE:DQUOTEcirclesDQUOTE,DQUOTEthumbnailDQUOTE:DQUOTEhttps://experimentalhomesteader.com/wp-content/uploads/2019/11/EHMain.jpgDQUOTE,DQUOTEtitleDQUOTE:DQUOTE