This sous vide ice cream recipe is loaded with small chunks of cherries and has a slight cinnamon undertone.
It is very smooth tasting in comparison with homemade ice cream made with an ice cream machine.

In fact, this cherry cinnamon ice cream was more of a French/custard-based ice cream and we simply loved the silky base.
The Sous Vide Ice Cream Difference
Making homemade ice cream is nothing new to me.
However this was the first time I made sous vide ice cream.
The process is a little longer – and a little more involved – than just using an electric ice cream mixer, however the results are so much better.
The ice cream comes out smooth and creamy without ice crystals.
I made a double batch and ended up needing both of my ice cream makers to freeze what I had made.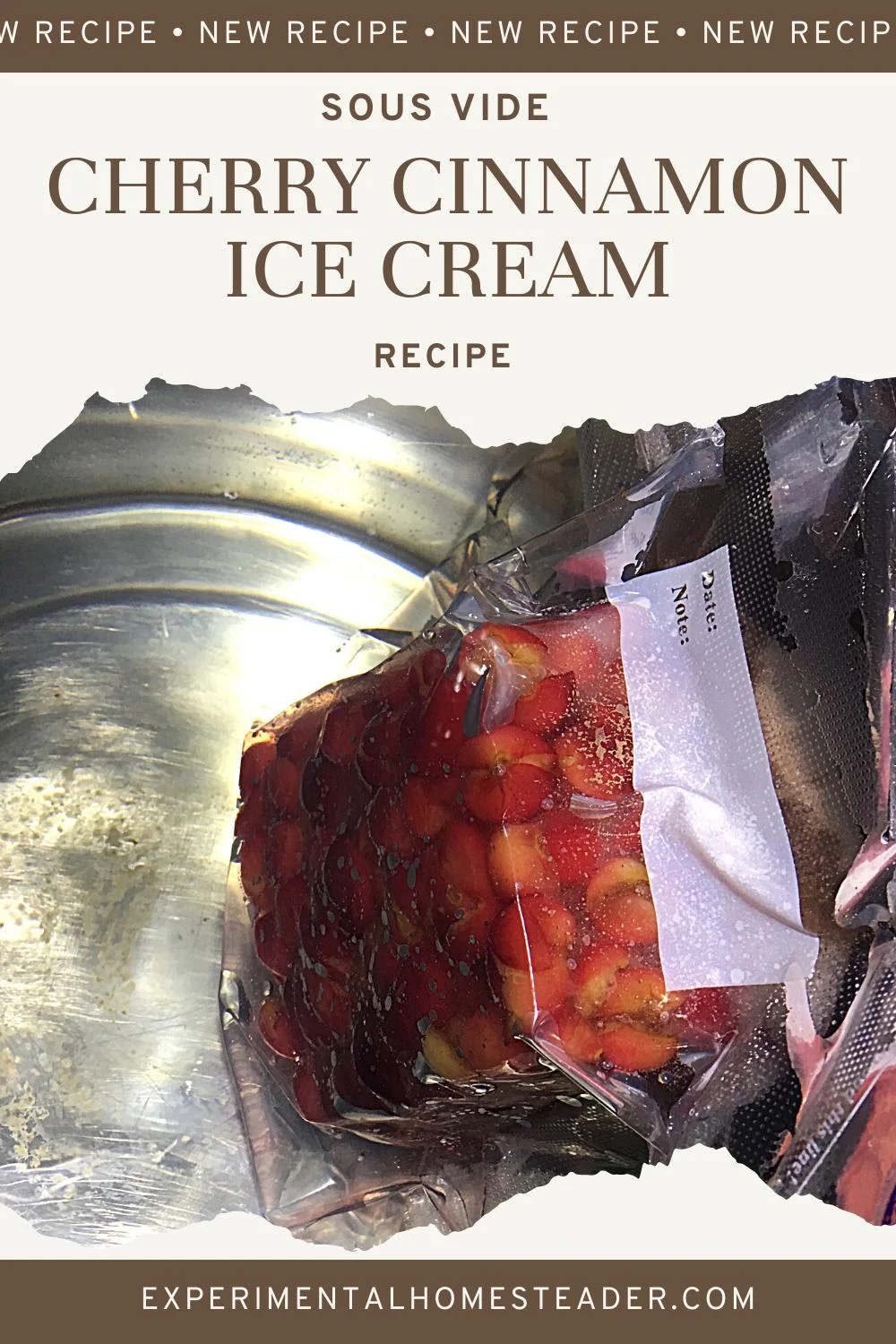 Experimental Ice Cream Flavors
I have to say that I love combining spices and herbs with fruit.
Sometimes I hit on a combination, such as this cherry cinnamon ice cream, that seems perfect.
Other times, the combination flops and I wonder where on earth did my idea come from in the first place.
The cinnamon really added to the flavor though and it was almost like eating cherry pie ice cream minus the nutmeg!
It truly was delicious and is a flavor combination I will use again.
The recipe below is for a single batch of cherry cinnamon ice cream!
Print
Sous Vide Cherry Cinnamon Ice Cream Recipe
2

cups

tart cherries

1

cup

sugar

1

cup

whole milk

1

cup

heavy whipping cream

1 teaspoon

bourbon vanilla bean paste

1/2 teaspoon

cinnamon
Pinch of kosher salt

4

whole eggs
Instructions
Set the sous vide cooker to 180 degrees Fahrenheit.
Put the cherries, 1/2 cup of sugar and the cinnamon into a bag and vacuum seal it.
Cook the cherries and spices for 30 minutes.
Combine all the other ingredients and blend.
Add the cherry mixture.*
Blend again until all the ingredients are well mixed.
Pour the mixture into a bag and vacuum seal it.
Return the bag to the sous vide cooker and cook for another hour making sure to mix the ingredients in the bag several times during that hour. I used a silicone spoon to press the contents of the bag against the side of my pan.
Remove the bag from the sous vide cooker at the end of the hour and pour the contents into an ice cream machine.
Follow the instructions for your ice cream machine.
Once it is frozen, serve and enjoy!
Notes
*Note: If you do not like chunks of fruit in your ice cream, blend the cherries separately then add to the milk mixture.
Recipe Card powered by

Cherry And Cinnamon Ice Cream Recipe
Cinnamon ice cream has always been a favorite every since I first discovered it at a truck stop many years ago.
In the past, I have made cinnamon chocolate ice cream, but somehow it just seemed to be lacking something.
When I came up with the idea to add the cherries, fresh from my cherry tree, I knew this homemade cinnamon ice cream was going to turn out really good.
I had no idea how good – but let me assure you it was all quickly eaten.
Best of all, I knew the missing ingredient in my homemade cinnamon ice cream recipe was the cherries.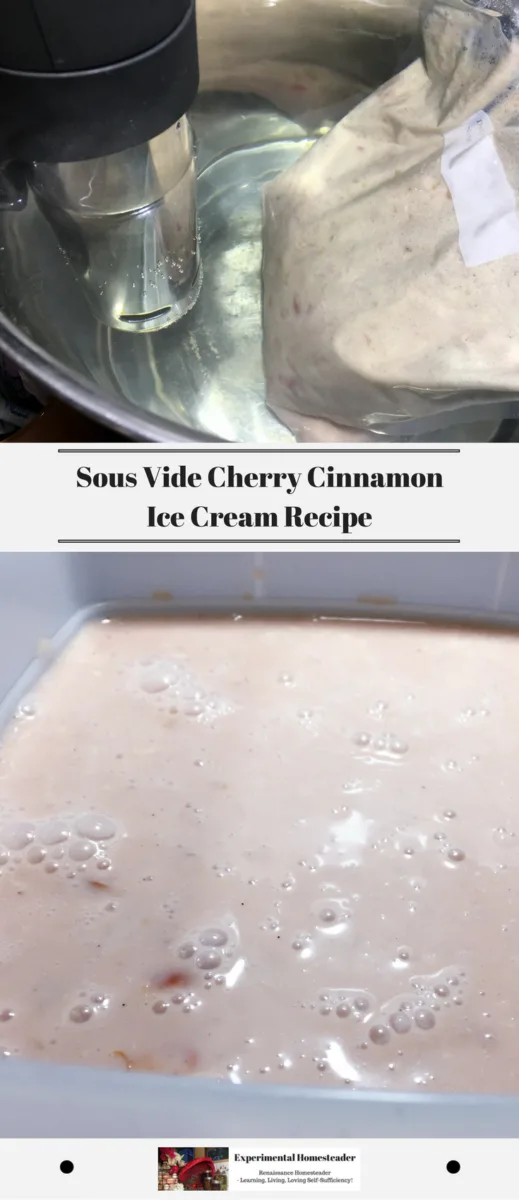 Can You Freeze Ice Cream In Glass Containers?
Many people wonder about freezing ice cream in glass containers – and I have to say, I do not recommend it.
While there are plenty of freezer safe glass containers, 
One reason is you want a container that is wide, so the ice cream cane freeze faster which will minimize the ice crystals.
However, even if you do find a freezer-proof glass container that is wide, you still should choose plastic over ceramic or glass because otherwise your ice cream will take too long to freeze.
This is because glass and ceramic are poor conductors of heat.
<div
data-shortcode="mv_create"
data-attributes='{DQUOTEkeyDQUOTE:DQUOTE79DQUOTE,DQUOTElayoutDQUOTE:DQUOTEcirclesDQUOTE,DQUOTEthumbnailDQUOTE:DQUOTEhttps://experimentalhomesteader.com/wp-content/uploads/2017/11/sousvideultimateeh.pngDQUOTE,DQUOTEtitleDQUOTE:DQUOTEOther