You're going to love making this light and easy cucumber sandwiches recipe!
Summer is here and cucumbers are certainly abundant – either in your garden or the garden of someone you know.

It's a super simple way to make a flavorful and delicious light lunch for all. 
Even if you don't know someone who gardens, just look at your local farmers' market or even your local grocery store.
Making these cucumber tea sandwiches is fun, delicious, and tasty with fresh garden cucumbers.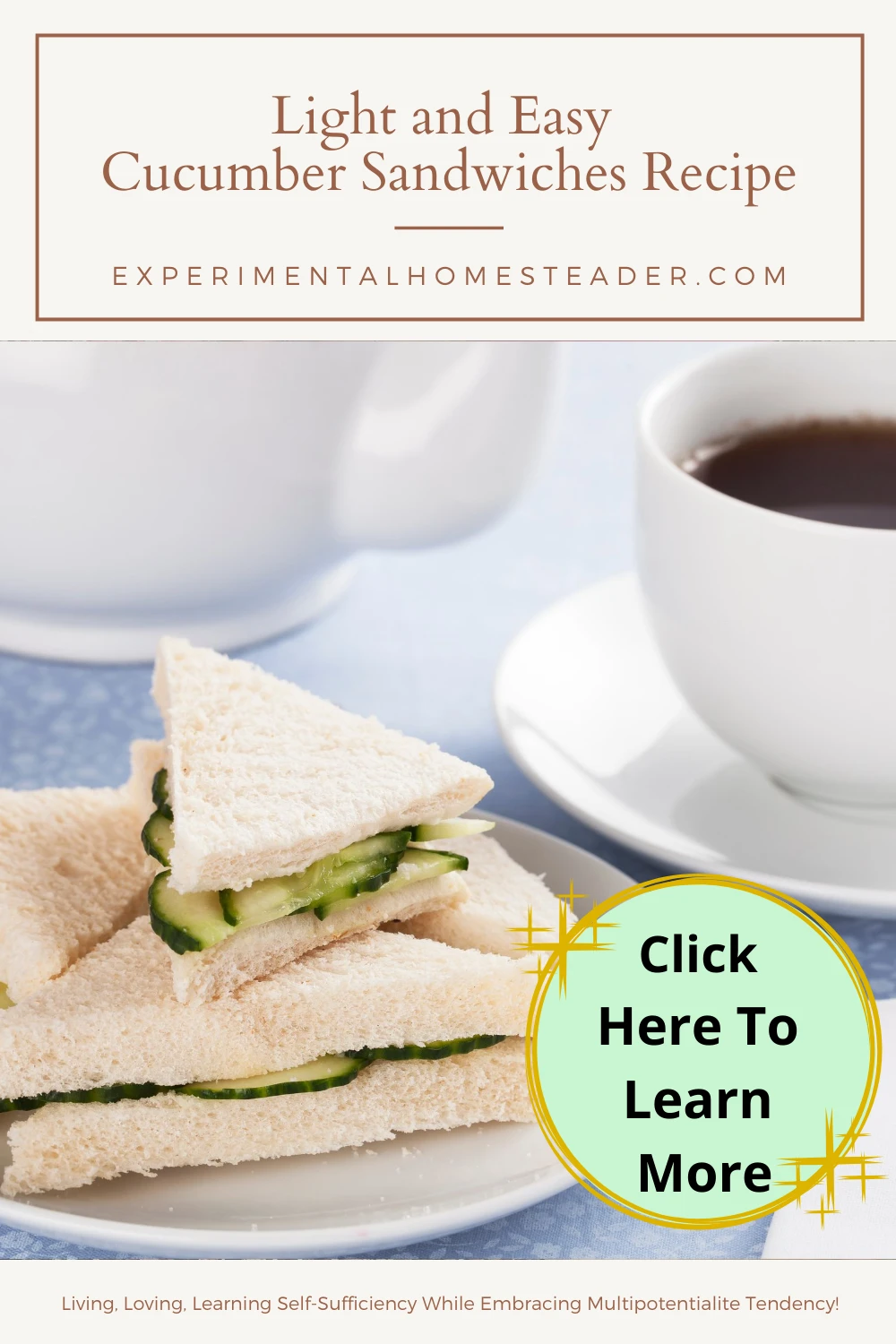 Why Cucumber Sandwiches Are Ideal For Summer
Cooking indoors means heating up the house and even with air conditioning it can get downright sweaty in the kitchen in the summer.
Since cucumbers come in a variety of sizes and colors, it is easy to make them colorful.
While it is true that you pretty much have to grow the cucumbers yourself or know someone who does to deviate from the typical green cucumbers, with a little planning you can do it.
One of my favorite types of cucumbers are the Sikkim Cucumber, which has a brown skin and a crisp taste.
Lemon cucumbers are actually yellow and taste milder than a typical cucumber, so there is sure to be some type of cucumber that is ideal for everyones personal taste.
Not to mention, cucumber sandwiches are easy to make and are great for dinner on a hot evening or as a delicate sandwich for a summertime party.
Add a side of fruit and you are all set.
How To Keep Cucumber Sandwiches From Getting Soggy
Cucumbers are naturally full of water provided they were grown correctly.
When you slice them up, that water tends to run out and soak whatever they are laying on.
Bread is naturally absorbent, so you need a plan to keep your bread from absorbing all that liquid from the cucumbers.
The best way to keep the bread from getting soggy is to use a thin layering of cream cheese on the bread.
This creates a barrier that won't let the water permeate from the cucumber to the bread. 
However, the water may drip onto the plate the cucumber sandwiches are sitting on and soak the outside of the bread.
This is why it is best to wait until you're ready to serve the cucumber sandwiches to make them.
This way, they are fresh and there won't be time for the water to soak into the bread.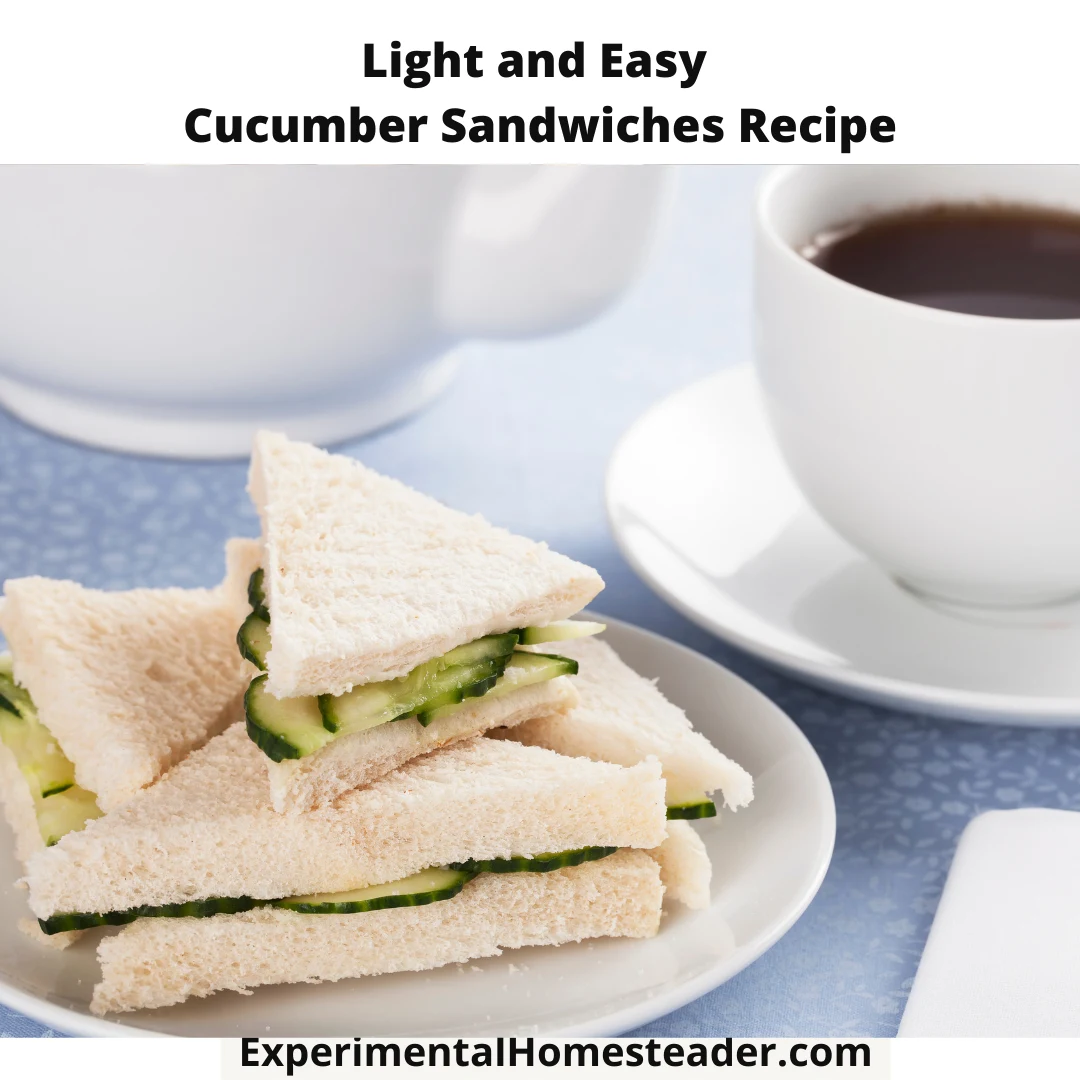 The Origin Of Cucumber Sandwiches
Have you ever wondered about the origin of cucumber sandwiches?
They're more than just a cute sandwich to eat!
They were actually invented as a way to create a tasty treat to overcome the hot temperatures outside.
The more you know, right?
Why They Are Called Tea Or Finger Sandwiches
They're small and yummy to eat with tea, that's why.
Some people also refer to them as finger sandwiches, too because they're easy to pick up with their hands and fingers, and enjoy! 
To Peel Or Not Peel The Cucumbers
I don't peel them all the way, but I do peel down some of the sides of the sandwich so that it adds a skewered look going down the various sides. 
It really doesn't matter if you peel them or not.
It is a personal preference.
How To Store Cucumber Sandwiches
I would recommend that you store them apart from the bread.
So, if you've assembled them already, leave those if you must and store them in the fridge.
The bread might get a bit soggy but if you use the tip mentioned above, overall they should be okay to eat. 
As you can see, these are not only easy to make but they're delicious, too.
If you want to take them up a notch, add some fresh onion or dill weed from the garden as well! 
Easy Cucumber Sandwiches Recipe
When you can make a simple recipe and create a tasty treat, why not do so?
These sandwiches made with cucumbers are too yummy to pass up!
The best part is that they're loaded with a fresh flavor and you can use fresh cucumbers straight from the garden, too!
Talk about a great way to get a ton of flavor, fast! 
Here is my recipe for a light and easy cucumber sandwich.
Print
Light and Easy Cucumber Sandwiches
8

ounces

cream cheese, softened

1/3

cup

mayonnaise

2 Tablespoons

Italian Dressing

2 teaspoons

garlic salt
Dash of lime

1

cucumber, sliced thin

4

slices French bread
Instructions
In small mixing bowl combine cream cheese, mayonnaise, dressing and garlic salt.
Mix well.
Spread cream cheese mixture on French bread.
Top with slices of cucumber and a dash of lime.
Notes
* If you want to serve these for a shower or garden party you can use baguette bread or a roll instead of French bread.
Keywords: cucumber sandwiches, cucumber sandwich, cucumber recipes, quick and easy recipes
Recipe Card powered by