Disclaimer: This is a sponsored post. I was sent the Beloved Morning Blend set for free from Just Spices. I was asked to try them and consider them for inclusion in an upcoming article. I did try them and do like them. There was no monetary compensation. All opinions are my own. There are also links to products I recommend from companies I have a referral relationship with. I will be compensated if you make a purchase after clicking on my links.
This is the best quick pancake recipe that I have ever made.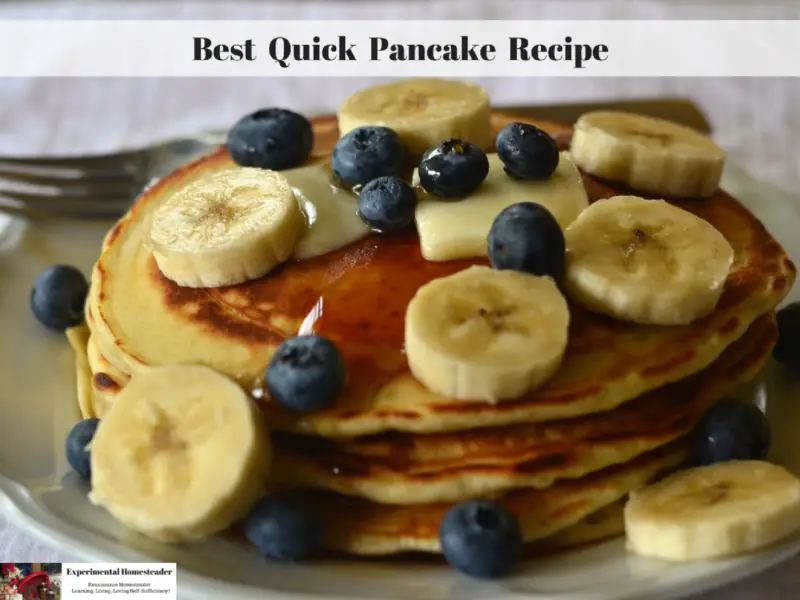 It is easy to customize with fresh fruit, jam or even chocolate chips.
To really jazz up your pancakes, add the Just Spices Pancake Blend Seasoning Mix.
You can mix the dry ingredients together ahead of time and keep it in the refrigerator, then just add in the moist ingredients when you make the recipe.
This will save some time on those super busy mornings.
Print
Easy Tasty Basic Pancake Recipe
Author:
Yield:

8

pancakes

1

x
2 cups

flour

(affiliate link)

(white, wheat or whatever kind you prefer)

2 cups

milk

2

eggs, beaten

1/3 cup

melted butter

2 tablespoons

sugar (optional)

2 teaspoons

baking powder

(affiliate link)

1/2 teaspoon

salt
Instructions
In a large bowl combine all the ingredients and mix until the ingredients are just blended.
Preheat a lightly greased griddle or frying pan.
Use 1/4 cup of batter per pancake. Pour the batter into the pan once the oil gets hot enough that a drop of water

(affiliate link)

sizzles. Be sure to not overheat the pan or griddle as hot oil can catch on fire.
Cook the pancakes until they begin to bubble.
Flip the pancakes once and cook for 1 to 2 minutes longer.
Serve the pancakes warm with maple syrup, jam or fruit.
Notes
Note: This is a basic, easy pancake recipe you can vary to suit your needs. Try adding fresh cut fruit, chocolate chips or even jam to the batter for variation.
Recipe Card powered by
Just Spices was kind enough to share a recipe with me as well that they gave me permission to reprint.
Here is that recipe.
Print
Just Spices Banana Pancakes
Just Spices was kind enough to share a recipe with me as well that they gave me permission to reprint.
1

medium ripe banana

2

large eggs

1 teaspoon

Pancake Blend
Butter or oil

1/8 teaspoon

baking powder

(affiliate link)

, for fluffier pancakes
Optional: 1 cup fresh fruits (we recommend blueberries or chopped apples), 1/2 cup chopped nuts and 1 tablespoon honey

(affiliate link)
Instructions
Peel the banana and break it up into several big chunks in a bowl.
Use a dinner fork to thoroughly mash the banana. Continue mashing until the banana has a pudding-like consistency and no large lumps remain (a few small lumps are okay). You should have 1/3 to 1/2 cup of mashed bananas.
Whisk in Just Spices Pancake blend. These pancakes are pretty great on their own, but a few extras never hurt. Add 1/8 teaspoon of baking powder

(affiliate link)

for fluffier, lighter pancakes and save any chunky, heavy ingredients — like nuts — for when the pancakes are on the griddle.
Whisk the eggs together until the yolks and whites are completely combined. Then pour the eggs over the banana mixture and stir until everything is completely combined.
Melt a little butter or warm a little vegetable oil in the pan to prevent the pancakes from sticking to the griddle, if you like.
Drop 2 tablespoons of batter onto the hot griddle. It should sizzle immediately — if not, turn up the heat slightly.
Cook the pancakes until the bottoms look browned and golden when you lift a corner (roughly 1 minute). The edges should also be starting to look set, but the middle will still be loose like barely set Jell-O.
Cook the other side for another minute or so, until it's is also golden-brown. You can flip the pancakes a few times if you need to in order to get them evenly browned (Flipping is much easier once the second side is set!).
Recipe Card powered by
I highly recommend the following articles:
Use the buttons on the right hand side of the screen to share this article with friends or family who might find it useful. Pin the picture below to your pinboard on Pinterest for future reference.