Disclaimer: The reviewer has received the product/service at a reduced price or for free. I am being compensated to participate in #Switch2Swerve challenge through the Bookieboo Influencer Network . I switched out my regular sweetener to Swerve Sweetener from November 18, 2013 through December 20, 2013. All opinions are my own and are my honest opinions based on my own experience with the product.
This banana bread recipe is a great way to use ripe bananas to keep them from going to waste.

For those of you looking for substitute for sugar in banana bread or a banana bread recipe for diabetics, this recipe is sure to be exactly what you are looking for.

Swerve Sweetener Is A Great Alternative To Sugar
With or without nuts, this banana bread recipe tastes great and adding Swerve Sweetener removes the calories normal sugar would add.
Swerve Sweetener has zero calories and no aftertaste.
If you're like me, you might even have frozen bananas in the freezer – and you can use those in this banana bread recipe just like I did.
In fact, if you don't know this, removing the peel and freezing bananas is a great way to keep from throwing them away when they start to turn brown.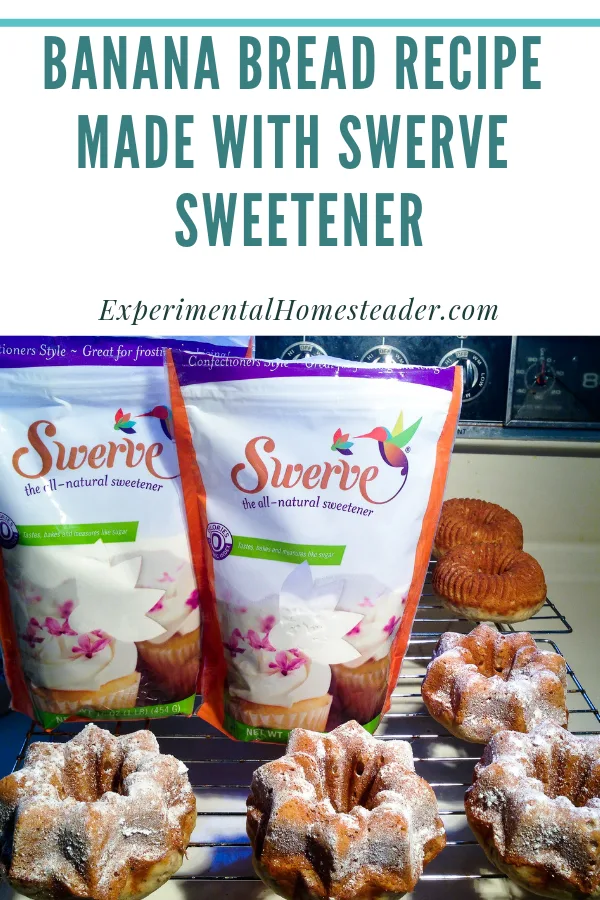 Swerve Banana Bread Recipe
This banana bread recipe made with Swerve Sweetener tastes so good everyone in your family is sure to love it.
In fact, there is a very good chance they might not even realize you switched the sugar out for Swerve Sweetener – unless you tell them or they see the bag.
I know that I could not tell I switched out the sugar and neither could my husband.
Here is my recipe for making banana bread with Swerve Sweetener – and remember if you have a favorite recipe Swerve Sweetener measures just like sugar so you can simply use it in place of regular sugar.
Print
Banana Bread Recipe Made With Swerve Sweetener
Author: Sheri Ann Richerson
Prep Time:

30 minutes

Cook Time:

1 hour 10 minutes

Total Time:

1 hour 40 minutes

Category:

Breads

Method:

Oven
Instructions
Cream together sugar and butter until it is light and fluffy.
Add in the eggs one at a time. Be sure to crack them open into a separate bowl – one at a time – before adding them especially if you are using farm fresh eggs.
Add in the baking powder, salt, baking soda and mix well.
Add in 1 1 /2 cups flour, a little at a time mixing until the flour is combined with the butter sugar mixture.
Add in the bananas and continue mixing.
Add the milk and vanilla extract. Continue mixing to make sure everything is combined.
Add the remaining flour mixture and again mix well.
Grease a 9″ by 5″ loaf pan or a mini cake pan, depending on what you want the banana bread to look like when it is done.
Pour the banana bread batter into the pan filling it half full.
Shake the pan lightly to smooth the top out and remove any air bubbles.
Bake at 350 degrees Fahrenheit for an hour and ten minutes or until a toothpick inserted in the center comes out clean.
Cool for 10 minutes on a wire cake cooling rack, then remove the banana bread from the pan, place it on a place, sprinkle with confectioners and serve.
Any remaining banana bread can be stored in a bread bag or wrapped in foil and stored at room temperature.
Keywords: banana bread recipe, swerve sweetener, banana bread. banana bread recipe easy, banana bread easy, swerve recipes
Recipe Card powered by

How To Use Swerve In Baking
Remember – Swerve measures out cup for cup just like sugar, so you don't have to worry about doing any crazy math to figure out how to use it in your recipes.
This makes using Swerve Sweetener in baking super easy becasue you don't have to remember how to convert it.
Dissolve or work Swerve Sweetener into the recipe just like you would regular sugar.
To prevent crystallization, keep the baked goods at room temperature and eat them up the day they were baked if at all possible.
If you find your baked goods taste dry due to the erythritol in the sweetener, incorporate applesauce, pumpkin puree, or mashed bananas into your recipes to add some extra moisture.
One of my favorite banana bread recipes is made with applesauce.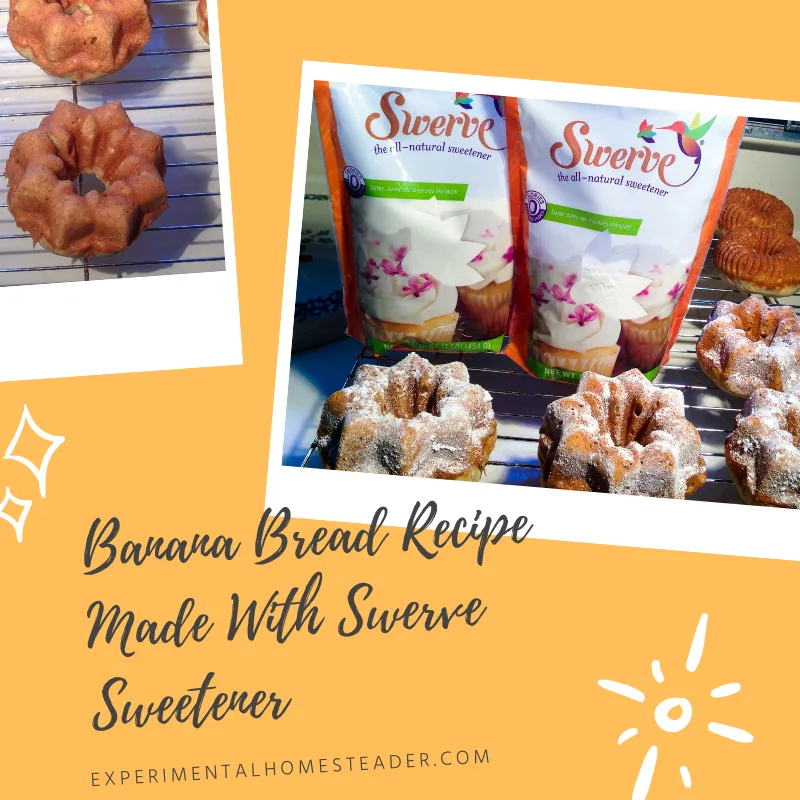 What Is Swerve Sweetener Made Out Of
According to the Swerve website, the sweetener is made out of erythritol, oligosaccharides, and natural flavors.
Best of all, these all natural ingredients are sourced from the United States and France.
In a nutshell, erythritol is made by fermenting glucose from non-GMO corn with Moniliella pollinis, which is a yeast-like fungus.
The process is similar to the way alcohol such as beer or wine is made.
Oligosaccharides are sweet-tasting carbohydrates found naturally in fruits and starchy vegetables.
The oligosaccharides in Swerve Sweetener are made by adding enzymes to starchy root vegetables, however they do not say which vegetables or enzymes they use.
The natural flavor comes from citrus according to the Swerve Sweetener website, but there are no additional details mentioned.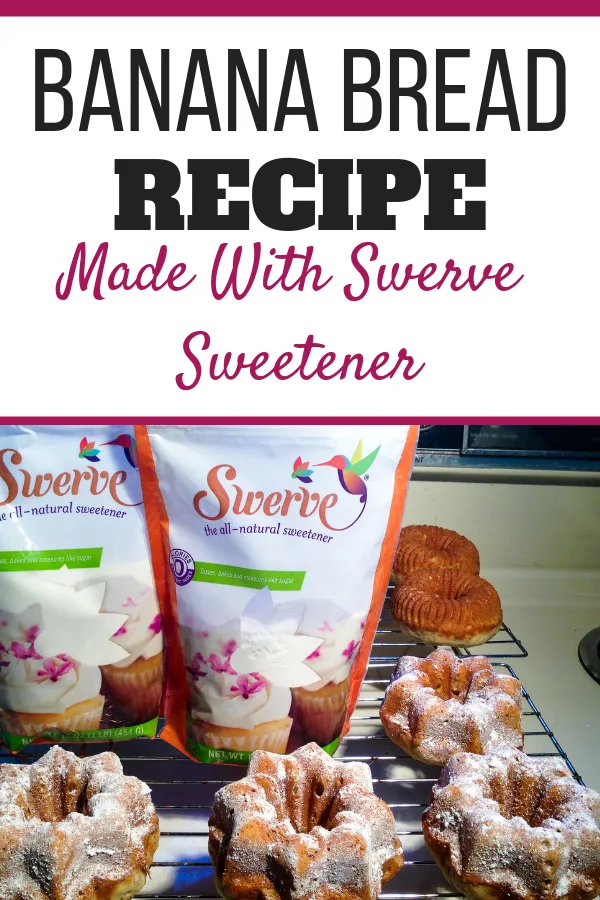 Banana Bread For Diabetics
Swerve Sweetener doesn't have any calories or net carbs, it is also certified non-GMO, which is one reason why people switch to Swerve.
Best of all, it doesn't raise your blood sugar levels which is important any time you make something such as this banana bread recipe for someone who is diabetic.
Best of all, this diabetic friendly recipe is one that even those who don't need to control their blood sugar will love.
Recipes Using Swerve Sweetener
For recipes or more information on Swerve Sweetener, connect with Swerve Sweetener on social media or to find out where to purchase Swerve Sweetener, visit the Swerve Sweetner website.
Bread, Roll And Cracker Recipes