Banana bread made with applesauce is a delicious and simple dish.
It is also very easy to make and for those of you who can food, use that applesauce you canned.

This recipe will show you how to make banana bread using both bananas and applesauce.
Applesauce is a great addition to baked goods especially cakes and breads.
Applesauce adds taste and moisture, replaces unhealthy ingredients like butter or oil and it is good for you.
Apples and bananas taste great together, so it just makes sense to put applesauce into banana bread.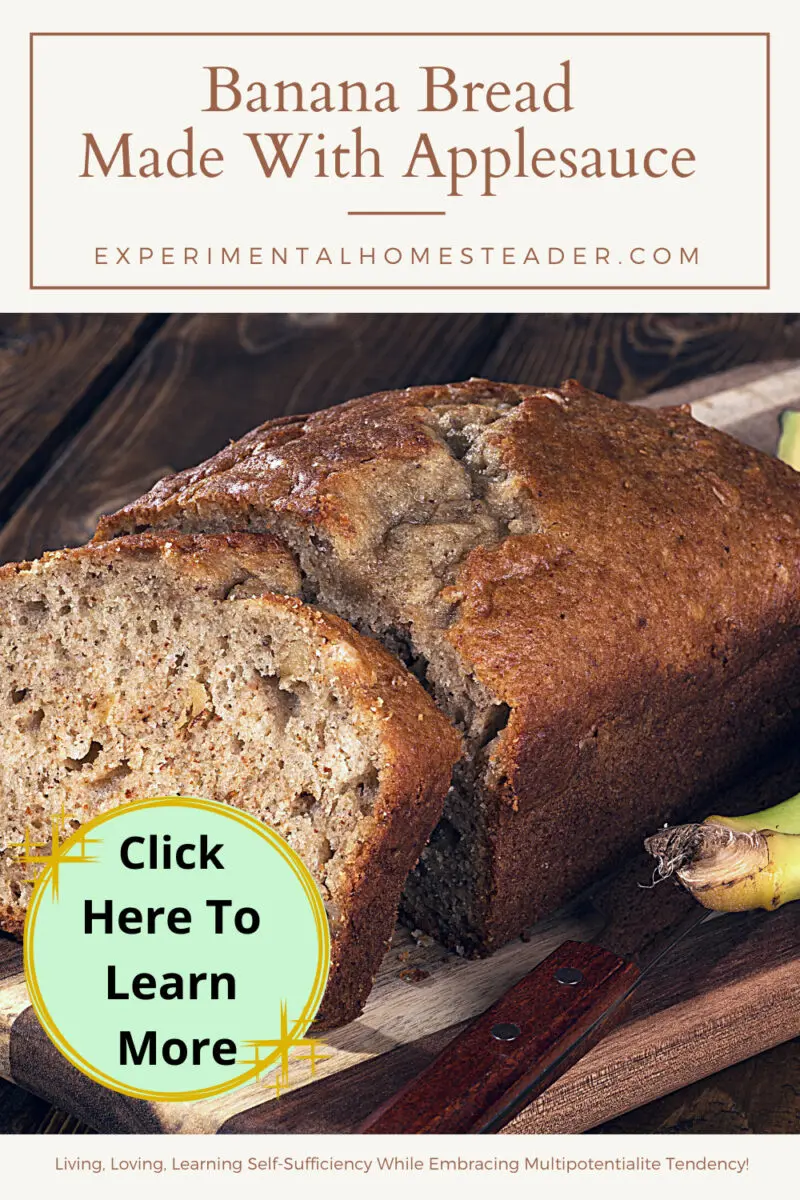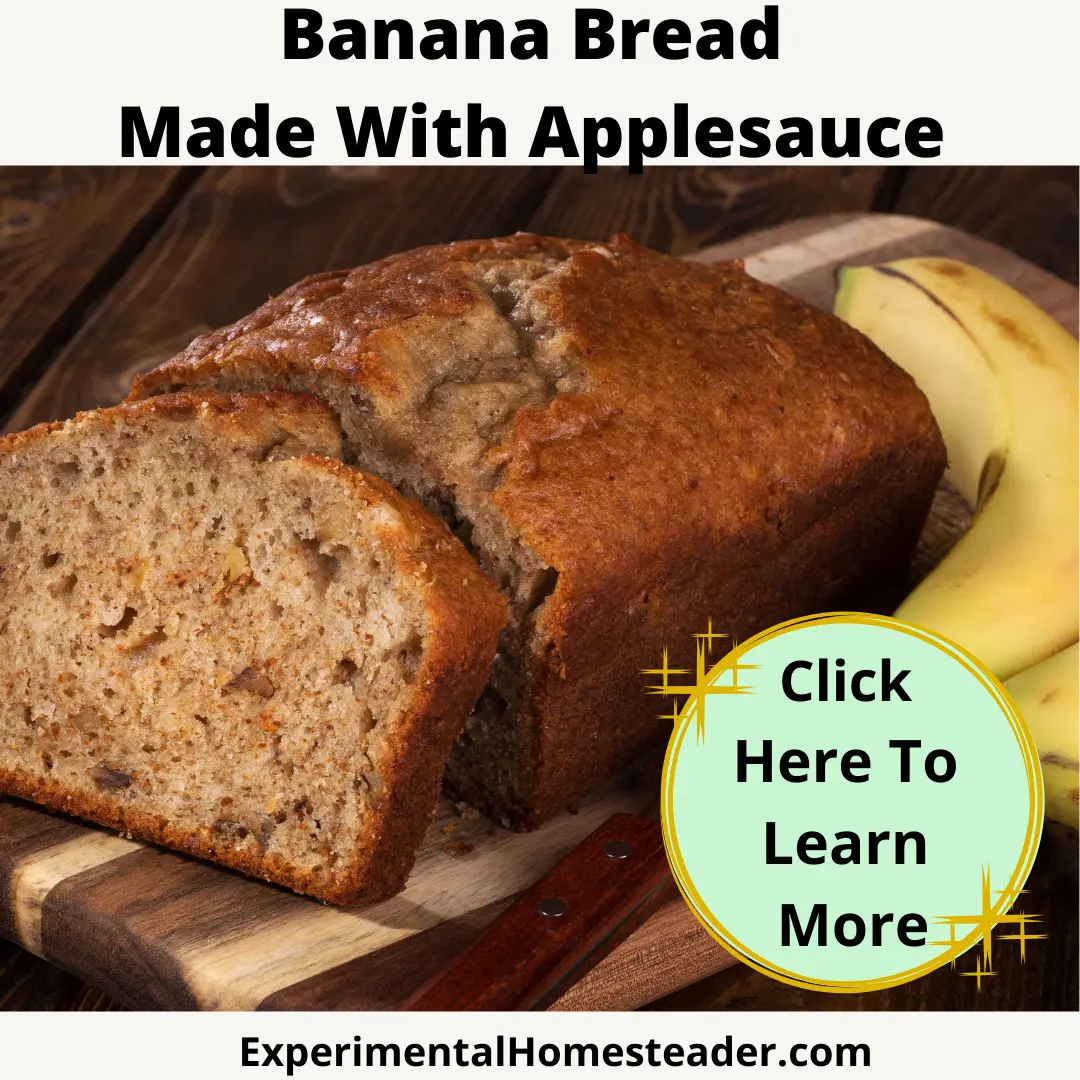 Banana Bread With Applesauce Is Healthier
Banana bread made with applesauce is a healthier alternative to traditional banana bread.
With the applesauce, the banana bread will have less fat.
It can be baked in a loaf pan or muffin tins.
Here is the recipe.
I hope you enjoy it!
Print
Banana Bread Made With Applesauce
Author: Sheri Ann Richerson
Prep Time:

15 minutes

Cook Time:

55 minutes

Total Time:

1 hour 10 minutes
4

ripe bananas

1 cup

of sugar

¾ cup

of applesauce

2

eggs

2 cups

of bread flour

½ teaspoon

of salt

1 teaspoon

of vanilla

1 teaspoon

chopped nuts (optional)
Instructions
Preheat the oven to 350 degrees.
Grease a 9" x 5" loaf pan.
Add the bananas to a large bowl, slice the bananas and use an electric mixer to mash them.
Add the sugar and blend.
Let mixture stand for 15 minutes.
Add applesauce and eggs. Mix well.
Blend in the remaining ingredients.
Pour into the greased loaf pan and bake for 55 minutes.
Remove from the oven and let stand the bread cool for 10 to 15 minutes.
Transfer to a wire rack to cool completely.
Recipe Card powered by
Substitutions For Applesauce And Fresh Bananas
For those who can fruit at home or even buy various fruit sauces such as pear sauce, feel free to substitute the type of fruit sauce you have on hand.
Bananas are best when they are fresh, but sometimes you forget to buy them, or you need to use them immediately.
There are two options to make sure your bananas stay fresh for longer: either freeze them or dehydrate them.
Freezing the bananas is the easier way to keep them for a long time without any preservatives.
You can simply put your bananas in a freezer bag and go on with your life.
Dehydrating the bananas is more labor intensive, but it can be done at home if you have a food dehydrator, or with an oven if you don't have one yet.
Be sure to rehydrate dried bananas if you are using those, then drain the liquid off before adding them to the mixture.
Allow frozen bananas to thaw slightly before using them.
They will be very mushy which is why I don't fully thaw them and also why I wrap the peeled banana in Saran Wrap before putting it into a freezer bag and freezing it.
What Does Applesauce Replace In This Banana Bread Recipe?
You might have noticed there is no oil or butter in this banana bread recipe.
That is because the applesauce replaces them, thus there is no need to include either one.
For an even healthier version of this recipe, ditch the sugar.
The applesauce and banana add plenty of sweetness, but if you feel like maybe it won't you could at least cut the sugar down to 1/2 cup.
Another option to make this recipe healthier is to switch out the bread flour for whole wheat flour.
Can You Eat Banana Bread Everyday?
While it might seem like banana bread is healthy because of the fruit, it is only moderately healthy and that depends on how you make it.
Yes, banana bread can be very unhealthy.
Is one slice a day the end of the world?
For most people, of course not.
Now if you have a health issue such as diabetes, that might be another story.
So yes, you can bake it up, slice it up and freeze those individual slices so you can enjoy a small piece of banana bread everyday if you want.
However if you are concerned about the unhealthy ingredients in banana bread, here are some suggestions of ingredients you can switch out.
Forget the butter and oil. Use applesauce or coconut oil as a replacement.
Either leave the sugar out completely, use a sugar substitute like Swerve, or replace the sugar with local sourced honey. Remember that the applesauce adds sweetness and is a sugar substitute.
Flax seeds, nuts or pumpkin seeds either chopped and added to the batter or scattered on top of the bread is a great source of healthy fats and extra protein.
Spread a thin layer of nut butter on the slices instead of butter or eating the banana bread plain.