Cooking venison bacon in a cast iron skillet is really easier than cooking regular bacon.
Venison bacon is not as greasy as regular bacon, the pieces are much larger so they are easier to turn over and best off, venison bacon only requires cooking for 6 to 8 minutes per side.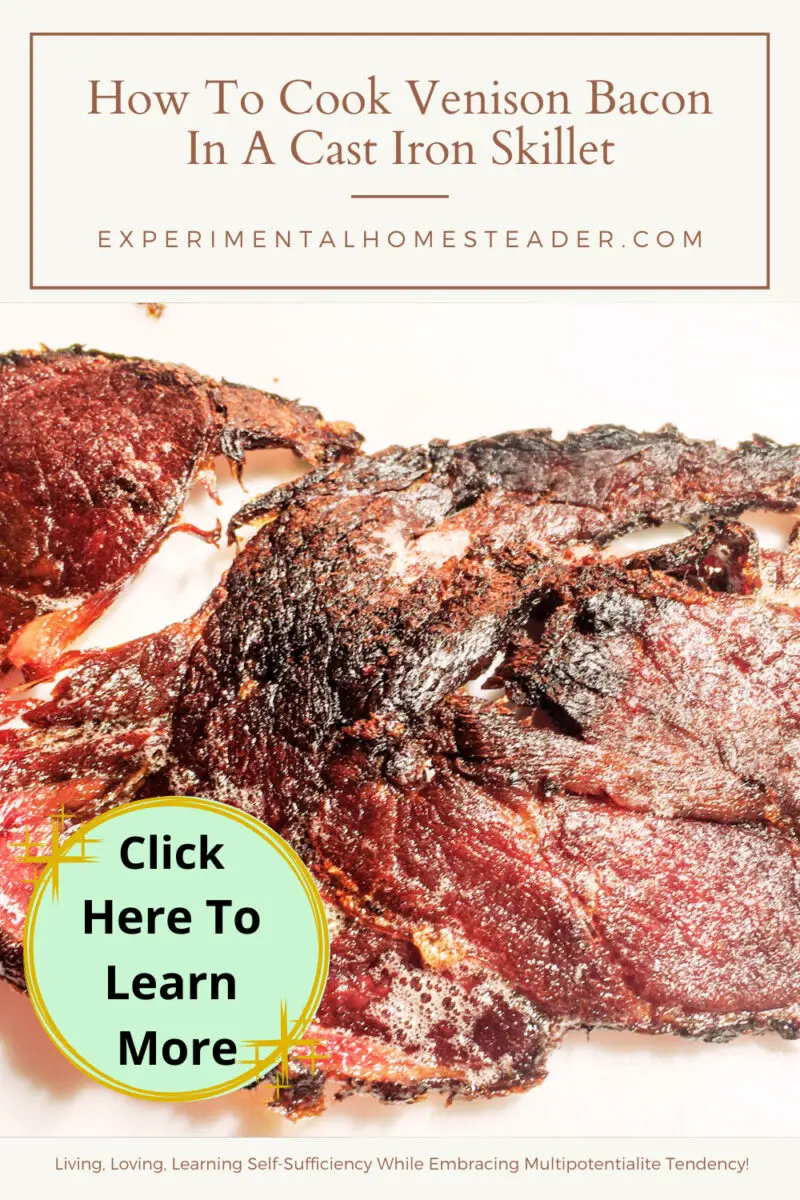 How To Fry Venison Bacon In A Cast Iron Skillet
It is best to fry venison bacon in a cast iron skillet using a medium heat setting.
When the venison bacon is finished cooking, it should still be slightly flexible.
Since venison bacon is already aged and cured, the internal temperature of the meat only needs to reach 130 degrees Fahrenheit for it to be done.
It is important that you do not overcook venison bacon or else it will be dry and tough.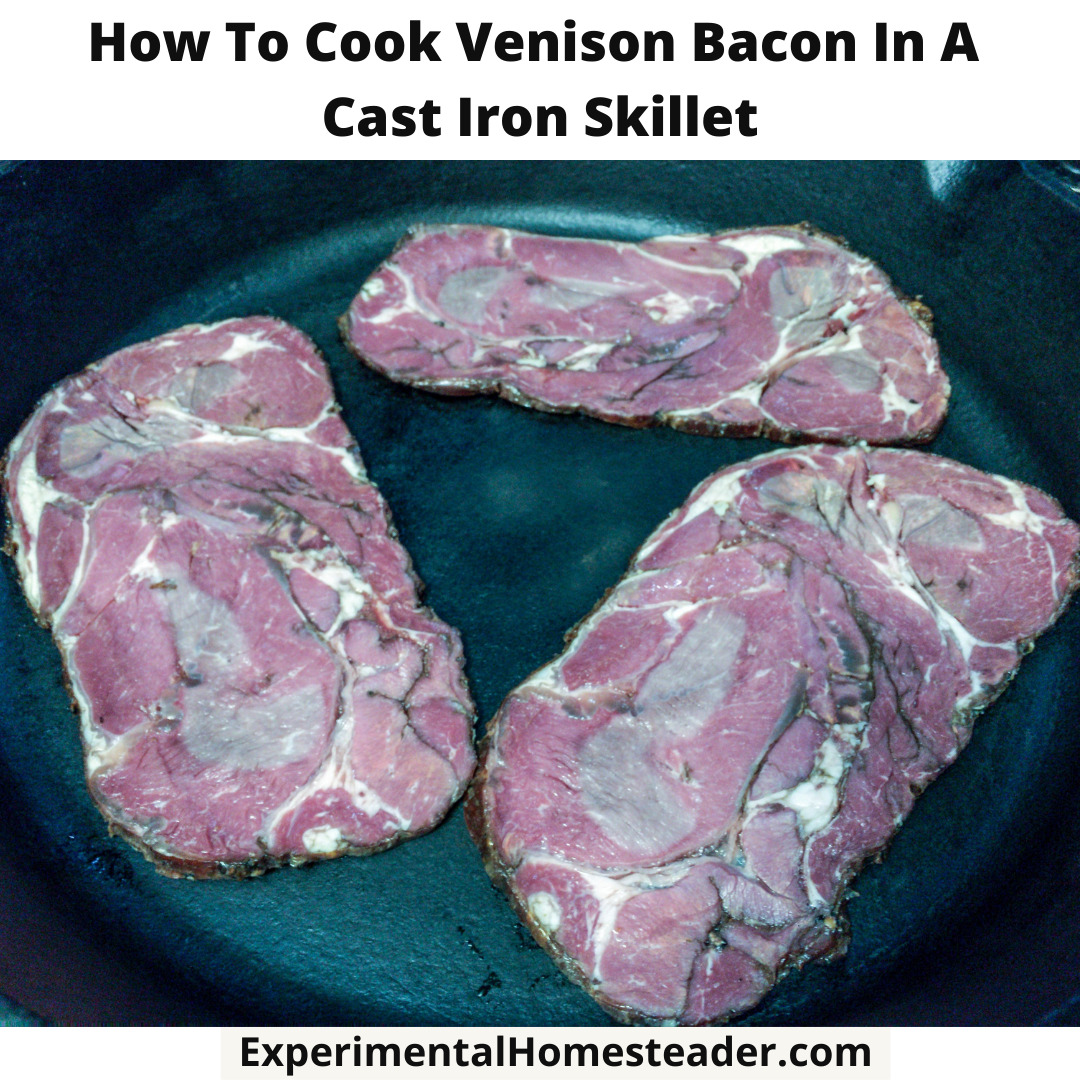 How To Bake Venison Bacon In A Cast Iron Skillet
Of course, if you prefer you can cook venison bacon in a cast iron skillet in the oven instead of on the stove top.
To do this, simply lay the venison bacon in the cast iron skillet (affiliate link), set it in the oven and turn the oven to 300 degrees Fahrenheit.
Cook it for 6 to 8 minutes per side and then serve it.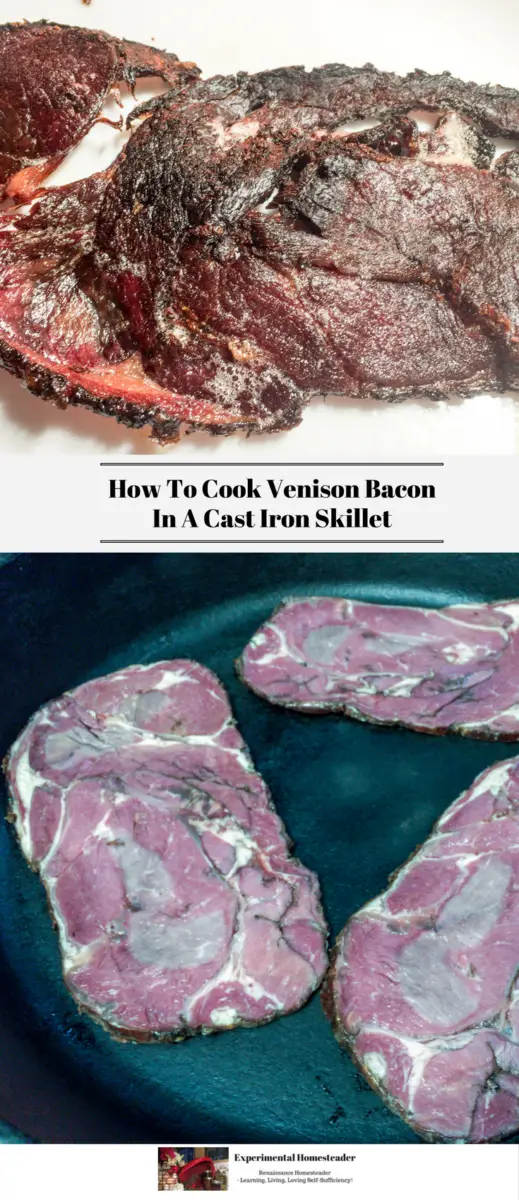 How Is Venison Bacon Made?
Venison bacon is made using ground deer meat along with seasoning and cure.
Sometimes venison bacon is pure deer meat and sometimes it is half ground deer and half ground pork.
Look at the ingredients on the package of venison bacon to determine if the venison bacon you buy is just deer meat or half and half.
Sometimes the seasonings are pre-made and sometimes the seasonings are made from scratch.
Once the meat is ground up, the seasonings and cure is mixed into it, then the meat is reground again.
From there is it pressed into pans similar to the way a meatloaf is pressed into a pan.
Then it is refrigerated overnight.
The next day the meat is smoked at 185 degrees Fahrenheit until the internal temperature of the meat is somewhere between 155 and 150 degrees Fahrenheit.
Once the venison bacon reaches that internal temperature, it is removed from the smoker and allowed to cool on wire racks.
Once it is cool, the meat is sliced using either a sharp knife or a meat slicer.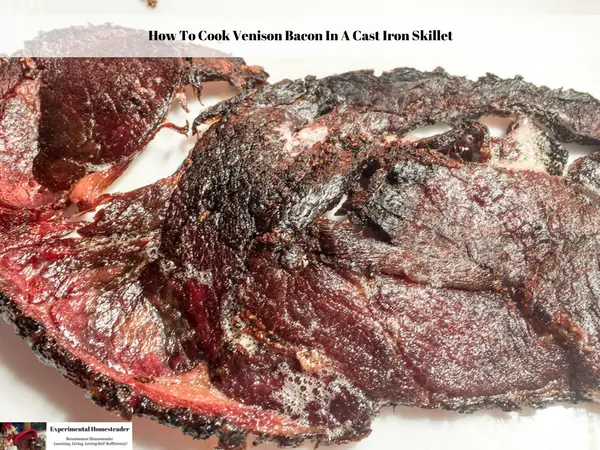 Is Venison Bacon Precooked?
Most venison bacon is not precooked, however it is smoked and cured.
What this means is you still need to cook it, but only long enough to bring it to the correct internal temperature, which for venison bacon is 130 degrees Fahrenheit.
Dutch Oven Cast Iron Pot Recipes