When a survival situation occurs, you likely won't make it out alive unless you have supplies and that is why stocking up on long term survival food is so important.

I mean you can do without electricity and certain creature comforts, but doing without food is not an option, especially long term.
With all the uncertainty that is going on in today's world, you can't count on being able to buy what you need.
That is why it is important that you figure out what it is going to take to feed you and your loved ones for months or even years – and you make that supply a priority immediately.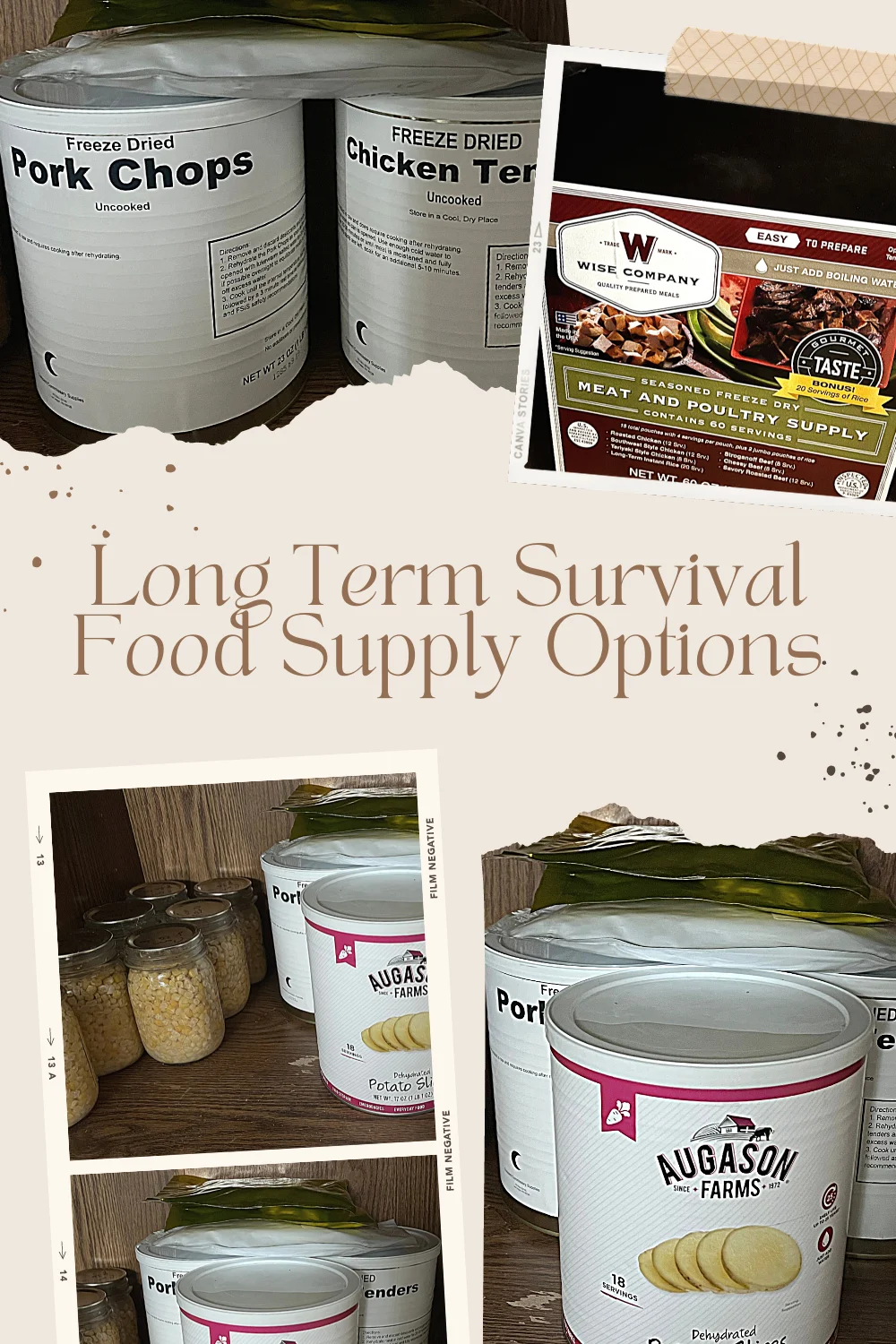 There Are  Many Long Term Survival Food Supply Options
There are many different brands who cater to the long-term food needs of individuals and families.
Some sell buckets of food, some sell packets of food, and some sell individual ingredients you need to make your own meals from scratch.
We are going to take a look at several of the most popular survival food brands and what they have to offer.
These are by no means the only ones out there – and let's face it, if you have a freeze drier or know someone who does, you can even make your own long term survival food including things like freeze dried goat milk.
I will also be sharing my thoughts on some of these brands, because after all, you shouldn't wait until you are in a survival situation to learn how to cook with freeze dried or dehydrated foods!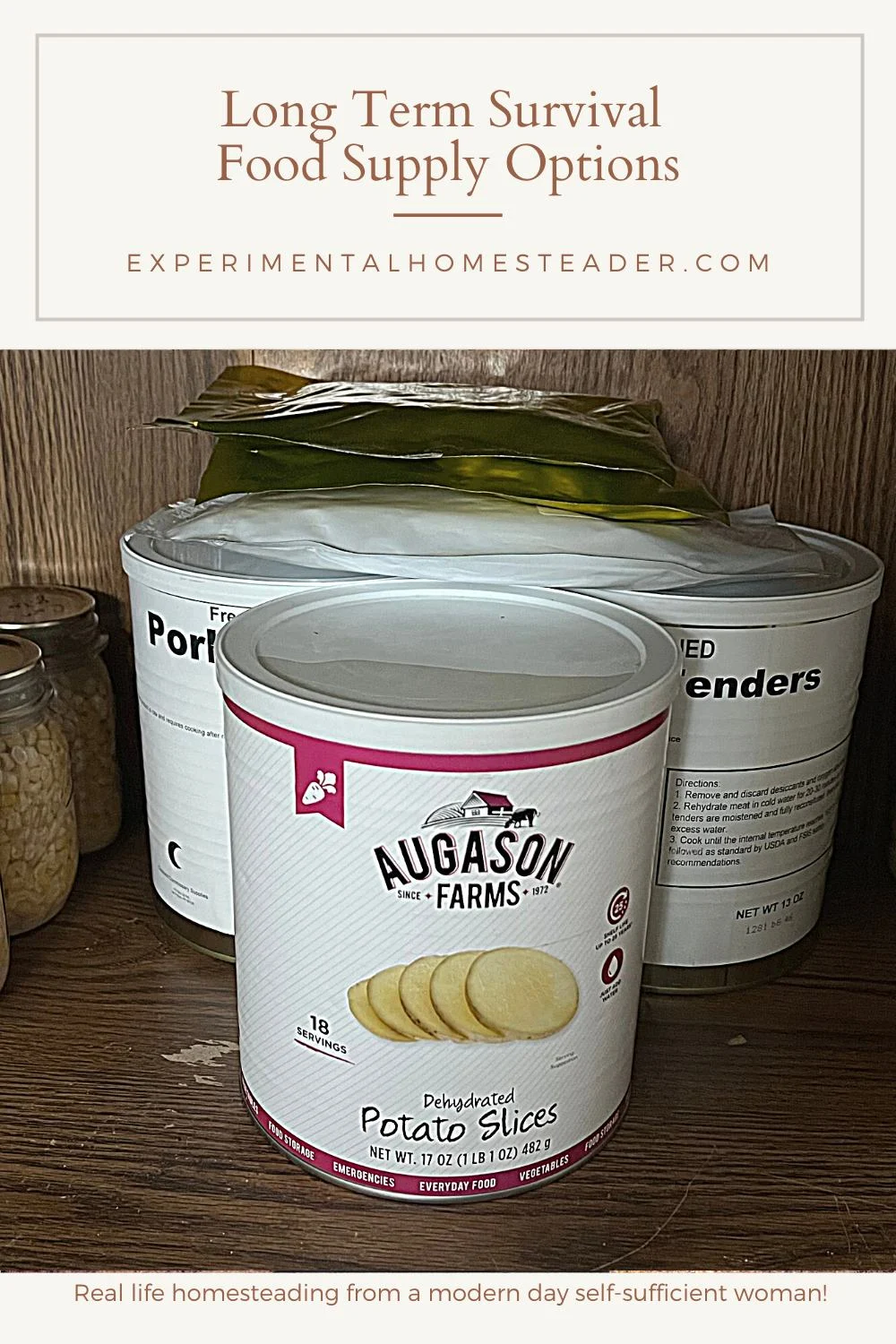 Augason Farms Survival Foods
Part of planning your long-term survival food stores means that you have to figure out how much of the supply you need and where to store the food once you have it.
Obviously, you are going to need more for a family or a couple than you would for one person.
You will want to calculate this according to the number of people you are going to be feeding.
Break this down by weeks, months or years.
For one person, a good estimate is to figure around 310 quarts of canned goods for a year.
So if you are breaking that down on a month to month supply, then you divide that amount by 12.
You can use a food storage calculator to figure out how much food you need in each category – ranging from meat to dairy to grains and so on.
Augason Farms has a good selection of survival foods and frankly they are my favorite source for freeze dried and dehydrated food.
Everything I have tried from them tastes great and I love that I can buy exactly what I need and not just pre-made packets of food that I might not like.
Their popular 30 day, 1 person container has oatmeal, mashed potatoes, rice, soup, as well as macaroni and cheese.
So if you get one of these, then that is 30 days worth of food taken care of for one person.
If you are a family of four, then you need four of these buckets per month to feed your entire family.
You can purchase your food in a four month supply if you want to and what you get is over 1,000 servings of food.
But if you would rather buy by the serving size, then you can with the Lunch & Dinner pail.
This one yields 92 servings of food.
It contains items like pasta dishes, such as stroganoff and macaroni and cheese, plus you get a selection of soups as well as pudding.
You don't just have to stick with main dishes when ordering an emergency long term food supply.
This company also sells the foods by category.
For example, you need to make sure that you stock up on fruits and vegetables because of the vitamins and minerals these foods have.
These foods can make sure you are getting your daily recommended amount so that your immune system stays in good working order.
The company has a combo offer, which features a bucket of fruit and a bucket of vegetables.
In the fruits, you get six different varieties and in the vegetable container, you get a selection of seven choices.
Both of those containers also have bonus items for the buyer.
Some items can be purchased individually such as rice, beans, and a variety of grains.
You will need to make sure that you stock up on dairy food items in powdered form.
For example, the company sells powdered milk.
Once you mix it, you can use it just like you would the fresh version.
You can also get containers of butter powder as well as dried whole egg powder and you would use those food items like you would the fresh version.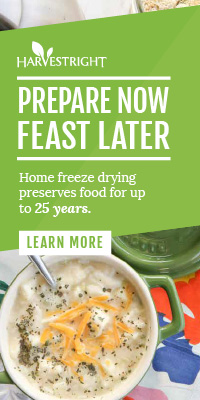 Readywise Emergency Food Supplies
Having the supplies on hand that you need during a survival situation can help you feel in control when your environment is upside down.
Not only is stocking up good for your physical health because it meets your nutritional needs, but it is also good for your emotional health because it can help calm your anxieties in the event of food scarcity.
Readywise offers a two bucket deal that is perfect for couples and ensures that the 1,800 calorie a day requirement is met.
It is important that you get the right number of calories as well as vitamins and minerals in your long term survival food supply.
You will be more physically active in the event that you've lost electricity or other comforts you are used to.
Without access to gas for your vehicle, you will be doing a lot more walking or riding a bicycle to get to and from the places you need to go.
In the two bucket deal, you get things like cereal, pancakes, beans, dried fruit, rice, pasta soup and even a milk alternative.
These buckets supply the food you need for each meal of the day and that is a lot less for you to worry about – as long as there are no picky eaters in your home.
Each bucket is good for 30 days worth of food.
There is also a meat bucket option.
The Readywise freeze-dried meat container holds 60 servings of a variety of meat.
You get roast beef, teriyaki chicken, southwest chicken, cheesy beef and 20 servings of freeze-dried rice as a bonus.
If you're looking for something with a lot of servings in addition to variety, Readywise offers their 12o serving pack.
This pack can last for about two and a half decades in storage.
The pack contains food items that can work for all three of your meals.
So in one container, you get breakfast, lunch and dinner.
You also get beverages like whey milk alternative and an orange drink mix.
This choice also includes dessert and freeze-dried fruit.
When looking at your buying options, it is important that you figure in all of your nutritional needs because if you don't, your health is sure to be affected and during an emergency situation that is one thing you don't need.
For example, a lack of vitamin C can cause scurvy.
You can also develop anemia or major health issues such as heart problems.
You don't have to buy the buckets with the meals if you don't want to however, but you should make sure you have everything you need by studying what is in the buckets, then comparing notes.
You can supplement food items that you may already have.
So if you have plenty of meat items stored away, then you might want to concentrate on getting other items, such as fruits and vegetables.
The company offers a selection of freeze-dried fruit and vegetable kits that contain 120 servings.
In this package, you will get a selection of 3 different types of vegetables, which are corn, peas and broccoli.
The fruits that you get are freeze-dried strawberries and freeze-dried bananas.
Because this pack has a 20 year shelf life, it will keep for awhile.
If you're on the fence about what choice to get for your long term survival food, the best bet is to buy some in each category –  meat, vegetables, fruits, dairy items, beverages and desserts.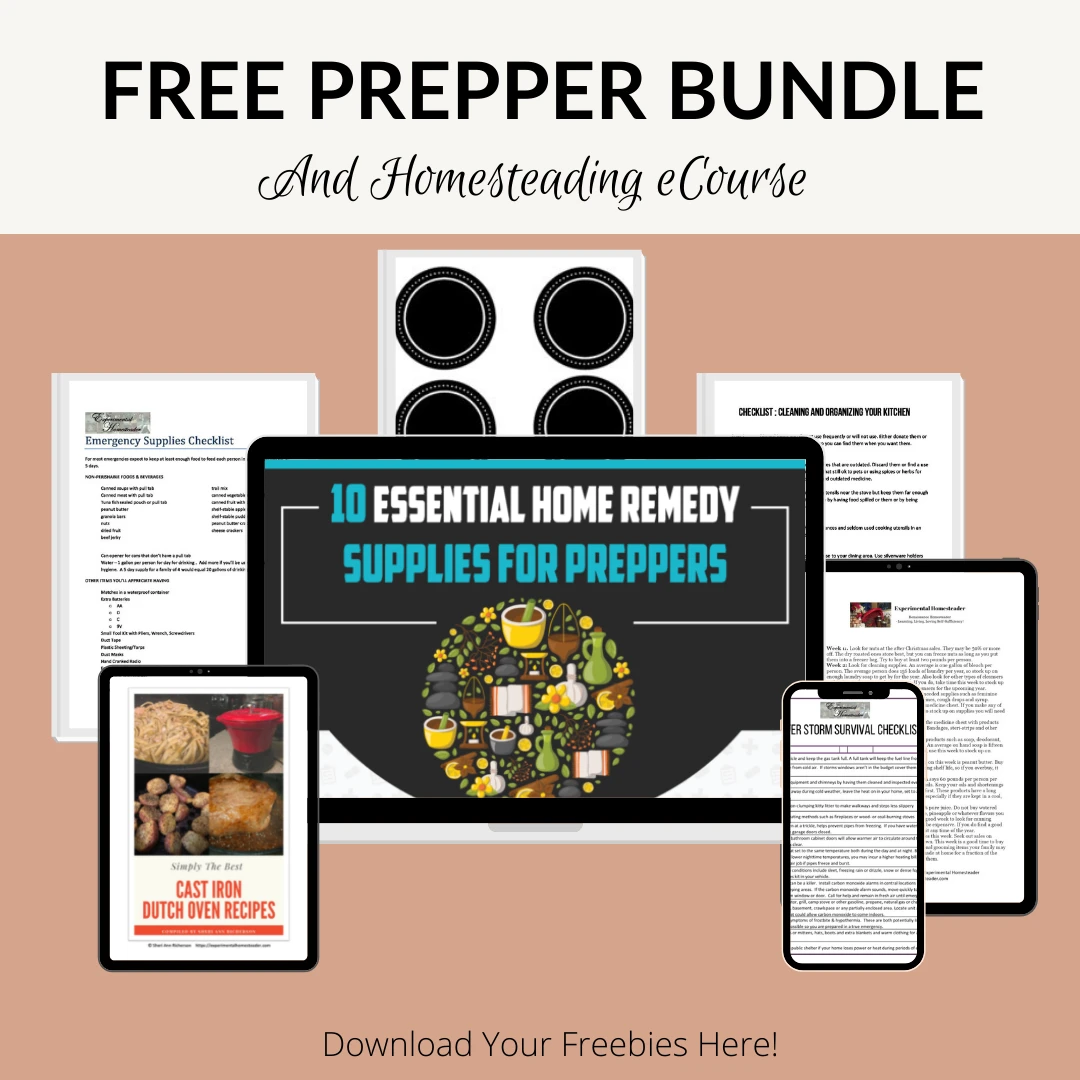 Mountain House Survival Foods
One problem that you will run into with long term survival food storage is not stocking up on enough variety.
Without variety, food boredom sets in, but you also run the risk of not getting enough of the right kinds of vitamins in your diet.
So while it is important to stock up and buy these foods in bulk, it is just as important that you have a lot of options to choose from.
Mountain House Survival Foods brings a lot of different choices to the table, however it is not a good choice for picky eaters.
While I love their freeze dried ice cream sandwiches, their pre-packaged meals such as the biscuits and gravy were just not that good.
The problem for me was that it was all mixed together in a pouch and I just coudn't eat it.
My husband also did not care for it.
On the other hand, many of their foods are gluten-free, so if you have someone that needs gluten-free food, you will have plenty of meal options.
This company has a 14-day supply that offers 84 servings and can be safely stored for up to 30 years.
The different meals that you get in this type of product can feed you three meals a day.
You will get breakfast foods, including four of the Mountain House biscuits and gravy.
You will also get stroganoff and macaroni and cheese.
Plus, you get chicken fried rice, and other chicken meals including a  yellow curry with chicken and rice.
You can buy specific meal choices that don't include anything else if you prefer to stock up on individual foods.
To be fair, I have not found individual foods such as just plain chicken by this company and I do wonder if it is better than the pouches of food we tried.
The meal includes vegetables such as zucchini and peas that help you meet your nutritional needs.
This brand of freeze dried food doesn't contain preservatives, so it is healthier for you.
Of course, you want plenty of variety when it comes to your main meals.
Mountain House also offers a beef stroganoff that has beef, noodles and mushrooms in a sauce.
This item will give you 10 servings.
If you prefer the hearty taste of beef stew, you can have that, too.
The company sells this in two serving packs, but you can buy bigger quantities if you want.
For example, it comes in a six-pouch pack featuring the beef and all the vegetables that go in the meal.
They also have a choice of lasagna with meat sauce or Pad Thai with chicken.
For those looking to buy strictly breakfast food items, you don't want to miss Mountain House's breakfast skillet.
You get scrambled eggs, along with hashbrowns and pork patties mixed with onions and peppers.
Or, you can buy their scrambled egg option that has ham instead.
For bigger supply options, you can choose to get their essential bucket.
This holds 22 servings of meal items for all three meals of the day – but there is also the expedition bucket, which has 30 servings and you get foods that can be used for any meal.
Mountain House is often found in big box stores such as Walmart and of course on Amazon. 
Look for their items in both the bulk food section and the camping section.
Mountain House Pouch Kits Review
Storing food rations for a rainy is probably one of biggest chores that most preppers face and of course opinions differ, so I did want to share with you another person's thoughts on the Mountain House Pouch Kits.
Let's face it, not only do you need to rotate the food and keep track of expiry dates, but you need to find food items that will last and that you will eat.
This is why it is best to focus on storing foods like flour, canned food, dried fruit, emergency food bars, spices, etc.
Once you have all these items stored, you should also consider adding freeze dried foods and ready to eat meals to your long term survival food options.
This is best purchased from a reputable vendor and one of the best in the business is Mountain House.
They have been around for the past half a century and their adventure meals have been used by thousands of people such as campers, survival experts and even the military.
Their freeze-dried meals are nutritious.
The Mountain House Pouch Kits on Amazon are ideal for preppers who are trying to stay ready in case disaster strikes.
The freeze-dried meals are stored in little plastic buckets.
Each bucket has 29 servings, and Mountain House guarantees that their freeze-dried food will taste good for 30 years!
That is amazing.
When you're in a stressful situation such as the aftermath of a disaster, having something tasty to eat will really lift your sagging spirits.
If you are lethargic and don't wish to cook for the day, these freeze-dried meals are fantastic.
All you need to do is add water into the pouch and wait for 10 minutes, then the food is ready to eat right from the pouch.
If you have a bug-out bag, you want to add several of these Mountain House Pouch kits inside.
You should have enough to tide you over for at least 72-hours.
Keeping a bucket of food with your bug-out bag will give you enough food for 3 days.
This product has a high rating with over a thousand reviews that are mostly positive.
Most of the satisfied customers mentioned that they liked the taste of the meals and that it was filling.
However, when you're preparing for a crisis, it is best to order one bucket and see for yourself if you like the taste of these meals.
It is imperative that you only store foods you like, otherwise your survival situation is going to be miserable.
Ask your family members to try out the meals as well to see what their thoughts are.
With these pouches, you have an option to store food rations that are lightweight, convenient, have a very long shelf life.
You just need to decide if they are right for you, and if they are, get enough to last you for a month or two.
Having enough food is crucial to making it through a crisis without panicking or depending on food aid from outside.
These Mountain House Pouch Kits are based on USDA recommended diet of 2,000 calories a day and you won't need to worry about preparing larger meals or that you are missing something you need in your diet.
4Patriots Survival Foods
You want to ensure that your survival foods can last as long as possible.
That means you want the foods to come from the company properly contained.
The 4Patriots Survival Foods company packages their food items in bags designed to last and keep the food viable for years to come.
In addition to their eye toward product quality and packaging, they also make delicious food options.
If you are looking to quickly get your long term supply built, you can start by getting their 4-Week Survival kit.
This stash of freeze-dried food can last for 25 years.
Plus, it boasts a healthy 196 servings.
The food choices that you get are items like oatmeal, stew and comfort foods, such as macaroni and cheese.
You also get a rice and vegetable choice along with buttermilk pancakes.
Each one of these kits can supply a person with the daily calories they need.
The company is based in America and the foods are created by people in the field of nutrition.
While you can get the larger kit if you would like to, you can also break your choices down into individual ones.
Some foods you can buy according to dietary preferences.
For example, people who are vegetarians could get the black bean burger mix kit.
This kit has 48 servings.
You can use it to make burgers that are as filling and tasty as meat burgers, but without all the fat content.
Plus, you can use black beans to make other recipes.
They can be used in place of meat in any dish that calls for it.
You will get a healthy dose of fiber, which is good for you, especially in the event things are chaotic and you are experiencing digestion issues.
If you want to focus on just one meal, such as breakfast, then you can buy just breakfast items like their buttermilk pancake mix that yields 8 servings.
One of their popular choices, which is often in high demand, is their Fruit, Veggie and Snack Emergency Supply kit.
This kit offers 120 servings and is viable for two and a half decades of shelf life.
Because you need fruits and vegetables, this choice would be a good idea for your storage pantry.
It contains three types of fruits, which are blueberries, strawberries and pineapple.
The vegetables that come in the kit are corn, broccoli and green beans.
Plus, you get snack items like pudding and banana chips.
You may also want to get some of the company's emergency food bars.
These last for years and pack a whopping 3,600 calories.
The supply can last for 3 days.
It is a good idea to have quick foods on hand in the event you're frazzled, dealing with something stressful and you don't have time to prepare any food.
These bars can help keep your energy up.
Also, make sure you donít forget to get the coffee if you're a fan of coffee and used to drinking it.
The company offers a supply of instant coffee known as Freedom Joe's, made from Arabica beans that taste delicious.
Datrex 3600 Emergency Food Bar Review
During a crisis, food shortages are one of the most common problems as you have seen over the past few years. 
One of the best types of foods to store for emergencies are food bars.
Unlike vegetables and meat, these items can last a long time.
While canned foods such as sardine and tuna are great too; sometimes if you just want a quick meal without the hassle of opening a can or cooking, a food bar will be an excellent substitute mean.
The Datrex 3600 Emergency Food Bar is extremely popular with hundreds of reviews and a high rating on Amazon.
With the plethora of similar food bars available online, it is impressive that Datrex has performed so well as compared to competing brands.
Each bar contains around 200 calories.
There are 18 bars in a pack, so, you are looking at 3600 calories per pack.
The bars are individually packaged for easy rationing and each bar is relatively lightweight.
One advantage of the Datrex Food Bar is that it tastes good.
Most of the reviews from satisfied customers mentioned how the bar wasn't overly sweet and had a pleasant taste with a hint of coconut.
The bar itself is made with all-natural ingredients and doesn't make you thirsty.
The low sugar content will make it suitable for diabetes patients too.
This is a USCG approved product.
Some people may find the bar a little crumbly and dry.
What you could is break it up into a bowl, pour some hot water to make it into a cereal-like paste and eat it.
Doing this will make it more filling and possibly make you feel a little more satisfied.
These emergency food bars are a great item to store in your bug-out bag, however, they do take up space and are heavier than freeze dried food.
Since you will be carrying your bug-out bag, consider the weight of your emergency evacuation bag before adding a lot of these emergency food bars.
Of course, you can add 3 or 4 Datrex bars in a side compartment of the bag, but generally, this is one of those food items that is best stored at home.
During a crisis, you can add a bar or two in your pocket or handbag so that you have some fuel while on the go.
Datrex bars are not snacks.
While you can eat them during emergencies, do not buy them to eat daily if you have access to normal foods.
These are not protein bars and even protein bars are high in sugar and other additives and not recommended for daily consumption.
Remember to pay attention to expiration date when you purchase the food bars.
If your bars expire in a month or two, you can use them for a camping trip or you may consume one or two bars a week so you can slowly finish up your emergency survival food supply and they don't go to waste.
NutriStore Emergency Survival Food
One of the staples of your meals that you will want to have plenty of is meat.
Your body needs the protein found in meat.
Plus, you need the iron and the B vitamins that meat contains.
NutriStore offers a huge selection of meat products.
You can get their freeze-dried chicken, which delivers 20 servings in a gallon can and the meat will keep for a few decades.
But if you prefer beef, they offer freeze-dried ground beef that you can use to make burgers with or you can use in casseroles or soups.
You can get the beef in their dice cut form, too.
For recipes that need cut beef such as beef stew, this is the kind you will want to have in the pantry.
They also have sausage crumbles, and these can be used in omelets, to make sausage gravy, on a pizza or in any food dish that calls for sausage.
Pulled pork is also an option the company offers and can be used in a variety of ways – such as on buns or served alone with rice or noodles.
You must also have a daily supply of fruit and you want to get the freeze-dried kind that rehydrates easily and still holds its taste.
That is what you find in NutriStore's fruit selection.
You have the option to buy their raspberries.
Or, you can get their bananas or apples.
They also offer strawberries, peaches and even grapes.
Freeze dried fruit tastes great right out of the can as well – so you can eat it just like it is without rehydrating it if you wish.
Breakfast items can be purchased by gallon containers as well.
You can find items like their popular strawberry cream of wheat.
This meal will give you enough calories to give you energy – plus, it has good fiber content.
Vegetables are a must have as part of your survival foods.
The company offers things like freeze-dried potatoes.
They can be added to soup, cooked by themselves in a pot and more.
Like their other products, this item also has a 25 year storage life.
Some of the other vegetables the company offers are squash, green peas and beans, broccoli, corn, and cauliflower.
They have a selection of dairy items, including cheeses such as pepper jack, mozzarella, and cheddar.
If you want to buy meals, you can do that as well.
They offer soups, pasta, and main entrees such as stroganoff and more.
For those who like to buy in bulk, you can get their freeze-dried vegetable variety bucket which contains enough of these foods to last for 30 days.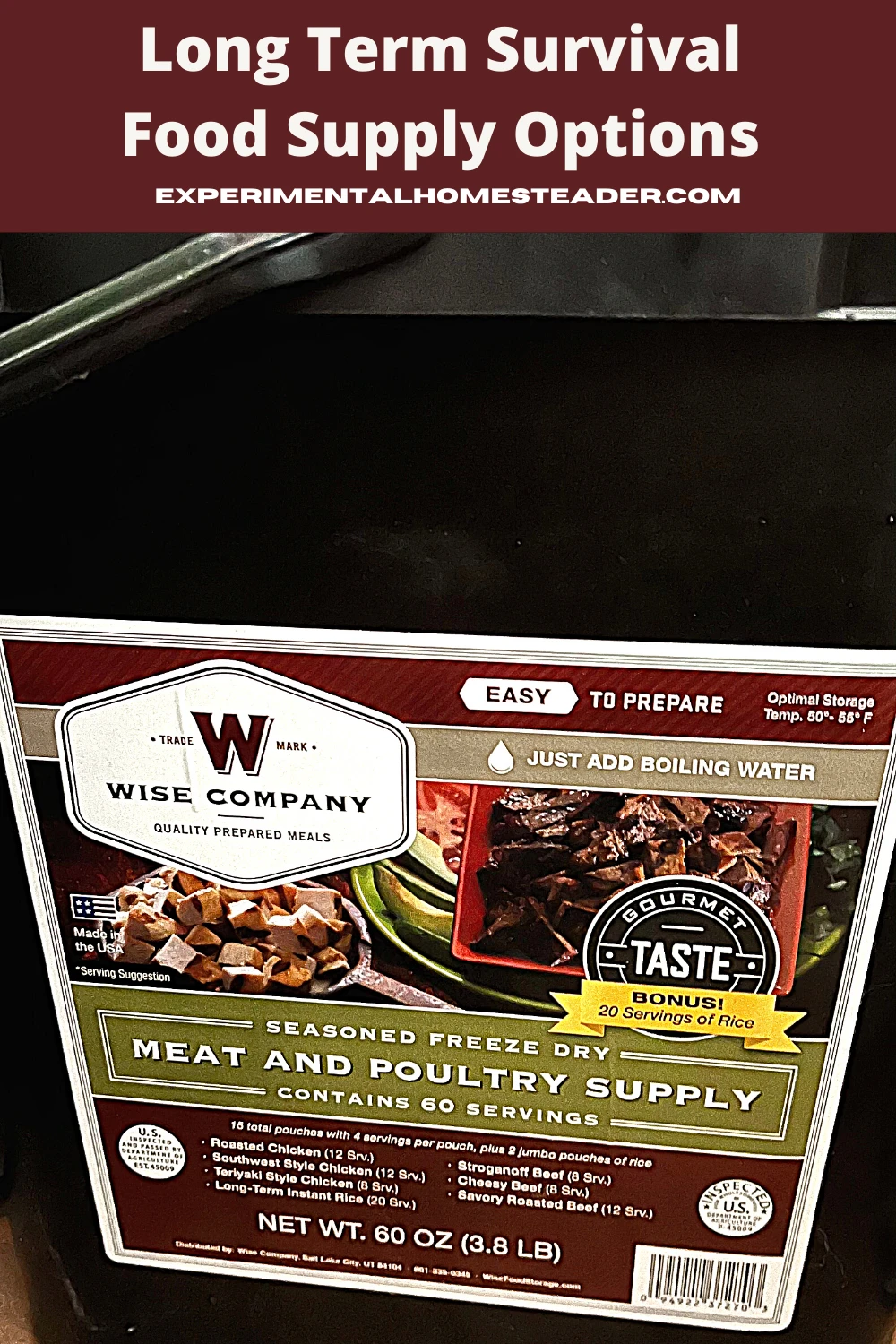 Other Brands Of Freeze Dried Foods I Like
I have also tried freeze dried food from the Wise Company, My Patriot Pantry 72-Hour Kit and Lehman's Hardware Store in Kidron, Ohio.
I really loved the Maple Grove Oatmeal in the My Patriot Pantry 72-Hour Kit, but I gave the Granny's Homestyle Potato Soup and the Blue Ribbon Creamy Chicken Rice to a friend, who did enjoy them.
I don't care for potato soup or rice.
However, since the kit was free for review, I wanted to check it out and I did feel it was a good quality product.
My friend ate the other food and enjoyed it.
The Wise Company is where I bought a bucket of meat and also a bucket of vegetables. 
The meat and the vegetables were all individually packaged in mylar bags. 
The quality of the food was wonderful and I will order more from them.
I also ordered some raw freeze dried pork chops and raw chicken tenders from Lehman's Hardware Store.
I have not tried those yet, but once the cans are open the raw meat is good at room temperature for 30 days or good in a refrigertor for up to a year.
Regardless of which brand you choose, make sure you have a well-rounded nutritional stock of meals on hand to feed your family during times of food scarcity.
Just remember to try the food and not just store it.
There is a small learning curve in figuring out how to make it in a way your family will enjoy it and it is best if your body adjusts to the food before you have to survive on it long term.
It is also a good idea to buy small quantities of a new product to test it out just in case you decide you don't like the product like we did with the Mountain House biscuits and gravy.
I also encourage you to stock up on water as you are stocking up on food.