The Harvest Right Freeze Dryer makes it possible to make freeze dried sweet corn at home.
Now this is really cool because it sure beats canning the corn not to mention the corn looks nicer and tastes better than dehydrated corn.

When you freeze dry sweet corn you are not taking up room in your freezer so you don't have to worry about your corn going bad if there is a power outage.
Or worse, freezer burn if the corn remains in the freezer too long!
Not to mention that freeze drying helps lock in those nutrients faster. which is so important!
What this means is the freeze dried food is just as nutritious as the fresh food was.
There is no loss of nutrients during the preservation process.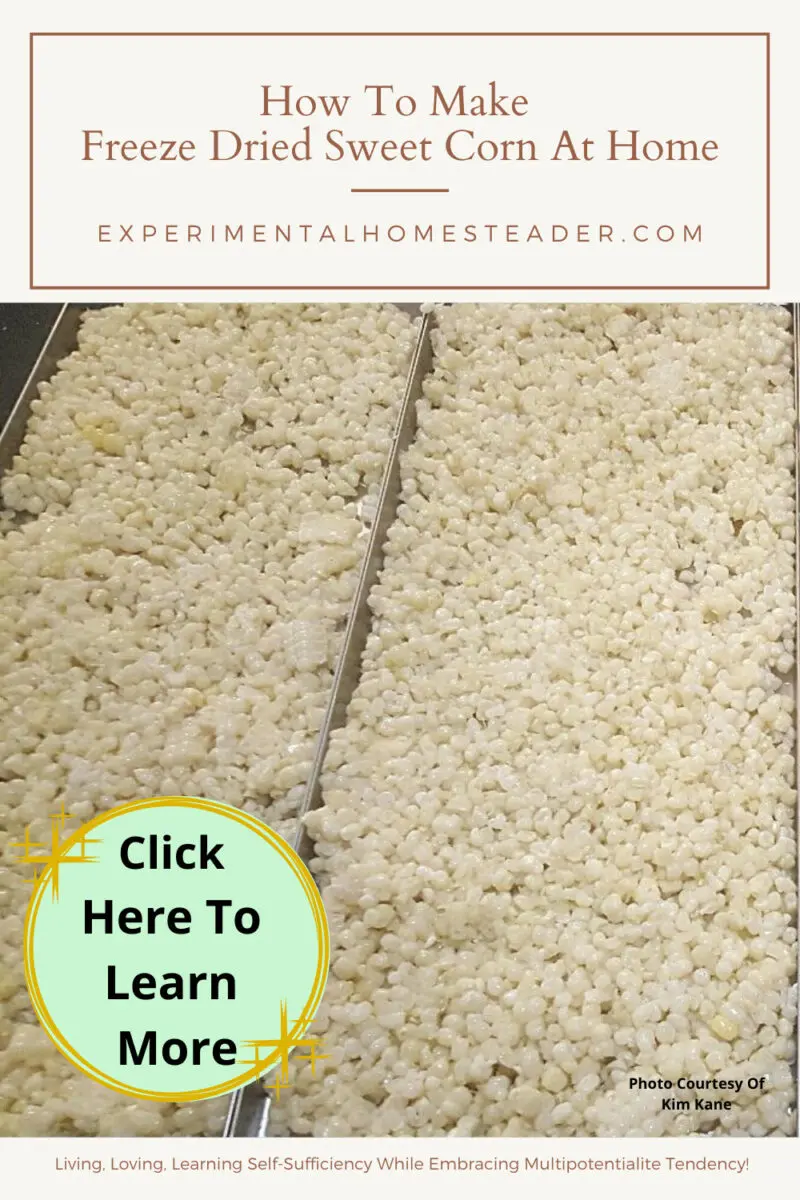 This Freeze Dried Sweet Corn Recipe Is Ideal For Long Term Food Storage
Being able to preserve the food you grow is important.
Being able to preserve that food as part of your long term food storage plan is even more important.
Let's face it, it makes absolutely no sense to grow your food, do the work to preserve the food and then have to buy other food for long term storage.
By sealing the sweet corn in mylar bags with oxygen absorbers you have now managed to turn the sweet corn you grew into food that you can store long term.
For those who do not have a mylar bag system in place yet, another option is to place oxygen absorbers in the bottom of canning jars, put the freeze dried food into the canning jars and vacuum seal the lids.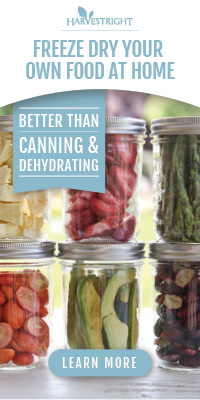 Why Freeze Dried Food Is A Better Option Than Traditional Food Preservation Methods
Back in the day, the canning jar lids held the seal for several years, but things have changed.
Some of the lids today unseal on their own after a certain amount of time.
I have lost more food to lids unsealing over the past couple of years than I ever did in the past.
It is definitely an issue.
Not to mention canning jars are heavy and take up a lot of storage space!
If you have to bug out, taking canning jars with you is not really an option.
Freeze dried food is lightweight, easy to put into your emergency evacuation bag if you store it in mylar bags and can be eaten as it is or rehydrated!
This is why I love and recommend the Harvest Right freeze dryer!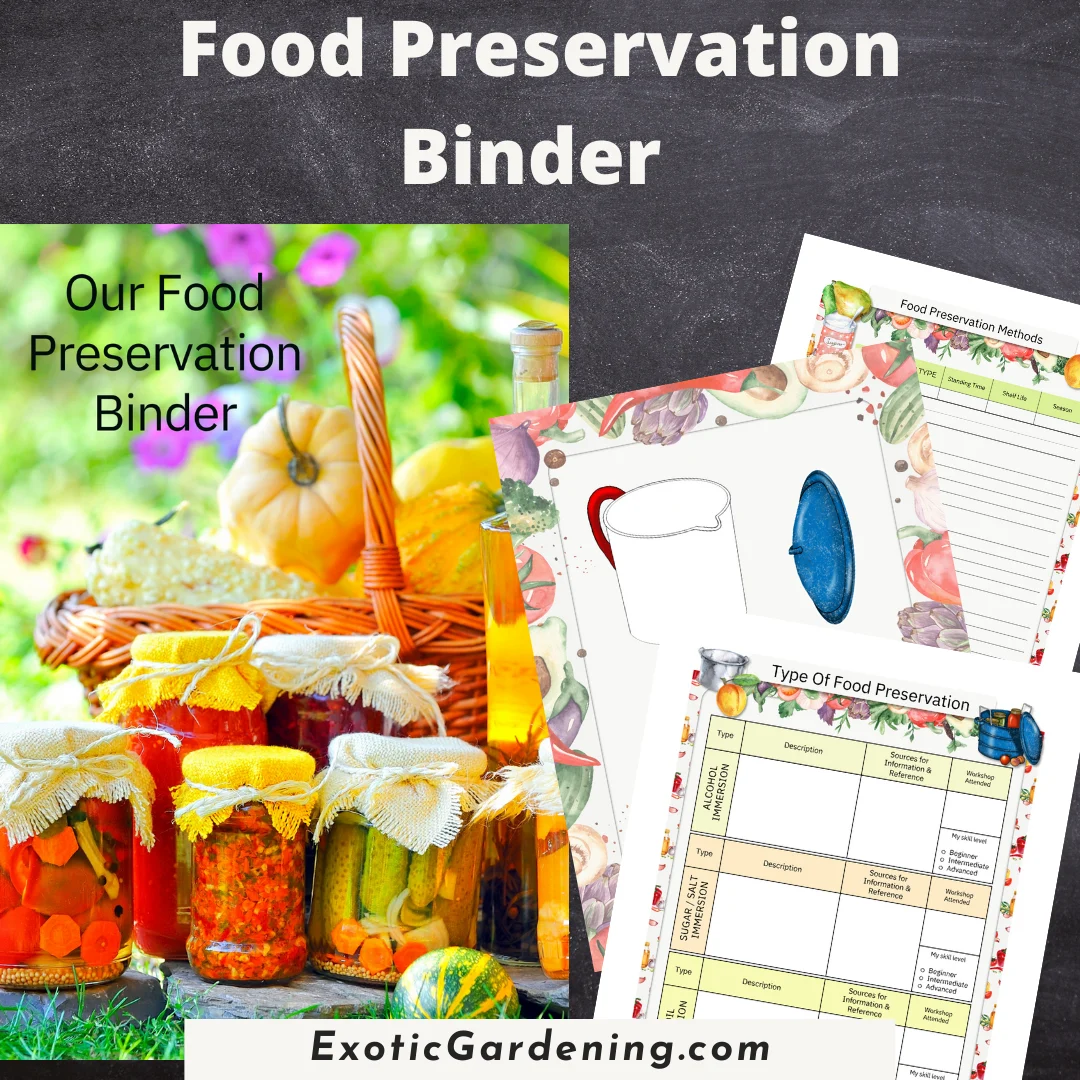 How To Store The Freeze Dried Sweet Corn Recipe
For pantry storage, go ahead and use canning jars or other glass jars if you wish.
You can put the sealed mylar bags into them if you are worried about mice or other critters chewing through the bags.
The most important thing is to make sure you use oxygen absorbers inside of whatever container you use.
Freeze dried sweet corn stored in mylar bags has a twenty-five year shelf life, so it is important to eventually get set up with a mylar bag storage system.
Once you open a mylar bag, it is important to either reseal it right away or put the contents into a glass jar with the oxygen absorbers in it.
Vacuum sealing that jar extends the life of the food.
Remember that once the food is exposed it begins to absorb moisture from the air.
This is why properly sealing and storing freeze dried food is so important.
Here is how to make this freeze dried sweet corn recipe.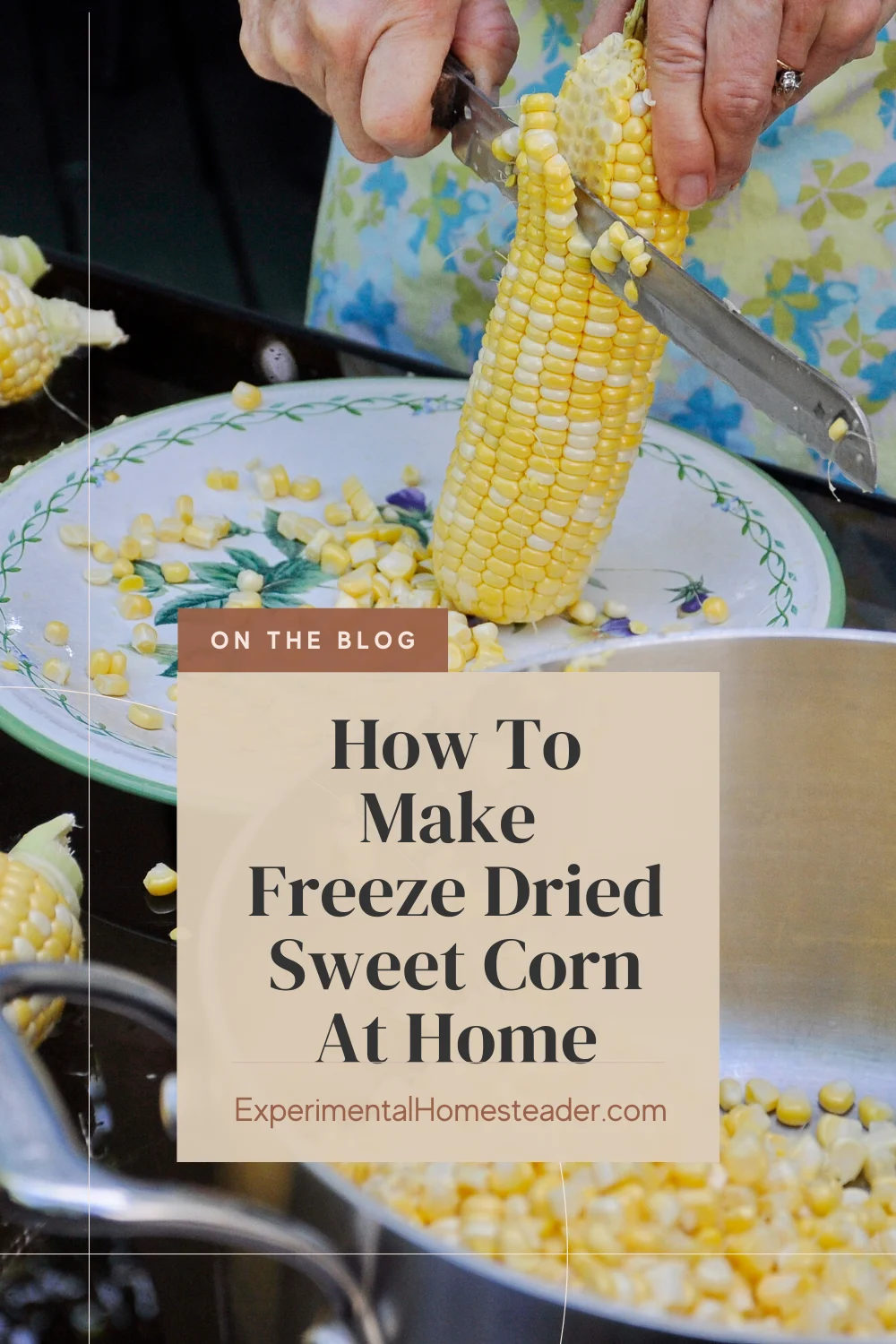 Print
How To Make Freeze Dried Sweet Corn At Home
Author: Sheri Ann Richerson
Prep Time:

2 hours

Cook Time:

40 hours

Total Time:

42 hours

Category:

Vegetables

Method:

Freeze Drying
Instructions
Pick the sweet corn the morning you intend to freeze dry it.
Shuck the corn.
Cut the corn off the cob,
Blanch the corn for three minutes.
Put the blanched corn in an ice water bath. It's a good idea to drain the water off the corn from time to time and put the corn in a new batch of ice water to keep it cool while you are working.
Once all of the corn is blanched, drain the water off.
Cover the freeze dryer trays with parchment paper.
Spread the corn out in a single layer on the freeze dryer trays.
Put the trays in the freeze dryer.
Start the freeze dryer on the normal cycle, which is the freeze cycle.
It will automatically cycle to the mid-drying cycle, which is the cycle that takes the longest amount of time.
When the sensors detect that the food is ready, the freeze dryer will automatically cycle to the final fry cycle.
On rare occasion when the freeze dryer shuts off, the food still needs additional drying time. Simply put the food back into the freeze dryer and follow the instructions in your manual to add additional drying time.
Once the food is dry it is important to immediately put it in a mylar bag or jar for storage and be sure to use an oxygen absorber!
Keywords: freeze dried sweet corn, freeze dried food, freeze dried recipes, freeze dried corn, freeze dried corn recipes
Recipe Card powered by

Final Thoughts About This Freeze Dried Sweet Corn Recipe
Freeze dried sweet corn tastes like candy because all of the sweetness is concentrated.
It is good to eat right out of the bag or you can rehydrate it to eat just like regular canned corn or to use in recipes.
While it is true that each batch of freeze dried sweet corn takes anywhere between 20 to 40 hours to completely freeze dry, the end result is worth the wait.
If you have more than 10 pounds of corn that is ready to pick, you can freeze it until you can get it into the freeze dryer or preserve it using another preservation method.
However, once you start using a freeze dryer and get a taste of how good freeze dried sweet corn is, you won't want to go back to traditional food preservation methods!
If you have questions or comments, leave them below.
If you would like to learn more about freeze drying, I invite you to join the Facebook Group Harvest Right Freeze Dryers – Freeze Drying Adventures.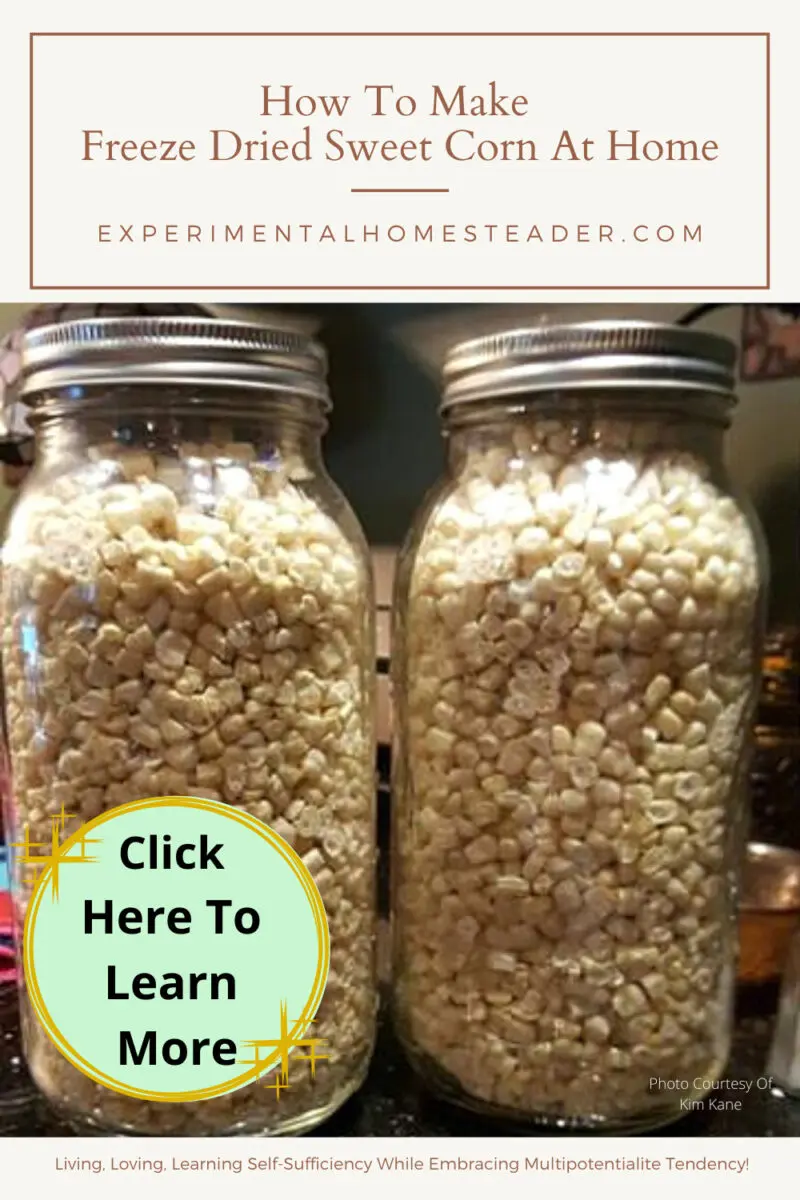 Where To Buy Freeze Dried Corn
Of course I do realize some people just want to know where to buy freeze dried corn instead of making their own.
Amazon has you covered!
They sell a large selection of freeze dried corn.
Of course, they are not the only place where you can buy freeze dried corn though, Legacy Food Storage also sells freeze dried vegetables.
Learn how to freeze dry goat milk as well as other types of milk. Plus learn how to use it and how to store it long term.
Understanding the four factors that affect food storage is essential for keeping your food safe, especially if you intend to store it long term.
Although canning broccoli was once considered safe, times have changed thus freezing, dehydrating or freee drying broccoli is recommended.