Building root cellars that work is something everyone can do, even those who live in an apartment.
Root cellars work because they maintain cool temperatures, they are dark and they retain the right amount of humidity.

Root cellars do not need to be underground unless you wish them to be.
They can be above ground, built in a basement or even in a closet, attic or stairwell.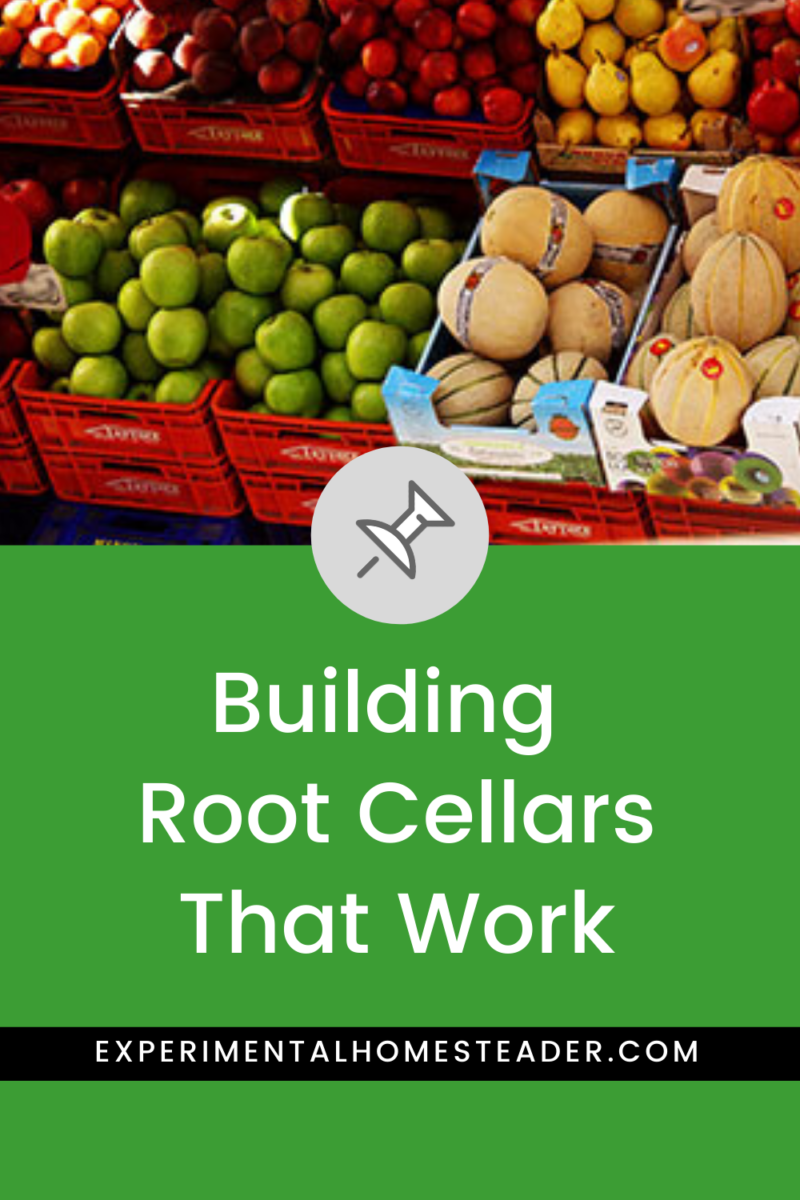 There is a variety of produce that stores well in root cellars, potatoes, carrots, squash, pumpkin, turnips, grapes, apples, pears and much more.
The trick is learning how to store food, what temperatures the food you wish to store needs to be stored at and how long the food will keep.
The answers to these questions vary just as the answers to how much food to put up vary.
The first step is to understand the four factors that affect food storage and then decide which type of root cellar you wish to build.
Building An In Ground Root Cellar
An in ground root cellar is going to require a lot of digging as well as some construction.
The easiest way to dig the hole is with a backhoe, but if you don't have access to one, you can certainly use a shovel.
Then the hole must be lined with concrete blocks.
A roof must be made and covered, usually with soil or but sometimes with concrete. 
Drainage under the floor and along the outer walls is necessary, especially if you lie in an area that gets a lot of rain.
For those who are comfortable with construction, an in ground root cellar is wonderful, but for those who are not, there are other options.
Closet, Attic And Stairwell Root Cellars
The key to successfully turning a closet, attic or stairwell into a root cellar is to choose a part of your house that is minimally heated or better yet, not heated at all.
Even an unused room in your home could be used.
While no major construction is necessary if you choose to use an area such as this, keep in mind that an area that borders an outer wall is best.
Also be sure to keep an eye on the produce you store, because one bad fruit or vegetable is sure to make your home quite stinky.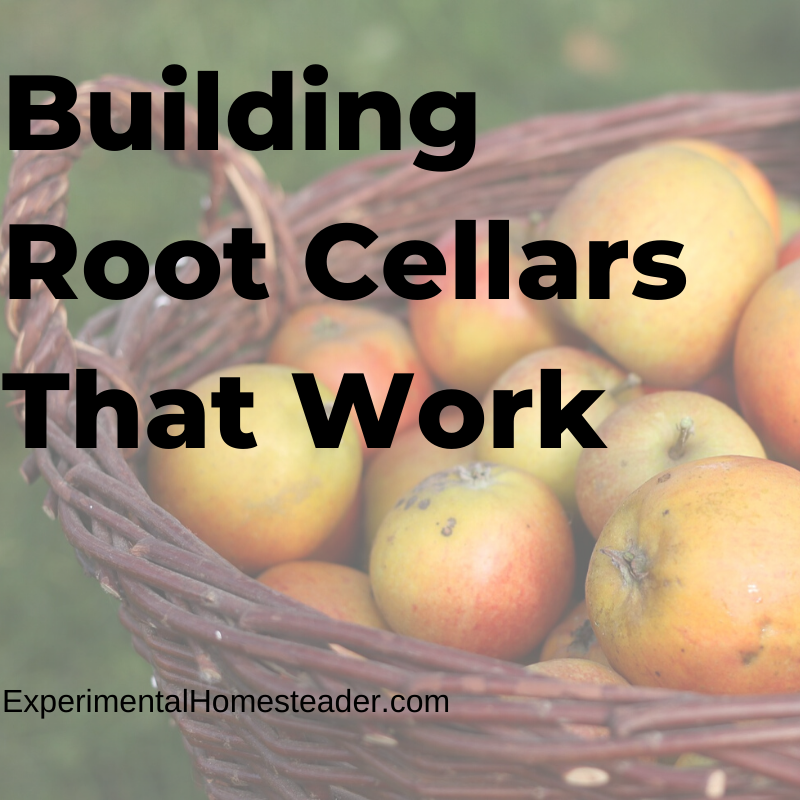 Root Cellar Ideal Temperature
The ideal food storage temperature for a root cellar depends on what you are storing in it.
In addition to having the ideal temperature range, it is also important to have the correct humidity to keep the food fresher longer.
Here are three temperature and humidity recommendations along with a list of the fruits and vegetables that do best under those specific conditions.
Cool and moist: 32 to 40 degrees F with 90 to 95% humidity: Carrots, beets, parsnips, rutabagas, turnips, celery, Chinese cabbage, winter radishes, kohlrabi, leeks, collards, broccoli and Brussels sprouts.
Cool and moist: 32 to 40 degrees F with 85 to 90% humidity: potatoes, cabbage, cauliflower, apples, grapes, oranges, pears and grapefruit.
Cool and moist: 40 to 50 degrees F with 85 to 90% humidity: cucumbers, cantaloupe, watermelon and ripe tomatoes.
Be sure you are building root cellars that work before you store your produce in them by taking multiple temperature and humidity measurements.
Root Cellar Temperature Control
Root cellar temperature control is essential to the success of your root cellar.
The cooler temperatures found in a root cellar slow the release of ethylene gas as well as stop decomposition by stopping the growth of microorganism's.
One way to control the temperature in a root cellar is to make sure it is well insulated, is located in an area that remains cool, such as underground and has adequate ventiliation.
Choosing to locate the root cellar on the north side of your property instead of on the south south also helps to keep it cooler.
Some people choose to locate their root cellars outside in a woody area to help keep sunlight off the root cellar itself and prevent the ground from being as hot as it might be in full sun.
Other people might choose to build a root cellar in their basement.
Using a double vent system with one vent on the floor to bring in fresh, cool air and one on the ceiling to allow hot, stale air and ethylene gas to escape also helps with temperature control.
Remember that proper humidity is also important to prevent the fruits and vegetables from shriveling.