Freezing goat milk is great way to preserve your excess and have it available to drink or use when your goats are not in milk.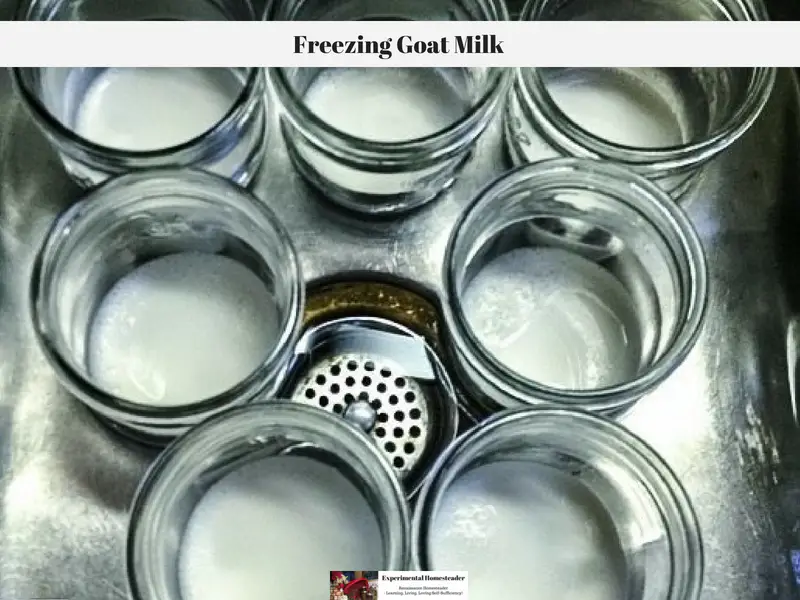 As most goat owners know, goats only produce milk a few months out of the year. If you are really lucky, and have a good milker, you may be able to get milk for up to ten months. Some goat farmers alternate the breeding times of their goats to make sure they get milk for most of the year, however, if you have just a couple of goats, or limited space, alternating breeding times may not be the answer for you.
Below are tips for freezing milk plus a video that answers a number of top goat milk preservation questions.
There are also links to products I recommend from companies I have a referral relationship with. I will be compensated if you make a purchase after clicking on my links.
A Brief Introduction
Here at Exotic Gardening Farms & Wildlife Habitat, we have three dairy goats, Spice, Sugar and Darla. We bought them when they were already "in milk". We did not buy the babies, so we were able to keep all of the milk. We bought Darla in March, Sugar in May and Spice in June. We milked until late August, then decided to dry them up due to a lack of time to milk them. Until we chose to dry them up, we milked twice a day, every day.
We had plenty of milk, butter, buttermilk, cheese, ice cream and other dairy products while we were milking the goats. However when we quit milking, there was no reserve.
The following year in late spring and early summer our goats kidded giving us baby goats and plenty of goat milk!
However with the babies we did not get as much milk as we did the first year! We still had plenty though, with a little left over.
So, I decided to figure out if there was a way to preserve the milk without it taking on a "goaty" taste. I am happy to say my experiment succeeded and freezing goat milk is now something I do yearly with all my excess milk. Besides saving money by not having to buy milk or other dairy products, there are health benefits to drinking goat milk.
Watch this video to get your Top Goat Milk Preservation Questions Answered (17 minutes 42 seconds):
How To Freeze Goat Milk Step-By-Step
I started out searching for a way to preserve the excess goat milk I was getting daily. Several ladies on a food preservation list I belong to suggested freezing the milk. Now there is a trick to this if you want to keep it tasting just as fresh as it would straight from the goat.
First, as soon as you are done milking pasterurize it. If you prefer raw milk, skip this step and go ahead and cool it.
It is best to strain the milk using non-gauze milk filters to remove any goat hairs or other impurities before you pasteurize it. If you are not pasturing, you still need to strain the milk.
Once you are ready to move on to the next step, pour the strained milk into several small canning jars. I use pint jars that I fill 1/4 of the way full of milk because this makes it easier to cool the milk quicker. 
I place the canning jars with the milk in them in the freezer for half an hour, uncovered. An alternative method is to put the jars in ice cold water for 15 minutes, then move them into the freezer for 15 minutes.
I open the freezer door every ten minutes and swirl the milk in the jars. If you are placing the jars in water first, there is no need to do this.
Once cooled, pour the milk into a larger canning jar. I use a half gallon jar that I fill 3/4 of the way full. I encourage you to use a canning jar as they will freeze and thaw just fine in my personal experience. Other types of glass may break once it gets cold or even as the milk is thawing.
I put a plastic lid on the canning jar to seal it. You can buy these in the canning section of most stores. They are designed to be used on canning jars.
Once the jar of cooled milk is sealed with a lid, I put the jar into a large storage bag or freezer bag and seal it. The two gallon bags easily hold two half-gallon jars and I have found this method works best for me. I can thaw one jar or both jars depending on my needs.
Be sure to write the contents and date on the jars, bag or both so you do not forget.
Put the bags filled with the canning jars on the bottom of a chest freezer making sure they will not easily tip over.
When it comes time to use the frozen milk, do not thaw the milk at room temperature or in a microwave. Instead sit the frozen jar in the refrigerator and let it thaw naturally. This may take two to three days depending on how cold your refrigerator is so you do need to plan ahead.
Once the milk is thawed, use it as you would fresh milk. I use mine on cereal, drink it or use it in goat milk recipes. It tastes just like it did when it was fresh from the goat, the only difference is it is ice cold. It lasts three to four days for me because we use it up within that time frame.
Sometimes I freeze the milk without removing the cream and sometimes I separate the cream. I like to freeze the cream in small ice cube trays, then wrap them in Saran Wrap before placing them in a freezer container for storage. They are good for six months. I also freeze the buttermilk left over from making homemade butter. I pre-measure it, then put it in small canning jars so I can use it in recipes. Be sure to label the jars with the name and the amount of buttermilk in the container.
I highly recommend the following articles:
Use the buttons on the right hand side of the screen to share this article with friends or family who might find it useful. Pin the picture below to your pinboard on Pinterest for future reference.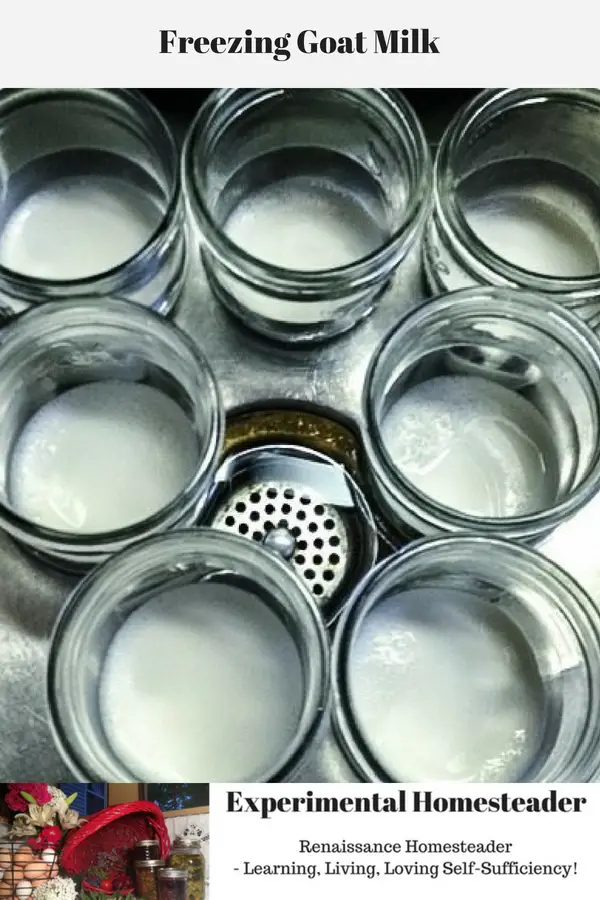 SaveSave
SaveSave