Do you feel like you can't possibly stock up on food? Maybe you live in an apartment – or there is just no home food storage solutions in your home due to lack of space.

I'm going to share with you today 10 places – some obvious, some not so obvious – where you can store extra food as well as links to some products I recommend from companies I have a referral relationship with. I will be compensated if you make a purchase after clicking on my links.
Canned food or food that does not require refrigeration such as water or dehydrated foods are the foods you should store.
Fresh food – unless you can, dehydrate or freeze it does not lend itself to long term food storage.
I encourage you to put any food you buy that is in plastic bags or boxes in a metal or glass container before you store it unless you keep in your freezer.
This prevents mice or other critters from easily accessing it.
Any product with grain really needs to be frozen to prevent potential bug eggs that could still be in the food from hatching.
Now if you don't have enough room, look up the minimum freezer storage time to kill those bugs and store your grain products for just that length of time before you move them into glass or metal containers.
Make sure all your containers have tight, leakproof lids.
Oh and if you hate the site of cans stacked up, plastic totes with lids make great home food storage solutions.
Once they are sealed well in glass or metal, it is ok to store those containers in plastic.
Closet
I know my closet can get pretty messy but if you think about it, there are places in a closet – such as the floor area under your clothes – or shelving above your head – that can be utilized for food storage.
My closet is built under a stairway so I have an large area a dresser that I put into my closet that is ideal for long term food storage.
I suggest you put stockpile items here instead of putting things you use frequently.
Keep a paper list on the inside of the closet door or the inner wall – or even on your computer or phone – so you can easily see what food items are in the closet.
This is an easy way to keep track of what you have so when you run out of something you know where it is and prevent you from duplicating purchases.
Under The Bed
I love those plastic tubs on wheels that fit under the bed.
They utilize all that wasted space and make it super easy to get to the items that are under there.
You might be surprised at how much you can fit into one of those tubs and how much extra food storage space this area offers.
Some people even build their own bed frame so they can enclose that area to keep dust or mice from getting under there.
However if you follow my advise of using metal or glass sealed containers inside of your plastic tubs, this is not as issue as those do wash off easily with hot, soapy water.
You should always do this anyway to cans of food – and boxes if possible. I have been inside food warehouses and believe me the rat, mice and pest traps are unreal!
Cabinets
The kitchen cabinets are an obvious place, however if you are like me, yours might be filled with dishes!
Sometimes I can find small areas for one or two items that I am not likely to use behind the rounded edges of plates or other small unused crannies.
Are there other cabinets in your home?
The laundry room, bathroom or anywhere else that might have some extra space?
Yes, you need to make sure there are not temperature extremes or high humidity that might spoil your food, but most of the time these areas have good ventilation.
Basement
Even if you have a finished basement this is a great place for storing excess food.
Put up shelves, stack up plastic totes filled with food or build a food storage closet.
I put metal shelves with doors on them in my basement.
These are hard to find where I live because they do not sell them new anymore that I know of, but I have found some at garage sales and second hand stores for around $10.
I believe these were originally used in garages or for mason jar food storage – anyway they work great for that.
I can double stack pint jars or put quart or even half-gallon sized mason jars on a shelf.
They are about five feet tall so I can easily reach all the interior shelves.
You could build your own shelves too or even use old kitchen cabinets.
Spare Room
Many people have a spare bedroom or other room in their home that does not get a lot of use and this is an ideal place to store even more food.
In our home, there are 2 extra bedrooms, an office and a craft room.
That gives a lot of places to stack plastic totes filled with food.
Consider adding an enclosed shelving unit if you have the room to store food in.
Under The Couch
Ok, I know not everyone wants to store food under their couch but you know those metal cans do fit and it certainly does give you one more place to stockpile food.
Those of you with very limited space might find this to be a great option.
Inside Empty Luggage
We all have some type of luggage – or purses – that are not being used.
Consider filling them with some extra food.
These are great storage places that not many people think of – however keep a list so that food stays out of sight but not out of mind.
Under Or In The Coffee Table
Some people don't care if others can see their food storage efforts – and some do.
That space under your coffee table – or inside your coffee table if you have one with doors on it – is another great place to store food.
Consider building your own food storage coffee table for maximum storage space.
In Your Walls
I know this is not an option for many, but for some creating false panels in their walls and storing food between the rafters is an option.
Don't do this on exterior walls as you need those filled with insulation, but interior walls are perfect for this.
Some people even store their food in the walls in their basement so it is there but not seen.
Pantry
The pantry is a pretty obvious place to store food – but not everyone has one.
If you happen to have an extra closet in your home – or space to build a small closet – turn it into a pantry.
You can store a lot of food in a really small space and pantries sure help with keeping food organized!
Use the buttons on the right side of the screen to share this article with friends or family who might find it useful. Pin the picture below to your pinboard on Pinterest for future reference.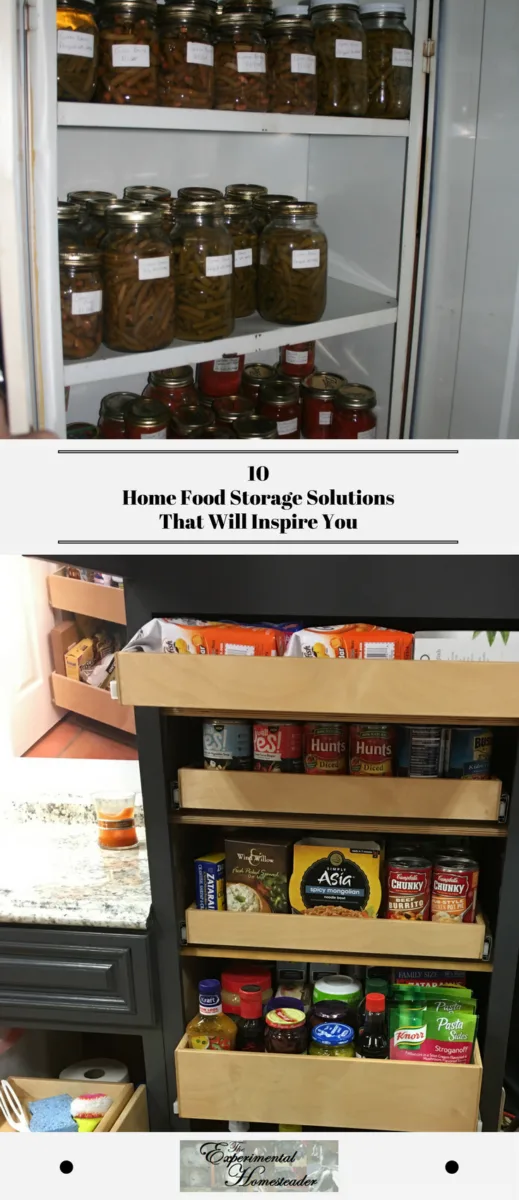 SaveSave