Disclaimer: I received one or more products used in this post at a reduced price or for free in exchange for my honest review. All opinions are my own.
Are you ready to learn how to make homemade rash cream?

This post will show you the process to make homemade lavender rash cream easily right at home! 
Since we live on a homestead, I've found that making as many items as we can with simple ingredients is a great way to prep and prepare for just about anything.
It's also a simple way to save money time and time again.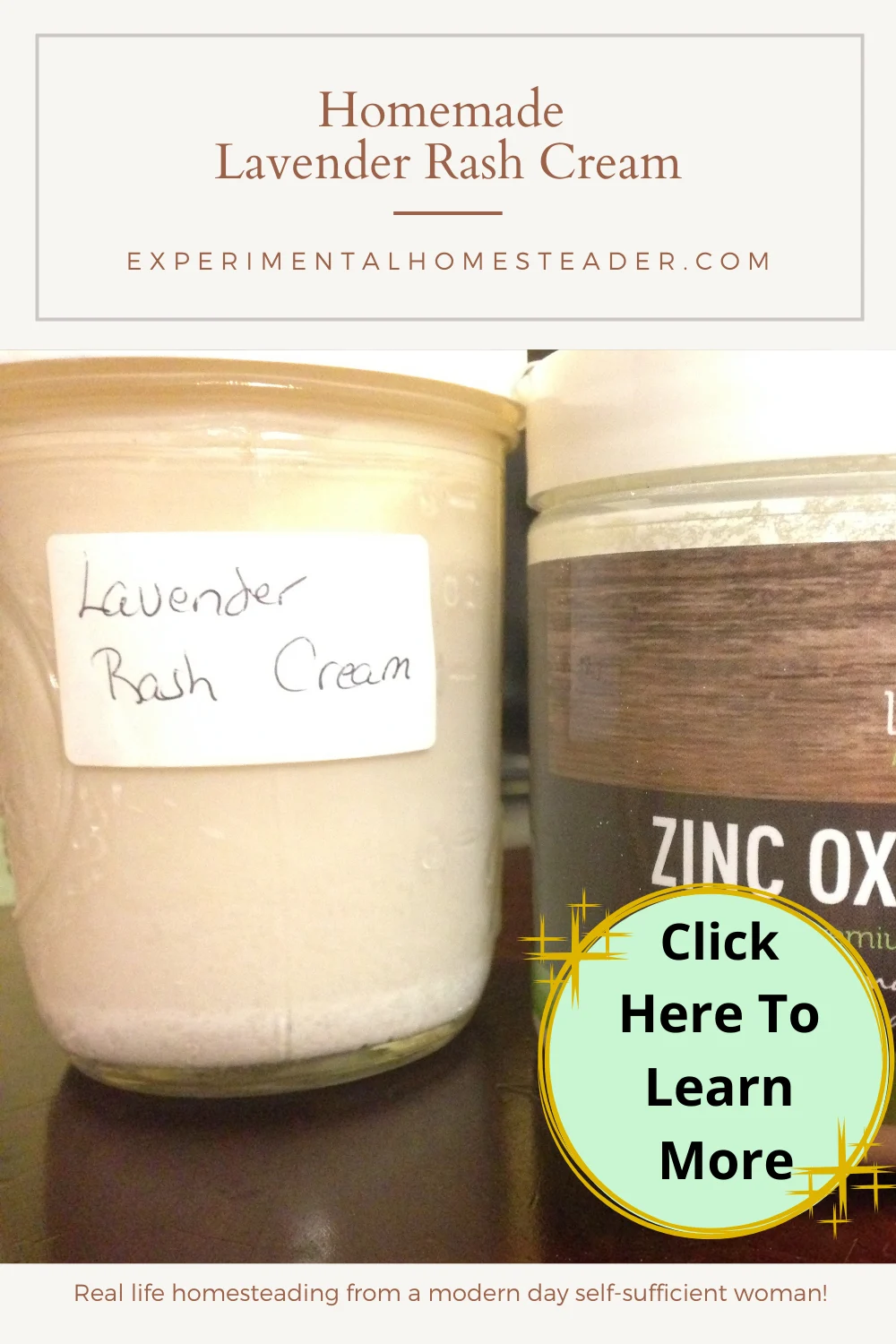 Homemade Rash Cream 
I love making homemade products – everything from salves to beauty products to cleaning products.
Let's face it, homemade means using simple ingredients I can pronounce and these products are better in so many other ways.
You'll find that you can use more natural products when you're making the products at home yourself.
This is why when I was offered a chance to try La Lune Zinc Oxide Powder I accepted.
I was excited that the la lune naturals product also came with an ebook that contained 10 recipes on how to use the product.
That was so helpful!
What Is Zinc Oxide Powder?
It's actually used in a lot of products!
It's a mineral powder that isn't a skin irritant so you'll find it in lotions, sunscreens, and more. 
I decided to make the homemade lavender rash cream in their recipe book because I often get a rash on my hands and I happened to have all the ingredients on hand.
Supplies Needed to Make Lavender Rash Cream
First gather up your supplies.
You will need:
a glass jar
a pan
a spoon
How To Make Rash Cream With Essential Oil 
It helps to pre-measure your ingredients.
Beeswax (or at least mine) is hard.
I used a sharp knife that I heated up with my culinary torch to cut the beeswax up.
I'd love to hear other ways that some of you have accomplished getting your beeswax cut up.
Mine was a very large block.
Once the beeswax is cut up, here is how to make homemade rash cream.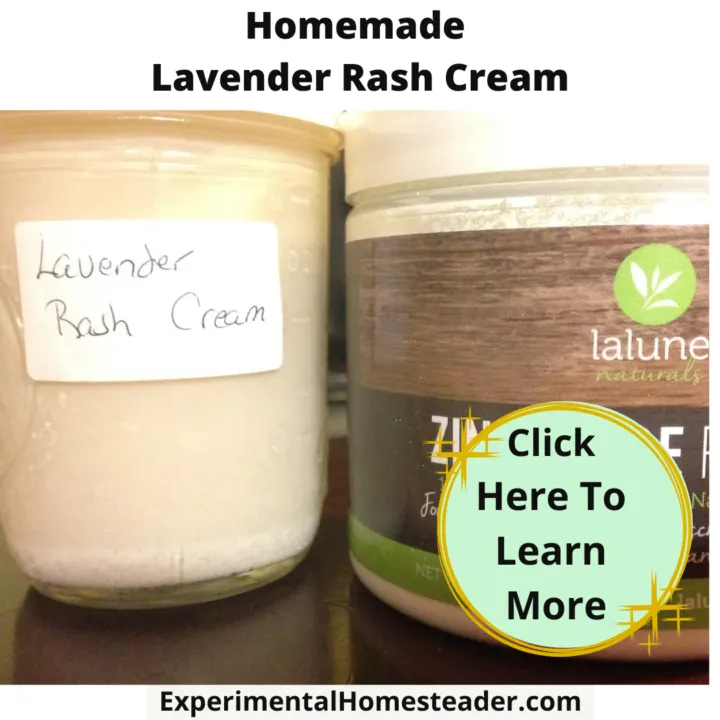 Homemade Lavender Rash Cream
Are you ready to learn how to make homemade rash cream? This post will show you the process to make homemade lavender rash cream!
Materials
La Lune Zinc Oxide Powder
beeswax
coconut oil
lavender essential oil
Tools
a glass jar
a pan
water
a spoon
Instructions
Weigh the beeswax on a scale instead of trying to measure 1/8 cup (1 ounce).
Then measure the 2/3 cup coconut oil in a measuring cup.
Add both ingredients to a half-pint canning jar and set that in a pan of water.

Turn on the stove on and begin boiling the water. You can use a double boiler but I felt like doing it in the canning jar because that meant less waste.  

Once the beeswax and coconut oil is liquid, stir them well to combine them.

Then add 1 Tablespoon of La Lune Zinc Oxide Powder and stir it up well. You have to make sure there are no clumps in the mixture. You can use a stick blender or hand mixer but I just used a spoon.

Allow the mixture to cool just slightly then add in 1/4 teaspoon lavender essential oil and stir again.
Set the jar aside to cool. It will harden at this point.

Be sure to label the jar and use a plastic lid to seal the jar.
Use it as needed.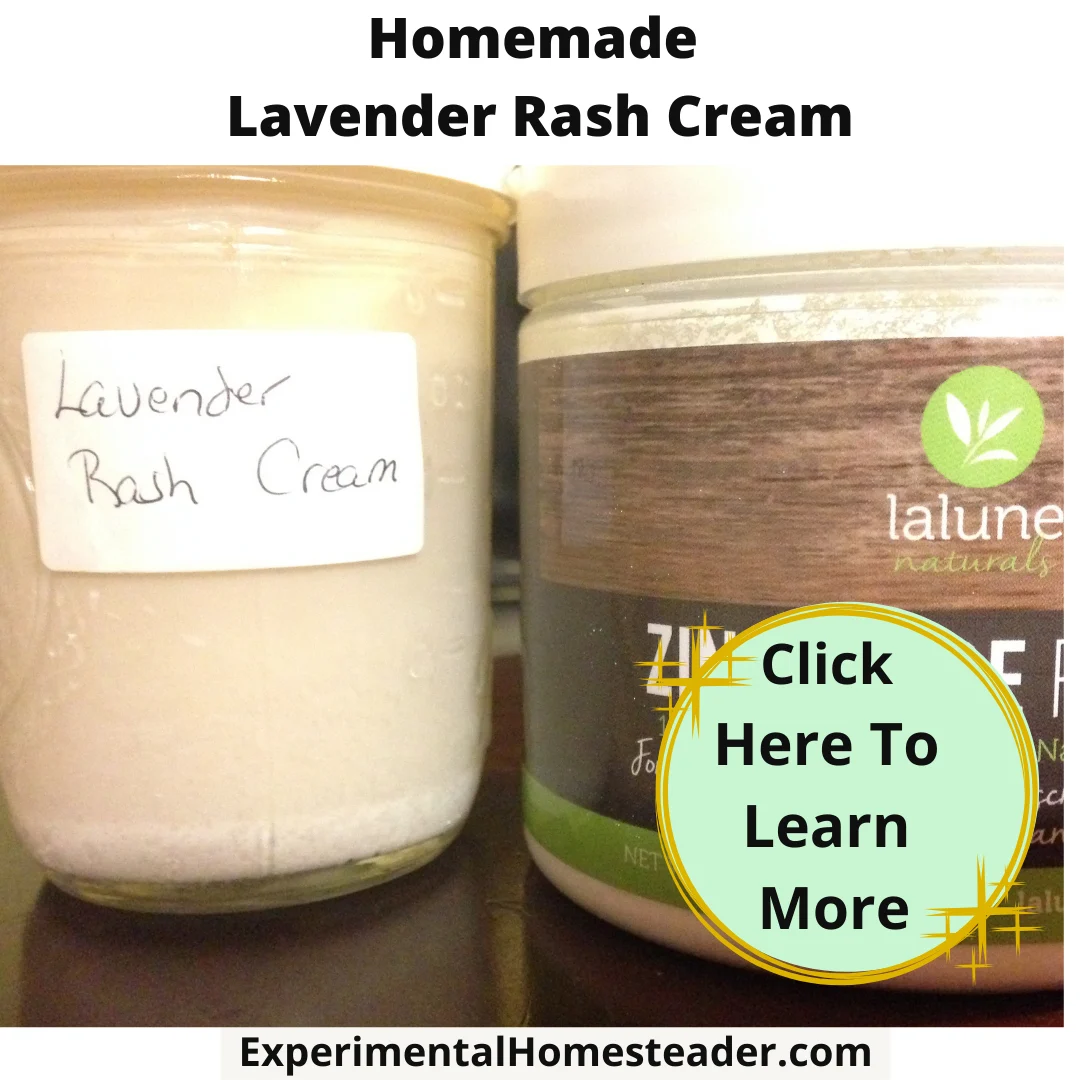 Why Use Homemade Rash Cream? 
Let's face it – having a rash on your hands can be a real bummer.
This rash cream can just help to ease the pain and soothe the burning that might be happening with your rash. 
Keep in mind that this is not a burn cream.
This is a cream for a minor rash – not a medical treatment option or medical advice.
If you have a burn or a serious rash, consult with a physician immediately. 
How To Store Rash Cream
You'll want to store this cream in a jar with a lid and keep it out of the reach of kids.
I like to keep mine in my medicine cabinet and use it as needed. 
I have a video on YouTube and also in this post that shows the process of me making the rash cream from start to finish.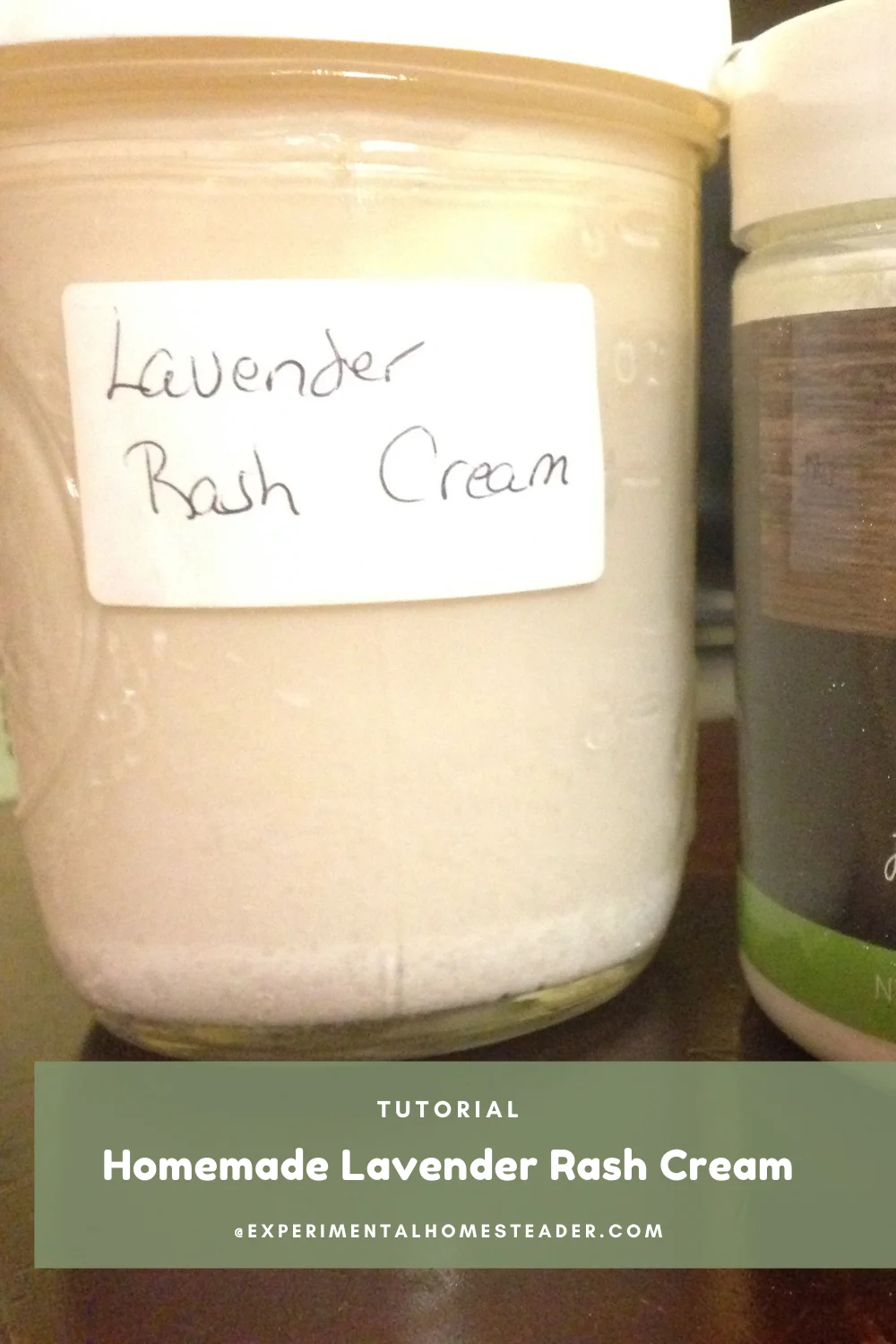 What I Thought About The La Lune Zinc Oxide Powder
The La Lune Zinc Oxide Powder melted very nicely when I added it to the hot oils.
I had no issues with it clumping.
I did end up with some powder in the bottom of the jar and remelted everything to try to solve that issue, but it seems this is normal.
Possibly if I had whipped the mixture the powder would have incorporated better.
Perfect For Sensitive Skin 
I love that the La Lune Zinc Oxide powder has not broken out my skin and I do have sensitive skin.
It was soft and powdery in the container which is why it mixed together so well with the oils.
The product was well packaged and arrived quickly after I placed my order.
If you are making your own sunscreens, deodorants, rash creams including diaper rash creams, I recommend you buy this product.
It is simply wonderful!
Homemade Bath And Body Products