Disclaimer: I did receive this item at a reduced price in exchange for my honest, unbiased review. All opinions are my own. There are also links to products I recommend from companies I have a referral relationship with. I will be compensated if you make a purchase after clicking on my links.
Sheri Ann Richerson from ExperimentalHomesteader.com shows you two step-by-step different ways to make these French Valentine Personalized Pillows.

If you're looking for fun Valentine pillows, it's time to learn how to make personalized pillows.
Giving your loved ones a gift that has meaning and one that they can snuggle up with every night is a great way to give them the perfect Valentine's Day gift. 
You'll see that this lovely DIY pillow gift idea isn't hard to do at all.
If you're ready to wow your loved ones, these personalized heart-shaped pillows are the best.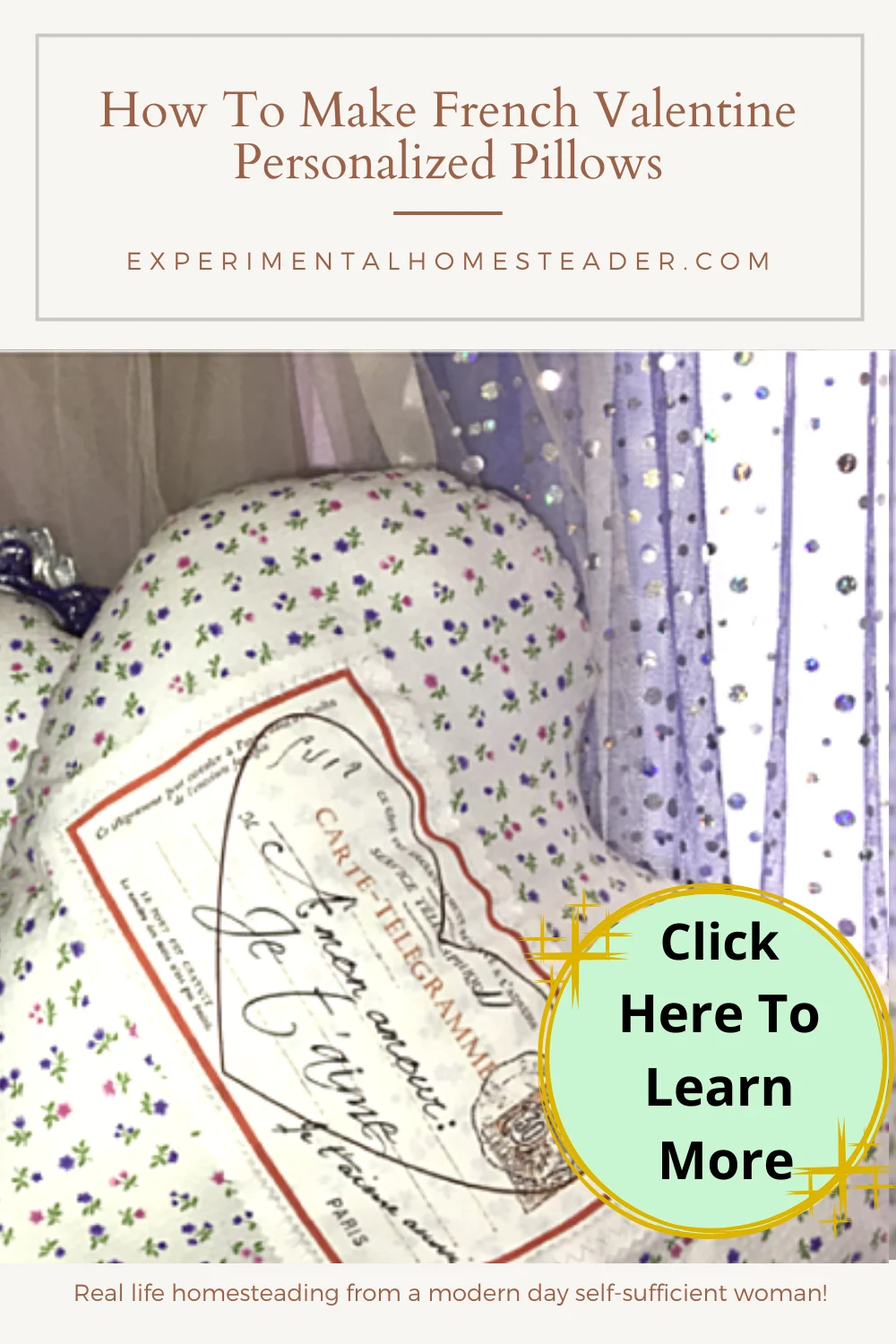 DIY Valentine Pillows
The best part about these French decorative pillows is that you can easily make them right at home.
Save some money this year and make homemade gifts instead! 
Here is how to make this pillow.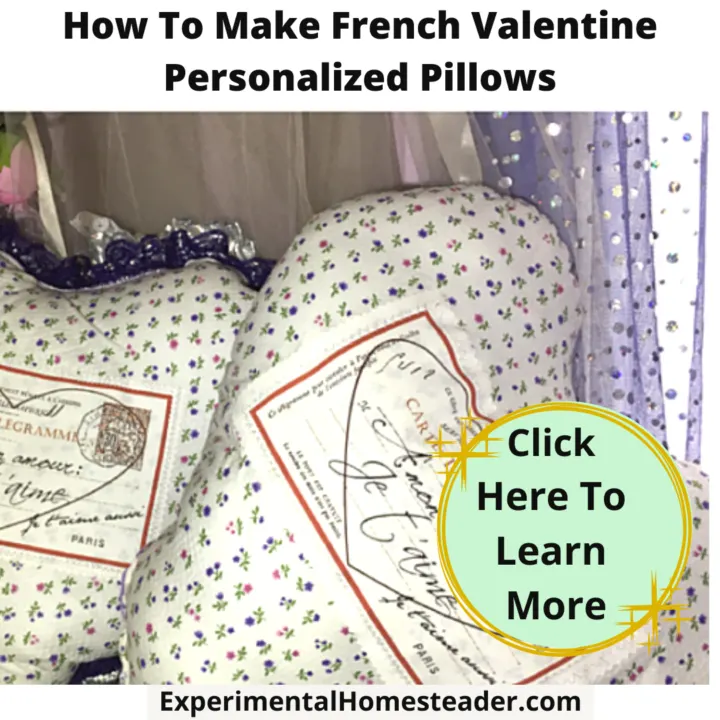 How To Make French Valentine Personalized Pillows
Personalized pillows make great DIY decor items and wonderful gifts. Check out my Pottery Barn inspired French Valentine pillow tutorial.
Materials
Cardboard or a large sheet of paper
Fabric
Lace (optional)
Tools
Scissors
needle
thread
sewing machine (optional)
iron
printer
ironing board
Instructions
Simply draw a large heart on a piece of paper or cardboard and cut it out.


Now you have a pattern.

Place two pieces of fabric - the size of the pattern - with the right sides of the fabric facing inward so the two right sides touch.


Pin the pattern to both pieces of the fabric and cut out the pattern.


Remove the pattern, pin the fabric back together just like it was with both right sides of the fabric facing one another.


If you want to add lace as I did, pin the lace in place now making sure all of the lace lays inside the heart.


When you turn it over, the lace will lay the correct way.


Sew the fabric 1/4" from the edge leaving an area large enough to turn the fabric heart inside out.


Turn the heart pillow inside out and stuff it with pillow stuffing.


Sew the area up that is not sewn and your pillow is ready to use or gift to someone.
Are Personalized Pillows Hard To Make? 
I didn't find them hard to do at all.
I did sew the pillows myself and put the design on with an iron-on patch.
You could simply iron the design onto pre-made pillow cases if you do not sew.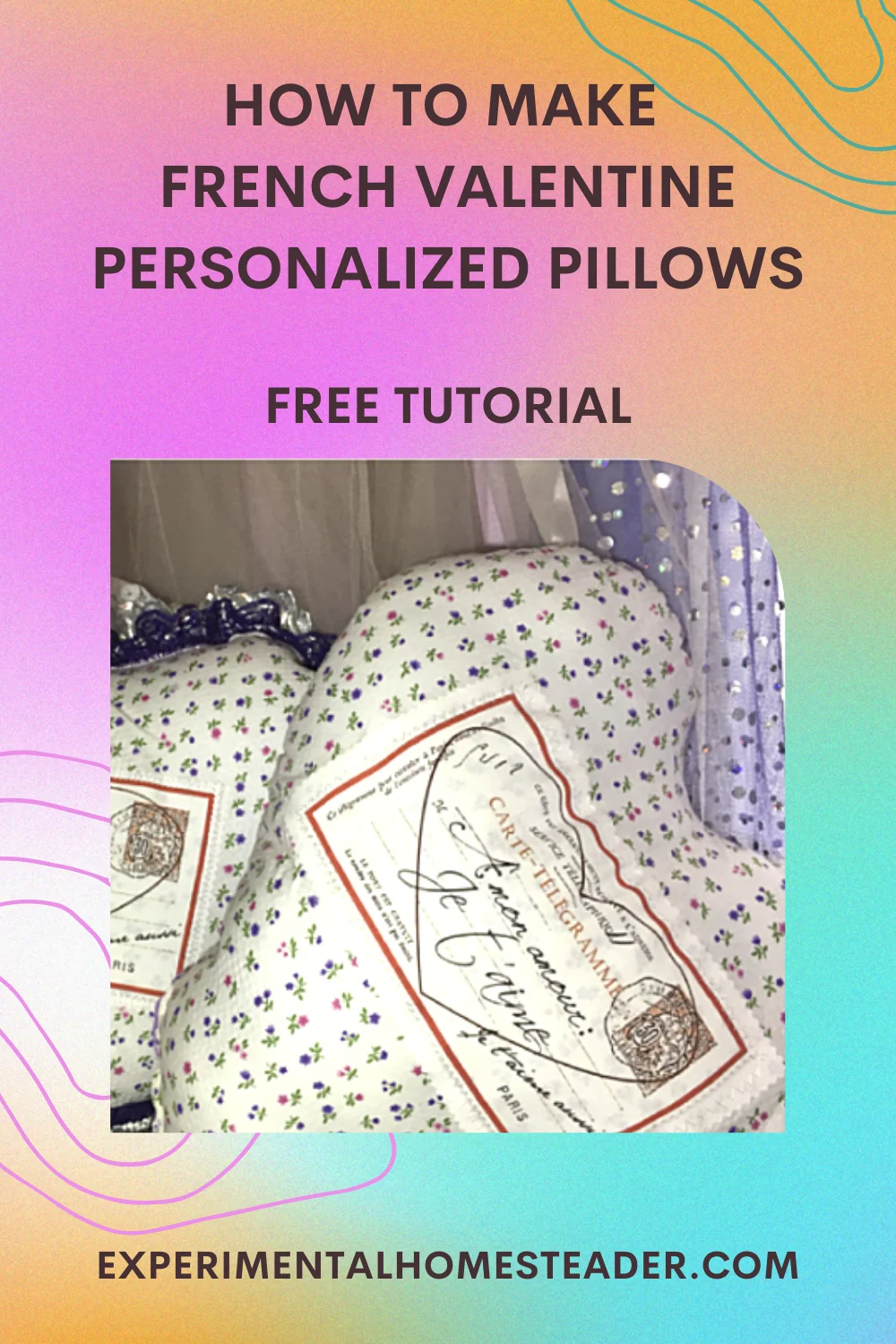 Fun Ways To Gift Personalized Pillows
These are ideal for Valentine's Day decor, any room that you want to add a touch of romance too, or even to give as a gift.
The great thing about making your own pillows is that you control how it looks and to who you give them.
When you create a personalized pillow, you're creating a little piece of your heart!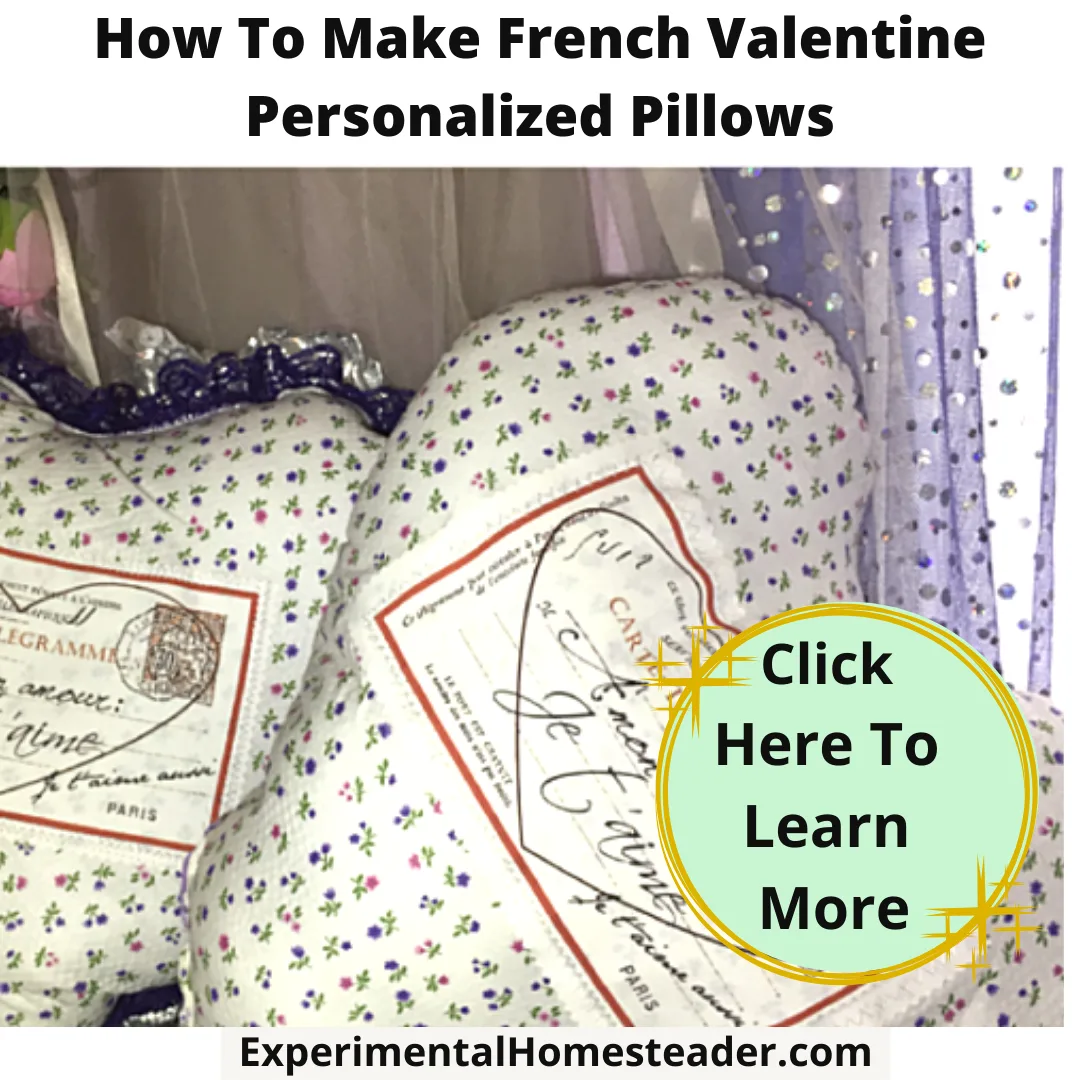 Ways To Change Up The Look Of DIY Pillows
Don't forget that you can easily change these up by changing up the type of fabric that you're using!
Have fun and be creative with your choices!
The choices can be based upon the person, or you can choose colors that go along with the rest of the decor in the house.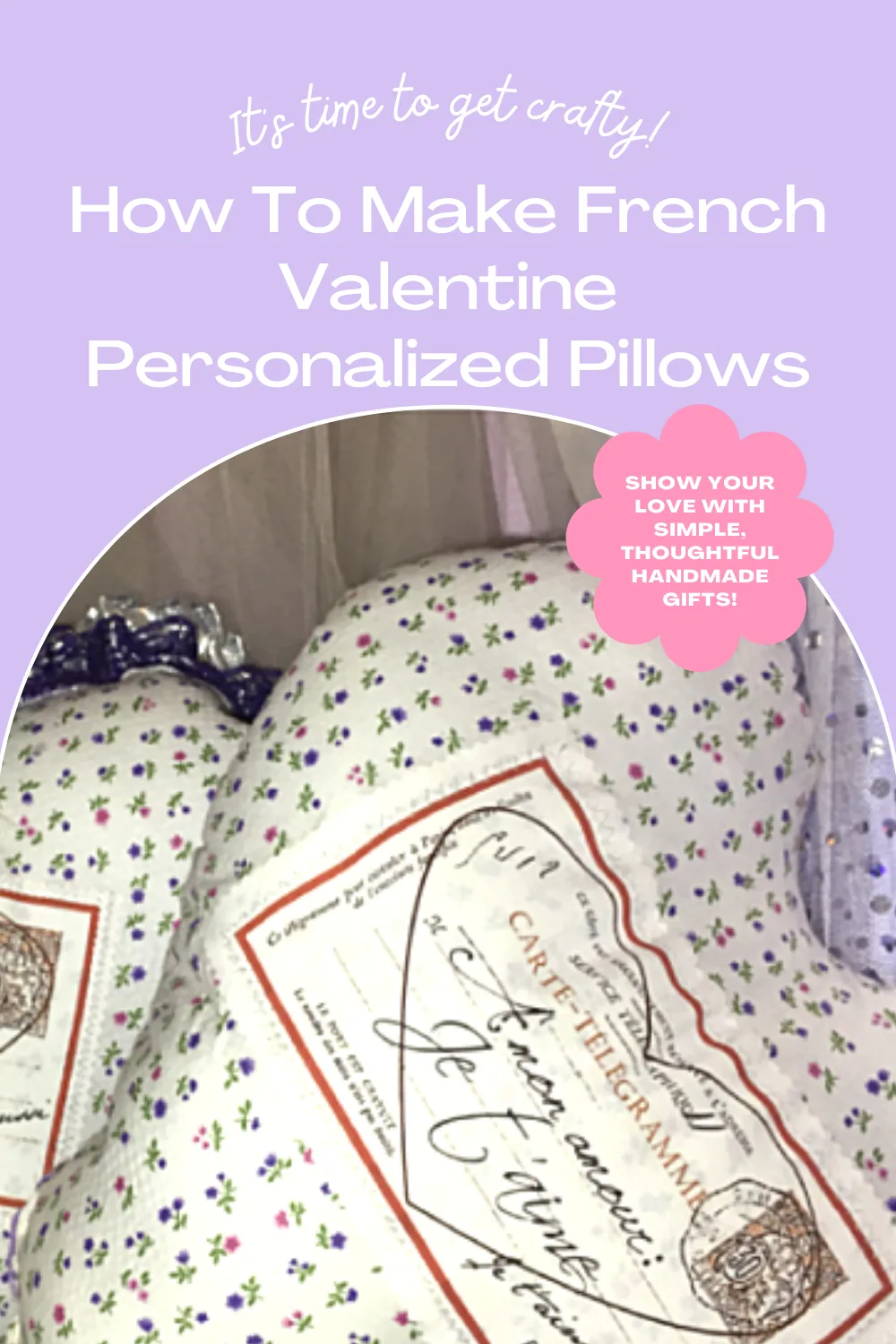 Unique Ideas For These Personalized Heart-shaped Pillows
While I do think that these make great gifts, I also think that there could be a great way to make money selling personalized pillows, too.
If you're looking for homesteading money-making ideas, I believe that this could be a hit! 
You can offer to make these as gifts or whip them up and sell them online or in person.
Once you make a few, you'll get the hang of it and can easily make more! 
These would be great to sell for Valentine's Day, weddings, anniversaries, and more!
You can even use them as inspiration to spin-off and create other personalized pillows for different occasions, too. 
Please leave questions and comments below!
I did receive permission to share the link with you that does contain the downloadable iron-on design.
It is from Confessions Of A Plate Addict – Pottery Barn Inspired French Valentine Pillow.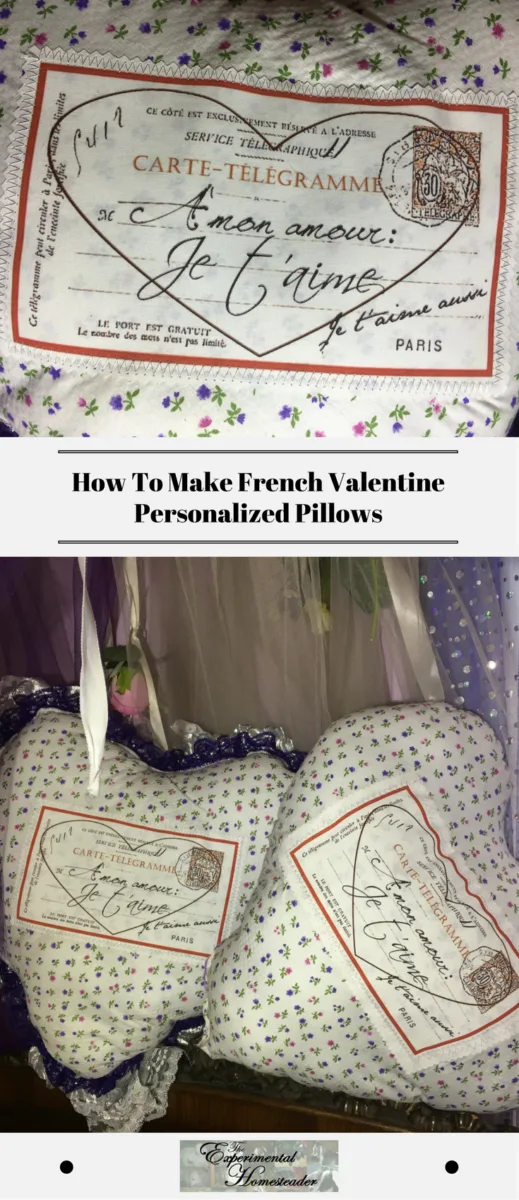 SaveSave
SaveSave
SaveSave