It is easy to learn how to make bath bombs using this simple recipe.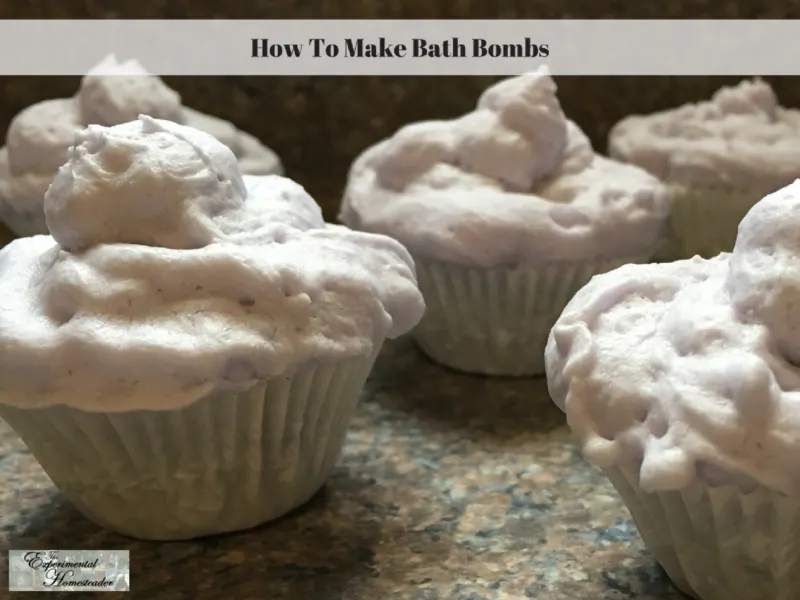 Everybody appreciates finding ways to relax especially after a long, stressful day.
These lavender scented bath bombs are the perfect solution.
Simply shape the mixture into mini-cupcakes that you can top off with icing that melts in the bathtub and you have the perfect DIY gift for yourself or someone special.
These cupcake bath bombs are not only cute but they are a perfect DIY craft for young kids to shape and decorate.
Be sure an adult does the mixing of the ingredients, then takes the time to help the child shape and decorate their cupcakes.
Resource List:
Here is my recipe. I hope you enjoy it.
Print
How To Make Bath Bombs
Cupcake Base Ingredients:
Cupcake Icing Ingredients:
Instructions
Cupcake Base Directions:
Mix the baking soda and citric acid together in a large mixing bowl.
Add in the sweet almond oil.
Add in the essential oil.
Add in the bath and body coloring.
Use your hands to mix it all together. If it seems it is not holding together well, then add a little more sweet almond oil until you can form the mixture into a solid shape.
Put mini-cupcake papers into a mini-cupcake pan.
Press the cupcake base into the mini-cupcake papers and set it aside to dry. I typically leave mine overnight but you can icing them sooner than that if you prefer.
Cupcake Icing Directions:
Combine the Meringue Powder, powdered sugar and warm water in a large bowl.
Whip the mixture on medium speed for 4 to 7 minutes.
Pipe on the cupcakes and let dry. This can take anywhere from an hour to overnight. I usually let mine sit overnight to make sure the frosting gets really hard.
Keywords: how to make bath bombs
Recipe Card powered by
Final Tips On How To Make Bath Bombs
I chose to use lavender essential oil in my recipe, but you can use whatever scent you like – or even use a combination of scents.
For those who blend essential oils, you can use that too.
Be sure to use both scent and coloring in moderation.
Keep in mind that using too much color in your bath bomb recipe results in colored bath water.
Always use essential oils in moderation because they do contain medicinal properties.
Even though essential oils are extracted from plants, it is possible to overuse them just like any other natural or man-made medicine.
Once my cupcakes are dry, I like to put them in a small plastic see-through box and decorate it with tiny flowers tied with a ribbon.
Sometimes I use paper or silk flowers and sometimes I use natural flowers such as lavender spikes.
I also put moss between the cupcake bottom and the edge of the box to keep the cupcakes from sliding around.
Experiment with packaging and storing your bath bomb cupcakes until you find out what works best for you.
I hope you enjoy them!
I highly recommend the following articles:
Use the buttons on the right hand side of the screen to share this article with friends or family who might find it useful. Pin the picture below to your pinboard on Pinterest for future reference.