It's been a crazy year so far, so today's survival diary June 3, is going to take a look at what has been going on the last few months.
Today we are sharing with you our experience of the Coronavirus situation and how we are surviving this pandemic.

The Coronavirus Pandemic
We all heard about this by the beginning of this year, but in reality it started last year in Wuhan, China.
Of course, the Chinese were not honest about what was going on and even tried to hide it – that is until they could no longer contain the secret.
My personal opinion is, this is biological warfare, of course, opinions vary.
The coronavirus has affected many people, and we are no exception to the rule.
Jeffery has asthma so his doctor took him off work in March for a total of seven weeks.
No job, no unemployment.
He did finally get sick pay and his unemployment is pending, but so far we have not heard if he will get it or not.
He is back to work, but he is not working full time because the department he works in does not have enough work.
I have PTSD and my job of evaluating social media posts to see if they were truth or hype overwhelmed me.
I had severe anxiety, depression and was unable to concentrate or sleep, so I asked to be removed from that project.
I do not qualify for unemployment, thus I lost my source of income other than my blog and of course crafts I sell.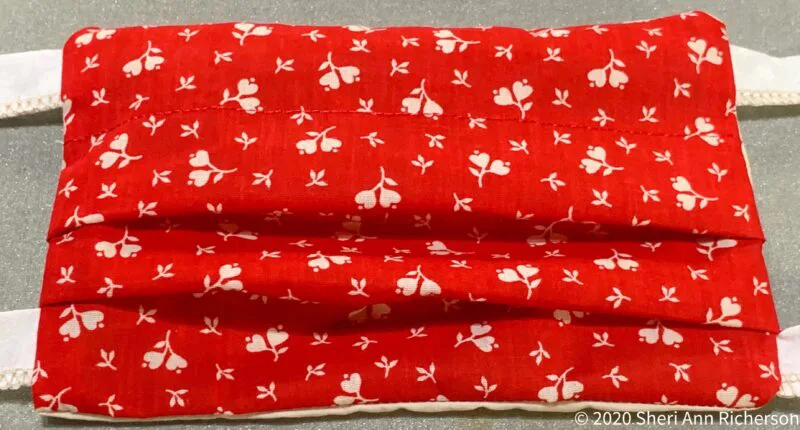 Homemade Masks
Jeffrey and I decided, after I was repeatedly asked, to make homemade masks for people.
We decided to give them away for free in exchange for a donation to help cover costs.
The first few weeks of doing this, everything went great.
We made masks almost around the clock.
People donated materials and money.
Like everyone else making masks, we found it hard to source materials.
Craft stores were either closed or doing curbside pickup.
Supplies such as Pellon Stabilizer, elastic and certain colors or designs of woven cotton fabric were out of stock.
Online orders were taking as long as 12 weeks to receive.
We decided to start making our own straps – and thank goodness I had a large supply of cotton fabric in the craft room!
Over the weeks we noticed people were beginning to demand certain colors or prints on their masks.
They also quit donating even though we did our best to meet their demands.
It was almost as though they felt we owed them free masks custom made to their liking.
I am still making masks, but not nearly as many now as I was.
I have also changed things up a bit.
Masks made with my choice of materials are still free because I do feel they are needed, but masks made using fabric that I have to buy now run $5.00 each.
Empty Store Shelves
As if the toilet paper hoarding and the cleaning supplies hoarding were not enough, people are also hoarding food.
Putting limits on how much people could buy at one time really has not helped.
Neither has prices that are double what they were before this all began.
To be honest, I don't see an end in sight anytime soon.
We have not ran out of anything thank goodness, but that is because I had a little extra on hand.
Right before this all went downhill, we bought two packs of Cottonelle.
At that time there was plenty on the store shelves, but one customer saw us and lectured us that stocking up like that just wasn't necessary.
I have often bought two packs of toilet paper to be truthful, simply because having extra on hand means less trips to the store to buy it.
I am glad we bought an extra pack because Cottonelle is one of the few brands of toilet paper that don't break me out in a rash and frankly it has been almost impossible to find.
Making Sure We Have Food
The next step was making sure we were going to have food.
Jeffrey went to most of the food distributions and we shared the bounty with five other households.
Frankly most of it was things we wouldn't use – like regular milk.
I think it is great that so much food and milk has been given out over these past few months.
I know it has helped many people – and I know I am a bit picky, but we passed on the items we did not want to others who were thankful to get them.
Many of whom were unable to pick up the food themselves due to transportation issues.
Of course, we did get some gems – like the juice oranges that I turned into orange juice.
I froze quite a bit of the orange juice I squeezed and look forward to drinking it over the next several months.
We also got cases of bananas.
I froze some whole minus the peel and I dehydrated banana chips.
The frozen bananas are perfect for using in recipes such as my banana bread recipe.
Of course, we went to some of my favorite bulk stores and bought canning jar lids, 50 pound bags of sugar and wheat berries plus other essential supplies to get us through the rest of this year.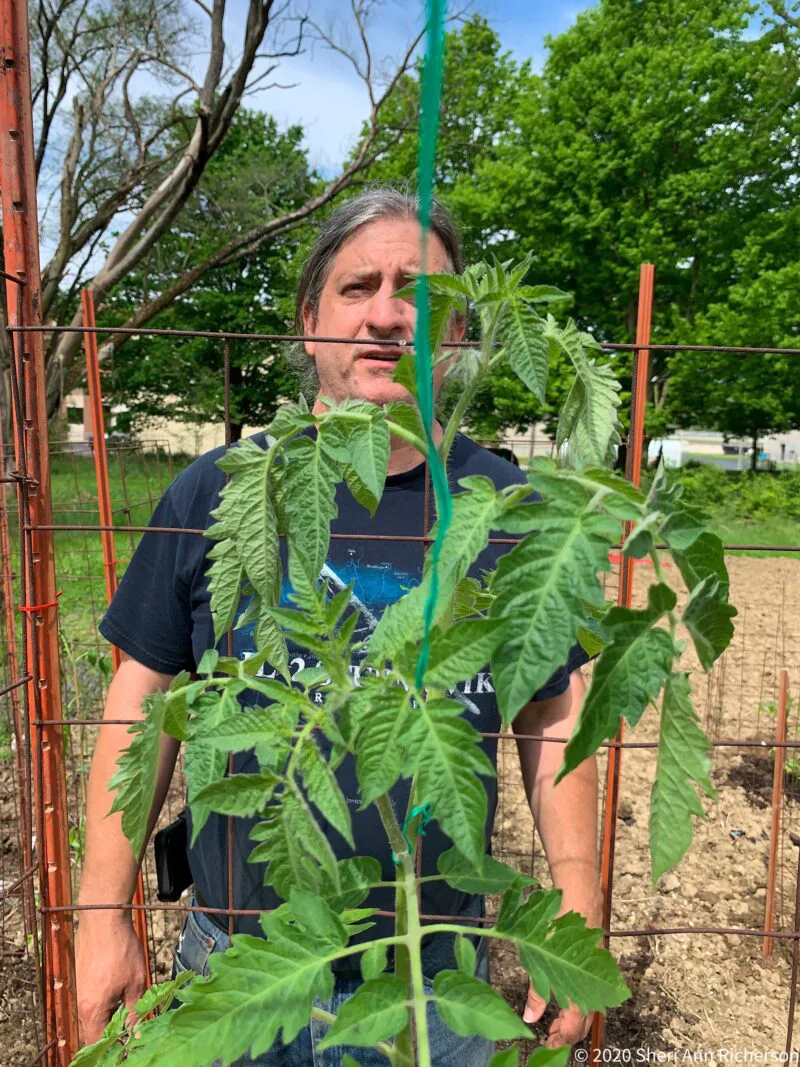 Planting The Garden, Tending The Fruit Trees
We got an early start on the garden and I was so excited to have carrots, peas, spinach and lettuce.
They were all growing very well, even with the late frosts and hard freezes.
Then the groundhogs ate the garden to the ground.
That did not make me happy and now we have waged war against them.
Groundhog stew anyone?
Jeffrey has gone out every week to spray a copper fungicide on our fruit trees in hopes of stopping the brown rot this year.
Being organic really limited what products we could use and while we are not sure what we chose is going to work, we are hopeful.
We also managed to get the big garden partially planted.
So far we have tomatoes, corn and green beans.
Let's hope we get the groundhogs before they get the garden.
I have also ordered a tunnel house for winter growing.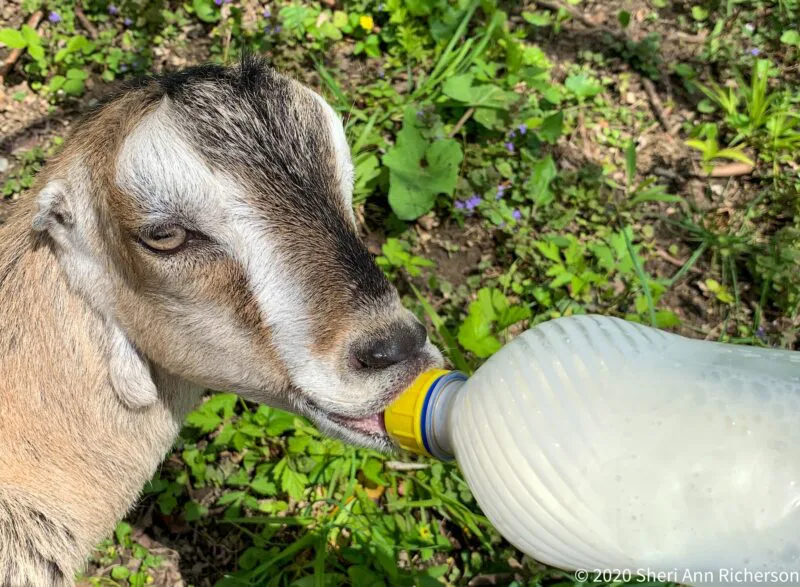 Livestock Is Part Of The Survival Plan
We added chickens to our homestead last year.
This year we added dairy goats.
That gives us milk, eggs and meat if needed.
This was the plan all along, however Jeffrey kind of drug his feet.
That's ok.
Once he realized how bad the situation could get, he said I could go ahead and get a couple goats.
We ended up with one that was in milk and one male kid that was born this spring – on Friday the 13th.
The goats have not been without issue and we have had two vet visits so far, but things are looking up.
They were harder to find and prices are way up because believe it or not, goats are being hoarded this year too.
Our Survival Diary
That pretty well sums up this post of our survival diary adventures over the past few months.
I hope all of you are doing well and preparing just in case things get even worse.
After all, it is better to be prepared than to be caught with your pants down!
Also, please remember, there is no need to hoard.
If we all shop as usual and buy just a little extra, the store shelves will fill back up.
As for the prices, I don't expect them to go down anytime soon, but we shall see.
Emergency Planning And Preparedness Tips