Have you ever wondered what to pack in a children's first aid disaster survival kit?
If so, then this article will be extremely helpful for you.

While it is aimed at preppers who have children, even if you don't have any children at home, it doesn't hurt to keep a first aid kit for children at your home, in your vehicle or even as part of your emergency evacuation bag if you have room.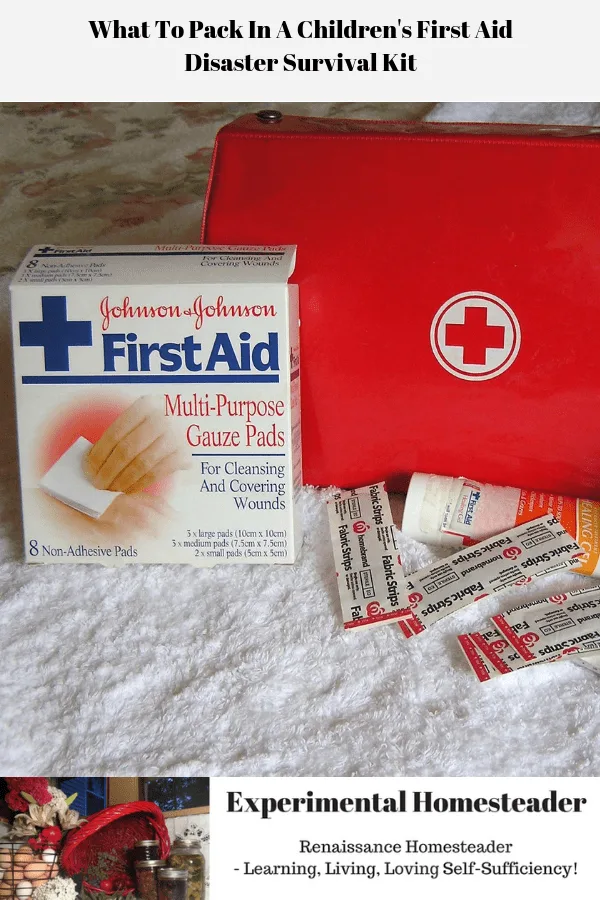 Why A Children's Disaster Survival Kit Is So Important
You might be shocked to discover how ill-prepared most people are, even parents, especially if they are not into survival and prepping
During an emergency, you may have neighbors or relatives with kids who do not have any type of disaster survival kit put together.
They may be desperate for certain items that their children may need, such as diapers or children's medication.
If you have thought ahead and made a children's first aid kit, you could be a lifesaver or at least a hero in their eyes.
It is important to note that children and adults have different needs and what works for adults often does not work for children, especially those under the age of 12.
While some needs may overlap, it is best to have a separate first aid kit for younger children, especially infants and toddlers.
This will help keep things organized and you will have easier access to whatever you may immediately need if there is an emergency.

Essential Supplies For A Children's First Aid Disaster Survival Kit
Below you will find a list of items that you can add to a children's first aid kit.
The rules are not set in stone.
It is up to you to decide which items are appropriate to include in a children's first aid disaster survival kit and store them along with your other survival gear.

Other Items To Add To A Children's Evacuation Bag
While the items above are essential to keep in a children's first aid disaster survival kit, anyone who has raised children or been around them knows that having toys or games on hand to occupy children is important.
While it is true, the first aid kit is more important – and in a true emergency, some things might need to get left behind, I suggest you pack an extra children's evacuation bag with other items they might want and take it with you if you can.
For example, if you know you are being evacuated out of an area due to an anticipated natural disaster, you usually have enough time and enough space in your vehicle to add an extra evacuation bag or two.
Here are some other items to consider packing.
Quick snacks such as freeze dried fruits or vegetables, granola bars, peanut butter, crackers or age appropriate snacks such as the Gerber Graduates meals and snacks.
Puzzles, coloring books, toys and games – choose ones that are lightweight and do not take up a lot of room. Electronic games, while often small, are something you might not want to take depending on the situation. Ideally you want things that will keep children occupied that do not make a lot of noise, need batteries or electricity.
Ponchos, a raincoat or waterproof jacket – It is important for children to stay warm and dry. Let's face it, in an evacuation situation you don't know what kind of weather you might encounter and you don't want your child sick.
Bottles – Pack extra bottles and nipples because these get lost, get nasty and sometimes break so it is a good idea to have some extra ones on hand, even if your child seems to have given up the bottle.
Toothbrush and toothpaste – oral hygiene is still important and you don't want to leave these two items at home.
Emergency Contact List – keep this on a piece of paper in several places such as in your purse or wallet, in your evacuation bag and in your children's evacuation bag in case things get separated. I suggest placing one in a plastic bag and using a safety pin to pin it to your child's clothing, just in case.
Other Miscellaneous Items – keep an extra hairbrush packed. Small bottles of shampoo and small bars of soap or better yet, some of those disposable body wipes. Think of the items your child uses every single day and make sure you put as many of those as possible in your child's evacuation bag.
Final Thoughts On A Children's First Aid Disaster Survival Kit
Keeping your child – or any children who are with you – in a disaster survival situation calm is important.
They are going to wonder what is going on and may even panic themselves.
While everything is not going to be the same, letting them have things they are familiar with such as games and toys as well as trying to keep some kind of routine in place is going to help.
The more organized you are and the more unexpected situations you are prepared to deal with, the easier disaster survival is going to be for everyone.
Bug Out Bag + Evacuation Tips