If you are a prepper – or just like to be prepared just in case there is a natural disaster, terrorist attack or illness, then you want to stock up on these prepper supplies for emergency home remedies.
Home Remedies Help You Avoid Panic
Any time there is an emergency situation, people start to panic.
Even when the emergency situation is under control, people continue to panic during the aftermath.
Both before and after the emergency situation people rush to malls and stores to buy up whatever essential items that they think they will need.
If you are well prepared, you already have bought and stored your home remedy supplies beforehand.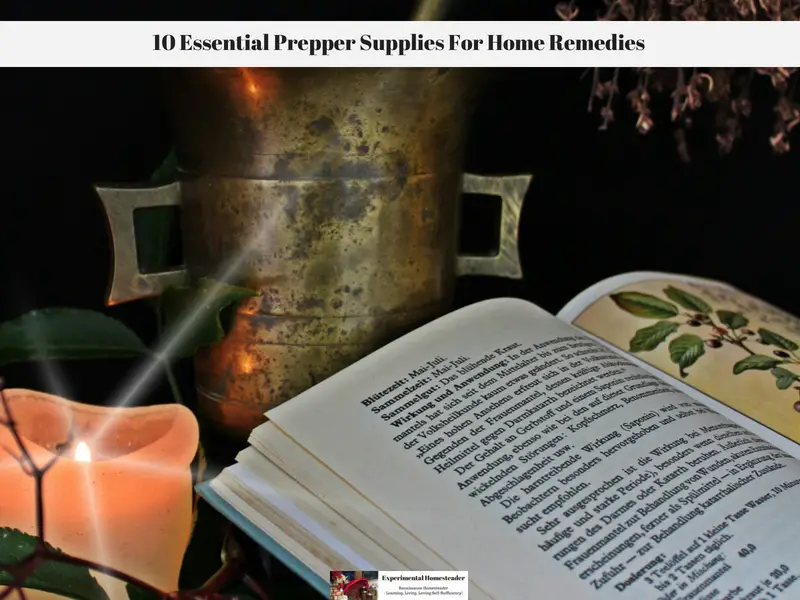 Keep Extra Medications On Hand
However, one item that is usually used up quickly is medication.
It is often extremely difficult to procure medication during a crisis.
Even aspirin (affiliate link) ends up selling out.
In survival situations and times of stress, illnesses tends to rise.
More people find themselves having headaches, upset stomachs, diarrhea, etc.
This is very common and even if you have medicine supplies stored, you are sure to be amazed at how fast they are used up.
4 adults taking four aspirin (affiliate link) tablets a day over three days is 48 tablets and that's only over the course of three days!
So, you can imagine just how fast your prescription and non-prescription medicine stocks could be depleted.
Now imagine if the entire family is unwell, and that usually happens during a crisis.
There may be more headaches, flu, body aches, insect bites, indigestion, etc.
Natural Home Remedies For Emergency Situations
Which brings us to an important question.
What do you do if you run out of medication?
Will you panic and rush to the nearest pharmacist?
What if the pharmacy is closed or there are no more supplies?
Do not panic.
There are several natural remedies that are highly effective and have worked for ages.
Most people are unaware of these remedies because we live in a society where there is a pill for everything.
During a crisis, society tends to break down and that makes it an ideal time to forget the pills and go natural.
Essential Prepper Supplies For Home Remedies
Below you will find a list of items that all preppers need to stock up on.
These natural remedies are easy to obtain at any drugstore or grocery store.
Plus the items listed last for a long time, making them ideal for longer term storage.
Let's look at what they are.
Final Thoughts On Prepper Supplies For Home Remedies
These ten home remedies mentioned and their uses is just the tip of the iceberg.
Each item on this list has many more uses than is listed here.
I encourage you do your own research to see what else they can be used for.
You will be amazed at the versatility of these ten items.
Do store enough of them for your needs in case of an emergency and do test them out before you actually need to use them so you are familiar with how they work, how long they take to work and what works best for your family.
You will thank yourself for it later.
Emergency Planning And Preparedness Tips
Use the buttons on the right side of the screen to share this article with friends or family who might find it useful. Pin the picture below to your pinboard on Pinterest for future reference.