Find out what the best things to stock up on for survival now are given the supply chain issues we have been dealing with for the past several years.
If you've been watching the news for the past couple of years, you are fully aware of the fragility of America's  – and the world's –  supply chain.

From electronics and building supplies to crucial food items, you never know when stores will run out of what you want and need.
Or when prices might skyrocket and you simply cannot afford groceries or are forced to choose between eating and paying bills.
This post is not meant to be a scare tactic, but instead is meant to guide you so you and your family don't do without necessities in the future.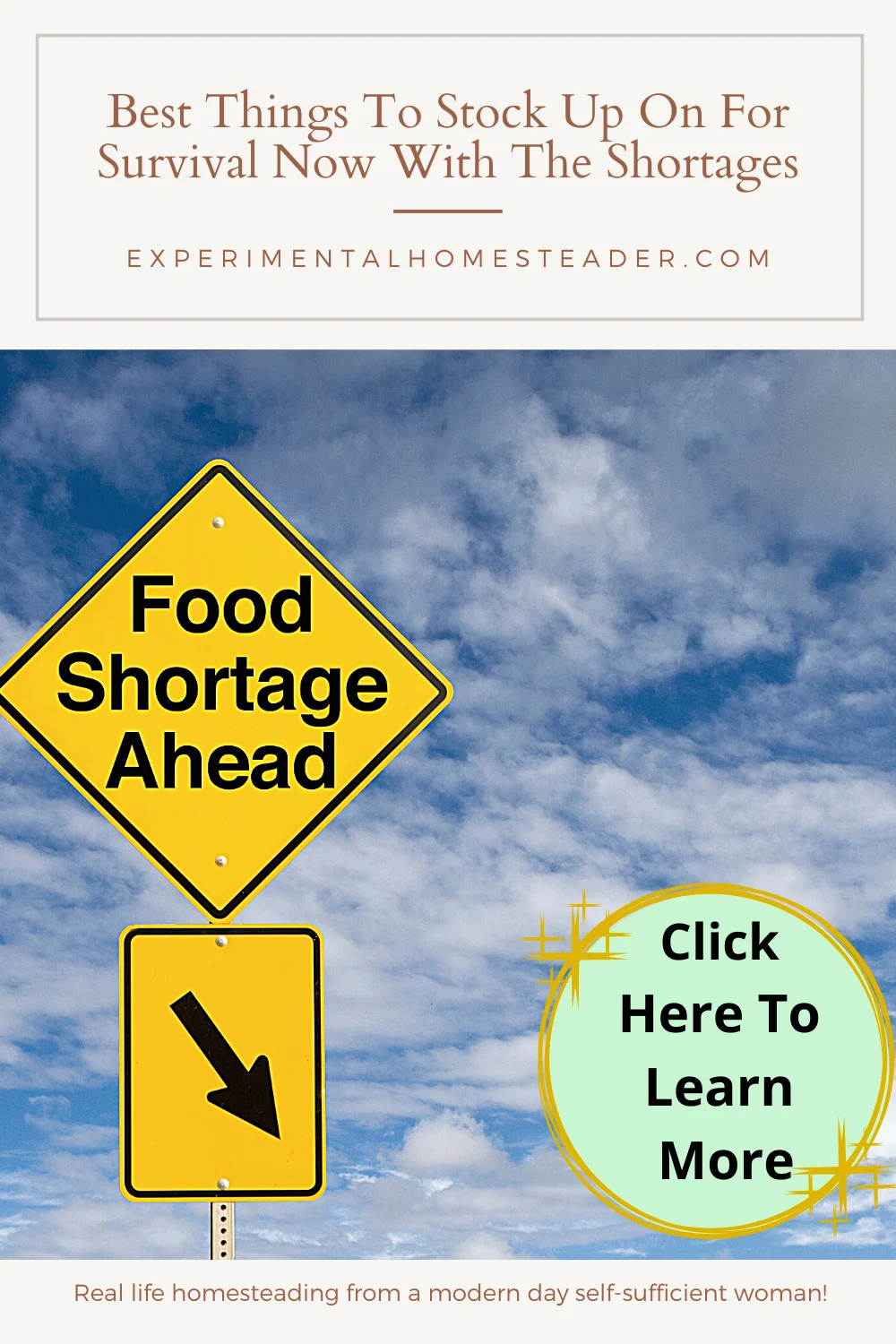 Stocking Up Does Not Mean Hoarding
The goal of this post is not to instruct you to go to your store and hoard supplies, because that is not the best way to stock up for survival.
In fact, hoarding supplies only causes more issues when there is nothing left on the shelves for others to buy.
Hoarding everything is not the way to stock up because you will end up with a lot of products that expire all at once.
When you hoard items, you waste money in the process and end up throwing a lot of food out that someone else could have used.
Instead of buying everything at once, continually increase your supplies from a variety of retailers every time you shop or get paid.
This way you can easily rotate your supplies using everything up before it goes bad.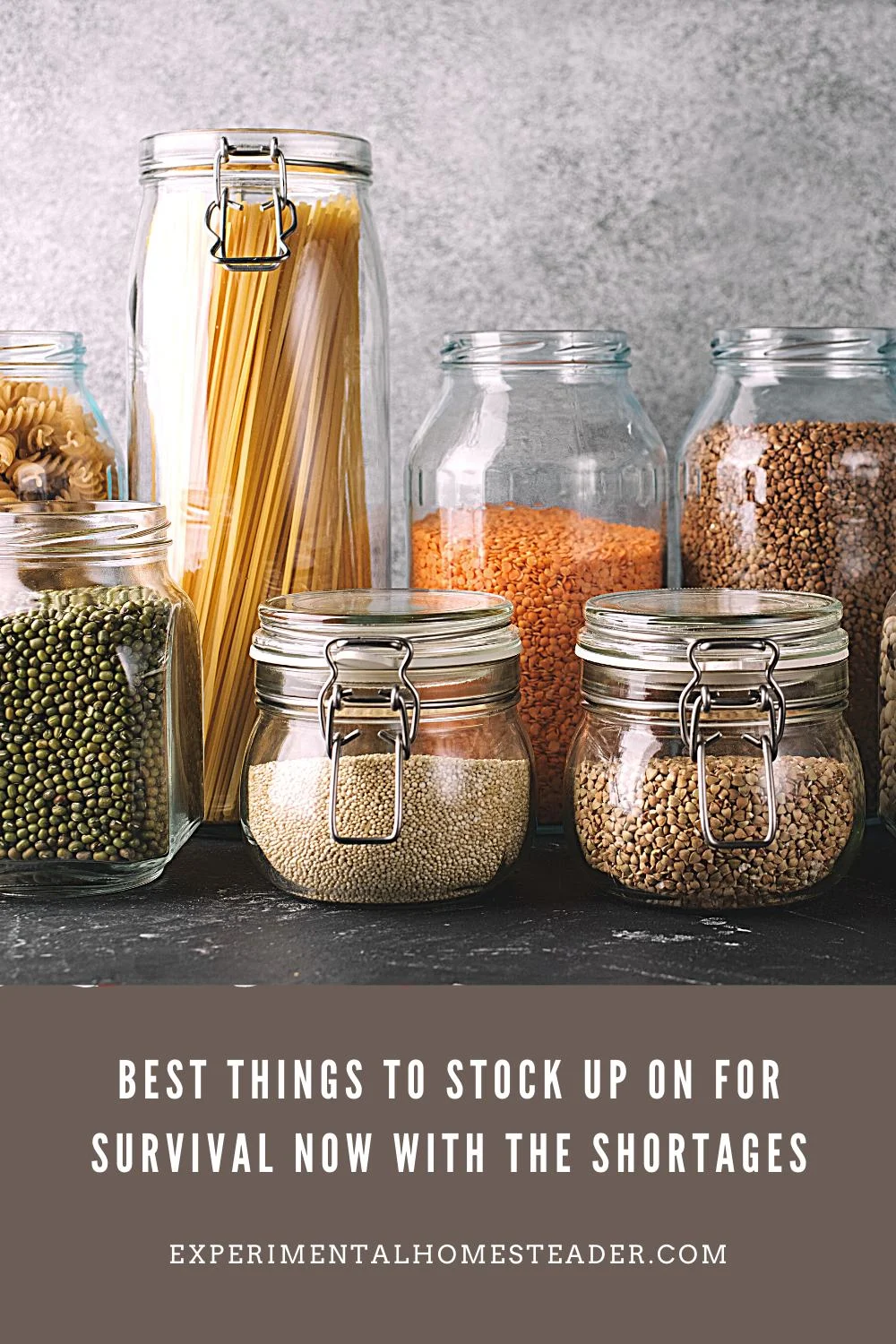 The Best Things To Stock Up On For Survival
The items listed in this post are mostly food-related items that are currently at risk for a variety of reasons, including pandemic shortages that still haven't leveled out.
However, there is one other type of grocery-store product you will want to have plenty of if the supply chain breaks down even further and it is one you can use to barter with.
Some of these problems arise from supply issues in foreign countries, who we rely on because the prices are cheaper or the companies can get labor there cheaper than here in America.
Some are domestic issues that have gotten so bad that consumers have to wait on emergency shipments from other countries to fill the need in America.
Below, you will learn about each of the fourteen items, which is in no way comprehensive when it comes to all of the potential shortages we may experience.
You will find out what the item is, why it may be in danger of being limited or hard to find, and what you need to look for when stocking up for your own prepper pantry.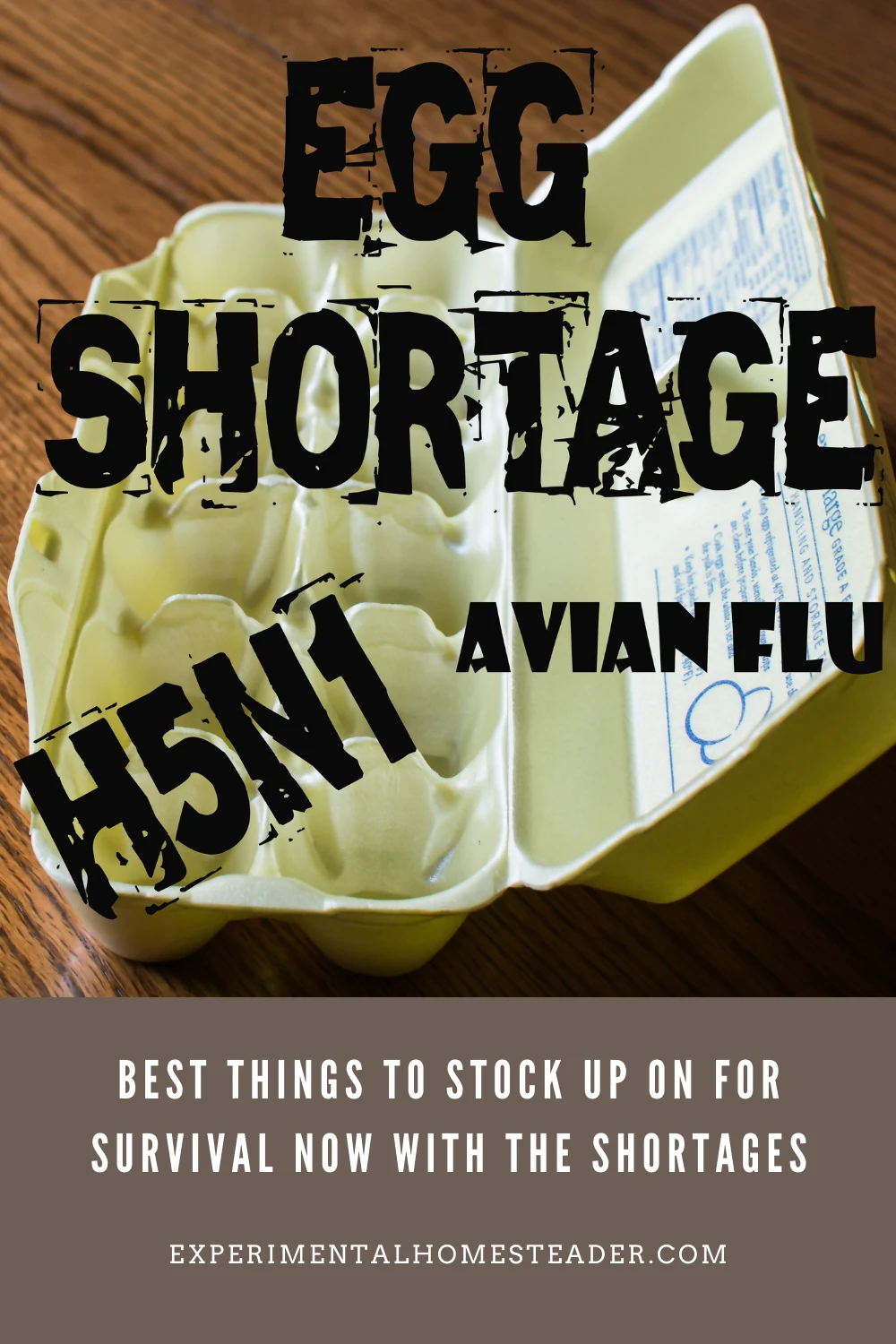 Potential Problems With Egg Supplies
We have seen it before and it is currently circulating again, the avian flu, also commonly called bird flu, which sweeps across the globe and results in the culling of tens of millions of egg-producing chickens.
During the 2015 bird flu outbreak, over 36 million chickens were killed to prevent further spread of the disease.
This is a problem that erupts time and time again, and each time, it causes egg prices to soar and sometimes, supplies to diminish.
The way the fragile supply chain operates today due to the outbreak of Covid, there is an even greater risk that you may not have the eggs you want or need to cook with and provide protein for your family during a survival event.
What often happens is an outbreak begins at an egg farm, where the infection is spread onto the equipment that goes into the processing facilities.
It also cross-contaminates other egg farms and people who are sharing the equipment.
The materials used to hold the eggs can transfer the bird flu on the outside, making it spread even more.
What is worse is that there is currently a grain supply shortage, which means there may not be enough feed for the chickens, not to mention a strain on energy prices like gas to fill up the trucks that transport the eggs around the nation.
In addition to the grain supply shortage, something many people are unaware of is the increased cost of corn which means an increase in feed costs for chickens.
Add in the cost of transporting the chickens or eggs and you can see how pricy something as simple as a dozen eggs could become.
As a survival prepper, you want to make sure you have a steady supply of egg products on hand that will last you for years to come.
Powdered eggs can last up to ten years on a shelf and require no refrigeration, which is perfect if the grid goes down.
You can buy cannisters of whole dried powdered eggs or egg whites, or even buy a survival bucket from Augason Farms full of whole dried egg powder that will give you 383 servings and deliver over 30,640 calories total.
You can use dried eggs for omelets, scrambled eggs, quiches, and in cooking recipes.
They come dehydrated, so you just add a little water to them and it is just like cracking a whole egg in a bowl.
If you know of a local egg seller, you can also purchase those eggs fresh and freeze them or preserve them using a different method such as a freeze dryer.
Have Plenty Of Powdered Milk On Hand
At the start of the pandemic, restaurants were forced to close and many dairy farmers were ordered to dump their milk.
When something like this happens, they can't simply restart product at full levels.
Many dairy farmers end up having to leave the business, and close or sell their farms.
Even school closures affected the demand for milk and dairy products, so not only will you want to have powdered milk in your prepper pantry, but you will want to stock up on butter and cheese, too.
Many processing centers were shut down due to Coronavirus outbreaks at various plants, bringing processing to a halt, and causing more shortages in certain places.
You want to be prepared so you can have milk to drink, use in your coffee and in recipes, too.
You can buy survival supplies of whole powdered milk that is packaged to last anywhere from two to ten years, depending on how it is stored in your survival supplies.
You can buy cow's milk as well as dried goat's milk.
You can even buy powdered nut milk from cashews or almond and pick up coconut milk, powdered heavy creamer, powdered sour cream and butter, and more.
You can buy small or large bags of it, and all you need to do is mix it with a little bit of water to rehydrate it.
If you have a Harvest Right Freeze Dryer and access to fresh milk, you can freeze dry it yourself and store it in mylar bags.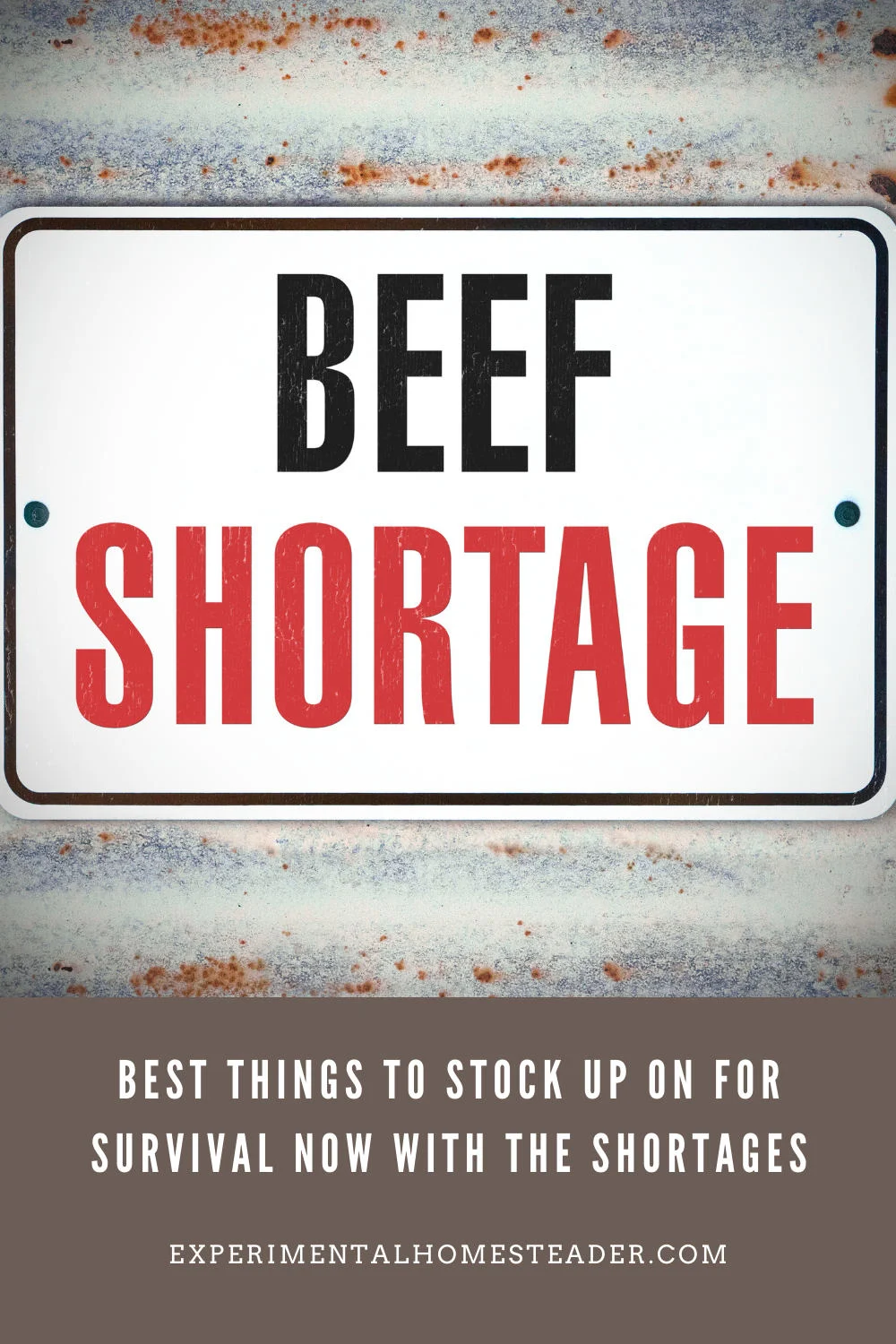 Meat Is One Of The Best Things To Stock Up On For Survival
We have already discussed the chicken issue, and when it comes to avian flu, you might find that you are unable to buy chickens to cook.
That and various beef supply shortages can affect your ability to get meat.
Fast food chains have been frequently posting that they are out of chicken nuggets and some halve their nuggets and dry them to sell to customers, or put fewer in each container.
Like the chicken farmers, beef farmers had to shut down much of their beef production when restaurants and schools were shut down by politicians and government officials.
That means some farms went under and it may take awhile before supplies are back to normal.
The pork industry also lost money and production capabilities during this time.
When you factor in the inability for processing plants to stay open when a case of Covid hit, it is a dire disruption that might impact the ability to buy meat at the grocery store.
In fact, many stores have had limits on how much meat you can buy at one time for months.
The good news is there are all kinds of survival meats you can invest in to keep stored in your prepper pantry.
Start with regular canned meat at your local grocery store, such as canned chicken, tuna, pork and beef.
You can then start shopping specifically for survival meats such as dried taco flavored meat, dried pulled pork, dried chicken, dried sausage, and a variety of canned meats.
Some of the meat survival buckets you can buy have a variety, like teriyaki chicken, roast beef, southwest chicken and cheesy beef.
The key to getting the meat is to stock up on a regular basis as both the canned meat and freeze dried meat sells out fast when it is in stock.
If you have a membership to Sam's Club, Costco or someplace similar, be sure to look and see what they might have in stock.
Powdered Cheese Can Flavor Up Survival Food
Cheese is part of the dairy supply that may be interrupted, due to a variety of situations.
The good thing about cheese is that it can typically be stored on a shelf for years to come, assuming it is packaged correctly.
You can purchase bundles of cheese blocks or cheese wheels that are shelf stable.
You can also purchase cheese blend powders that will store safely for up to 10 years.
You can use these in recipes such as macaroni and cheese or to make cheese dip or to put in an omelet or flavor rice.
You will be able to find survival cheese that comes in a blend, as well as individual flavors such as white cheddar, regular cheddar, mozzarella, and more.
All you need to do is add a little bit of water or oil to create a cheese sauce.
Some of these survival canisters of cheese, such as the Augason Farms Shredded Colby Cheese has a shelf life of up to 30 years and can provide 107 servings and over 3,200 calories.
Watch for Vegetable Crop Shortages
There are many reasons why vegetable crops will potentially suffer a supply shortage.
Just as the meat and dairy producers lost capacity when the pandemic hit, so did suppliers for things like potatoes and leafy greens.
If you think about the processing situation from start to finish, there are many opportunities for the supply chain to be disrupted.
There might be a drought, which can weaken the crops or so much rain that the farmers couldn't get their fields planted in time.
You might have a problem with pollination due to a reduction in bees or other pollinators.
You might have a fire wipe out crops.
It takes a lot of time to grow the crops and get production back to full levels once any kind of disaster strikes.
First, you will want to begin adding to your shopping cart each time you go to the store.
Add canned vegetables such as green beans, carrots, corn, potatoes, spinach and more.
Look for calorie and nutrient-dense foods.
There are often sales on canned goods where you buy 10 and get one free.
You can buy store-brand and save even more.
Don't forget that the water in the canned vegetables can provide hydration, so in a survival situation don't drain the liquid off!
You can also purchase dried vegetables in survival bulk containers that will last up to 25 years.
They come in individual vegetables like a cannister of dried carrots, or a mix for something like a vegetable stew blend that has 40 servings and over 3,200 calories.
You can find all kinds of survival dried vegetables including onions, potatoes, carrots, corn, spinach, broccoli, peppers, celery, green beans, cabbage and more.
Just rehydrate them and use them as you want and need to or you can eat them just like they are if you don't have liquid to rehydrate them with.
Better yet, buy seeds or plants and grow your own garden.
Learn how to can, freeze or dehydrate the food you grow so you can stock your pantry with fresh, homegrown food.
Have An Ample Supply of Canned Or Dried Fruit
As you have seen with vegetable crop supply chain issues, the same will or can happen with fruit.
Survival preppers will want to have a nice stock of fruit on hand for if and when any kind of disaster happens.
Fruit growers are fighting against rising prices and short supplies of fertilizers and pesticides, as well as having to deal with the inability to secure enough drivers willing to work and pay high gas prices for delivery to stores.
First, whenever you are shopping normally for groceries, start picking up a few cans of fruit.
You can find canned pears, applesauce, peaches, apricots, mangos, mandarin oranges, pineapple, and even mixed fruit.
Try to get fruits that provide nutrients for you and your family.
For example apricots are rich in beta carotene and vitamins A, C and E.
They also have many antioxidants.
Pineapple was heavily touted during the pandemic as something that could ease respiratory ailments, so that might be good to have on hand, too.
They also sell dried fruit in smaller packages.
You can find dried apricots, mangos, cherries, peaches, blueberries, cranberries, raisins, prunes and more.
You will probably want to invest in large quantities of survival fruit containers.
You can buy things like a ReadyWise Dried Fruit Bucket with 120 servings of fruit that lasts up to 20 years.
It contains dried strawberries, bananas, peaches and apples.
You can use these in recipes for desserts or just on their own as a high-quality snack.
Some other buckets have even more.
The Augason Farms Freeze Dried Fruit Bucket has apples, ananas, blueberries, strawberries and raspberries and it also contains a dehydrated dessert whipped topping.
This bucket lasts up to 25 years.
If you don't want a variety, many companies have smaller cannisters of individual fruits like bananas, strawberries, raspberries, blueberries, apples, tomatoes, and more.
They even have powdered forms, like papaya powder that you can stock up on and use.
Cooking Oil Might Be One Of The Best Things To Stock Up On For Survival
If you have been checking in on grocery prices for usual cooking items like oil, you may have noticed a sharp increase in the prices.
Some are reporting that there is a decline in production due to historic droughts in various areas.
War and other issues have also impeded the import of cooking oil, and things could get even tighter as time goes on.
Ukraine and Russia are both major suppliers of cooking oil and they are immersed in their own problems that are crippling the supply chain.
Stores are sometimes limiting how many bottles can be purchased by each consumer, so you will want to periodically pick up more oil, even if you don't need it right away.
In South America, the drought has made the cost of soybean to rise dramatically, making it more expensive for oil there.
Some places, like Canada, are allowing fewer acres for the growth of oilseed and they are suffering a shortage of fertilizer in addition to having to deal with droughts that come and go.
Whenever you find cooking oil on sale, or with a buy one get one free deal, go ahead and add a couple to your shopping cart.
It is better to get some put back now before prices soar even more and supplies dwindle.
If you are unable to find oil, you can have butter powder shipped to you in survival canisters, which can provide a base oil to cook in.
Butter powder has a long shelf life of up to 10 years, depending on the brand you buy.
If you want to begin picking up actual cooking oil to store in your prepper pantry, try to find peanut oil, which has a longer shelf life than other versions – up to two years – and is easily reusable.
Some people also stock up on lard products, like Crisco.
While it is not the healthiest option, it has a stable shelf life of up to three years and not only can you cook with it, but you can make soap with it, use it for lamps, and more!
A final option is to purchase a manual oil press and stock up on items like sunflower seeds or raw peanuts that you can press for oil as you need it.
Be Sure to Stock Up On Bottled And Canned Drinks
Believe it or not, you might even be facing a shortage of your favorite bottled or canned beverages, so if that is important to you, start stocking up now.
From bottled water to canned sodas and bottled beer, there is a supply chain risk.
There might be a glassware, plastic, or aluminum shortage that make manufacturers unable to bottle up your beverages and stock them at your local stores.
UK breweries are contemplating how they are going to package their beer now that glass bottles are in short supply.
How did this happen?
Increased energy costs.
Creating the glass and other containers takes a lot of energy, and with prices skyrocketing, many companies are left with no way to get their product to market.
While canned drink companies were already finding supplies to be short, the lockdowns during the pandemic made demand soar, creating an even tighter squeeze on manufacturers.
The supply chain has been interrupted from start to finish between harvesting the raw materials to turning it into a finished product.
Not only that, but gas prices and labor shortages are causing companies to limit supplies being delivered to stores.
You definitely want to add more of your favorite beverages to your shopping list in the near future.
But consider alternative options, too.
Instead of buying bottled water, you could collect rain water and purify it.
There are some home soft drink machines you can purchase, as well as flavor packs you can stock up on that are simply paired with water to recreate things like Orange Crush or A&W Root Beer.
If beer or wine is your beverage of choice, learn how to make your own or stock up on supplies that can be safely kept on the shelf without refrigeration.
There are all kinds of home brew kits you can get to learn the process.
I have made homemade wine and it is not difficult, but it is time consuming because of the fermentation process.
Don't Forget to Stock Up on Pet Food
You might start to notice that pet's wet food begins to be sold in pouches rather than cans.
As stated above, containers are in shorter supply, so manufacturers are trying to find a way to get their products to market using different means.
Many pet foods are made with grains, and that is currently – and may be in the future too – in shorter supply due to drought and war torn areas limiting their production and exports.
You want to stock up on wet and dry pet food as much as you can, and know what alternatives are safe for your pet in case you have to switch from one food to another if supplies are sold out of your preferred brand.
Of course, your pets can always eat homemade pet food, but it is important that you know how to make this in the event that the grid goes down and you are unable to look it up on the Internet.
If you are using treats for training or rewarding your pet, make sure you stock up on those.
Many pet treats are made with grains, and you might find those disappearing from store shelves in the near future.
Also be prepared for your pet's food to increase in price.
This is another reason that stocking up on it now makes sense.
Stock Up On Pasta While You Still Can
You may have noticed during the pandemic that pasta packs and boxes were wiped out quickly.
It is a shelf stable item that is very versatile and now, because of the Russia-Ukraine conflict, supplies are even shorter.
Those two countries supply more than a quarter of the entire world's wheat supply.
So that means you may not always find what you need to make manicotti, spaghetti, lasagna, fettuccine or some other pasta dish of choice.
When it comes to durham wheat, which is often used to make pasta we find on store shelves, the supply chain has been struggling due to energy costs, labor shortages and even drought wreaking havoc on crops in areas like Canada.
Not only do you want to stock up on bags and boxes of pasta and sauce that you can use to whip up meals in the event of a shortage or survival situation, but you need to learn how to make, dry and store your own pasta.
You can do it with nothing more than flour, oil, water and eggs.
You can use dried eggs if you don't have fresh eggs.
You don't have to have a pasta machine, but it doesn't hurt to have one on hand to make things easier.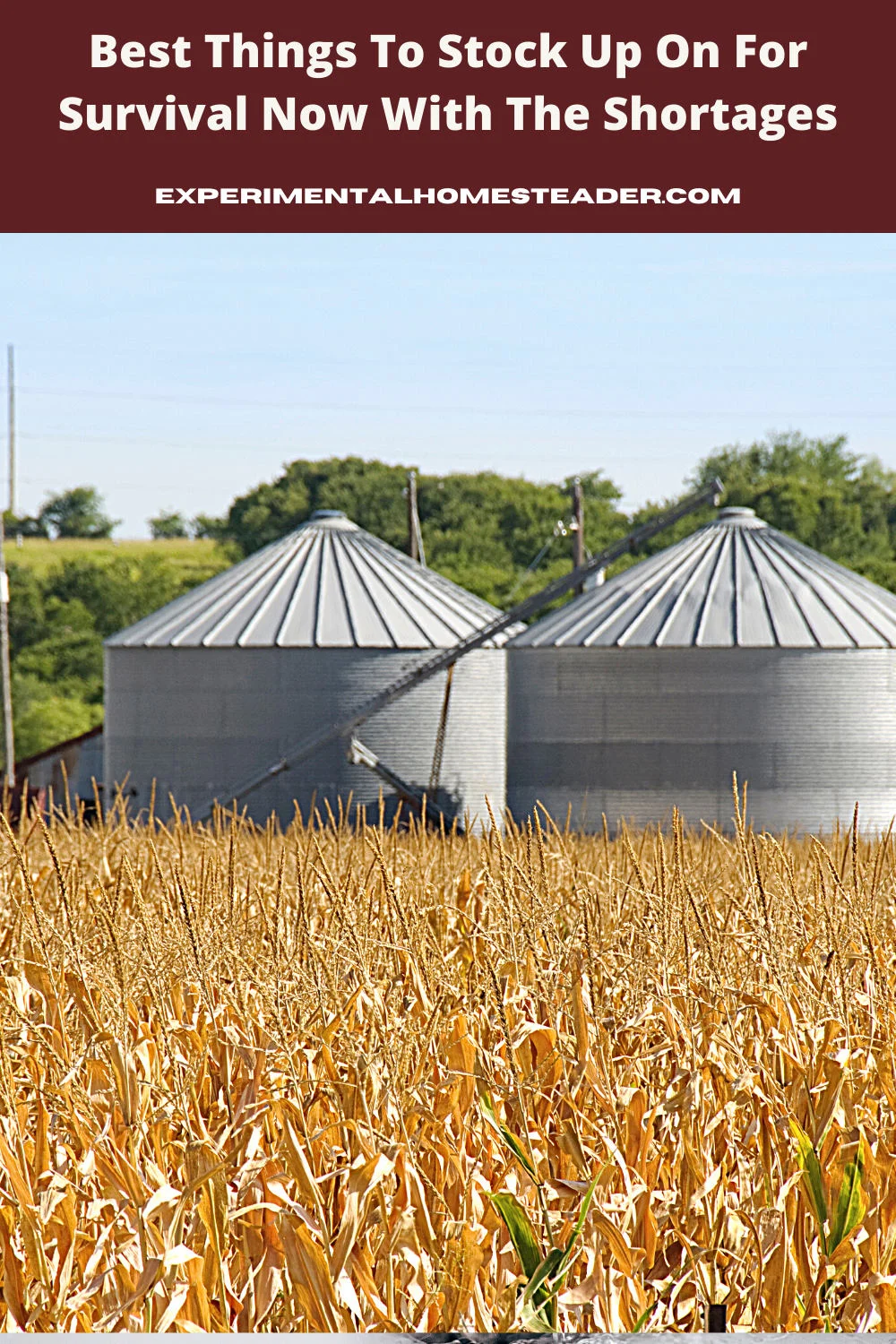 Your Favorite Grains Might Diminish in Supply
The United Nations announced in late May of 2022 that the world only had a 10-week supply of wheat left.
This is due to Russia and Ukraine as well as droughts and other issues affecting the supply chain.
Fertilizer and pesticide shortages as well as energy costs are fueling the problem.
Bottlenecks in the supply chain leave many supplies sitting unused and unable to make it to store shelves.
So you will want to start getting your hands on supplies when you can.
Without wheat, you can say goodbye to pasta, pizza, bread and other goods.
You will want to start stocking up on the grains you use most frequently like flour and rice, for example.
You can also buy survival buckets of these items, like an Augason Farms white rice or whole wheat pail that is 24-pounds to last you 231 servings for up to 30-years on the shelf.
You can also buy flour, brown rice, wheat berries, and more.
Before you purchase grains in bulk, learn how to use them.
For example, you can learn how to grind wheat into flour that you can then turn into pasta, bread or pizza dough.
You may want to invest in a wheat grinding machine that makes the process easier.
Keep in mind that if you want to make things like bread from your wheat, you will need yeast in order to make it rise.
Stock up on the packets and jars of yeast  – instant or otherwise – and have bread making recipes printed out and laminated so that if the grid shuts down, you will know how to make it without the use of the Internet.
Another option is to buy a home grain mill so you can stock up on wheat berries – or even grow your own – and grind them as you need them.
You can also make your own yeast as needed if you can't find any to buy.
Baby Food and Formula Need to Be Considered
We have all seen the horrible, heartbreaking headlines about moms and dads driving hundreds of miles away to try to find baby formula for their infants.
America has had an abrupt shortage that should never have happened.
This was a compounded problem, starting with a shutdown of one of the country's largest manufacturing plants due to a product recall.
The federal government dropped the ball on getting this plant swiftly in compliance and reopened.
Pair that with the current supply chain bottlenecks and global issues like import restrictions and you have a recipe for disaster where some children had to be hospitalized.
The popular brands sold out fast and then those who needed specialized formula for digestive issues for their babies couldn't find what they needed.
Emergency shipments had to be flown in, and even that wasn't enough to meet the demand.
Moms lined up at breast milk donation spots to try to help other moms with their infants' nutritional needs.
Not only was formula affected, but because formula was nowhere to be found, many parents tried to quickly wean their children off formula and feed them baby food instead.
So then that created a baby food shortage.
Not to baby food is packaged in glass containers, and that is a problem in and of itself.
You can definitely make your own baby food, and formula, but it needs to be supplemented with the right nutrients, so you need to get those instructions from a pediatrician before you need them.
Baby formula can be kept unopened for up to a year or 18 months, depending on the product.
You might also find pouches of baby food for babies and toddlers that last up to a year.
But again, do not hoard these supplies as they don't last forever and sometimes a baby can be allergic to certain types of food or formula.

Home Remedy Supplies Are Some Of The Best Things To Stock Up On For Survival
Whenever people are looking to improve their health, such as boosting their immunity during a pandemic, supplements might be so much in demand that it creates a supply shortage.
You want to have a variety of supplements on hand to keep your body healthy during any kind of survival event.
People who are working out are finding creatine and protein supplements in short supply.
People who rely on supplements like vitamin E and C are also experiencing short supplies, depending on where they are located.
Not only do you want to stock up on supplements to have when you need them, but you want to make sure that the foods you buy for your survival pantry deliver the nutrients you need most for when supplements aren't readily available.
Right now, raw material shortages, labor shortages, container shortages and harbor bottlenecks are all contributing to the issues of manufacturers not being able to get products on shelves for consumers.
It is also a good idea to get blood work done for members of your family to see where your deficiencies are, such as vitamin D.
You can suffer a lot from different health issues if this is low, so making sure you have plenty of it on hand it important.
If you are wondering what all to stock up on, here are the 10 essential prepper supplies for home remedies that I recommend.
Food Supplies Aren't the Only Thing at Risk – Paper Supplies Are, Too
Who knew, at the start of the pandemic, that there would be a run on toilet paper?
Not only are food supplies at risk, but paper products like toilet paper and paper towels are still running low at times.
This is another situation where the process from harvesting to processing and transportation is a nightmare, whether it is due to drought, pandemic rules or something else.
Start stocking up on these important paper supplies whenever you can pick up extras.
You may notice prices have already soared for them.
Buy in bulk whenever possible to save money.
These are good to store in hotter areas like the garage, since your food pantry needs to be a cool, dry area.
You can even buy a hanging rack for the garage that will help you have more space for this type of durable survival product.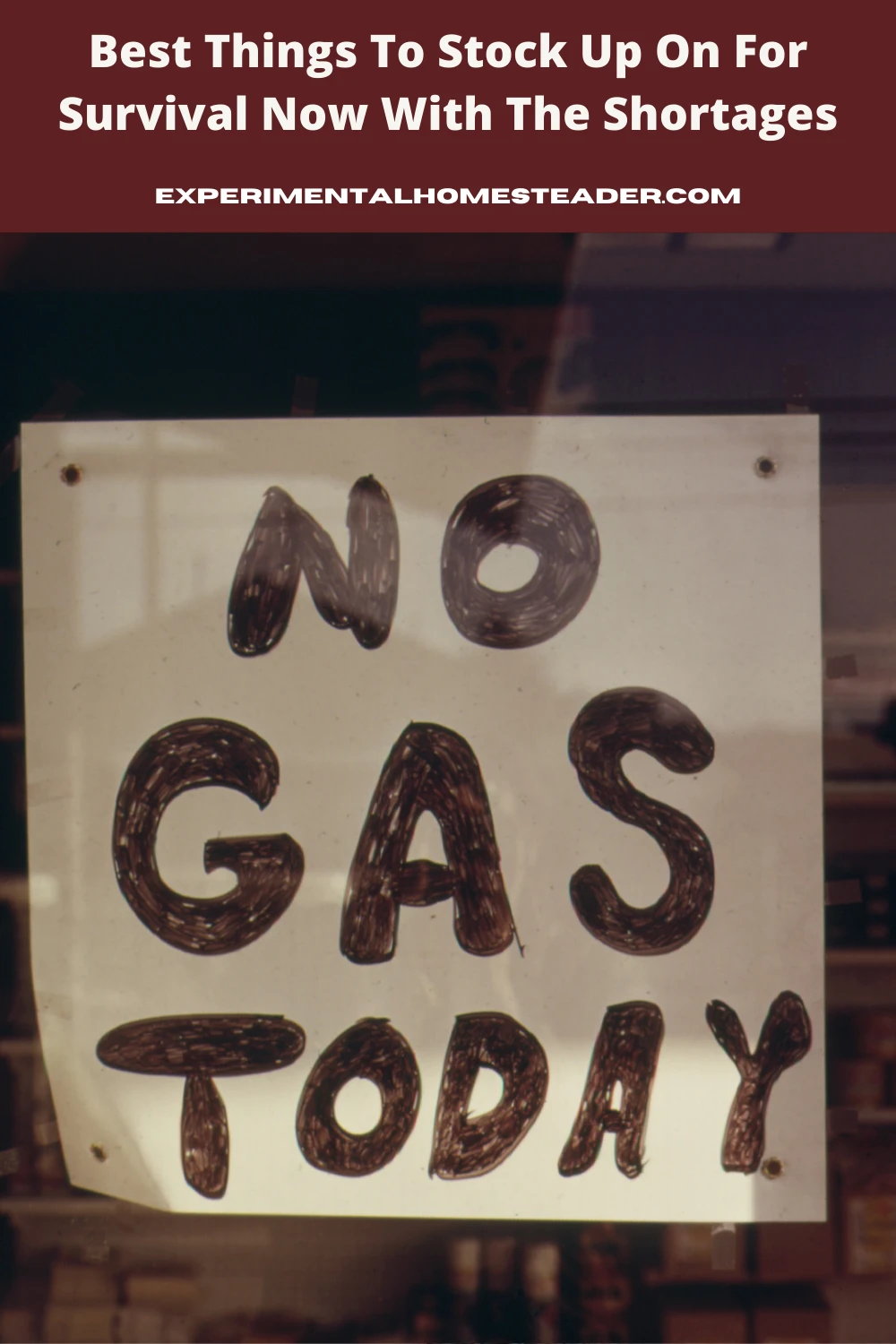 Don't Forget About Potential Fuel Shortages
Lastly, be aware of the fuel shortage situation and the increase in price that might be heading your way.
I don't encourage anyone to stock up on hundreds of gallons of fuel.
Instead keep a couple of cans of gas in approved containers in your garage or shed and maybe buy gift cards intended to be used for gas – or whatever you need – at a later date if you feel like you can't just save the money.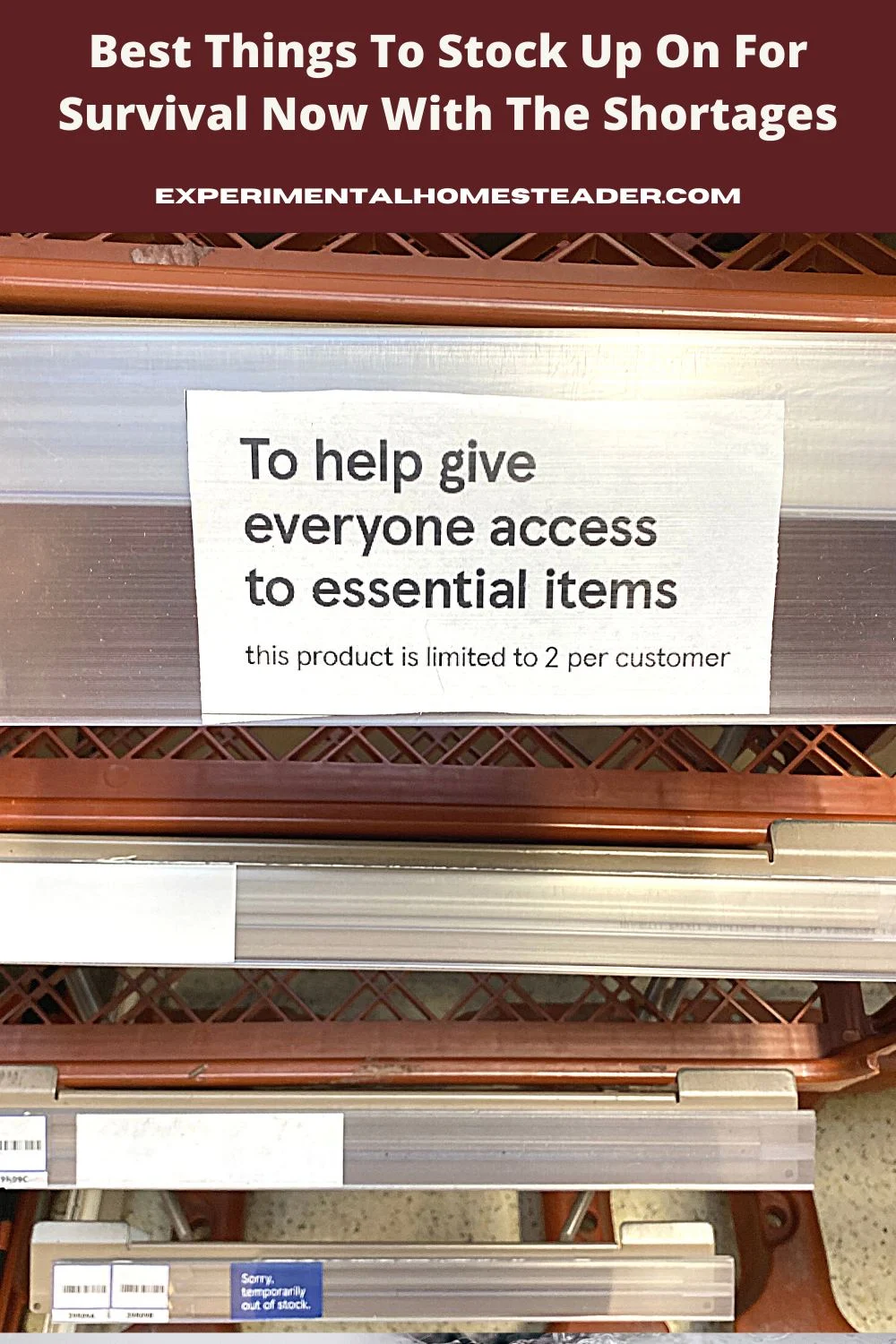 The Best Things To Stock Up On For Survival Are Products You Already Use
While we never know what is to come in terms of emergency survival situations.
If you are listening to the news and global experts, you will know now is not the time to be unprepared.
Davos attendees recently heard from the experts at the World Economic Forum that people are facing famines around the world.
You don't want to be caught without the supplies you need or want for any reason – be it war in a foreign country, weather issues, energy costs or something else that prevents you from having food available in your home.
Stocking up on crucial supplies doesn't require a huge budget.
You can do a little at a time, shopping with coupons and bargain hunting at discount stores or bulk suppliers.
Whenever you make a concerted effort to build your prepper pantry with the most needed items, you will quickly see progress.
Make sure you are keeping track of what you have on hand and what you use.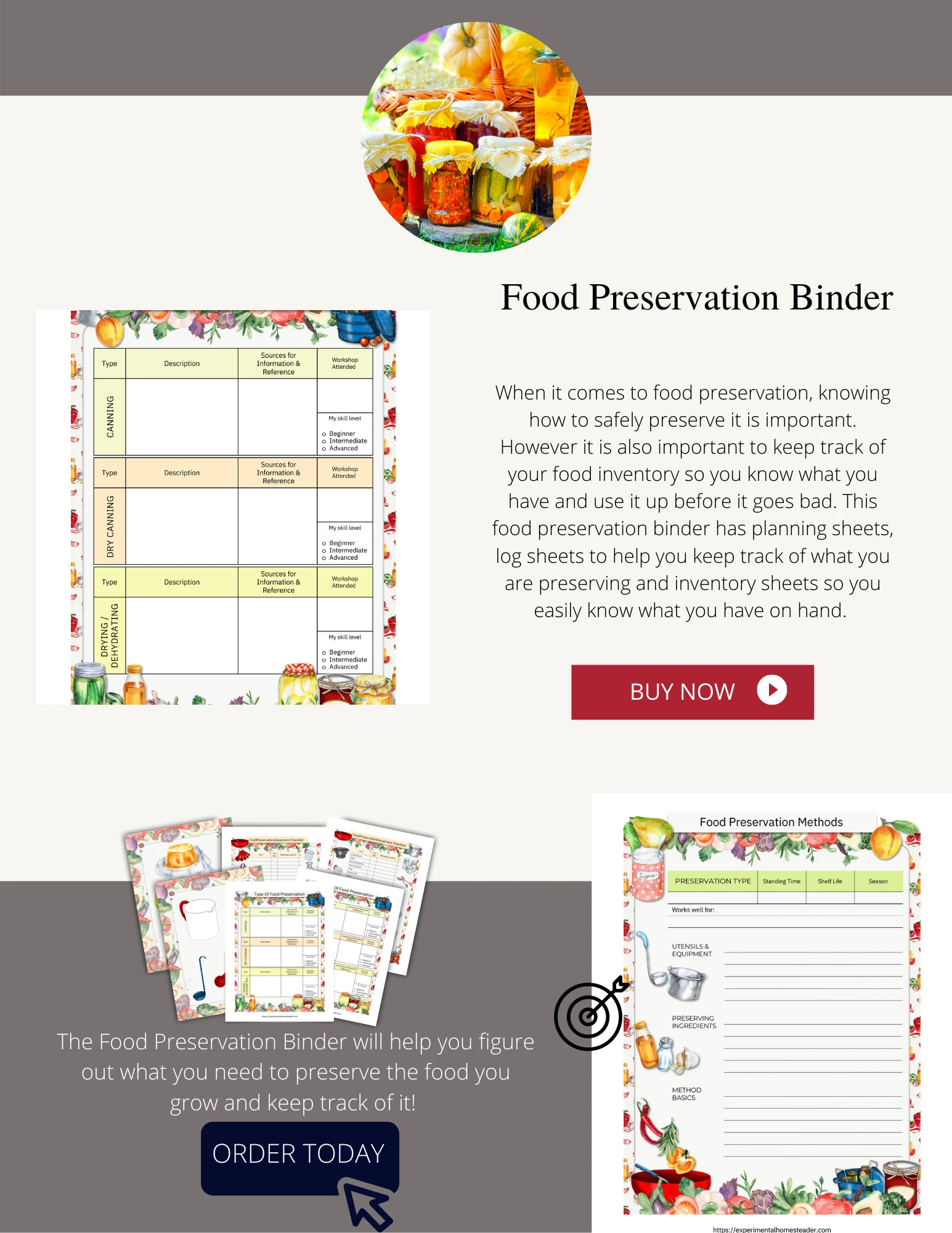 The food preservation binder that I have for sale is perfect for this – and best of all you can download it immediately after you buy it.
Rotate the supplies according to expiration dates and don't let anything go to waste.
That is why it is important to buy products your family already needs and uses.
Whatever you buy should be used in rotation with your regular grocery items, however sometimes you use more of this or less of that.
This is why making sure you know the expiration dates on what you buy is so important.
This way you can use any unused items up before a survival event if they are about to go to waste.
You may have other critical products you need for you and your family based on your personal health.
If so, add those to your list of imperative and in-demand items and make sure you're adding to your supplies.
Keep an eye on the news and look for supply chain articles to see what is expected to join the list of shortages.
You will also want to pay attention to certain keywords or hashtags on social media like #shortage so that you can see when there is a run on a certain grocery store item that you may need to stock up on.
Usually, these things start in other countries or certain states and then spread to other areas.
So you might see short videos on YouTube or TikTok that show store shelves empty or consumers clamoring for something you know you will need, and you can get it before it is cleared out.