Nothing compares to homemade noodles, however it is important to know the best method for storing homemade noodles if you make them yourself.
The best part about making your own homemade noodles is you get to use your own or local sourced ingredients if you wish to.

It is easy to add herbs or spices you like to the recipe and control the the thickness and length of the noodle.
All of these options give a noodle a unique flavor and texture not usually readily available at the supermarket.
Why Storing Homemade Noodles Makes Sense
Most noodle recipes – unless you have created your own or had one handed down to you – make far more noodles than most families can eat in one setting.
So what is the best way to deal with the leftovers?
I like to dehydrate and freeze mine.
Storing homemade noodles this way keeps them tasting fresh for up to six months.
I do not hang dry my noodles, although you certainly could if that is your preferred method.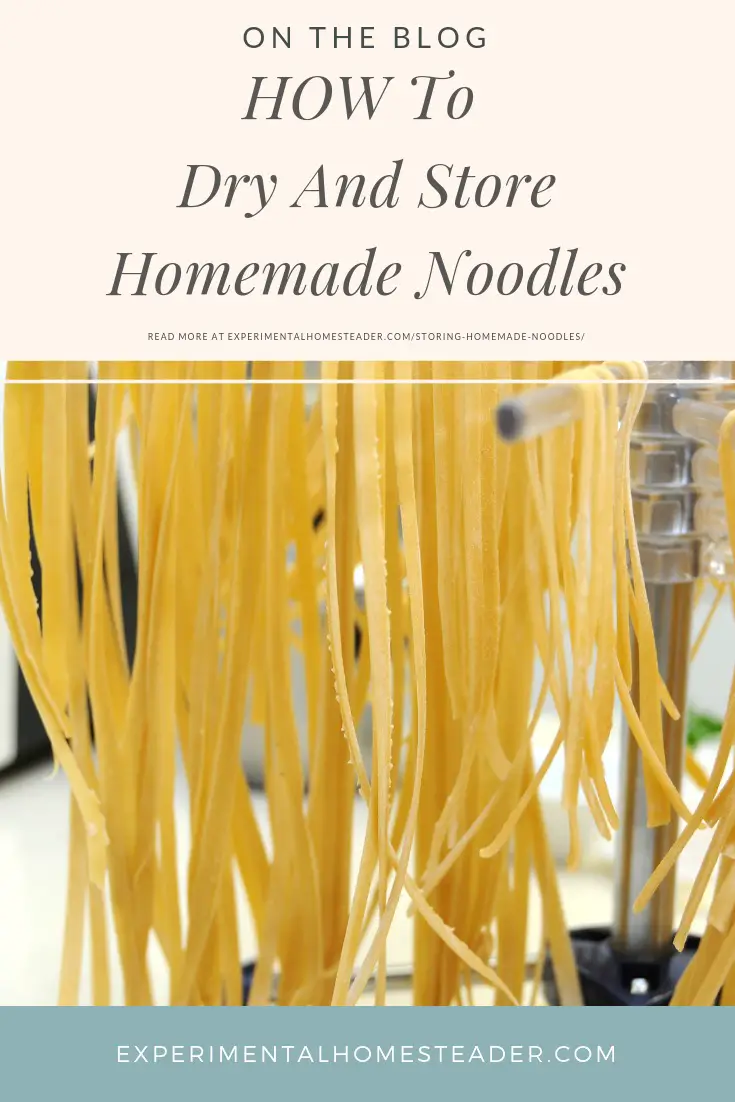 There Are Options On Making Noodle Dough At Home
In fact, until about a year ago, I used a bread machine to mix and knead the dough.
The arthritis in my hands made kneading it by hand very difficult so I was thankful when I found out I could use the dough cycle on my bread machine to do this.
Then I came across a pasta (affiliate link) dough making machine at a thrift store and decided to give it a try.
Once the dough was made using either of the two methods above, I would roll the dough out and cut it using a noodle maker machine.
Now you can do this by hand using a rolling pin and a knife if you wish.
However, I recently bought the KitchenAid 3-Piece Pasta Roller And Cutter Attachment Set to make noodle making easier and faster.
I absolutely love it and have found myself making more noodles than what I did before in part because I only need to clean up one appliance – my KitchenAid Artisan Mixer and the necessary attachments.
Using the KitchenAid Artisan Mixer to make pasta (affiliate link) is easy and the noodles turn out great!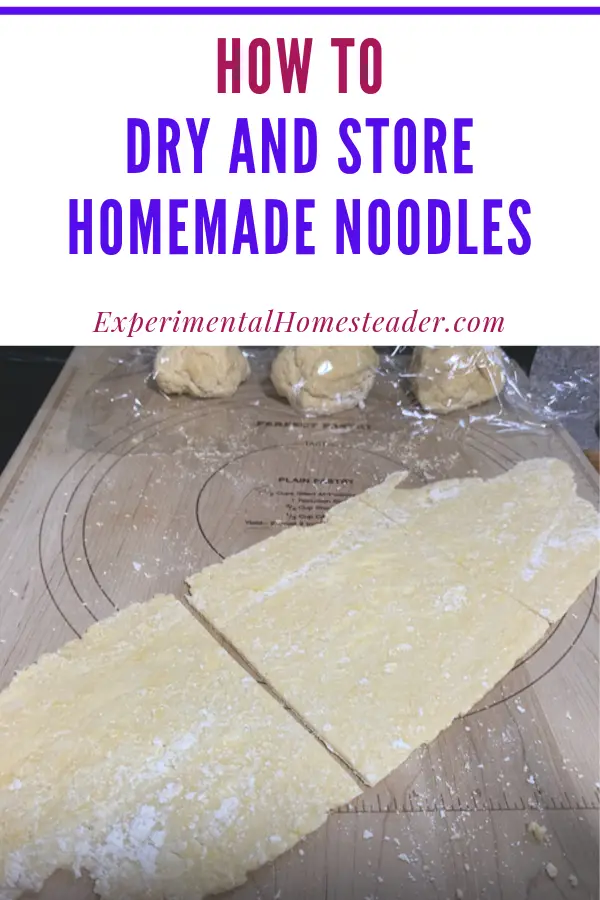 What To Do After The Homemade Noodles Are Made
After the noodles are made you can use them fresh without drying them at all or you can choose to dry them and follow these instructions for storing homemade noodles so you have them ready when you are.
Here are the exact step-by step instructions for dehydrating homemade pasta (affiliate link) noodles.
Lay the individual noodles out on your electric dehydrator

(affiliate link)

tray making sure they do not touch and are in a single layer.
Then turn your dehydrator

(affiliate link)

on and dehydrate them until they are crisp enough on the outside to easily break without being dark. If your dehydrator

(affiliate link)

has a temperature setting, make sure to set it at 135 degrees Fahrenheit.
The size of your noodle is going to determine the drying time. An average time is somewhere between 2 and 4 hours depending on the thickness of your noodle. You don't want any "dough" left inside the noodle but you don't want them rock hard either.
Once the noodles are dry enough that they snap in half and are not doughy inside, simply leave them on the dehydrator

(affiliate link)

tray to cool.
Of course, another option is to hang the homemade noodles on a noodle drying rack and wait for them to dry naturally.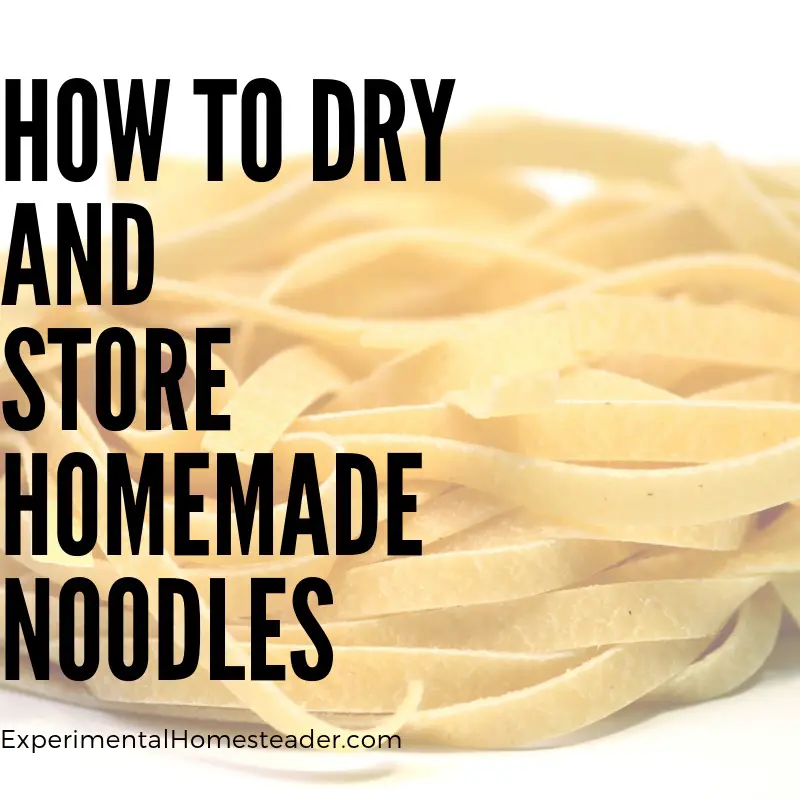 Storing Homemade Noodles And Using Them Straight From The Freezer
Once the pasta (affiliate link) is cool and completely dry, you can then use it right away or put it into a container to store.
I store mine in freezer safe containers in the freezer (affiliate link) which keeps the noodles from being crushed by heavier items.
The reason I prefer storing homemade noodles in the freezer is I think it keeps them fresher.
I also do not have to worry about either using glass containers or the possibility of  something getting into my container should I use plastic since I live in the county.
When it comes time to use the homemade noodles, they do not need to thaw before you cook them.
When you are ready to use them, just take the homemade noodles out of the freezer and toss it into boiling hot water (affiliate link) and cook it as you normally would homemade pasta (affiliate link).
For those who do not make homemade pasta (affiliate link), you can also freeze store-bought pasta (affiliate link) but be sure to put the package into a freezer bag (affiliate link) or other freezer safe container first.
There are also long term storage options for noodles.