This recipe makes the perfect sous vide herbed potatoes.
One of the easiest and most flavorful ways to cook potatoes is by sous vide cooking.

The process is easy and yields a high-quality result.
This post provides a step-by-step guide for making herbed potatoes.
All you need is a sous vide machine, some potatoes, and fresh herbs from your garden.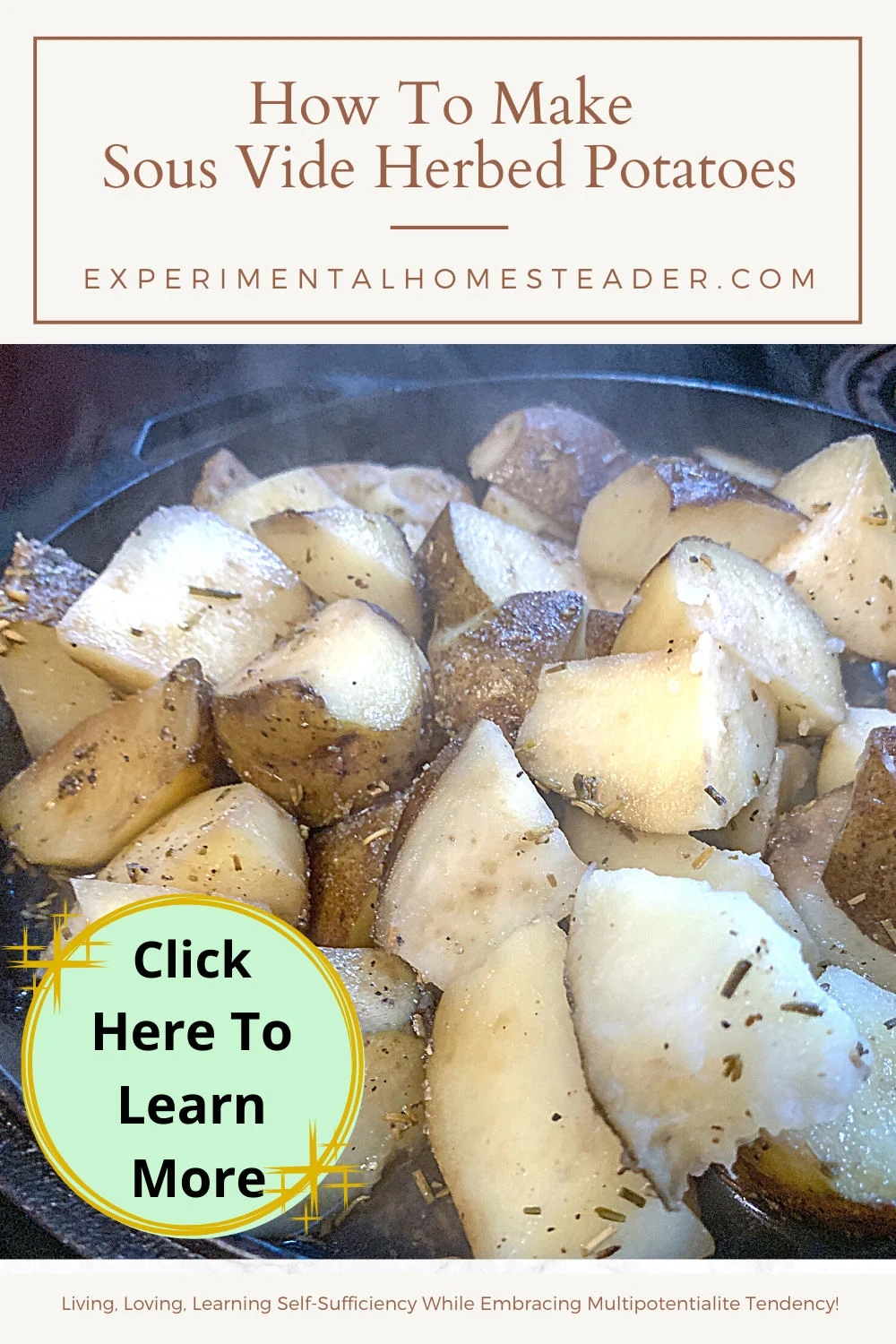 What Makes Sous Vide Herbed Potatoes So Special?
Sous vide herbed potatoes are made by cooking the potatoes in hot water in a vacuum sealed bag for an extended period of time.
The process leaves the potatoes creamy on the inside and crispy on the outside.
These potatoes are seasoned with fresh herbs and garlic flavors.
This is one of my favorite dishes to make when I have company over for dinner, because it's easy to make, delicious to eat, and people always enjoy it.
The process is simple: Cut up some potatoes into small pieces, place them in a vacuum-sealed bag with olive oil, fresh herbs, salt and pepper to taste, seal the bag and cook them in a sous vide cooker.
Here is my recipe.
Print
How To Make Sous Vide Herbed Potatoes
Author: Sheri Ann Richerson
Prep Time:

30 minutes

Cook Time:

1 hour

Total Time:

1 hour 30 minutes

Yield:

2

servings

1

x
Method:

Sous Vide
1

pound White Potatoes

1 Tablespoon

Olive Oil

1 teaspoon

Garlic Powder

1 teaspoon

Smoked Paprika

1 teaspoon

Italian Seasoning

1/2 teaspoon

Pepper

1/2 teaspoon

Salt (optional)
Instructions
Preheat the Anova Sous Vide Cooker to 181.4 degrees.
Cut the potatoes into small cubes.
Place the potatoes in the Sous Vide bag.
Place the olive oil and spices into the Sous Vide bag.
Shake to mix everything up.
Once the water has reached the correct temperature, place the Sous Vide bag of potatoes into the water. Use something heavy like a glass pan to hold the bag of potatoes under water.
Cook for 1 hour.
Remove the potatoes from the bag and pat dry.
Place the potatoes into a cast iron skillet on medium heat and cook just long enough to brown the potatoes.
Serve immediately.
Notes
Feel free to adjust the spices to suit your personal taste.
Recipe Card powered by

How to Cook Perfectly Crisp-Edges Sous Vide Herbed Potatoes In Your Kitchen
The perfect crispy potato is the holy grail of side dishes, but it can be surprisingly difficult to achieve.
There are a number of factors that contribute to the perfect crisp-edged potato—the type of potatoes, the cooking time and temperature, and the type of pan you use.
If you have a cast iron skillet, you have the perfect tool for browing potatoes.
The cast iron skillet has a large surface area, which equals better browning and crisping of the potatoes.  
Get your cast iron skillet nice and hot on the stovetop on medium high heat before adding your oil.
Add your Sous Vide cooked potatoes in one layer, making sure they aren't piled high or overcrowded in the pan because this will prevent them from browning evenly.
Once you add your potatoes, lower the temperature to medium to allow them to brown slowly, without burning.
Turn the potatoes occasionally to ensure even browning, but do not turn them so frequently that they do not brown.