A great way to bring the outdoors in and brighten up a room is to create one of these fall floral arrangement ideas.
Although it is not always easy to create a centerpiece for each room in the house, it's not impossible.

With this fall floral arrangement, you can bring the outdoors in and brighten up your room with ease.

Fall Floral Arrangement Ideas Are Special
Let's face it, fall flowers are special because they are generally the last flowers to bloom in the garden before winter.
Fall flowers make the best arrangements for all the things the fall season brings to life – such as family togetherness, jumping around in fall leaves, or eating a creamy, delicious pumpkin pie.
Have you ever wondered why the colors we choose for fall are reds, oranges, gold, russet, bronze, purples, and yellows?
That is because these are the colors of the flowers that bloom in the fall.
When you stick to the colors nature naturally creates for your fall floral arrangement ideas you can rest assured your decorations will always be seasonally appropriate.
Check out these awesome ideas below meant to inspire you to create a unique fall floral arrangement you, your family and friends are sure to love!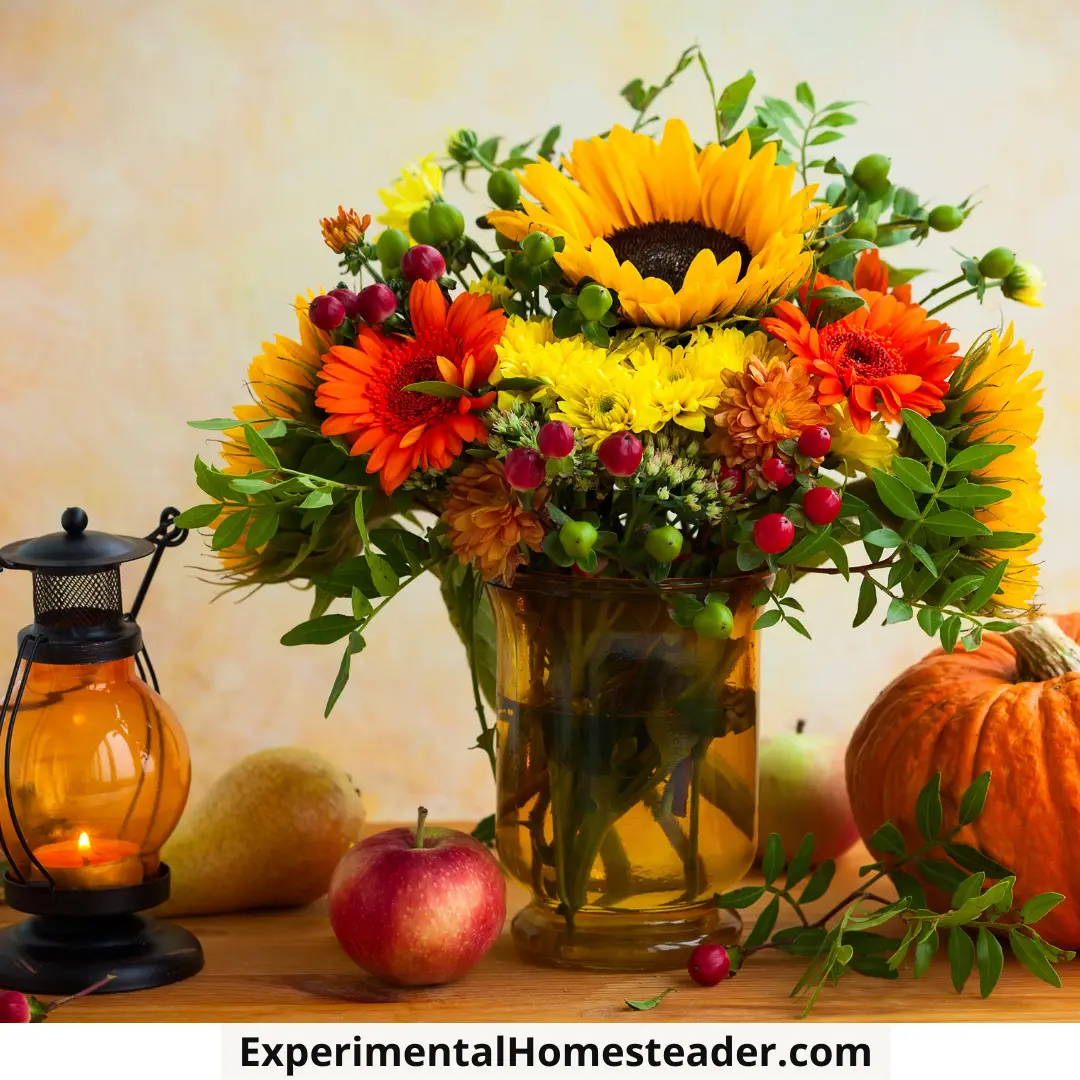 Mason Jars
Fill Mason jars with stones from a local river, or buy some, then add enough warm water to fill the mason jar about 3/4 of the way full.
Fill the mason jar with sunflowers, yellow mums, orange carnations and various in season greenery.
Tie some thin rope or raffia around the top of the mason jar to add to the rustic look of this fall floral arrangement.
Use this as a centerpiece or make several of them to line up at the back of your buffet.
Pumpkin Arrangement
Clean out the inside of a pumpkin to use as a vase for your flowers.
Alternatively you can use a plastic or ceramic pumpkin.
Insert floral foam, then fill the container with any type of fall flower that you desire, mixed with some greenery.
Silk flowers and dried leaves are an alternative to real flowers, plus you can keep them for the following year.
Be sure to vary the height of your flowers, leaves and greenery in your arrangement to give interest.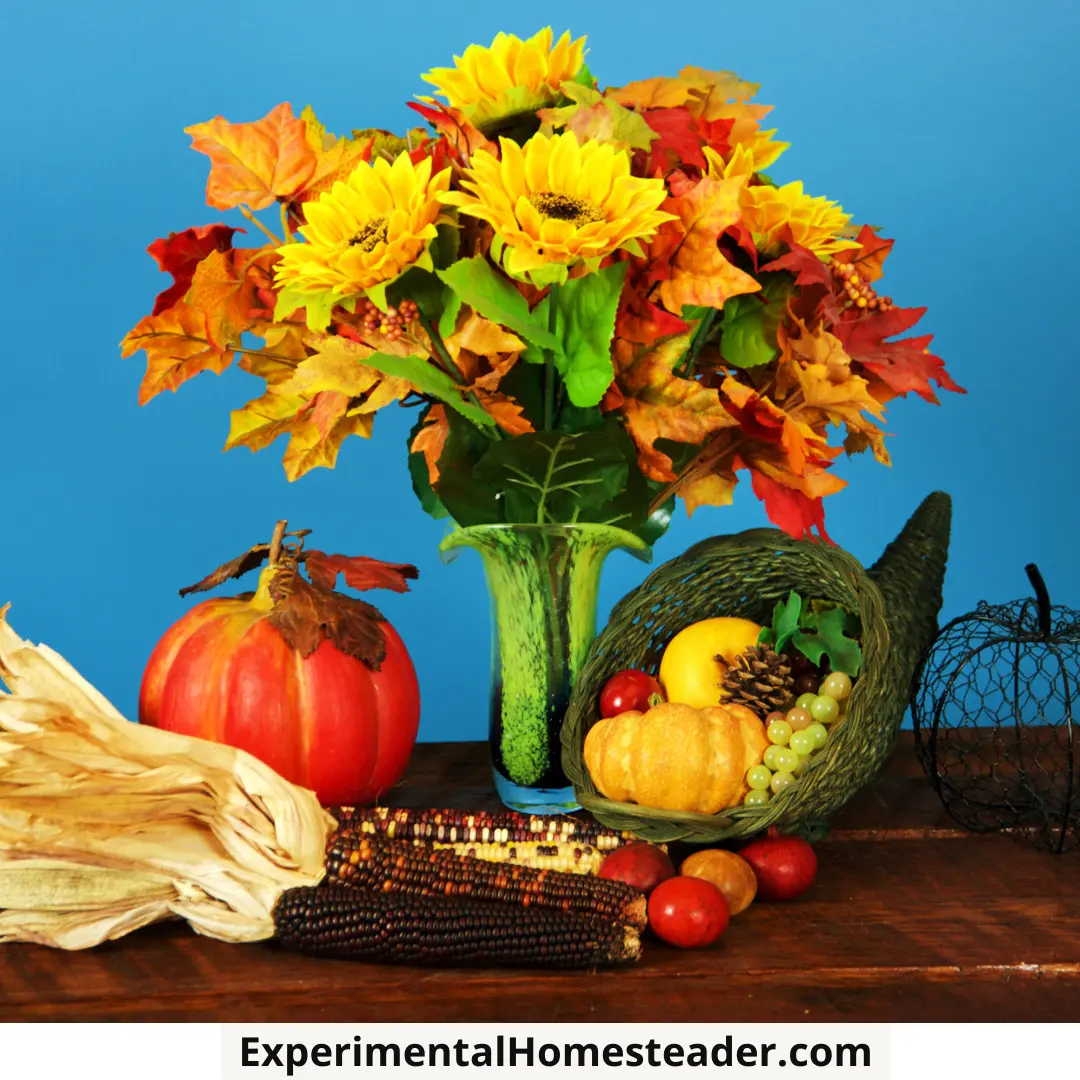 Arrangements Without Flowers
Instead of using flowers, use a wood or pottery bowl and fill with fall items such as gourds, tiny pumpkins, greenery from outdoors, leaves, acorns or other natural materials.
This will make a wonderful centerpiece and looks especially gorgeous set on burlap table runner.
To add scent, put a few drops of your favorite fall fragrance on a cotton ball and hide it under the natural materials.
Wooden Birdhouse Vase
Use a wooden birdhouse as a vase.
Remove the center of the roof and insert floral foam.
Then insert different types of flowers into the foam to make a whimsy arrangement of fall flowers.
This is perfect with dried flowers.
Be sure to add a small bird to the arrangement and possibly even one perched on the door of the birdhouse looking out.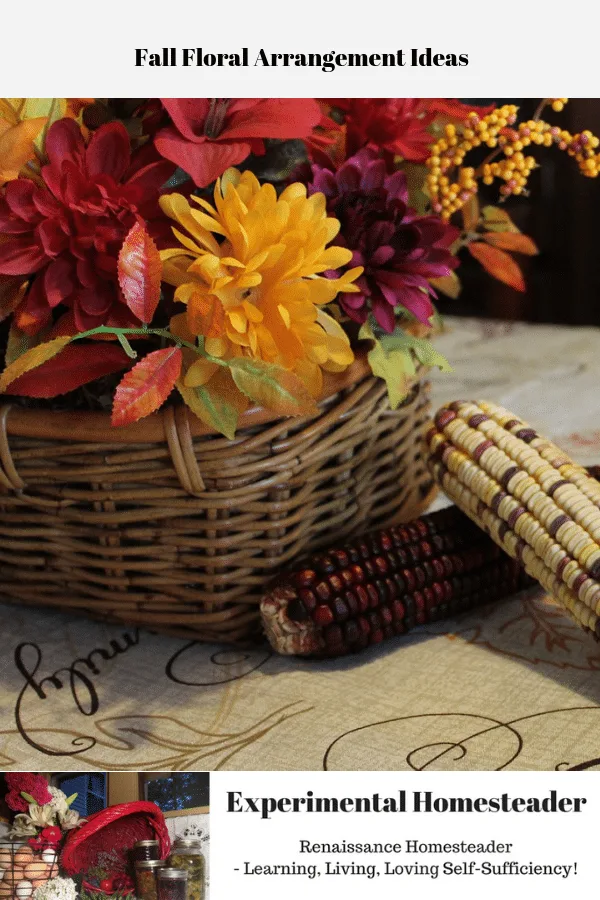 Decorate A Mirror Frame
If you have a large mirror in your house, it is the perfect place for a fall flower arrangement.
Use dried or silk flowers tied with twine, then bent so they fit around the edge of the mirror.
Think of it like creating a free form fall wreath.
This is a great way to add fall color to your home without taking up any space on your tables.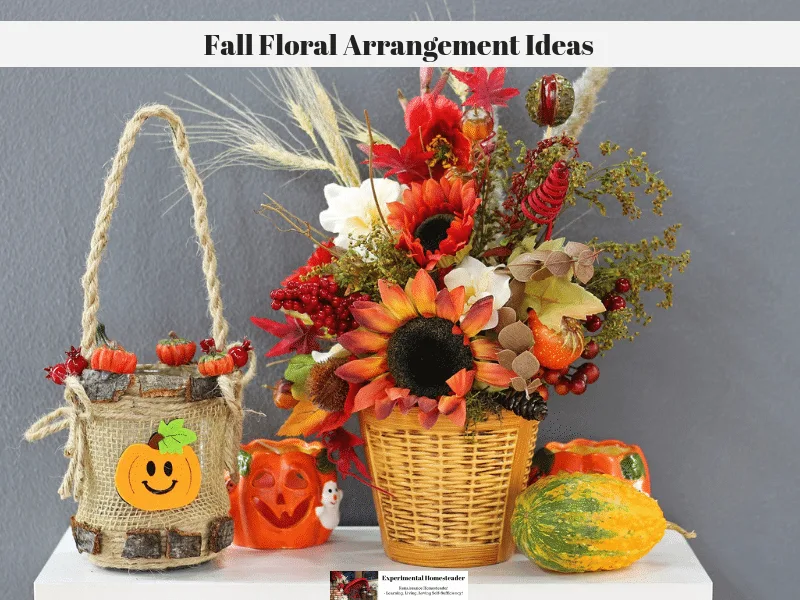 Wicker Basket
Wicker baskets make great containers for fall floral arrangements.
Go to Goodwill and look for old wicker baskets that are in good shape.
Insert floral foam, then add dried or silk fall flowers, sticks, and pinecones.
Play around with the materials you chose until you have an attractive arrangement.
Think about the various things that grow in the fall and try to find dried versions until you have a wicker basket overflowing with fall bounty.
This type of arrangement is also easy to scent using your favorite fall fragrance dotted on cotton balls that are then hidden underneath the natural materials.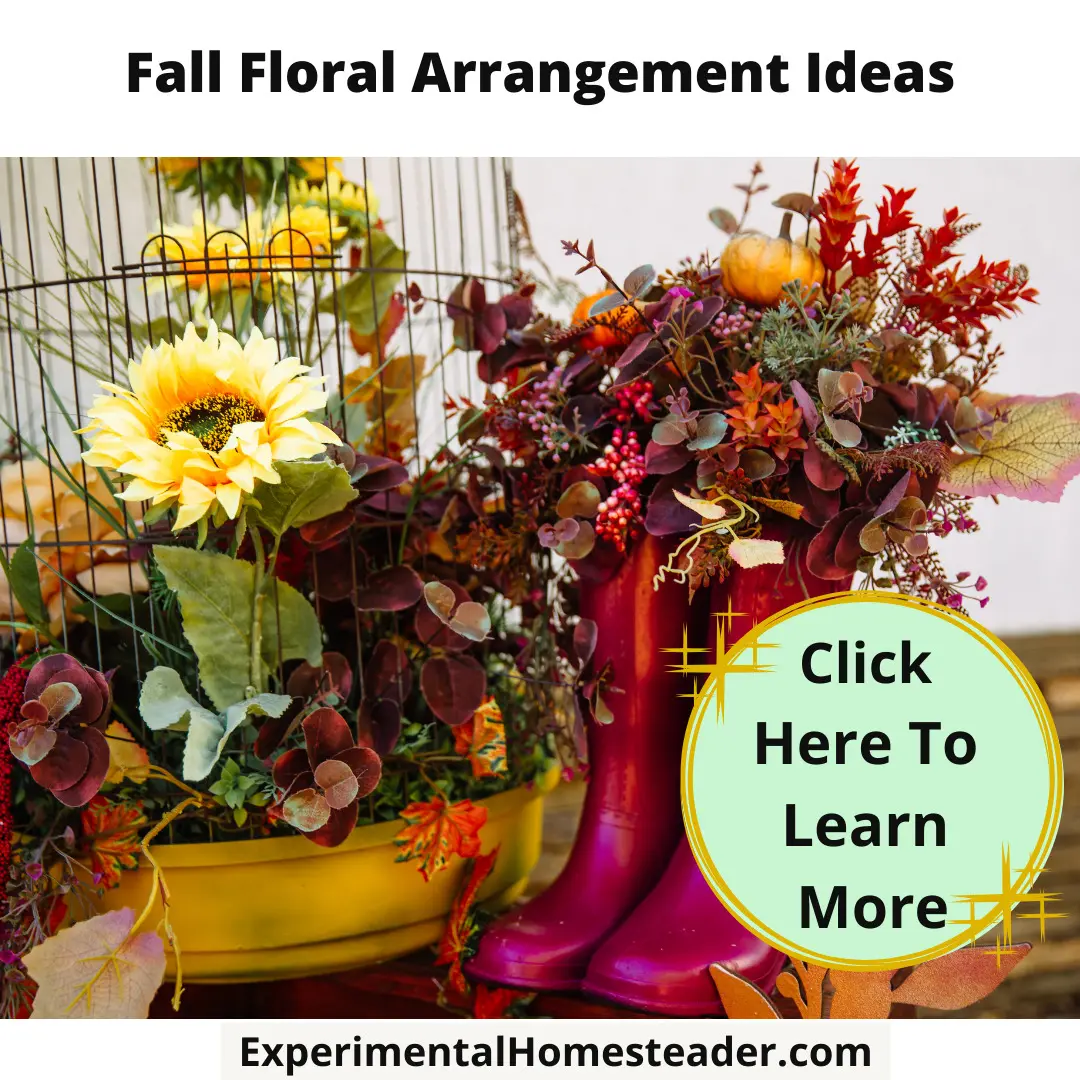 Old Boots
A whimsical idea for fall flower arrangements is to use a pair of old leather cowboy boots.
Clean them up, then place floral foam inside the top of the boots.
Anchor the arrangement with tall silk flowers and branches, then add more flowers to create a full look and hide the tops of the boots.
This rustic flower arrangement looks great in an entryway.
The best flowers to use are chrysanthemums, dahlias, hydrangeas, sunflowers, sweetgum branches and colorful fall leaves.
If you need dried flowers and plants, you can dry them yourself, order them online, or go to your local hobby store to find what you need.
Final Thoughts
Hopefully these fall floral arrangement ideas have given you a starting point to get your creative juices flowing!
I'd love for you to share some of your favorite fall floral arrangement ideas in the comments below!