You need to keep your evacuation bag contents packed and ready to go for two main reasons.
First, in the event of an emergency, everyone knows where to go to get their hands on several days worth of necessary supplies. 

Secondly, in the event of an emergency – for example, if your home becomes unfit for habitation and you need to leave in a hurry, all you have to do is grab your backpack and go.
A survival backpack is a very important part of an emergency readiness plan.
You want a good quality bag with double stitching that has plenty of compartments to keep everything organized.
Below I share essential evacuation bag content ideas.

Everyone Needs An Evacuation Bag Even Your Pets
An evacuation bag is a pre-packed bag that contains a variety of supplies and equipment to help protect you and your family from emergencies.
It should be easily accessible, ideally close to the front door.
As a prepper, I've been asked many times about what items should be included in an evacuation bag to make it as effective as possible.
I've complied a list of what I believe are the essentials.
Every member of your family should have a backpack of their own with his or her name clearly labeled on the outside because you can't carry enough for everyone in one or two bags.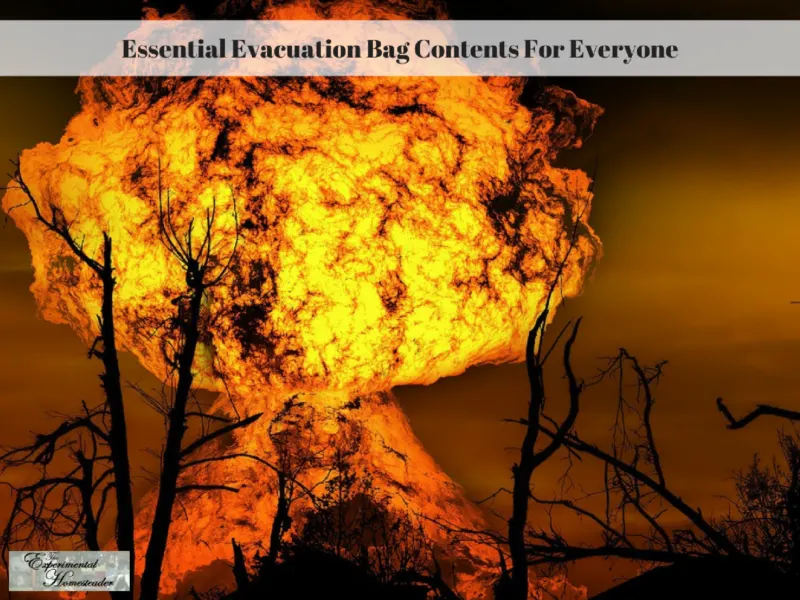 Evacuation Bag Contents For Babies And Children
It is important for parents to have an evacuation bag ready in the event of an emergency.
An evacuation bag should have all the important items for your baby or child.
A bag should contain things like diapers, wipes, formula/breast milk, bottles, pacifiers, clothes and toys.
It is always a good idea to keep a spare set of clothing handy in case your child gets wet or dirty.
It is also important to include your children's medications if they are on any.
All medications should be labeled with your name and contact information.
Babies and toddlers won't be able to carry their own evacuation bag, so plan for another adult to carry it.
Children and teenagers can carry their own backpack and it will make them feel safer knowing that they have their own provisions.
The sizes and weights of these backpacks are going to vary and you do not want to make them so heavy that they you or your family members are unable to carry them for long distances.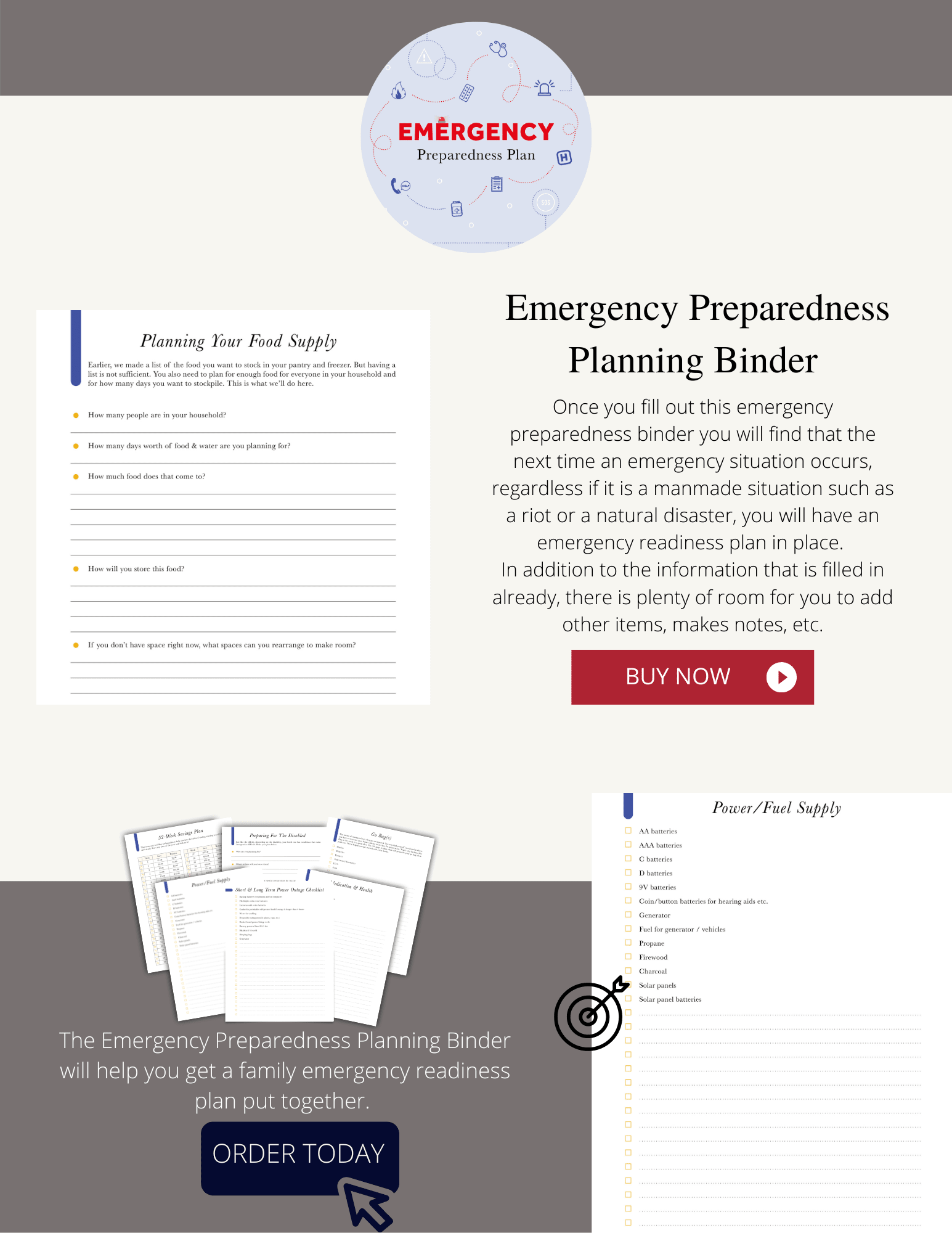 Essential Evacuation Bag Contents For Pets
Make up backpacks for your pets too!
You won't want to leave them behind and they are going to need supplies as well.
They should have all the essentials that will keep the pet alive and healthy in case there is a disaster or emergency situation.
When you think about the evacuation bag as a whole, it's not as complicated as it may seem at first.
It really just needs to cover three things: food, water, and shelter.
Those three things should be your focus when choosing what to include in your pet's evacuation bag.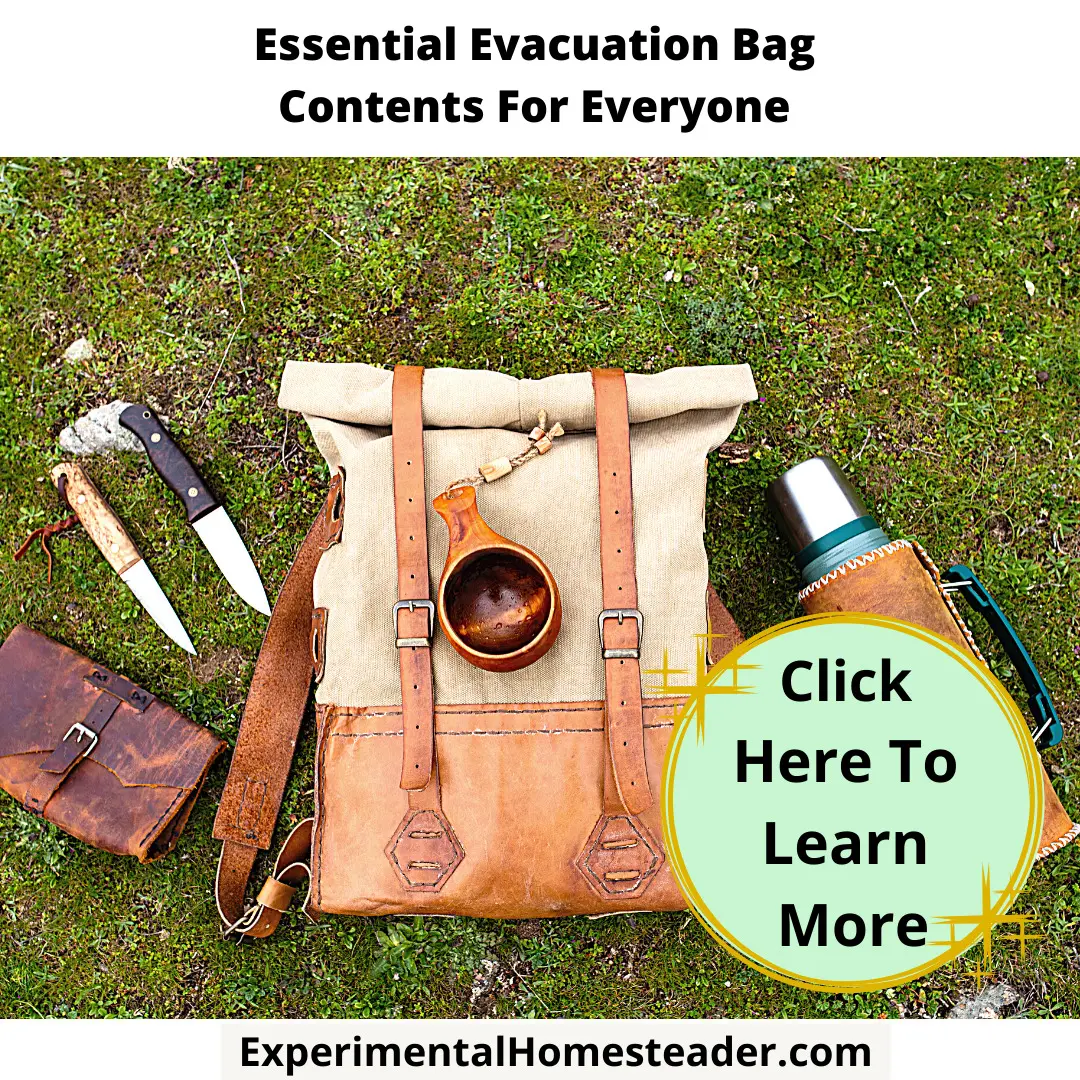 How To Choose The Right Backpack
Purchase or make your backpacks so they are the right fit for the size of the family member.
Children need smaller ones than an adult.
You want to look for backpacks that say are height adjustable since not everyone is the same height.
For children choose sturdy, yet lightweight material.
You want backpacks that are waterproof.
For teenagers, you can get the backpacks with the frames but you might not want to do this for younger children because of the added weight of the frame.
Backpacks can have internal or external frames.
The children's survival backpacks are a smaller version of the adult sized ones and some of these have pockets that you can access without having to stop and take the bag off.
Many people find this added convenience helpful.
These backpacks also have padded straps for the shoulders and are made of water resistant nylon.
These also come with multiple pockets and hooks for storing gear.
Most of them come with expandable straps and some come with a hydration pocket.
Look for ones that are hydration compatible if you want that feature.
You can get backpacks that are made of wicking fabric.
This is a fabric that will help keep the contents dry and they are usually thickly padded so they are comfortable to carry if you have to travel any distance.
You want to look for backpacks that are expandable so that they hold everything you need them to hold.
Survival Backpack Essentials
Evacuation bags come in handy when there is an emergency evacuation.
An evacuation bag can be used for various purposes.
First, it can provide you with all the necessary supplies that you might need to survive for a few days.
Secondly, the bag could provide you with all the supplies needed to treat injuries until help arrives.
Lastly, it could provide you with essentials like food and water if the power goes out or fresh water runs out due to flooding.
So what do you need to make sure is in these bug out backpacks?
Here is a list of where to start –
A First Aid Kit Is A Must
A first aid kit should be a part of every household.
It is the safest place to store a first aid kit, as it can be easily accessed in case of an emergency.
A first aid kit should include the following:
-Emergency contact card for each family member
-Adhesive bandages for small cuts and wounds
-Hypoallergenic adhesive bandages for those with sensitive skin
-Antiseptic wipes to clean wounds from germs or from chemicals that might have been spilled on them
-Bandaids in different sizes and shapes to cover just about any injury or wound imaginable
Be sure to make one part of your emergency evacuation bag contents.
While you can easily buy things such as triple antibiotics and other items needed, some people prefer to make their own.
If you are one of those people, then be sure to click here to order your copy of Homemade First Aid Kit today!
Orders are processed through PayPal and you do get an immediate download once your payment is confirmed.
For those who prefer not to use PayPal, you can also order this eBook through my Etsy Shop.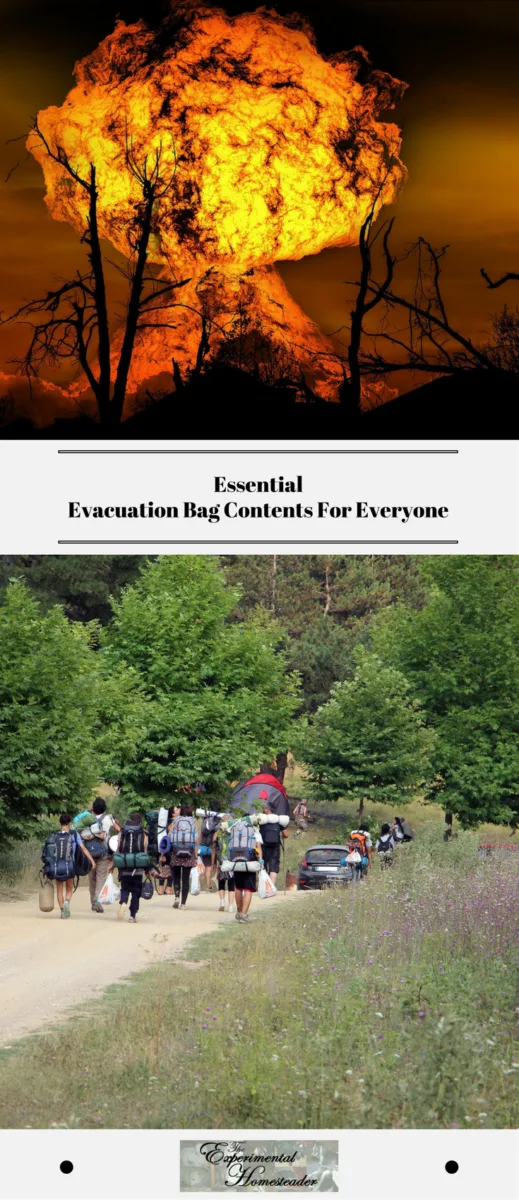 Bug Out Bag + Evacuation Tips
SaveSave
SaveSave
SaveSave
SaveSave
SaveSave
SaveSave