One of the best fall decorating ideas to transform your living room is to create new cushion covers for your pillows and upholstered furniture.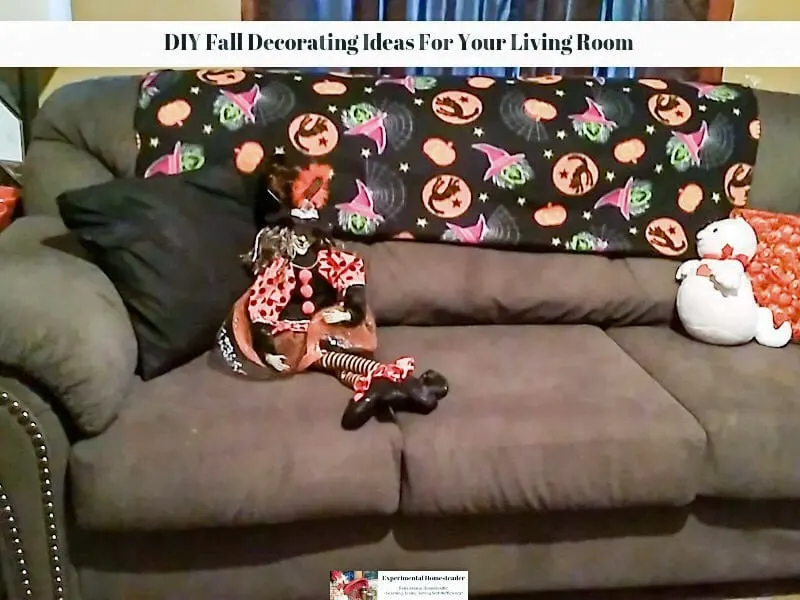 Making new cushion covers for pillows and furniture is not difficult, even if you have no experience.
There are easy ways to create new cushion covers even if you do not sew.
Check out these DIY fall decorating ideas for your living room.
No-Sew Pillow Covers
There are a number of ways to make no-sew pillow covers using fabric, no hem sewing tape and velcro.
Choose a fall patterned fabric wide enough to cover the width and height of the pillow form you are using makes it super simple.
Cut the fabric two inches wider than the pillow.
Lay the fabric on a flat surface with the right sides of the fabric together and place the no hem sewing tape between the two pieces fabric on three sides and iron it.
Attach velcro the the one remaining side, turn the cover right side out, place the pillow form inside and then secure the velcro to seal up the new pillow cover.
For those who would like to see yet another way to make a no-sew pillow cover, or even see step-by-step photos, check out the  no-sew pillow covers on Made2Style.com.
At the end of the fall season, simply remove the no-sew pillow covers and store them away for next fall.
If you need a video lesson, here is one that also uses a no-sew method and might be easier to follow for some.
Dress Up Your Pillows
Instead of creating brand new pillow covers, why not simply dress your pillows up for fall.
With this method, you pick out your favorite fall fabric, cut it into squares that are about two inches larger than your pillow, layer the fabric in triangles and tie a knot.
This is easy to do and these make great looking accent pillows.
Check out the tutorial for no-sew pillows on Alldaychic.com.
Easy DIY Drawstring Seat Cushion Cover
This is another way to make simple covers for your cushions quickly and you can do this one using the no hem sewing tape as well.
Choose a fall fabric that you love, pick up a roll of no hem sewing tape and enough drawstring to complete your project.
If you can cut fabric and measure, you can build these drawstring cushion covers that can be used for any type of chair or even your couch.
Simply cut the fabric four inches larger on all sides than the cushions you are covering.
Fold the edges of the fabric to create a two inch hem and use the no hem sewing tape to secure the edges of the hem to the larger piece of fabric making sure to turn the cut edge under before you use the iron to secure the hem.
Now simply run your drawstring through the opening, place the couch or chair cushion on the fabric, pull the edges of the fabric over the sides of the cushion and pull the drawstring tight to secure it.
For a more in-depth tutorial, check out the DIY Drawstring Seat Cushion Cover tutorial post on KOVI.
Fall Decorating Ideas For Faux Upholstery
It is possible to upholstery your couch or chairs without being able to sew or knowing how to actually upholstery.
While you can purchase couch and chair covers in a variety of styles, sizes and colors, sometimes you simply want something unique.
If you want to cover your entire sofa or your chair cushions for the fall,but need to do it on a budget or want to use a particular fall fabric that you love, then you need to know how to create what Jezze Prints calls "upholstery for the lazy girl".
You can make a huge difference in your fall decorating budget if you think outside the box and realize that everything doesn't have to be perfect or professionally made to look fabulous.
Repurpose Fabric You Have
Sometimes great fall decorating ideas are inspired by fabric you already have.
Think outside the box on this.
Fabric doesn't have to come from the fabric store.
Maybe you have a collection of old clothes you didn't throw out because you loved the patterns or the clothes were special in some other way.
Think about ways to use special shirts a loved one left behind when they passed away.
These make beautiful pillow covers that not only look great and transform your living room, but also have memories from the past.
You can even find old clothes at the thrift store or Goodwill that have fall patterns on them.
Check out the tutorial for the Repurposed Shirt Pillow Cover at On Sutton Place.
DIY Dropcloth Cushion Cover
If you want a super-easy way to transform your living room this fall into a gorgeous room that your friends and family will rave about, this YouTube tutorial from Meagen Mackenzie is the perfect solution.
You can make dropcloth cushion covers for every season including fall.
This is a great way to change out your living room decor without having to replace your furniture.
Use Blankets And Throws
A really quick way to decorate a couch or chair for fall is to drape blankets or throws over the back of the couch or on the side of the couch.
Then to add a festive fall look, add some pillows and a couple fall inspired plush decorations.
Final Thoughts
Even if you do not sew, I hope these fall decorating ideas encourage you to make fall cushion covers and transform your living room for the season.
Using a fall inspired fabric and any of these ideas is sure to transform your living room  without a lot of work or expense.
I'd love to hear what you think of these ideas, if you tried any of them and what the results were in the comments below.
Use the buttons on the right side to share this article with friends or family who might find it useful.
Pin the picture below to your pinboard on Pinterest for future reference.