End summer with one last get-together for friends and family before heading into the fall and winter months with these Labor Day holiday luncheon ideas.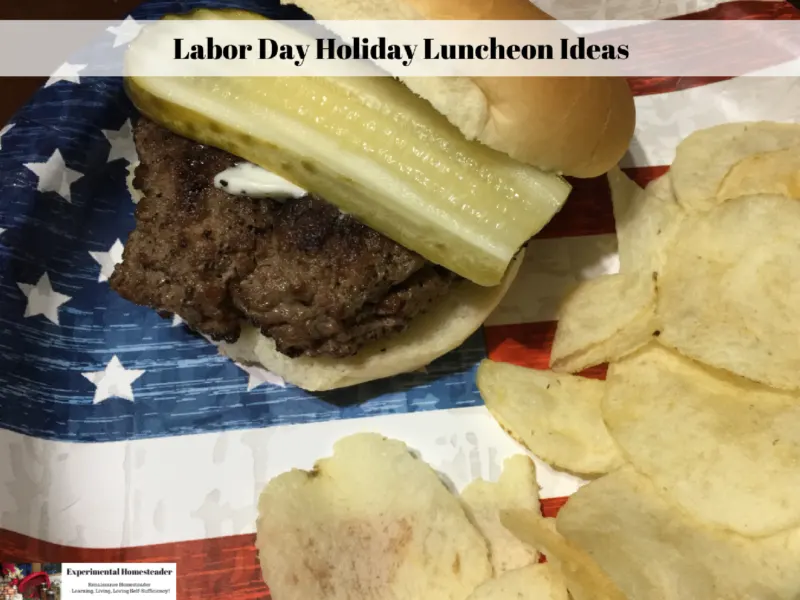 The following labor day party ideas provide a starting place to hosting a terrific party that everyone will be talking about, without spending a fortune.
There are also links to products I recommend from companies I have a referral relationship with. I will be compensated if you make a purchase after clicking on my links.
Why Have A Holiday Luncheon?
There are advantages to having a luncheon instead of an early evening party.
People often feel more relaxed earlier in the day and less worried about getting home to get things done that they need to accomplish.
Picking up after the guests leave is also easier because there is still plenty of light and you aren't so tired that you want to leave it all until the next day.
While it is true a few guests might linger. let them assist with the clean-up or simply politely say to them that the party is over and you want some private time alone with your family.
Set A Budget
Determining how much money you have to spend for the Labor Day party is probably the first thing to do. Here are some things you need:
* Location
* Invitations
* Food and beverages
* Paper goods and utensils
* Decorations
Once you have an idea of what items you need to spend money on, you will be better able to prepare a budget.
For each of the above areas you can save money with a little bit of forethought and planning.
Have The Party At Home
The cheapest way to host any party is to have it at your home.
By having your party at your home, you have control over who attends and can decorate the way you want to.
You also don't incur the extra expense of renting a facility, the clean-up costs or the extra time involved in driving to and from.
Choose Who To Invite
Decide how many people to invite.
Check the list twice to make sure everyone gets along.
This might seem silly but believe me inviting two feuding friends or family members is not a good idea and could ruin your party!
Not only will this number determine how much money you need to spend on food and beverages, it will help you know how many invitations to send.
Send The Invitations
Speaking of invitations, with technology today it is easy to send personal invitations to everyone you'd like to attend by using email or text messaging.
There is also the option of creating a Facebook Event but be sure that everyone you invite is on Facebook, if not you may need to use two separate types of invitations.
You can also use a computer or your Cricut Explore Air to make your invitations and mail them if you choose.
That would mean printing them out using paper and ink, then buying postage to send them unless you choose to hand deliver the invitations.
Don't forget to ask people to let you know if they plan to attend.
Some people require an RSVP and make it clear that only an exact amount of plates are going to be available thus if you do not RSVP you cannot attend.
Be sure to include the date, the place plus the start and end time on the invitation.
Including the end time lets your guests know ahead of time when they are expected to leave.
Food And Beverages On A Budget
Food and beverages are sure to be the most expensive part of hosting a Labor Day party, especially if you BBQ hamburgers and hot dogs that are so popular for outdoor parties.
Plan a menu ahead of time and determine how much of each food item you need.
Include healthy snacks such as almonds.
A vegetable tray or fresh fruit are great options for party snacks.
Be sure to use items from your own garden if you have one.
If you find the food budget getting out of hand, don't be afraid to ask your guests to help.
There is absolutely nothing wrong with having a pot luck party.
Let everyone chip in; be sure to make a list of who is bringing which items so you don't end up with too much of one item and none of another.
This same idea can work with beverages as well.
Be sure to let guests know if the beverages should all be non-alcoholic.
Another option is to set up a donation jar so people can donate if they wish.
Let guests know ahead of time this is an option so they are not caught off guard or end up feeling offended.
Use Disposable Dishes
Paper goods and utensils may be an expense you're not looking forward to.
However, using disposables mean you won't have to spend time worrying about your good dishes or having to wash all those dishes later.
Ask guests you know you can count on if they would prefer to bring the paper products instead of a dish.
This might be easier for some, but be sure you are on the same page with that person so the colors match.
You can also coordinate your table settings and decorations.
There are both online and offline options for purchasing ready-to-go party kits that simplify the process.
There is also the option of choosing eco-friendly dishes but be sure your guests are all on the same page.
Make The Decorations Yourself
And since you're thinking about decorations, consider what items you can make at home.
I absolutely love using my Cricut Explore Air to design and cut out my party decorations.
Then all I have to do is assemble them.
Enlist the help of your children to make patriotic decorations.
Red, white and blue star garlands and Chinese-style paper lanterns in patriotic colors are easy to make and your children are likely to jump at the chance to help.
Look online for free printables as well.
Pinterest is a great place to do some research on Labor Day Party decoration ideas.
Final Thoughts
Thinking about how to host a Labor Day party on a budget is good practice for other party occasions.
Once you have the basics down, you can plan any party in the future with a lot less stress.
Consider these ideas and then have a great Labor Day party with family and friends.
I'd love to see the photos of your Labor Day Party!
I highly recommend the following articles:
Use the buttons on the right hand side of the screen to share this article with friends or family who might find it useful. Pin the picture below to your pinboard on Pinterest for future reference.