Are you ready to host the spookiest Halloween party ever?
Well, you're in for a treat (no tricks here!) because we're about to dive into the world of homemade Halloween party drinks.

These are not your ordinary beverages; they're non-alcoholic, kid-friendly, and designed to send chills down your spine (in the best way possible).
So, imagine this: a room filled with eerie decorations, your closest friends and family in their finest Halloween attire, and at the heart of it all, a table filled with drinks that are as enchanting as they are delicious.
Welcome to your ultimate Halloween party, where you're the mad scientist behind the most bewitching brews!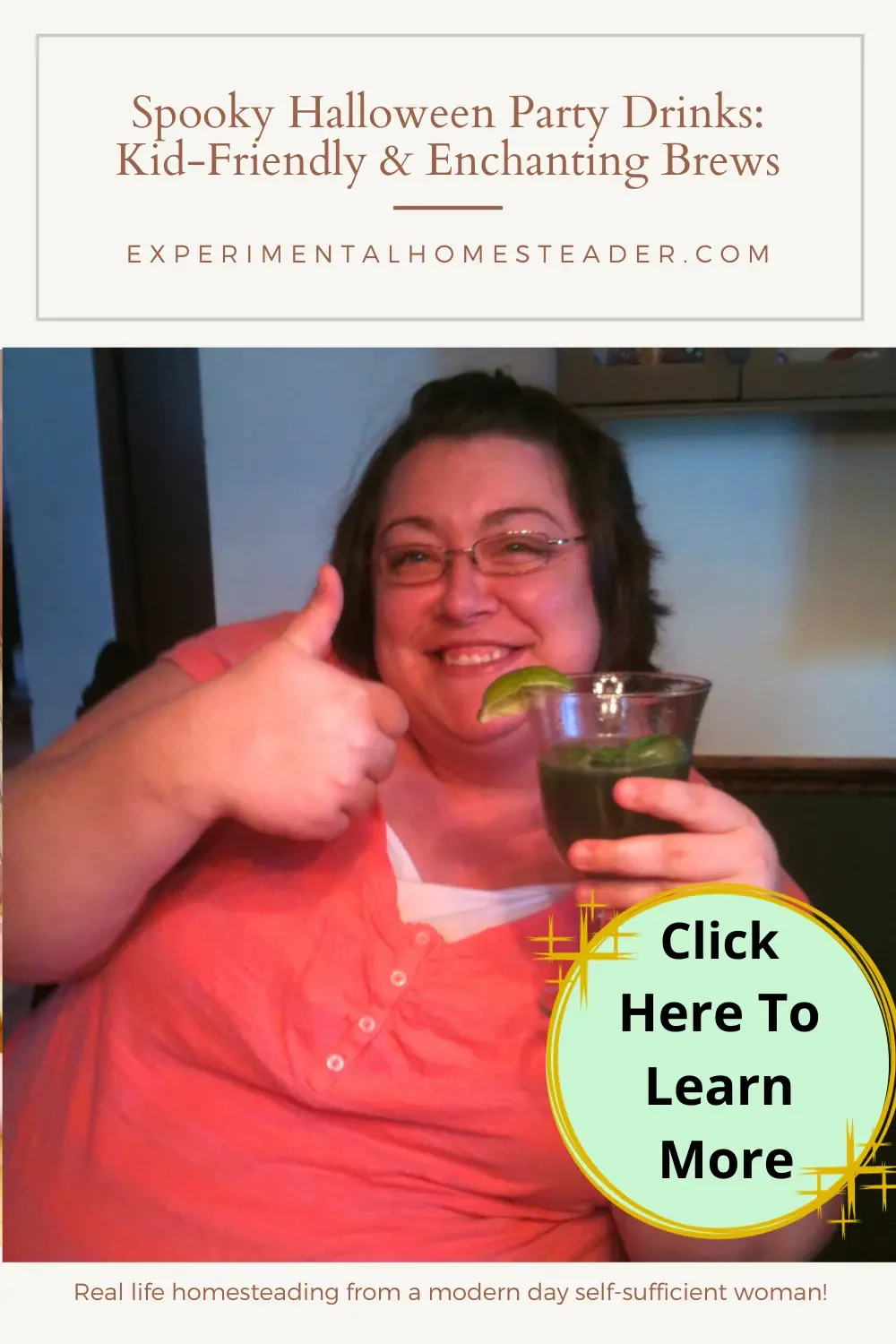 Brewing Up Halloween Magic: Crafting Hauntingly Delicious Drinks
But wait, we're not just talking about your average punches or sodas here.
We're going to add a touch of DIY magic, a sprinkle of creativity, and a dash of Martha Stewart inspiration to create drinks that look as haunting as they taste.
So, my fellow experimental homesteaders and Halloween enthusiasts, grab your cauldron (or, you know, a large mixing bowl will do), and let's concoct some spine-tingling, non-alcoholic elixirs that are perfect for kids and adults alike.
Whether you're hosting a family-friendly gathering or a costume party with your closest pals, these drinks will be the talk of the town, or should I say, the talk of the haunted house!
Stick around as we take you on a spooky journey through the process of making these drinks from scratch.
We're going to infuse them with the essence of Halloween using some ingenious decorations, fresh ingredients, and a dash of imagination.
And don't worry, it's not going to be a replica of that Halloween video you've seen; this is your ticket to personalizing your Halloween party like never before.
So, gather your cauldron, prep your ingredients, and let's get started on crafting these devilishly delightful concoctions.
Your Halloween party is about to become the stuff of legends!
Crafty Decorations for Your Drinks
Before we delve into the recipes, let's talk about how to elevate the presentation of your Halloween party drinks.
Martha Stewart's Halloween bottle covers and treat bags are an absolute game-changer in the world of spooky beverages.
You might be wondering, "Why are decorations so important for drinks?"
Well, my fellow Halloween enthusiasts, the answer is simple: it's all about creating an unforgettable experience.
These little details can transform your ordinary drinks into extraordinary ones.
Whether you're using them to jazz up ginger ale bottles, wine bottles, or any other containers, the effect is nothing short of magical.
The moment your guests lay eyes on these creatively adorned bottles, they'll be drawn into the enchanting world of your Halloween party.
So, consider using Martha's bottle covers for your ginger ale, creating an eerie atmosphere even before the first sip.
And don't forget those treat bags.
They're not just for candy; they're perfect for adding a dash of spookiness to your drink presentation.
Your guests will appreciate the extra effort you put into making your Halloween-themed drinks stand out.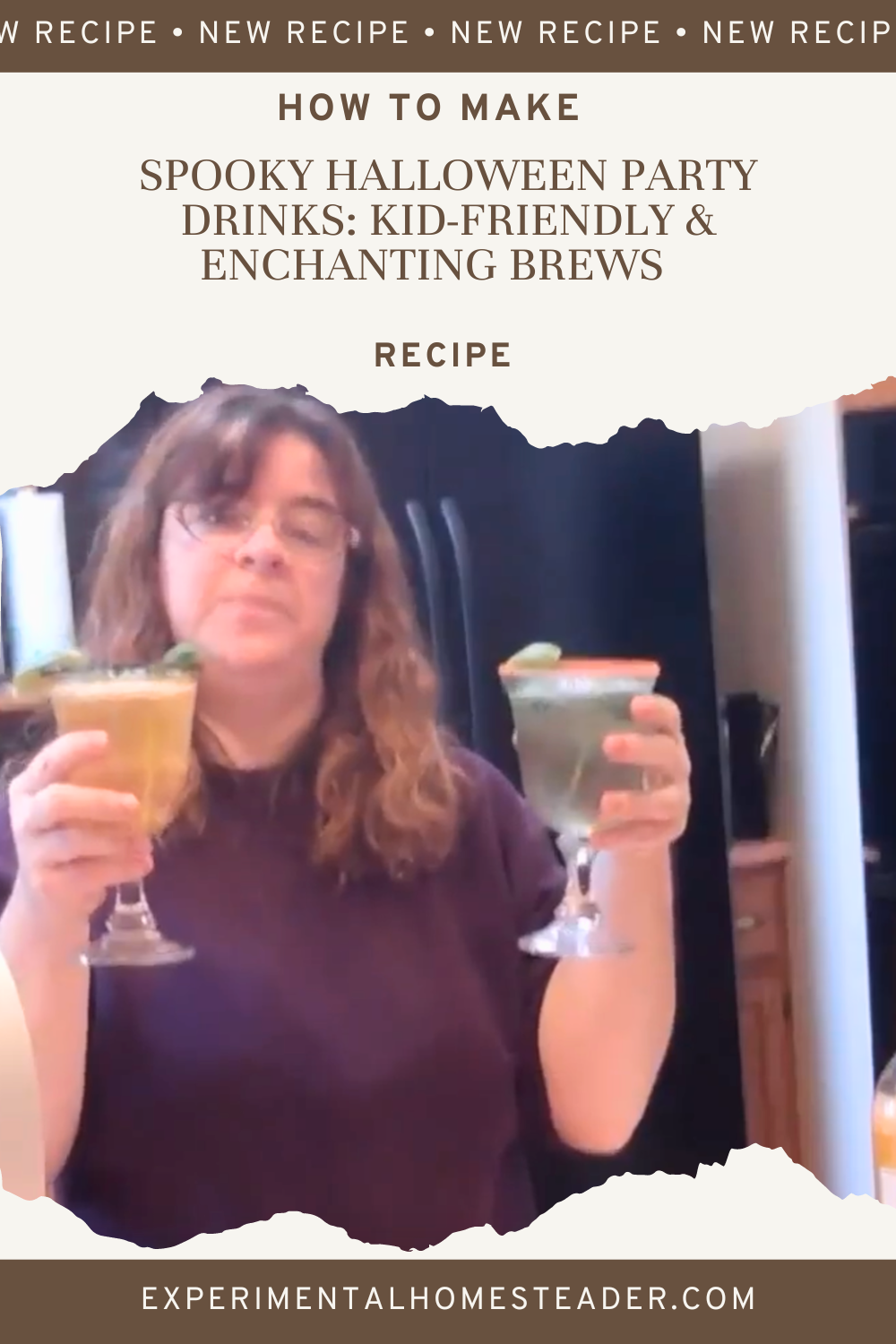 Making Fresh Limeade
Now, let's dive into the heart of our Halloween-themed drinks – fresh limeade.
Because, really, what's a Halloween party without some eerie green drinks?
The beauty of making your own limeade is that you can infuse it with a personal touch and a dash of creativity.
Have you ever considered growing your own limes?
It's easier than you might think.
Whether you have a garden or just a sunny windowsill, you can have homegrown limes.
There's something truly magical about plucking limes from your own tree (or pot) and using them to create a drink that's as fresh as it gets.
And let's talk about sweetening our limeade.
Say goodbye to artificial sugars.
We're sticking to the good stuff here.
Sugar cane, an age-old sweetener, can be grown right in your backyard.
But if you prefer something different, why not cultivate your own stevia?
It's a natural alternative and gives your limeade a unique twist.
Zest and Fragrance
Here's a Halloween hack that's not only practical but also incredibly aromatic.
Don't toss those lime peels!
They have a secret life beyond the compost bin.
Instead, they're perfect for creating potpourri that will fill your home with the delightful fragrance of fresh citrus.
But that's not all. Lime peels are excellent for zesting, adding a burst of citrusy flavor to your dishes.
You can use that zest to make citrus candy, a homemade treat that's not only delicious but also a feast for the senses.
Imagine your guests walking into your Halloween party, greeted by the sweet and tangy aroma of lime potpourri.
It's the kind of detail that sets your event apart and showcases your love for crafting an immersive experience.
Juicing Those Fresh Limes
Now, let's talk about turning those fresh limes into liquid gold.
Enter the KitchenAid juicer – a true champion in the world of juicers.
Its efficiency is a game-changer when it comes to extracting every drop of juice from those limes.
Not only does it save you time, but it ensures you get the freshest, most flavorful juice for your limeade.
Watching the juices flow from those limes is like watching a magic potion being brewed.
It's a satisfying and delightful process that connects you to the heart of your Halloween-themed drinks.
But remember, it's not just about the juice.
It's about the experience of creating something special from scratch.
Your homemade limeade will have a flavor and freshness that no store-bought alternative can match.
Mixing Up the Limeade
Once you have your fresh lime juice, it's time to sweeten the deal.
We're going to mix in some white cane sugar, a classic choice that complements the tartness of the limes perfectly.
We're not going overboard with sweetness – we want a balance that's tangy and satisfying.
Stirring in the sugar until it dissolves is like weaving a spell over your limeade, infusing it with just the right amount of sweetness.
Your guests will appreciate the thought and effort you've put into creating a delicious base for your Halloween party drinks.
But, of course, we're keeping it all-natural, avoiding artificial nonsense.
It's a simple and wholesome approach to crafting your drinks that aligns perfectly with the spirit of the season.
Bottling the Magic
Now, we've reached the enchanting phase of our Halloween party drink crafting – bottling the magic.
Cleanliness is your first step; make sure your containers are sparkling clean.
This not only ensures the freshness of your concoction but also sets the stage for a captivating presentation.
Wine bottles, with their elegant curves and dark glass, are perfect for creating an authentic and eerie look.
They evoke images of ancient potions and add an element of mystery to your drinks.
When your guests lay eyes on these bottles, they'll be transported to a world of enchantment.
But what if you don't have wine bottles on hand?
Fear not, because Halloween is all about creativity and fun.
Use whatever containers you have available.
Mason jars, clear glass bottles, or even quirky vintage vessels can serve as the canvas for your drink creations.
It's an opportunity to infuse your personality and style into your Halloween-themed drinks.
So, let your imagination run wild, and let your containers tell a story.
Adding Color and Character
The key to making these drinks truly Halloween-ready lies in a special secret ingredient – the drink coloring kit.
We're embracing the classic Halloween colors of black and orange.
Just a drop or two of these bewitching hues is all it takes to transform your limeade into an elixir that wouldn't be out of place in a witch's cauldron.
The addition of color is like casting a spell over your drinks, turning them into something truly enchanting.
These shades not only evoke the Halloween spirit but also make your drinks visually interesting.
When your guests see these vibrant, eerie colors, they'll know they're in for a bewitching treat.
The drink coloring kit brings a sense of fun and creativity to your Halloween party drinks.
It's a chance to experiment and see your limeade transform before your eyes.
The colors add character and excitement, making your drinks a central element of your Halloween party decor.
Rimming the Glasses
To give your Halloween-themed drinks that extra eerie touch, it's time to work some magic on the glasses.
Rimming them with lime slices and black or orange rimming sugar is all about the details.
It's these little nuances that turn a simple beverage into a work of art.
Take a lime slice and run it around the rim of your glass.
The citrus aroma that wafts up is like a fragrant spell, setting the mood for your Halloween party.
Once you've done that, it's time for the black or orange rimming sugar.
Gently place the glass in a bowl of this colored sugar and give it a little twist.
The sugar sticks to the moist lime and creates a bewitching effect that's both eye-catching and delicious.
This extra step adds an element of surprise and delight when your guests take that first sip.
It's a sensory experience that will be etched in their memories.
And remember, Halloween is all about the thrill of the unknown, so don't be afraid to get creative and experiment with different rimming ideas.
The result is a drink that's not only delicious but also an immersive part of your Halloween decor.
The Final Touches
With the glasses beautifully rimmed and ready, it's time to complete our Halloween party drinks.
We're filling them with ginger ale, and here's where you can put your personal touch to work.
I prefer ginger ale with real ginger because it adds a zesty kick to the drinks.
However, the choice is entirely yours.
Club soda works just as well and offers a crisp, clean taste.
What makes these drinks truly special is that they are non-alcoholic.
This means everyone, including the kids, can enjoy them at your Halloween party.
The absence of alcohol makes them perfect for a family-friendly celebration, ensuring everyone can partake in the fun.
Top off your glasses with the black or orange limeade, and here's where the Halloween magic truly shines.
The colors blend and create a mesmerizing visual effect.
A lime slice and a sprig of fresh basil add the final, spooky garnish.
The aroma of fresh basil is like an herbaceous incantation, enhancing the overall experience of your Halloween-themed drinks.
And there you have it, folks – a fantastic, non-alcoholic drink that is as delicious as they are visually stunning.
They're the embodiment of Halloween creativity and fun, ready to make your party an unforgettable, spooktacular event.
Print
Halloween Party Drinks To Make At Home
18 Seedless Limes (2 cups)
1 3/4 cup cane sugar
Rimming sugar
Wilton Drink Coloring Kit
2 liter Bottle of Ginger Ale
Instructions
Cut the limes in half.
Juice the limes.
Put the cane sugar in a gallon pitcher.
Add the lime juice to the sugar and stir the mixture until the sugar dissolves.
Fill the pitcher with water while continuing to stir it.
Add the label to your wine bottle if desired.
Fill the wine bottles with the lime and water mixture.
Add two drops of the Wilton Drink Coloring color of choice to each bottle.
Stir or shake to combine.
Rim your glass using a sliced lime for the liquid and rimming sugar.
Fill each glass about 3/4 full of ginger ale.
Top the glasses off with the colored limeaid.
Garnish with half a lime and a sprig of fresh basil.
Notes
Note: Other items you need are empty, clean wine bottles and labels. I used Martha Stewart bottle covers.
Keywords: halloween party drinks, non-alcoholic elixirs, homemade limeade, spooky drink recipes, Martha Stewart inspired drinks, fresh lime juice, halloween-themed garnishes, interactive drink station,
Recipe Card powered by

Creative Garnishes for Extra Halloween Vibes
Now that we've covered the basics, let's take it a step further and explore some creative garnish ideas that will really amp up the Halloween vibes at your party.
These details can turn your drinks into conversation starters and enhance the overall experience.
Spooky Straws and Stirrers: Elevate your Halloween drinks with spooky straws and stirrers. You can find these in various designs like ghosts, pumpkins, or even witches' broomsticks. Not only do they add a fun touch, but they can also be the perfect icebreakers at your party. Watch your guests sip their drinks through a witch's broomstick or a ghostly straw, and the laughter will follow.
Dry Ice for a Foggy Effect: For those who want to create an eerie, foggy atmosphere, consider using dry ice. Place a small piece of dry ice in each glass just before serving. It's important to handle dry ice with care and provide a clear warning to your guests not to ingest it. The dramatic fog effect will add an extra layer of spookiness to your drinks, and it's sure to leave a lasting impression.
Themed Drink Dispensers: If you're hosting a larger gathering, consider investing in a themed drink dispenser. These come in various Halloween motifs like cauldrons, pumpkins, or skeletons. Not only do they look fantastic as part of your party decor, but they also make serving your spooky concoctions a breeze. Your guests can help themselves to refills, allowing you to enjoy the festivities without constant bartending duties.
Fruit Monsters: Get even more creative with your garnishes by crafting fruit monsters. Use small fruit pieces like blueberries for eyes, a slice of strawberry for the mouth, and maybe a piece of pineapple for the nose. These little fruit monsters can be perched on the rim of the glass or allowed to float within the drink, adding an extra element of fun and whimsy.
Glow-in-the-Dark Elements: To enhance the eerie ambiance of your Halloween party, consider incorporating glow-in-the-dark elements. You can find glow-in-the-dark drinkware or even glow sticks that can be attached to your glasses. When the lights go down, your drinks will take on a hauntingly cool glow, mesmerizing your guests and creating a truly magical atmosphere.
Interactive Drink Stations
To make your Halloween party truly unforgettable, consider setting up interactive drink stations.
These ideas are perfect for larger gatherings or when you have a diverse group of guests with different tastes and preferences.
Build-Your-Own Drink Bar: Create a DIY drink bar complete with a variety of mix-ins and garnishes. Offer options like different fruit juices, various sodas, and a range of flavored syrups. Let your guests customize their drinks to suit their tastes, ensuring everyone gets a beverage they love. This not only simplifies the drink service but also adds an element of creativity and personalization to your party.
Potion-Making Station: Add a touch of magic to your Halloween party by setting up a potion-making station. Use decorative glass bottles to hold various mix-ins, such as colored fruit juices and soda. Label them with quirky names like "Witch's Brew" or "Goblin Elixir." Provide your guests with recipe cards or let them concoct their own magical brews. It's an engaging and enchanting addition to your Halloween festivities.
Spooky Ice Cubes: Don't forget about the ice! To keep the Halloween spirit alive, use spooky ice cube trays. These trays feature shapes like bats, spiders, or even skulls, and they're readily available in stores. As the ice cubes slowly melt in your guests' drinks, these fun shapes will be revealed, adding an extra layer of surprise and delight to the evening.
Entertaining with Themed Music and Activities
To create a truly immersive Halloween experience, it's essential to go beyond just the drinks.
Set the stage with some themed music and activities that will keep your guests entertained throughout the night.
Halloween Playlist: Compile a Halloween-themed playlist that includes spooky classics like "Thriller" by Michael Jackson, "Monster Mash" by Bobby "Boris" Pickett, and "Ghostbusters" by Ray Parker Jr. Playing this music in the background sets the mood and gets everyone in the Halloween spirit. The eerie tunes will add an extra layer of ambiance to your party, making it a feast for the senses.
Costume Contest: Encourage your guests to come dressed in their most creative and spooky costumes. Host a costume contest with fun categories like "Most Original Costume" or "Scariest Costume." Offer prizes for the winners, and watch as your guests unleash their inner Halloween personas. A costume contest adds an element of friendly competition and allows your guests to express their creativity, turning your party into a memorable event.
Halloween-themed Games: Elevate your party with Halloween-themed games that keep your guests engaged and entertained. Options like a pumpkin carving contest, a spooky scavenger hunt, or even a fortune-telling booth can add an extra layer of fun to your festivities. Games are a great way to break the ice, encourage interaction, and ensure everyone has a fantastic time.
Themed Decorations: Don't forget to go all out with Halloween decorations. Transform your space into a haunted mansion with spider webs, bats, and ghostly figures. Consider setting up a photo booth with props like witch hats and vampire capes to keep the memories alive. The more you immerse your guests in the Halloween theme, the more unforgettable your party will be.
Here's to an Unforgettable Halloween Homestead Celebration!
As the moon rises on your Halloween soirée and your guests sip on enchanting elixirs, remember that it's not just about the drinks but the magical moments you share.
Halloween is a time to let your creativity flow, to embrace the eerie, and to craft memories that will linger like ghostly whispers in the dark.
So, raise your glasses to the night of frightful fun, where laughter and spookiness intertwine, and where the true magic lies in the company of friends and family.
May your Halloween party be a bewitching success, leaving everyone under its spell and eagerly awaiting the next spine-tingling gathering.
Cheers to a Halloween filled with delightful chills and unforgettable thrills!
SaveSave
SaveSave