Have you ever wondered what goes into an emergency evacuation bag or as it is sometimes called, a bug out bag?
In a nutshell, you need to include things that are essential for survival in an emergency situation over a three day period.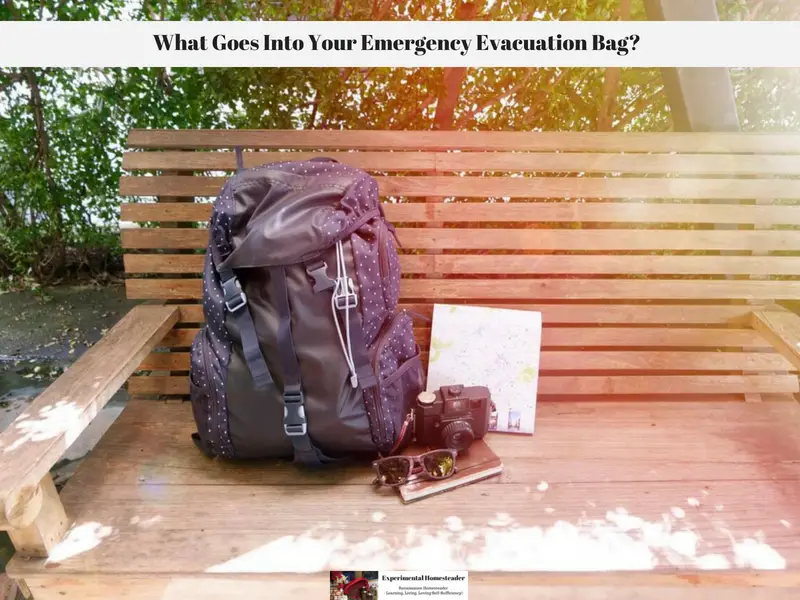 What Is A Bug Out Bag?
If you are new to survivalist training, you might not know what a bug out bag (affiliate link) is.
A bug out bag (affiliate link) or as it is sometimes called, an evacuation bag, is just a bag filled with emergency supplies that you can grab and go on your way in the event of a disaster.
What To Put In An Emergency Evacuation Bag
To make an evacuation bag, simply put your emergency supplies, medicines and clothing into a heavy duty backpack or sturdy nylon bag.
Supplies you will need include food that is lightweight.
Freeze-dried foods (affiliate link) or MREs work best.
Make sure you pack enough food so that everyone with you has food for a minimum of three days.
Don't Pack Water, Instead Pack Water Purification Supplies
Water (affiliate link) is a something you are going to need.
Plan to have three days worth of water (affiliate link) for everyone.
It makes more sense to take along something to collect water (affiliate link) in and purify it instead of trying to pack bottled water (affiliate link), especially if you have to escape on foot.
Pack water (affiliate link) purifying tablets or put a purifying water (affiliate link) filter in your bug out bag (affiliate link).
Bleach (affiliate link) can do in a pinch, but it is harder to pack.
Remember To Pack A Basic Cooking Set
Aside from food and water (affiliate link), you need a way to cook the food and boil the water (affiliate link).
To cook the food, you need a basic camping cookware (affiliate link) set, such as lightweight pots that can be used over campfires or on a portable camp stove.
Take Clean Clothes With You
Pack enough clothes for at least two days.
The clothes that you are wearing when you bug out will count as your third set.
Make sure you pack long pants, long sleeved shirts and other clothing that will keep you warm.
You want to do this even if it is summer.
Long pants and long sleeved shirts will protect your skin from pests and will keep you warm if the temperatures dip at night.
You also want to pack extra socks and underwear.
Take sturdy hiking boots along, too.
Rain gear like a poncho can be used as shelter in a pinch.
Bring a hat along to keep the rain and the sun off your head.
Take sunglasses to protect your eyes in case you are out in the sun for long periods.
A bandana (affiliate link) – or several bandanas – should be packed because they have a multitude of uses.
Don't Forget Shelter Materials
Shelter materials should also go in your backpack.
Take a tent (affiliate link) or a tarp along with cording in the event you need to tie something to trees.
Carry a sleeping bag (affiliate link) or a sleeping pad along to protect you from having to sleep directly on the ground.
Make sure there are enough emergency blankets (affiliate link) for everyone.
Other Essential Emergency Evacuation Bag Items
Personal hygiene materials need to go in your bug out bag (affiliate link) and don't forget your first aid kit (affiliate link).

Include all medicine anyone in your family is on.
Fire starters are necessary as are waterproof matches.
Take a flashlight (affiliate link) that uses solar power rather than batteries.
You also want fishing gear, a knife and a multitool.
An emergency radio and a way to charge your cell phone using solar power should be included in your bug out bag (affiliate link).
Have sturdy gloves and a small axe that can be used to make a clearing or to get debris out of your way.
You also want to have a folding shovel (affiliate link) and duct tape.
Bring your important papers and pack card games, coloring books or some type of entertainment for the kids.
Finally, make sure that you bring a weapon such as a gun in order to protect yourself and your family.
Final Thoughts
By having your emergency evacuation bag packed and ready to go, you save time plus eliminate the possibility that you are going to forget something important.
If possible keep your emergency evacuation bag within reach at all times because you never know when you might have to bug out.
I highly recommend the following articles:
Use the buttons on the right side of the screen to share this article with friends or family who might find it useful. Pin the picture below to your pinboard on Pinterest for future reference.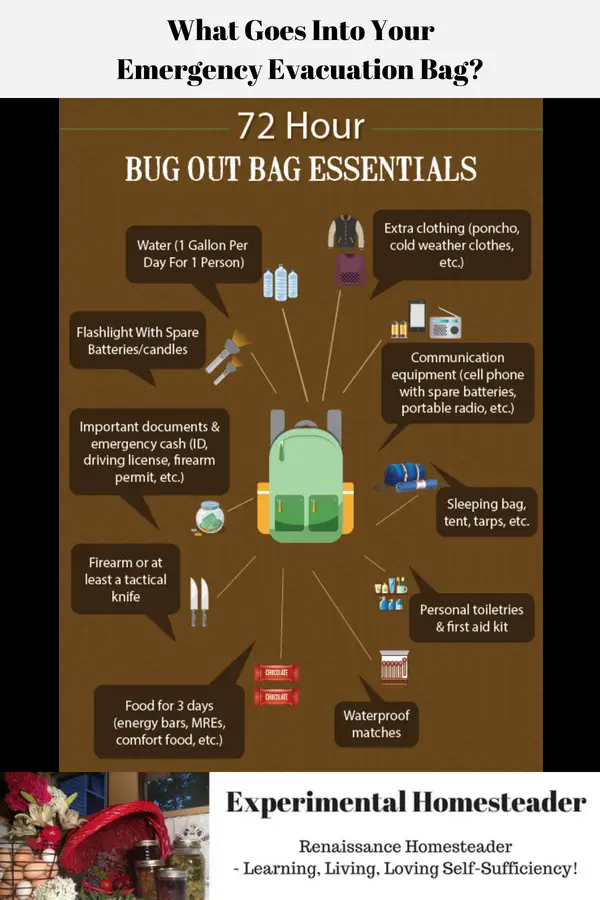 SaveSave
SaveSave