Disclaimer: I did receive this item for free in exchange for my honest review. All opinions are my own. There are also links to products I recommend from companies I have a referral relationship with. I will be compensated if you make a purchase after clicking on my links.
I truly believe the Achy Paws™ Self-Warming Dog Mat did wonders to help Precious Angel during the last year of his life.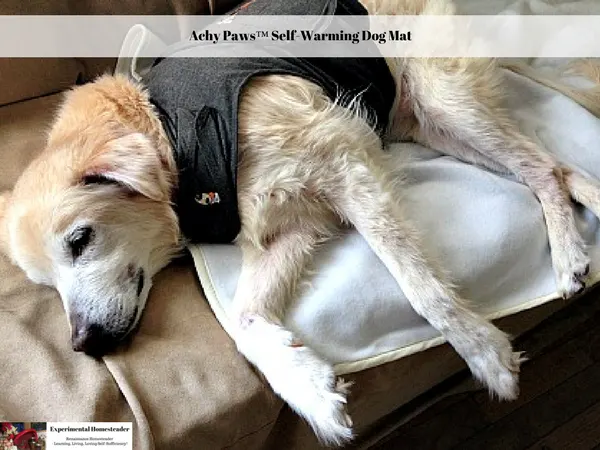 I placed it in storage after he passed away, but I brought it back out when we chose to adopt a one year-old dog and he loves it too – especially in the winter when the hosue is colder – even though he doesn't have the mobility issues Precious Angel did.
A Look Behind The Scenes
I've had Precious Angel since he was two weeks old.
He will be 14 this October.
I have watched him go from a young, playful puppy to an aging dog that sometimes has mobility problems.
These past few months have been really hard on both of us.
He looks around for my dad and Jerry – both who passed away last September.
There was an issue that occurred when my dad lived here and we had to move Precious Angel out of the house and into our business for a while to keep him safe.
The Problems Begin
After everyone passed away, I brought Precious Angel back home.
He had a high anxiety level and often chewed on himself which meant I had to clean his teeth frequently to prevent gum disease.
Then I noticed the mobility issues.
Prior to receiving the Achy Paws™ Self-Warming Pet Mat we bought him a Thunder Shirt.
It helped some but not in the way the Achy Paws™ Self-Warming Pet Mat has.
Getting Precious Angel To Try The Achy Paws Self-Warming Mat
Precious Angel was afraid of the Achy Paws™ Self-Warming Pet Mat when I first unwrapped it and laid it on the couch.
I had to use treats to coax him to lay on it.
He kept getting up and moving off of it though.
Then one day I forgot to put the Thunder Shirt back on him.
Caring For The Achy Paws Self-Warming Pet Mat
I left and when I came home he had picked himself bloody.
The blood was all over the Achy Paws™ Self-Warming Pet Mat so I had to wash it.
The directions said to machine wash it and tumble dry on low, so I did that.
The directions also suggest placing it in direct sunlight or under a full spectrum light bulb once a month for an hour or more to reverse odor and airborne pollutants the Achy Paws™ Self-Warming Pet Mat may have absorbed.
And Then It Happened
Once the pet mat was washed, dried and laid back out on the couch I noticed Precious Angel took a liking to it.
In fact, he actually prefers laying on it now.
I have moved it a couple times and he always finds it.
Something else I noticed was he no longer needs to wear the Thunder Shirt.
While he does chew some it is not nearly as severe as it was.
He seems to enjoy the blanket so much I wonder if it is more of a security blanket to him.
It Really Did Help With Mobility
Something else I have noticed is he no longer falls when he gets down off the couch.
I believe this is because his body is staying warm enough that the aches and pains of old age that make mobility an issue are not as severe as they were prior to him laying on the Achy Paws™ Self-Warming Pet Mat.
I really like this product – and I know Precious Angel does too.
If you have an older dog or cat that is having mobility issues, I urge you to give this product a try.
A Brief Comparison To Electric Pet Mats
Best of all, since it uses your pets body heat there are no cords or strings for your pet to get tangled in or to chew.
I have a heated pet mat that plugs in and Precious Angel prefers the Achy Paws™ Self-Warming Pet Mat over the other one.
The Specifics
Here are some of the specifics about the Achy Paws™ Self-Warming Pet Mat that will help you understand how it works and why you should buy one for your pet.
The Achy Paws™ Self-Warming Pet Mat is a triple layer of fleece with an inner layer of 100% activated bamboo charcoal.
Pets activate the bamboo charcoal with their body heat.
This process brings restorative warmth to their achy joints, soothes tired muscles, reduces soreness and helps get rid of the discomfort of old age.
Other benefits include circulating warmth, calm restlessness, protects your furniture and absorbs odor and dander.
Use the buttons on the right side of the screen to share this article with friends or family who might find it useful. Pin the picture below to your pinboard on Pinterest for future reference.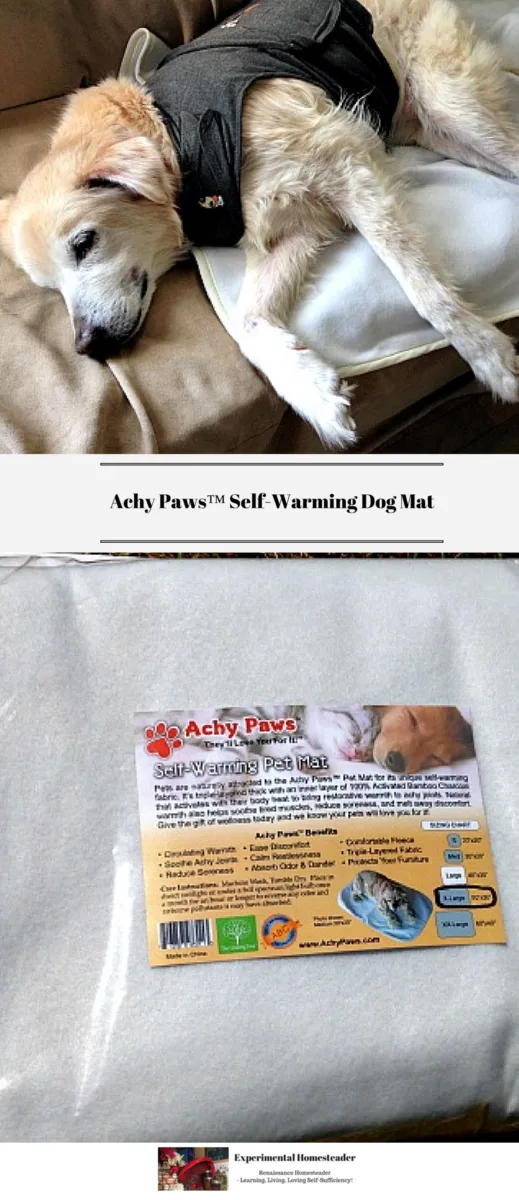 I received one or more of the products mentioned above for free using Tomoson.com. Regardless, I only recommend products or services I use personally and believe will be good for my readers.
SaveSave
SaveSave
SaveSave
SaveSave
SaveSave