Disclaimer: I did receive one or more items mentioned in this article at a reduced price in exchange for my honest review. All opinions are my own.
A pet seat cover with an attachable pet harness keeps your dog safe and secure when traveling in your car or truck.

This goes a long way towards making your pet feel secure on a trip – especially a long one.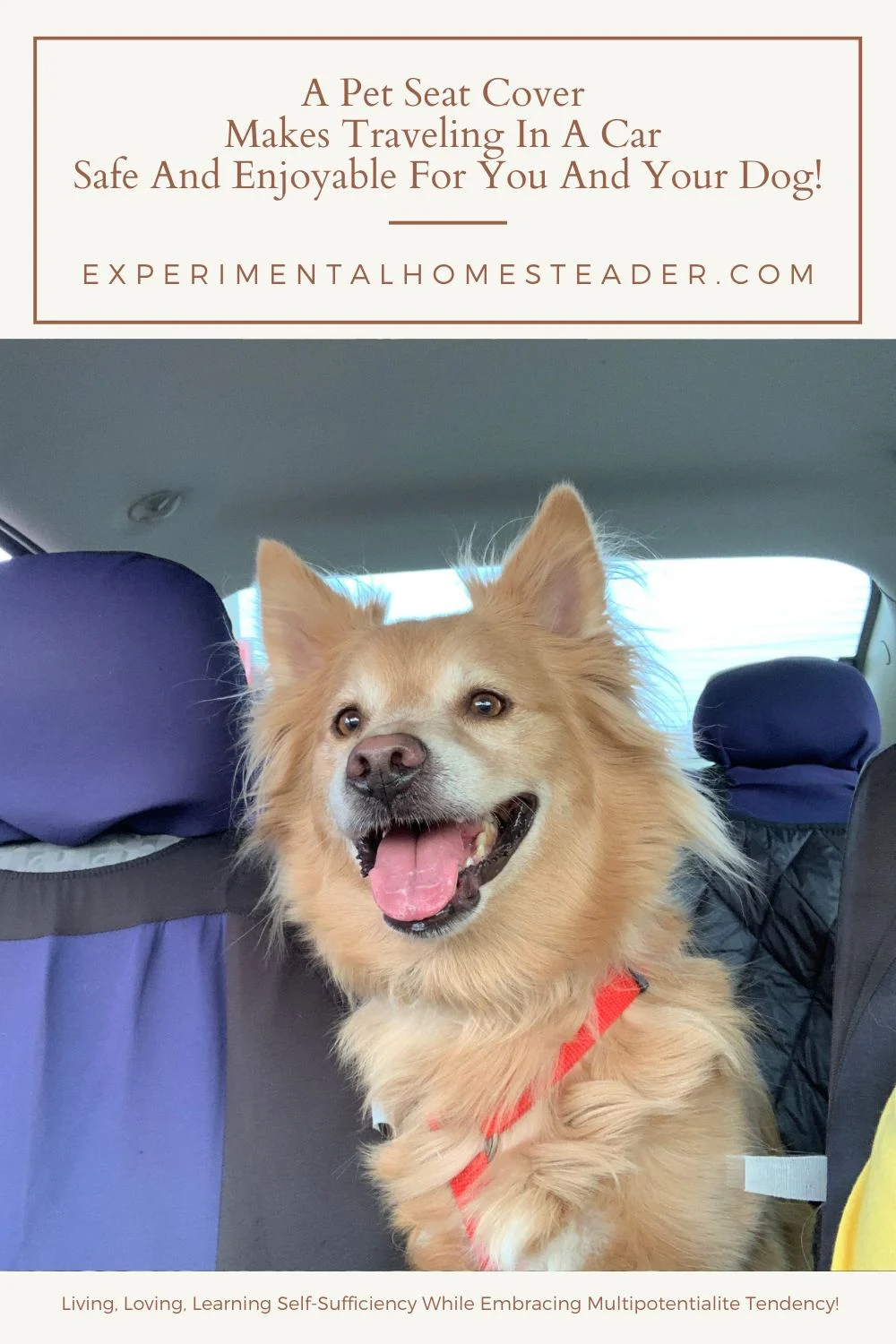 Dogs Love To Travel With Their Owners
Small adaptable, curious dogs make great traveling companions.
Small terriers and toys such as Miniature Schnauzers, Poodles, and Pugs make excellent globe-trotters.
Larger dogs however, prefer to guard the house and give you a big welcome when you return.
But there are always exceptions in both cases due to their personalities.
Precious Angel and I travelled everywhere together from the time he was a young puppy.
We stayed in Presidential Suites, checked out dog bakeries all over the United States and went for walks in locations that were unknown to either of us.
Car Train Your Dog 
Back in the day, I had to crate him because there wasn't pet seat covers or harnesses readily available in all locations.
Not only did he get sick looking out the window of the vehicle, but he wanted to lay on my lap when I was driving, which was both distracting and unsafe. 
All dogs should be car-trained as puppies – and he was – since this is the most common form of travel for them, but that doesn't mean traveling in a car is going to be enjoyable for them.
If you are dealing with an adult dog who is unaccustomed or afraid of car travel, you may have to make a regular training project out of it.
Start out with short drives and graduate to longer trips over time.
The key is to get them comfortable enough with riding in a vehicle that they begin to anticipate the trip.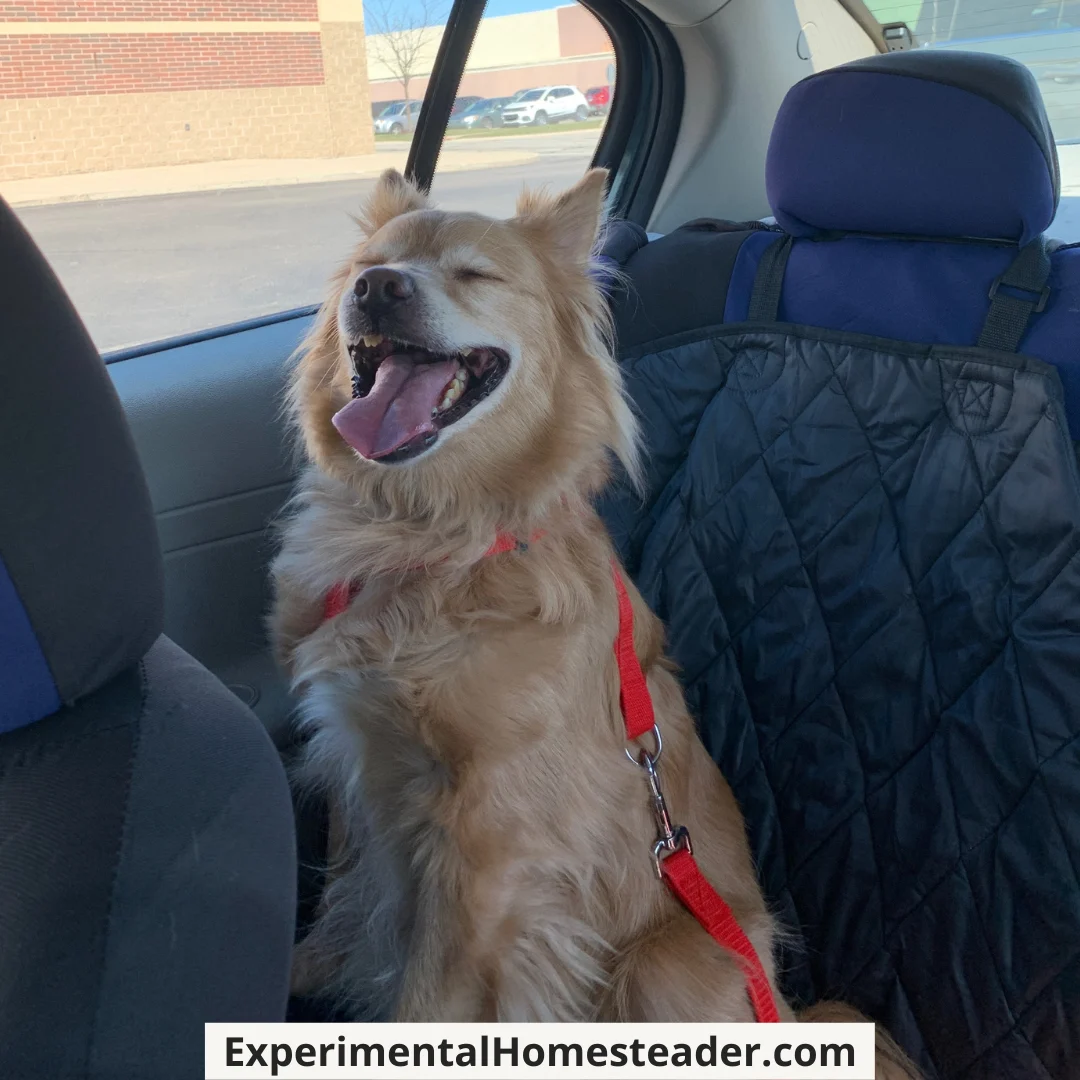 Today Pet Seat Covers And Harnesses Are Easily Accessible
The best way – until now – for your dog to travel with you in your car was in a pet carrier, but let's face it this can be scary to pets as they cannot see what is around them.
An unsecured pet can distract you while driving or interfere with the operation of the vehicle however so as responsible pet owners we have had to do what was necessary to keep everyone safe.
It is a known fact that too many unsecured pets have jumped from a moving vehicle to be fatally injured, when a carrier or tether could have saved them.
Car seats and containment seats are now available and can be secured with your current seat belts, and some form of pet restraints is being considered mandatory by many states and municipalities around the country.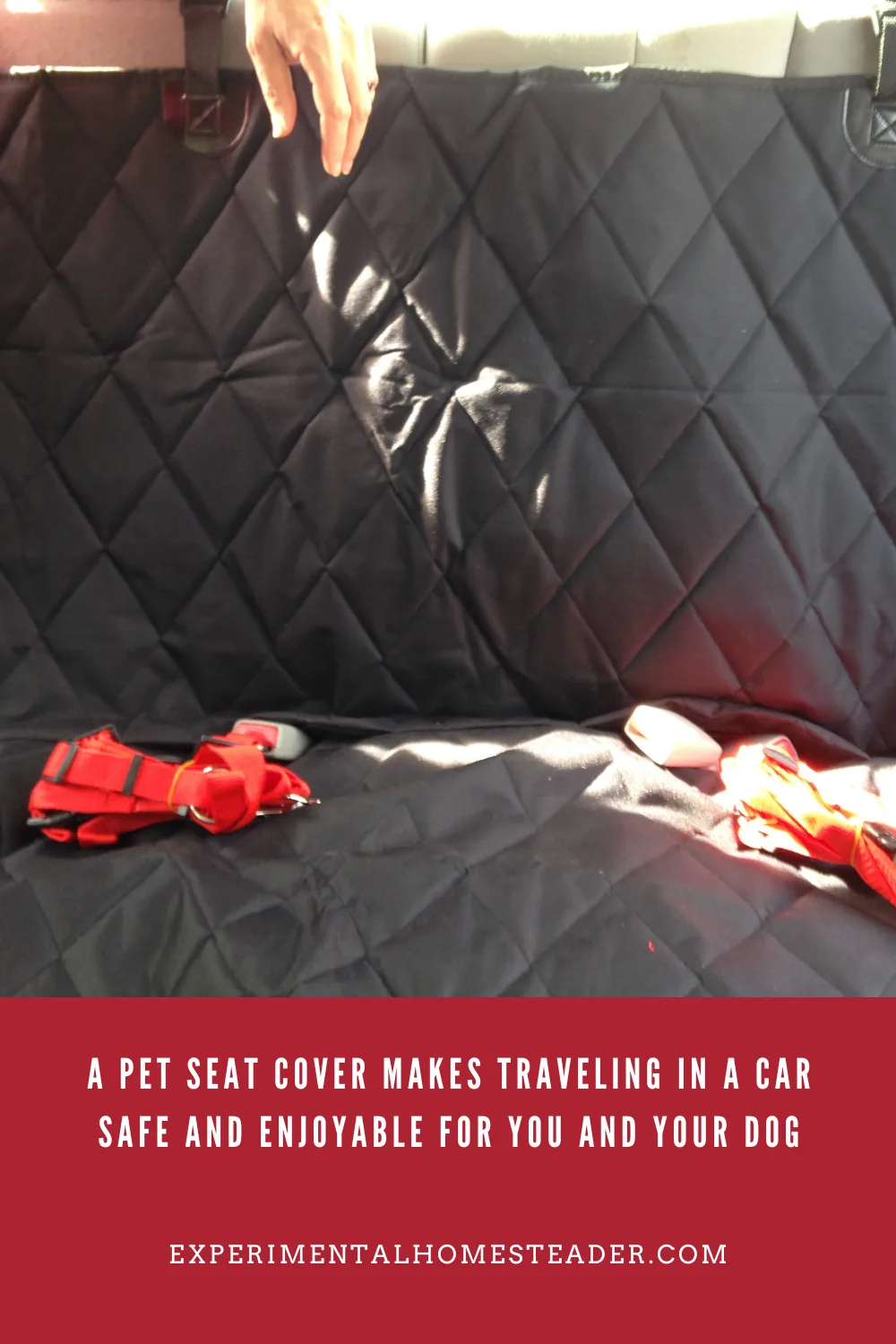 Plush Paws Pet Seat Cover
This is where the Plush Paws Pet Seat Cover with seat anchors comes in.
I had considered getting a pet seat cover with seat anchors for my vehicle for quite some time since I felt strongly that they were a better option than using a crate.
The problem is I was not been real happy with the options – until I saw this one.
After all what good is a pet seat that doesn't secure your pet or only secures one of your pets if you have two.
I like that two pets can sit side by side in the back seat of my car or truck.
I like the way the seat cover is made and I can tell you just from looking it is durable.
This pet seat is made of the same type of material my pet proof couch covers are made of and after having four dogs and multiple cats rough housing on those covers they still look good and show no signs of wear.
Thanks to this pet seat cover I can transport my dogs, goats or other similar sized animals safely on my own without worrying if they will come over the seat and cause me to have an accident.
I like that I can easily remove the pet seat cover and put it in the washer.
I can also vacuum it in place if I prefer to do so.
It is waterproof so I don't have to worry about pet accidents soaking through.
I am so glad I bought this and recommend it to all pet owners who travel with their pets.
I feel it is a better method than putting them in a carrier where their vision is limited or where they can be tossed about or even thrown from the vehicle should an accident occur.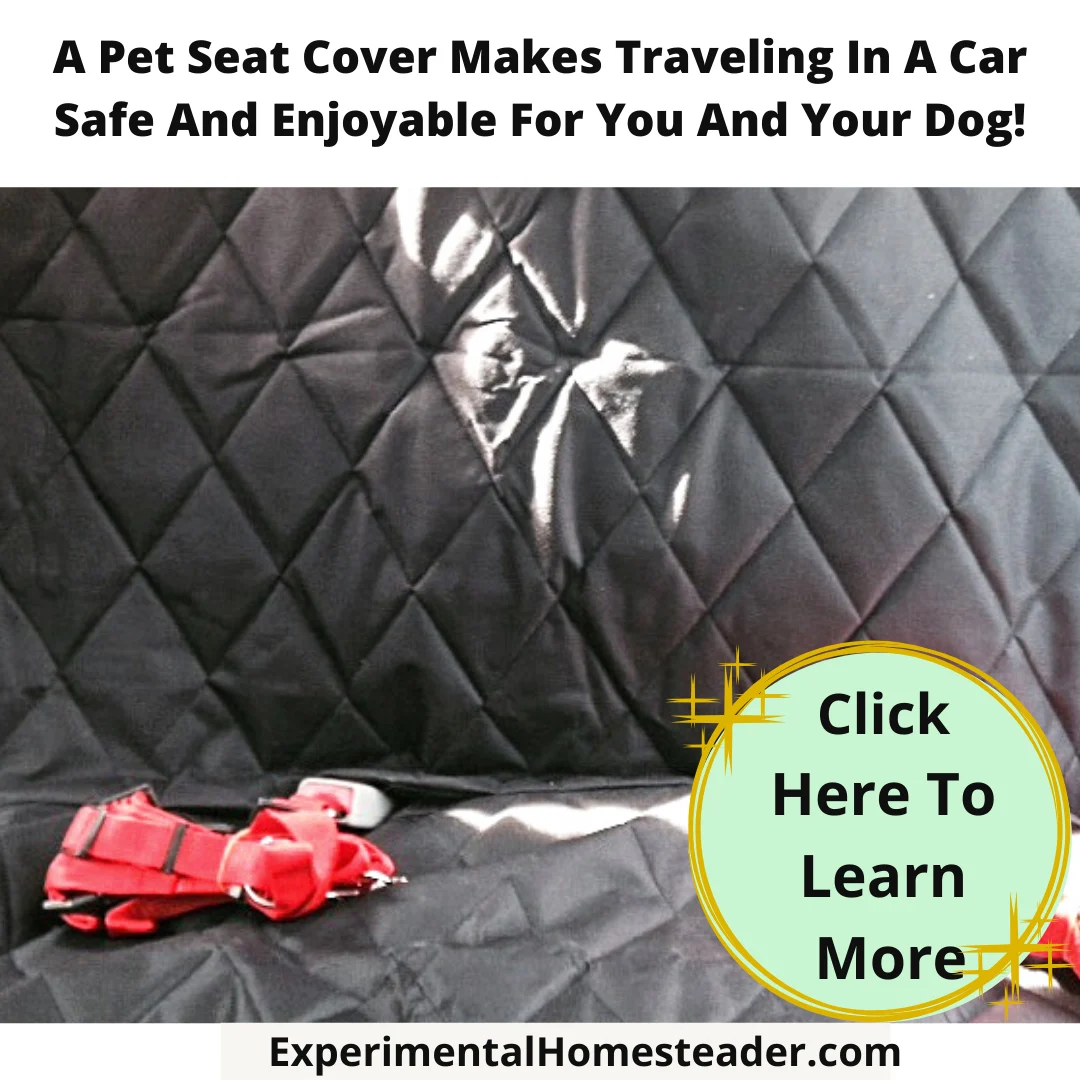 How Do I Store The Plush Paws Pet Seat Cover?
Believe it or not, I just leave it in the backseat of my car, just like I would a regular car seat cover.
Not only does it protect my upholstery from my pet's paws, slobber and other mishaps, but it protects the car upholstery from my grandkids messes.
With this seat cover on, there is more muddy shoes, spilled drinks or dropped candy to try to get out of the cars upholstery.
When it gets dirty, I take it out and wash it.
It is durable.
This was ordered on March 12, 2015 and arrived a few days later.
It was sold to me at a reduced price in exchange for my honest review.
This post is being updated in 2022 and the Plush Paws Pet Seat Cover still looks great and works great.
I truly love it – and I am still using the same harness system that came with it.
I highly recommend this item to all pet owners – or parents or grandparents who just need a way to protect their vehicle's upholstery!
Other Necessities To Take With You When Traveling With Your Pet
In addition to making sure your pet is secure in your vehicle, your dog should always wear a collar with an I.D. tag and rabies vaccination tag, as many pets can become separated from their owners while traveling.
You should consider having your dog micochipped.
Most all kennels, veterinarians, and animal hospitals have scanners that can read these tiny implanted chips that are registered into nation-wide data bases with the animals home address, name, etc.
The process is inexpensive, quick, and permanent.
While I am not a big fan of microchips I do have to say I have found a number of stray pets, called the vet or animal control and they were able to reunite the pet with their owner.
A recent photograph, especially one that shows colors and identifying marks is always helpful as well.
You should make certain that your dog has all his vaccinations up to date, and obtain a current health certificate from your veterinarian.
The following is a list of items that should include as a travel kit for your dog:
An extra collar
A sturdy leash
Moist towelettes
His food
Treats
A sealable container of water
A chew toy
All required medicines and supplements
Brush or comb
An old towel
Plastic bags

How To Keep Your Dog Comfortable During The Trip
During the trip your pet will need access to fresh water regularly, exercise, plus an occasional break to stretch and relieve himself.
Comfortable temperatures are a must.
Never leave a pet alone in a vehicle especially in hot weather.
When a pet is exposed to high temperatures they can suffer from a heat stroke.
Lastly, just like people, some dogs get motion sickness.
Signs of motion sickness include whining, barking, pacing, salivation, panting, and vomiting.
To overcome these conditions, limit their view out of windows by making sure they are secured in their pet seat harness, stop frequently, and again, don't let them become overheated.
Before you leave home, clip or trim your dog's nails, brush out all loose hair, and feed him lightly, never a large meal.
Call ahead and make sure your pet is welcome at your destination, as many hotels and motels do not allow pets or if they do the pet must be crated when you are out of the room or when the pet is in a main area of the hotel or motel.
Be sure you know all the requirements ahead of time and expect to pay an extra pet deposit.
Some hotels or motels offer a "tuck-in" and "home baked treat" service for your pet.
Ask about this – and some even offer pet sitting when you are out of the room.