Disclaimer: This post is sponsored by Bayer / Seresto and the Pet Blogger Network. I am being compensated for helping spread the word about the Seresto product, but Experimental Homesteader only shares information we feel is relevant to our readers. Bayer / Seresto is not responsible for the content of this article.
Flea and tick prevention is important!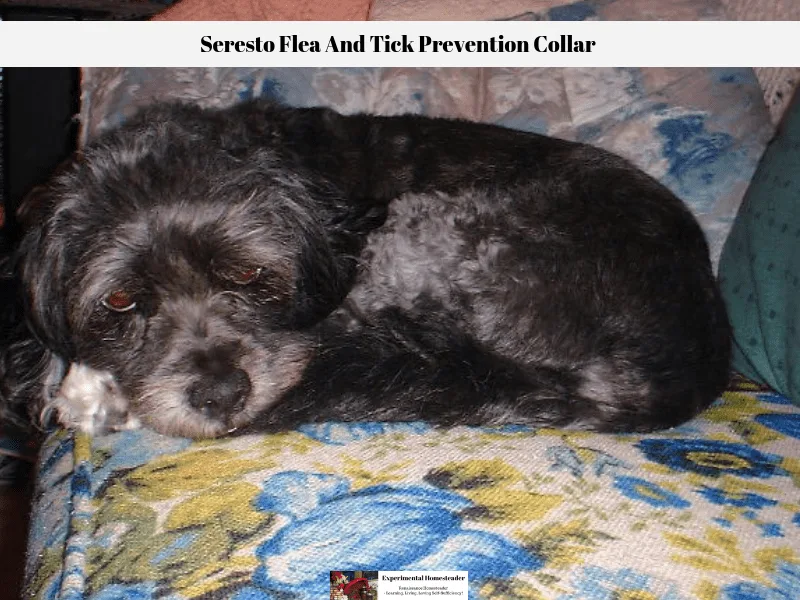 Fleas and ticks are a menace to your dog or cat and a health hazard for people.
This is why making sure your pet has adequate flea and tick protection is so important.
Why Flea And Tick Prevention Is Important
A single flea can feed on your pet for over three hours according to a study done at Purdue University.
Fleas can lead to a number of serious health problems including skin problems, intestinal parasites and anemia.
Ticks also transmit diseases such as anaplasmosis, Rocky Mountain spotted fever, ehrlichiosis, lyme disease and in cats, cytauxaoonosis.
Many of these diseases can be spread to humans when fleas or ticks jump onto and bite them.
Pest protection is essential.
For over 15 years, veterinarians have recommended flea protection products that contain imidacloprid.
The Bayer Seresto Collars are dependability driven by two active ingredients – the highly recommended imidacloprid and flumethrin which repels and kills ticks.
Flea And Tick Prevention Collars Help Prevent Pet Allergies
The skin problems a dog might develop from flea bits can cause flea allergy dermatitis (FAD), an allergic reaction that leads to severe itching and constant scratching.
This can also cause hair loss and I can tell you first hand this is a difficult situation to deal with that will have everyone who sees your pet thinking it has mange.
Flea Allergy Dermatitis is an allergy to flea bites.
This is a common cause of skin irritation and something I have first hand experience dealing with.
Fleas and ticks that are repelled or killed cannot transmit the organism that causes this disease.
Seresto Flea And Tick Prevention Collars Help Prevent Tapeworms
Another huge problem that can occur when your pet ingests the fleas he or she removes from their skin, they can end up with tapeworm transmitted by the ingested fleas.
Then you must deal with getting rid of tapeworms.
I have had to deal with this situation in the past as well and believe me, it is not pleasant for you or your pet.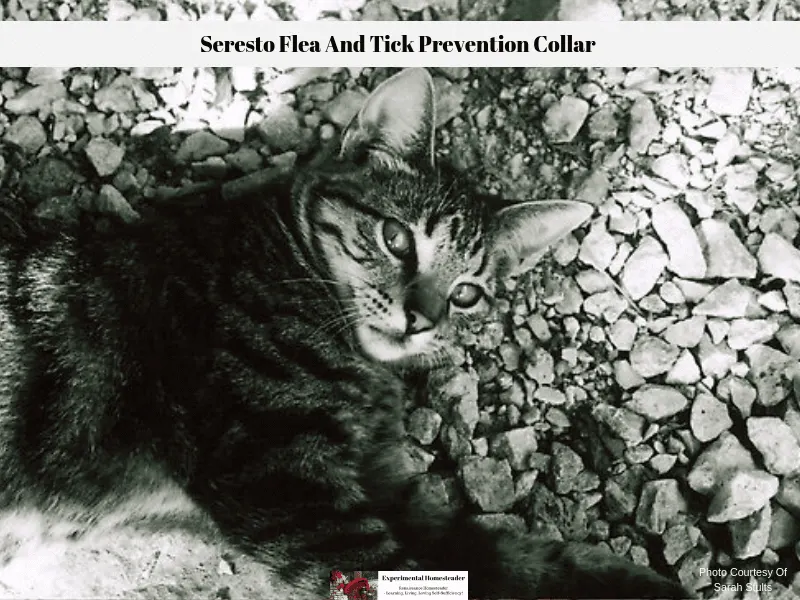 Prevent Ticks By Using A Seresto Collar
Ticks on the other hand cut blood vessels under your pets skin once they attach to your pet.
The tick feeds on your pets blood that pools under their skin.
To prevent the blood from clotting while the tick is feasting, it injects saliva containing an anticoagulant into the pool of blood.
Once your pet has a problem caused by fleas or ticks it can be very expensive to treat that problem.
It can also be fatal.
As they say, an ounce of prevention is worth a pound of cure and when it comes to fleas or ticks prevention is the best possible method of dealing with the problem.
Now you understand why making sure your pets have flea and tick protection year-round is so important to their health and your family's health as many of the problems  caused by fleas and ticks can spread to humans.
Don't scrimp pennies on flea and tick protection.
It really is just as important as feeding your pets high quality food, making sure they get lots of love and regular vet visits.
Now I will share a bit about our attempt to rid Precious Angel of fleas and ticks.
Fleas And Ticks Are Problamatic
When Precious Angel was a puppy I used a flea comb on him to remove any visible fleas or flea eggs.
That worked great in the beginning.
He was the only pet I had and he only went outside to potty.
I used cedar bark in his kennel and that seemed to keep bugs away.
Then we moved to the farm.
I decided a friend for Precious Angel would be nice.
We fostered a lab mix named Sasha.
She had fleas.
The yard here had fleas – so badly when I sat down outside I was covered in fleas.
It was impossible to comb all the fleas off both dogs every night.
We bathed them regularly with flea and tick shampoo but still they were covered.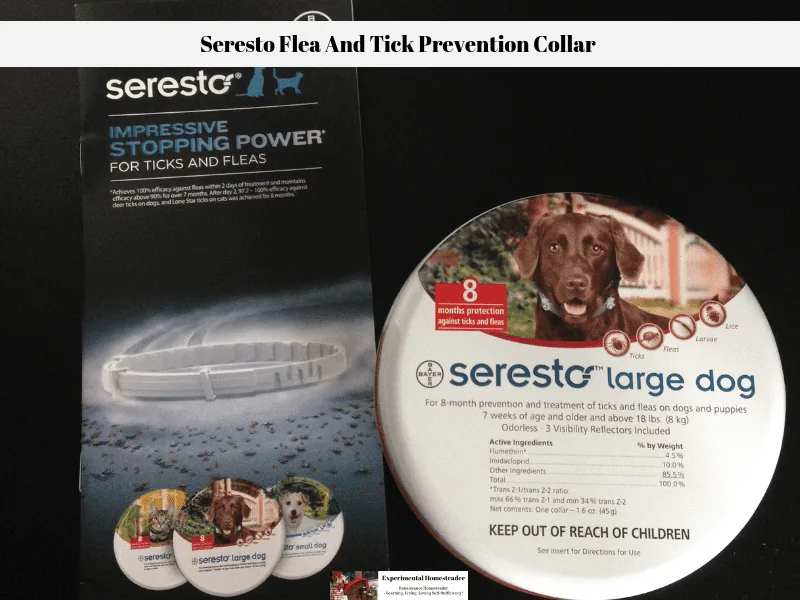 Not All Flea And Tick Prevention Products Work
I used a variety of products – both chemically based products such as flea bombs, flea collars, flea sprays, pills, topical drops – you name it and I used natural products such as Diatomaceous Earth (DE).
I fed both dogs garlic.
I tried everything but they were still covered in fleas on a regular basis.
I even tried herb filled pillows.
There were just too many fleas – and the ticks were horrendous.
It was not uncommon to remove five to six ticks a month or more.
Simply put none of the products I tried were helping.
I kept on combing and bathing them however because that at least removed a few fleas.
One of the pills I used would help for about a day but then the fleas came right back.
Flea And Tick Prevention Is A Must For Multi-Pet Households
Then my dad moved in with his two dogs – so I had even bigger issues.
I went to the vet and tried the products they suggested still the dogs were not flea-free.
I began to think I really was fighting a losing battle.
The fleas were beginning to invade the living areas at this point.
I could not convince my dad to treat his dogs for fleas or ticks so that responsibility fell upon me.
Precious Angel was the one who was most affected by the fleas and seeing him scratch all the time really bothered me.
I did the best I could do, watched carefully for ticks which I removed immediately upon seeing and used multiple products switching them out every month or so hoping the fleas and ticks would not build up a resistance.
Precious Angel still had issues as the fleas really bothered him, but I did not realize there was better flea and tick protection options out there.
I thought what the vet was recommending was the top of the line.
Then I got the opportunity to try the Bayer Seresto Collar.
Seresto Flea And Tick Prevention Collar Worked Wonders
What I really liked about the Bayer Seresto Collars was the fact that they last for eight months and are 100% efficient within 2 days of treatment. – and this is a fact.
I saw a huge difference in the way Precious Angel picked and scratched at himself within 2 to 3 days of wearing the collar.
These collars retain a 90% efficiency rate over a seven month period and are water resistant!
All I had to do was put the collar on, adjust it so it fit Precious Angel and remember to replace it in 8 months.
That's pretty simple and I don't have to worry about forgetting to give him his monthly treatments or washing the product off should I bathe him.
Another real advantage to using the Seresto collar is I not longer have to use multiple products or try to remember what product I used the month before.
Like me, I am sure you want to be the best pet parent you can be and often that means prevention.
Once a problem starts it is much harder to deal with and resolve.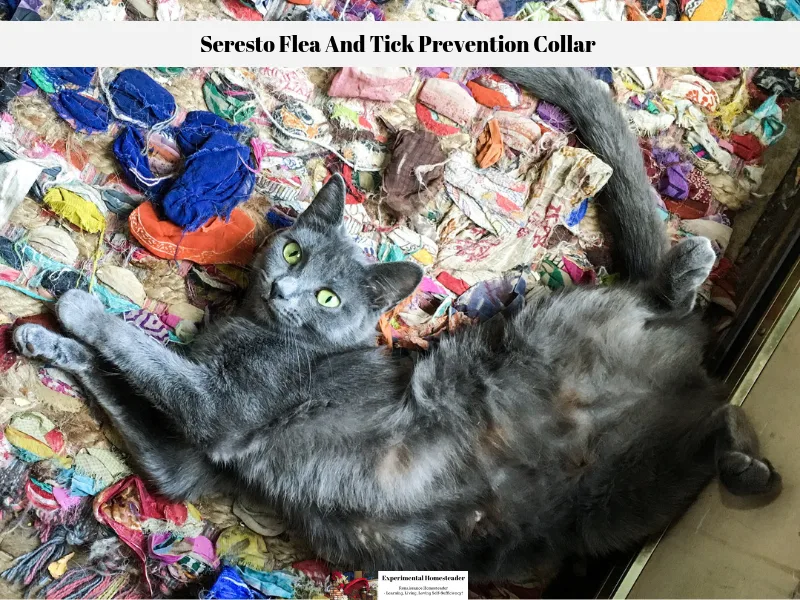 Finding Reliable Flea And Tick Prevention Information
Sometimes knowing where to look for prevention and treatment information is difficult.
You want a reliable source of information before you make a decision on the best treatment option for your beloved pet.
A great resource is Pet Basics From Bayer an online resource for pet care information you can trust.
Be sure to check this website out.
Seresto Voted Best New Product
Seresto for dogs won the 2014 Better Homes and Gardens Best New Product Award.
This award is voted on by 80,000 readers  nationwide of Better Homes and Gardens out of a pool of various products.
These are the key points that I am most excited about when it comes to the Bayer Seresto Collar for Precious Angel.
I don't have to remember when his monthly application is due.
It is non-greasy, odorless and very easy-to-use.
It kills fleas.
It repels and kills ticks.
It's water-resistant.
Available in multiple sizes.
It makes owning and protecting multiple pets from fleas and ticks a breeze.
Bayer is the only animal health company that continuously monitors the susceptibility of fleas to imidacloprid and publishes the results.
Final Thoughts On Flea And Tick Prevention
How do you keep your pets flea and tick free?
I encourage you to try the Seresto Collar because I still use it and I love it.
Simply put, it works better than any other product I have found and it keeps on working for a full eight months.
Recommended Articles About Dogs And Cats
Use the buttons on the right side of the screen to share this article with friends or family who might find it useful. Pin the picture below to your pinboard on Pinterest for future reference.