I love coming up with creative table decorations for Thanksgiving.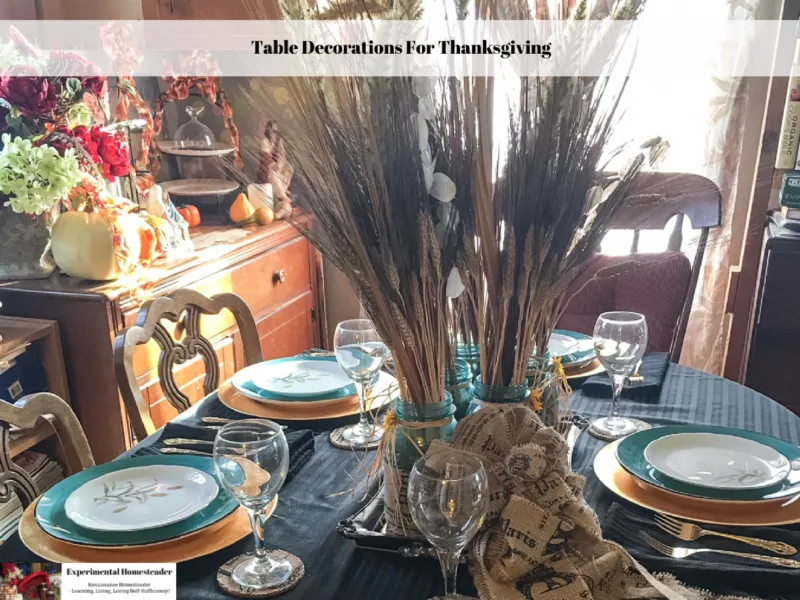 Make It A Family Affair
Decorating a room for the holidays, and especially the dining room table adds that extra special touch that makes the room feel more festive, even though the food is really what shines.
With the economy the way it is, learning to create festive holiday tables without spending a lot of money is a good idea – and it can be fun.
It's also a great way to get the whole family involved.
Start With A Tablecloth
Dressing up a Thanksgiving table begins with a tablecloth.
Does this mean you have to go out and buy a new one?
Absolutely not!
If you already have nice, solid-colored tablecloths, you can use other items to create the look you want.
Go bold with a tablecloth in vibrant autumn hues or use a plain black tablecloth then add color with the decorations and dishes.
The darker the tablecloth the better because accidental spills are less noticeable.
Of course, using a clear plastic cover over the tablecloth will keep stains from reaching the fabric as easily as they would if you didn't have a plastic cover over it, but be aware any liquids that accidently get spilled could end up on the floor and stain your carpet.
Think about the number of people who will be seated at the table.
If there will be more than one table, you will want to find tablecloths for the other tables – and if finding matching colors is an issue, go with a complementary color tablecloth for the other tables.
Natural Materials From The Garden Make Great Table Decor
Place natural plant materials such as pinecones, berries, real or silk fall leaves and whole nuts around the table.
Get the kids involved by letting them go outside and search for natural materials that have fallen on the ground.
Concentrate the most on the decorations on the main table, but if there is going to be multiple tables be sure to reserve some decorations for the other tables.
Once you know how many people are going to be eating at each table, you will have a better idea how much space will be available for decorations.
Add The Centerpiece
Set each table with the plates, silverware and glasses as well as the napkins first to determine what size centerpiece you can add.
A cornucopia with fruits and vegetables or a fall floral arrangement are traditional fall decorations.
The cornucopia is a considered a traditional Thanksgiving centerpiece but you don't have to use it if you would prefer something else.
If there is not enough room on your table for a cornucopia or floral arrangement, use candles instead.
Find a flat mirror either in a frame or without.
Place several candles of different heights on the mirror.
Then add small gourds or pumpkins decorated for fall.
Pumpkins decorated with glitter are very popular table decorations.
When the candles are lit they will add to the ambiance of the room as well as provide a beautiful centerpiece.
Be sure that whatever centerpiece you use is short enough to not impede conversation at the table.
Centerpiece Alternatives
Some tables won't have enough room for a centerpiece.
That doesn't mean your table has to be bland.
Using a dark-hued tablecloth in a black, deep red or brown with a contrasting table runner, placemats, napkins or vibrant colored dishes is just as beautiful.
Use beaded napkin rings with autumn-colored jewel tones.
These will accentuate the colors already on the table and add a little sparkle.
Another option is to use natural materials to accentuate your napkins.
Make name markers with folded paper and embellish them with autumn-hued glitter, plastic beads or small decorations so each person knows where they are sitting and has something to take home after the day is over.
Write each name on the card with metallic-colored ink.
Final Thoughts
There are so many table decorations for fall that work beautifully as table decorations for Thanksgiving, so instead of feeling like you need two seperate sets of decorations think how you can combine the two and add a touch of sparkle to make your Thanksgiving table really shine.
I highly recommend the following articles:
Use the buttons on the right side to share this article with friends or family who might find it useful. Pin the picture below to your pinboard on Pinterest for future reference.