If you're looking for some awesome decorating ideas for an eco-friendly Thanksgiving that doesn't break the budget, look no further!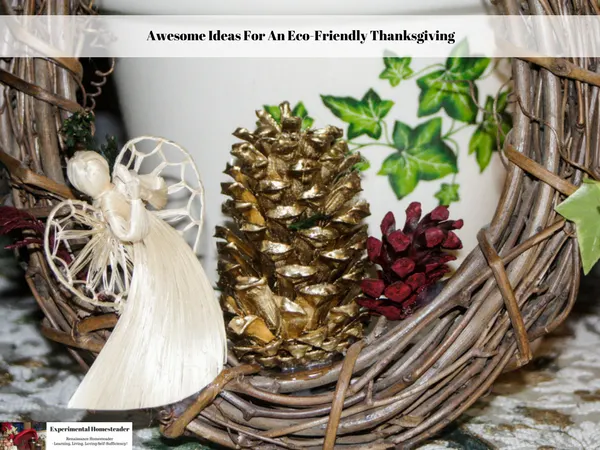 There are links below to products I recommend from companies I have an affiliate relationship with. I will be compensated if you make a purchase after clicking on my link.
Being Thankful
Thanksgiving is a time to be thankful for what you have.
It is a time to spend with friends and family celebrating – and it is also an excellent time to show others just how environmentally conscious you are.
Make Your Own Eco-Friendly Decorations
Here are a few awesome ideas for eco-friendly Thanksgiving table decorations that are perfect for getting the entire family involved.
Go on nature walks on warm fall days to gather items – or spend an evening assembling the decorations.
Handmade greeting cards are another great way to get the younger kids involved.
Let them use their imagination to create cards that are sure to be cherished.
Greeting Cards
Exchanging holiday cards on Thanksgiving Day and mailing out ones the weekend after is something many families do.
Make your own handmade greeting cards this year from junk mail and postal packaging.
This is a fun project that the whole family can participate in.
Cut out pictures from holiday catalogs, gather sample cards that come in the mail, or collect interesting images from the free mail you receive.
This is a great way to use up those scrapbook paper pieces too.
Then cut out greeting card-sized sheets of cardboard, thick envelopes, or other packaging material.
Use a paintbrush and decoupage medium, or white glue slightly watered down, and paste the images to the cardboard you cut out.
Be sure to seal the images so they don't come off.
A bit of glitter, pieces of ribbon, old buttons or other broke jewelry add extra flair.
Thanksgiving Decorations For Your Home
Nature is the perfect place to find everything you need for the ultimate green decorating project.
Here are some ideas.
Make a wreath by gluing pinecones, acorns, and berries to a circular frame. Use a hot glue gun to secure them. The wreath frame can be a recyclable item in your home, such as a bent coat hanger, or a circular piece of cardboard cut from an old shipping box. You can also weave and twist flexible evergreen boughs or grapevines into a wreath. Be sure to wear gloves for this project.
Cut holiday catalogs into strips and make a paper chain by gluing the strips into interlocking loops. Be sure to choose paper that is heavyweight or the paper loops might not hold up as well.
Use dried gourds to make turkeys. Paste-on eyes, yarn, scrap paper, and feathers until you are satisfied with how the turkey looks.
Paste autumn leaves onto recycled or scrap sheets of thin cardboard or thick paper. Cover the finished project with clear contact paper making sure to overlap the edges of the paper with the contact paper to make a water-resistant placemat. This is a great way to share your pictures that your kids or grandkids color or Thanksgiving paper craft projects that they make with friends and family who come to dinner.
Take an old sheet and let your kids stamp or paint leaf shapes onto it with fabric paint or markers. You can use stamps or make your own potato stamps. You can also take real leaves, cover them with paint, and use them as stamps. Some plant material has natural dye in it and simply placing the plant material on the fabric, then rubbing it will create an image. Another fun decoration for your tablecloth is your family's handprints. Get creative with the handprints and make them into turkeys!
Thanksgiving Table Centerpiece
Once again, looking to nature is a totally free, eco-friendly option for your Thanksgiving centerpiece and one that seems natural.
Let your kids create sculptures using all natural materials so they feel like they are a part of the celebration.
Make a blessing tree. Have each person in attendance write one thing they are thankful for on leaf shapes cut from scrap paper. Then have them hang the paper leaves from a bare, multi-branched twig that you pre-mounted it into a sand-filled flower pot. Allow each guest to choose a slip of paper and read it off before the meal begins.
Kids are sure to love using paper towels and toilet paper tubes to make Pilgrim figures. Yarn, scrap construction paper, buttons, and other items can be used to decorate the tubes. Be sure to surround them with mini gourds or pumpkins.
For those who don't want to spend a lot of time or effort creating a centerpiece, simply heap gourds, pumpkins, pine cones, apples, acorns, leaves, and straw in an attractive arrangement in the center of the table.
I highly recommend the following articles:
Use the buttons on the right side to share this article with friends or family who might find it useful. Pin the picture below to your pinboard on Pinterest for future reference.