Disclaimer: This post is sponsored by ShedNinjaDogBrush. I received the Shed Ninja 2-in-1 Pet Shedding Brush for free or at a reduced price in exchange for my honest review. All opinions are my own.

Enjoy the time you spend caring for your cat or kitten's fur by following these easy tips on how to groom your cat.
Keeping your cat groomed is a wonderful way to spend time together as well as make sure your pet looks their best.
Learn how to properly brush your cat, give your cat a bath and even keep their eyes, ears and paws in tip top shape.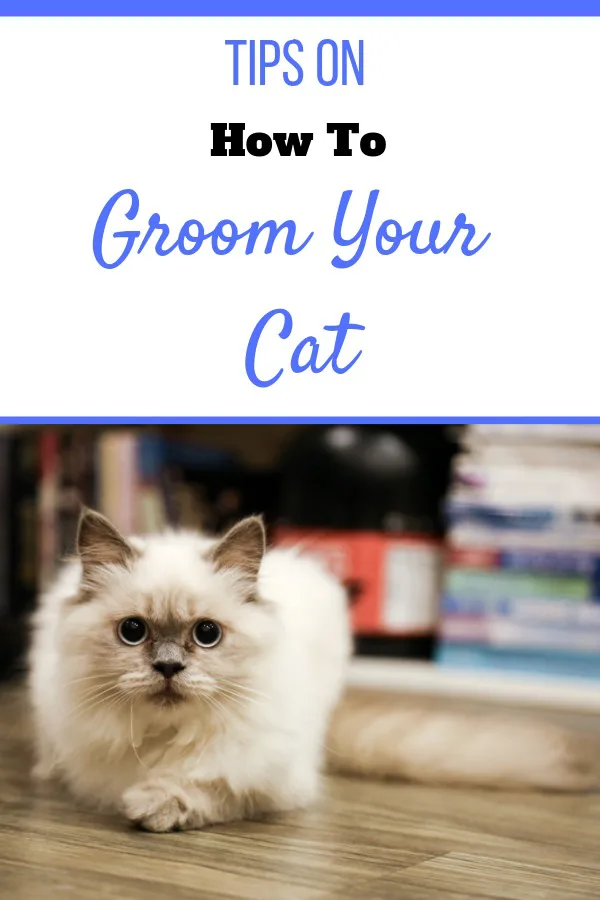 Why Cats Groom Themselves
Cats are very tidy creatures.
They are in the habit of grooming themselves by licking every part of their body clean with their tongue.
This habit of tongue-bathing has several benefits to your pet cat:
promotes better circulation of the blood
gets rid of dead skin cells
removes excess/dead hair on their coat
tones their muscles
keeps the fur soft and clean
Although your feline friends groom on their own, you should still do your part in keeping your cat clean and well-groomed.
Here are several ways to keep your cat well-groomed.
Learn How To Groom Your Cat By Brushing Properly
Depending on the breed, your cat can either have long or short hair.
Regardless of the length of your cat's hair, make sure that you brush your cat's coat well enough to promote proper grooming.
For cats with short hair, use a brush with soft bristles so that the skin will not be scratched or hurt in the grooming process.
Use soft, gentle strokes while brushing.
This should make them purr in pleasure and you will have an easier job of grooming your pet cat.
After brushing the coat with a comb, you can finish the job by wiping the fur with a dry, soft and clean piece of cloth.
This should maintain the shine on your cat's coat.
How To Groom Your Cat With Long Hair
As compared to cats with shorter hair, long-haired cats would require more brushing time.
For this, use a comb with wide-teeth that is specially designed for cats such as the Shed Ninja.
The rake side will initially remove the knots and tangles on their fur as well as some of the loose fur.
Afterwards, you can use a fine-toothed comb or simply turn the Shed Ninja over and use the blade side of it to remove the smaller knots on the fur and eliminate the more stubborn knots.
Do not forget to brush the hair around the face with a smaller comb or a toothbrush.
Avoid the eye and whisker area when brushing.
Brushing your cats fur on a regular basis will help keep their coat shiny and healthy, and will also give you and your cat some bonding time together.
My Thoughts On The Shed Ninja Pet Shedding Brush
I used the Shed Ninja 2-in-1 Pet shedding brush on my cat Sneaky today for the first time.
I have used a number of shedding tools, brushes and combs.
This shedding brush easily removed the loose hair from his body.
Sneaky is a short haired cat, so he preferred the rake blade over the regular blade but he did allow me to use both sides of the Shed Ninja as you can see in the video above.
To use the ShedNinjaDogBrush for a cat, it is best to choose the one for small to medium pets.
This is a professional grooming tool and I really like that.
The flexible head moved along the contours of my cats body instead of being stiff like most brushes are this means less hair pulling when you run into a knot.
The package says it reduces shedding by up to 90% and after seeing the amount of hair that came off Sneaky in the few minutes I used the tool, I believe it.
The ergonomic non-slip handle felt really good in my hands and it did not slip.
I have arthritis my hands so brushing my pets makes my hands tired quickly.
I did not feel that my hands were as fatigued after using the Shed Ninja as they are after using a regular pet brush.
I like that this brush is stainless steel, rust-resistant, does not have sharp blades that will potentially damage my cats skin and that it is recommended by groomers and vets.
If you have a cat, especially one that requires frequent brushing – or a dog – I recommend the Shed Ninja!
How To Give A Cat A Bath
Cats typically do not require bathing because they take good care of themselves when it comes to grooming.
However, there are some cases when you need to give them a bath no matter how you and your pet dread the chore.
Keep in mind that cats have sharp claws and will try to use them when they are put into water so grooming and deodorizing cat wipes might be a better alternative.
However, you do need to bath your cat if the coat has excessive dirt.
Sometimes, a substance that can possibly poison them sticks on the fur and it is vital to give them a bath in this case.
Another instance where you need to bath your cat is in case of fleas, ticks and lice clinging to their skin.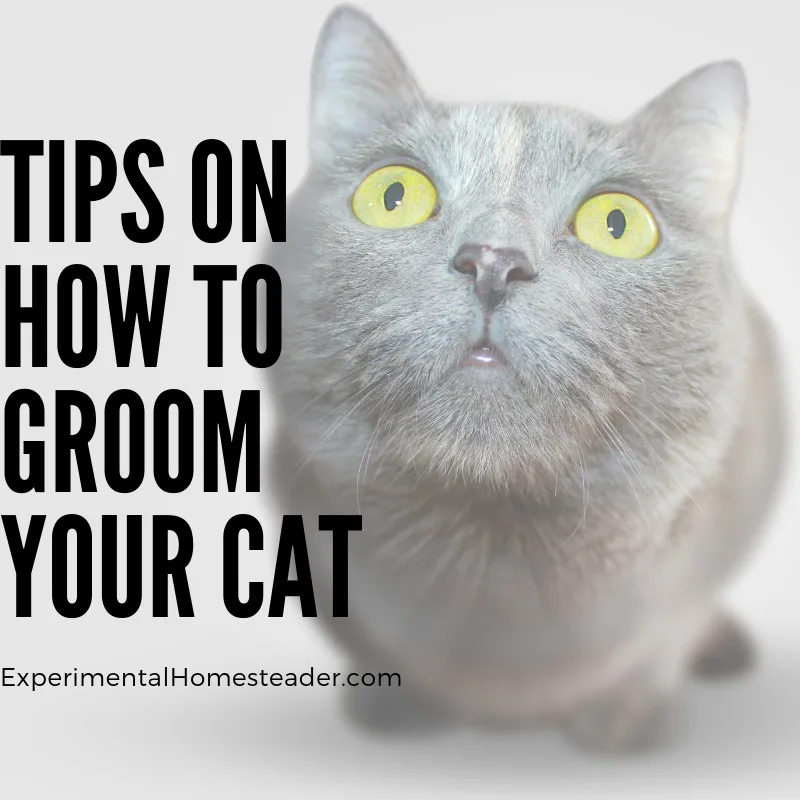 How To Clean Your Cat's Eyes And Ears
For the eyes and ears which are the most sensitive areas of your cat's body, there are several solutions that you may use to clean these areas.
Choose products which are specifically designed to clean the eyes and ears of cats.
Look at the color of the product and choose a light colored one if your cat has light fur to prevent staining.
Cats collect a considerable amount of wax in their ears so you have to take care of them when grooming.
They make special products for this.
I often use a Q-Tip but do not go into my cats ear canal.
I only clean the outer area on the interior of the ear.
Removing the wax and keeping your cat's eyes clean will help maintain your cat's health and help prevent infections.
There are also cat wipes that you can use for the ears, eyes and teeth.
You can find these in most pet stores and sometimes in the pet sections of larger department stores.
Cat's Paws Need Grooming Too
Cats are in the habit of scratching various surfaces – including some they shouldn't – so it is better to keep them away from the furniture and off tables or cabinets when they are in the house.
It also helps if you keep those paws clean and trim their nails on a regular basis if they are not declawed.
You can go to a pet store and buy a nail trimmer specially designed for cats.
Be sure to ask your veterinarian to show you the proper way to trim your cats nails so you dp not to hurt them in the process.
If you find that your cat exhibits a not-so-healthy clawing habit, you may go for the option of declawing your cat.
This is a surgical procedure where the nails are permanently removed so that they will not grow back.
Once this is done, it is best to keep your cat indoors as they cannot use their claws to climb or defend themselves against predators.
Ask your vets advice if you want to go for declawing because with this, cats will lose a natural defense mechanism.
A better and kinder option is to regularly trim the cat's nails, have them use a wooden post for scratching such as the ones they sell specifically for cats, or crate-training to prevent them from clawing at your most-treasured possessions.
By following these tips and making time in your busy schedule to groom your cat, you will have a healthy, happy cat and be a happy cat owner as well.