This melt and pour goat milk soap recipe can be made using a soap bases you purchase or it can be made using a soap base that you made from scratch such as my basic goat milk soap recipe.

This recipe calls for combining two different types of melt and pour soap bases.
However, if you have a goat milk bar soap recipe you made from scratch and you want to combine it with a store bought melt and pour base to get both soap bases, you can do that.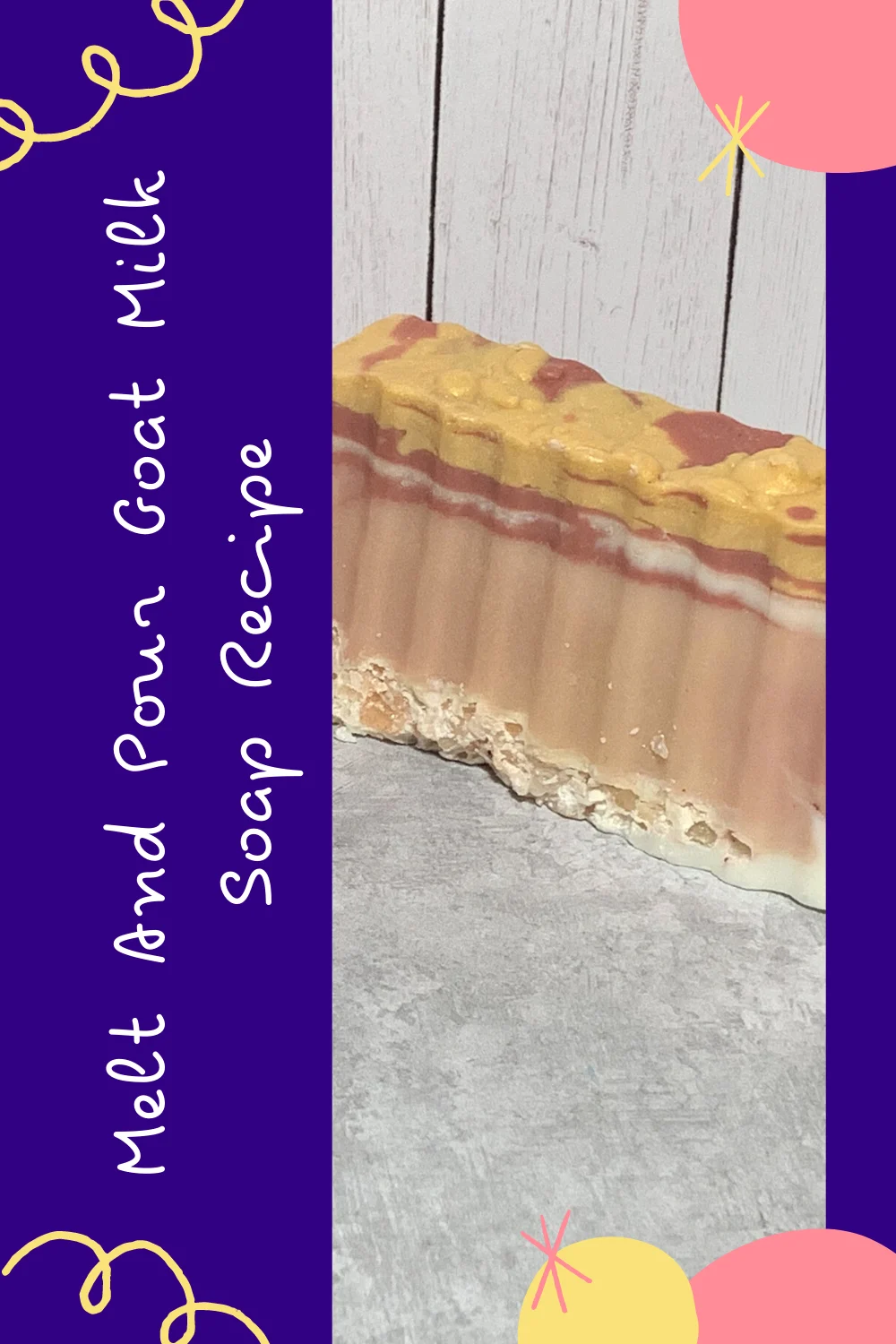 The Facts About This Melt And Pour Goat Milk Soap Recipe
One reason why people like melt and pour soap so much is because they do not have to handle the lye themselves.
Lye is a caustic substance and serious injuries have happened when people try to make soap but do not follow the instructions carefully or wear proper protective gear to protect their skin.
Melt and pour soap bases do contain lye, the difference is the lye has already chemically reacted with the fats in the recipe, so all that is left is a proper soap base.
Now, some people want to make soap that does not contain lye at all and what you need to understand is that without lye, you cannot make soap.
You can make a lathering bar from scratch using surfactants, however what you end up with is a synthetic detergent bar because there is no base and no saponified fats.
So while melt and pour soap bases are convenient and do keep you from having to use lye to make your own soap, they do still contain lye along with numerous other ingredients that goat milk soap made completely from scratch doesn't contain.
Here is the melt and pour goat milk soap recipe I use.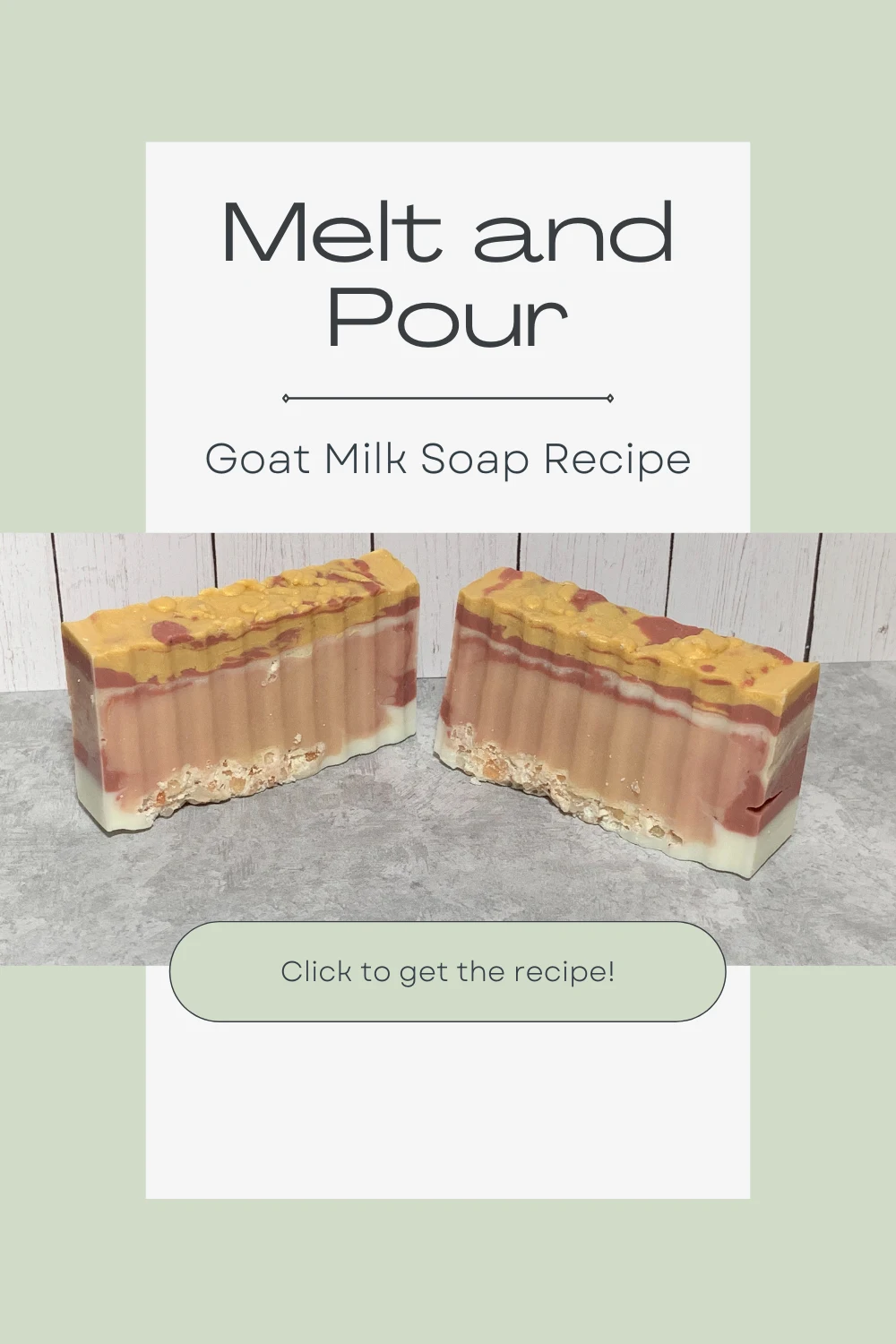 Print
Melt And Pour Goat Milk Soap Recipe
Instructions
Combine the essential oils in a glass container and set them aside.
Measure both melt and pour soap bases and put them in a soap melting pot or double boiler to melt.
Once the soap bases are melted, remove them from the heat and stir to combine them.
Stir in the Himalayan Pink Salt.
Separate the soap into three containers. Glass measuring cups work perfectly for this.
Add the pink mica powder to one glass measuring cup and the gold mica powder to a second glass measuring cup.
Stir to combine.
Allow the soap to cool slightly and then add in the essential oils.
Stir to incorporate the essential oils into the soap.
Pour a layer of white soap in the bottom of the soap mold, reserving just enough to make one more thin layer in the mold.
Pour the pink soap on top of the white soap.
Add the rest of the white soap to the top of the pink soap.
Scrap out any remaining pink soap from the glass measuring cups and add it on top of the white soap.
Top it all off with the gold soap, reserving just a little bit of the gold soap.
Let the soap sit for a couple of minutes then drizzle the rest of the gold soap on top. If the soap has set long enough, the soap you drizzle with not completely sink into the soap, but rather sit on top of it which is how the rough surface on the top of the soap is made.
Set the soap mold aside and let it dry overnight.
Once the soap is cooled and fully hardened, place your hand over the top of the soap mold and turn it upside down over a sink. The soap will come out.
Set the soap on freezer paper and cut it into bars.
Set the bars aside, on freezer paper, and allow them to cure for at least two weeks. I like to cure mine for six months and then wrap them in Saran Wrap to store.
Notes
*most vanilla and rose essential oils are pre- mixed with an oil and this is ok.
Recipe Card powered by

Final Thoughts About This Melt And Pour Goat Milk Soap Recipe
This soap smells great, however I want to caution you about making sure the Himalayan salt is finely powdered.
I did not take the time to make sure mine was completely powdered thinking the smaller chunks of Himalayan pink salt would be great for creating an exfoliating bar of soap.
While I was right that this soap is great for exfoliating, the salt does chunk off which was not my intention.
I also was not real impressed with the lathering ability of this recipe.
The key is to get the soap really wet and then it lathers just fine, but if the soap is not wet enough the lather does not suit me.
I am sure this has something to do with the salt in the recipe, so you could omit that if you chose to.
Otherwise the bar of soap is hard and long lasting once you get past that layer of salt on the bottom of the soap.
I hope you enjoy this recipe and I would love to hear your feedback or tips on soap making, just leave them in the comments below.