It is important to prepare for winter storm survival ahead of time, especially if you live an area prone to heavy snowfall.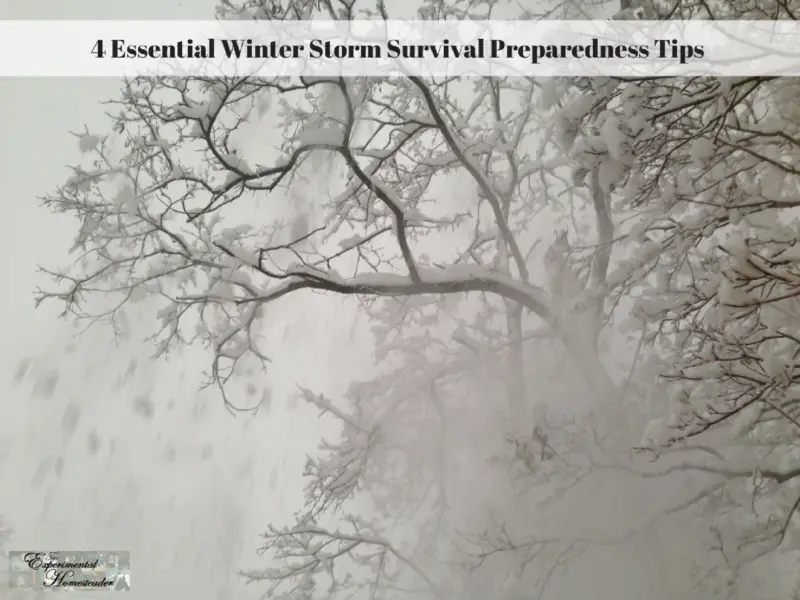 There have been times when 49 of the 50 states  have had snow on the ground.
This is unusual, because folks who don't normally deal with snow have to, which means it is equally important that they are prepared too.
Mother Nature, as we all know, certainly has her own agenda – and a winter storm can bring with it more than just snow.
Indiana Weather Conditions
Here in Indiana we can go from heavy rain and 50+ MPH winds to snow with below zero temperatures in a matter of hours.
Often that means many people here are without power for hours.
While temperature extremes like this are very unusual because normally we have sub-zero temperature and piles of snow, it does happen.
When large amounts of snow accumulate on the ground – even in areas where people are used to this happening, you may find yourself stuck at home, or worse in your car for long periods of time, especially if you are caught in a snow storm.
The heavy snow also accumulates on tree branches which can cause large branches to fall and cut power lines.
What You Need To Know
Here is what you should do to make sure you are prepared for winter storm survival, regardless of where you live.
Below is our essential winter storm survival preparedness tips plus a free downloadable checklist.
Winterize Your Car
At the beginning of the winter season make sure both your home and your car are ready for winter.
Make sure your vehicle has winter tires, test then fill up the radiator up with antifreeze and stock your car with a shovel, sand, a spare tire, a warm blanket plus a some food and water.
MRE meals are great for this very purpose.
Choose foods that won't spoil and are easy to prepare.
Be sure to keep an emergency travel kit in your car along with extra blankets.
It might seem like the blankets take up a lot of extra room, but believe me, if you are stranded and your car fails to start you will be thankful that you had them.
A battery operated or hand crank weather radio is another item you should keep in your car.
I also recommend a pair of scissors and a tactical pen in case you are trapped and need to escape from your car.
Seat belts do jam and you can use scissors to cut those loose in an emergency.
I keep the tactical pen in my purse just in case I need to break a window out.
When I attach my seat belt I make sure the strap of my purse is secured by the seat belt as well.
Hopefully in the event of a crash this will prevent my purse from flying too far away from where I am.
Pay Attention To Weather Forecasts
The good thing about winter storms these days is that meteorologists have gotten pretty good at predicting them well in advance.
This gives you plenty of time to stock up on last minute supplies, get home safely and wait the storm out.
Watch weather forecasts regularly throughout the colder months and set up storm alerts on your phone to give you plenty of time to prepare.
Keep in mind that many people do not prepare ahead of time and the grocery store as well as places that sell emergency heating supplies are going to sell out of a lot of essential emergency items really quickly as soon as the storm is predicted.
This is why being prepared by creating an emergency readiness plan is so important.
Minimize Travel
If you know a storm is coming, avoid traveling unless it is an emergency.
Waiting out a blizzard in your car is not a lot of fun.
You find yourself stuck on the side of the road trapped for hours if not days.
Emergency personally is usually very busy when a winter storm hits and not always able to rescue everyone who is stuck in their vehicle.
Cancel travel plans and do what you can to get home before the road conditions get too bad.
If you do have to travel during a storm, make sure you gas tank is full and your car is well stocked with winter emergency supplies.
Check on road conditions before you head out and pull over if things get too bad. It is better to park your car somewhere safe than to continue on your journey and slide off the side of the road.
You should also have a charged phone with you to call for help if you get stuck in a storm drift.
Keep an extra charging cord in your car and a backup battery charger for your phone that is kept charged.
I have a solar powered battery backup for my phone in addition to a regular battery backup, however with the lower light conditions a winter snow storm brings, there is a chance the solar powered one won't work until the storm has passed.
Make Sure Your Home Is Winter Storm Survival Ready
When there is a snow or an ice storm in the forecast, stock up on food, drinking water, and heating fuel.
Have a plan for heating and preparing food if the power goes out.
Think outside the box on this – a BBQ grill, but have charcoal on hand, a small alternative fuel cook stove such as one that uses newspaper or sticks.
Have plenty of flashlights, several kerosene lamps and emergency candles.
Don't forget to pick up some matches as well. Wait out the storm and don't be tempted to head out to clear off the roof.
Should you fall and get hurt, emergency services may have no way of reaching you.
Keep a well stocked first aid kit at home.
Make sure your home is well insulated before the winter season arrives, be sure your heating system is in good working order, and you have an ample supply of heating fuel.
It is a good idea to have an emergency backup heat source such as a wood burning stove, a pellet stove, a kerosene heater or other indoor safe non-electric source of heat.
Be sure to stock up on the type of fuel your alternative heat source needs.
In the event the winter passes without a need for the emergency fuel you can save it for the following year or use some of it at the end of the season to help save money on your regular heating bill.
Keep emergency water and food that does not require heating along with a battery operated or hand crank weather radio.
Keeping extra blankets, old coats or sweaters is also a good idea.
You need ways to stay warm plus blankets are useful in long term power outages during the summer months to wrap refrigerators or freezers in to help keep the contents cold.
Emergency Planning And Preparedness Tips
Use the buttons on the right side of the screen to share this article with friends or family who might find it useful. Pin the picture below to your pinboard on Pinterest for future reference.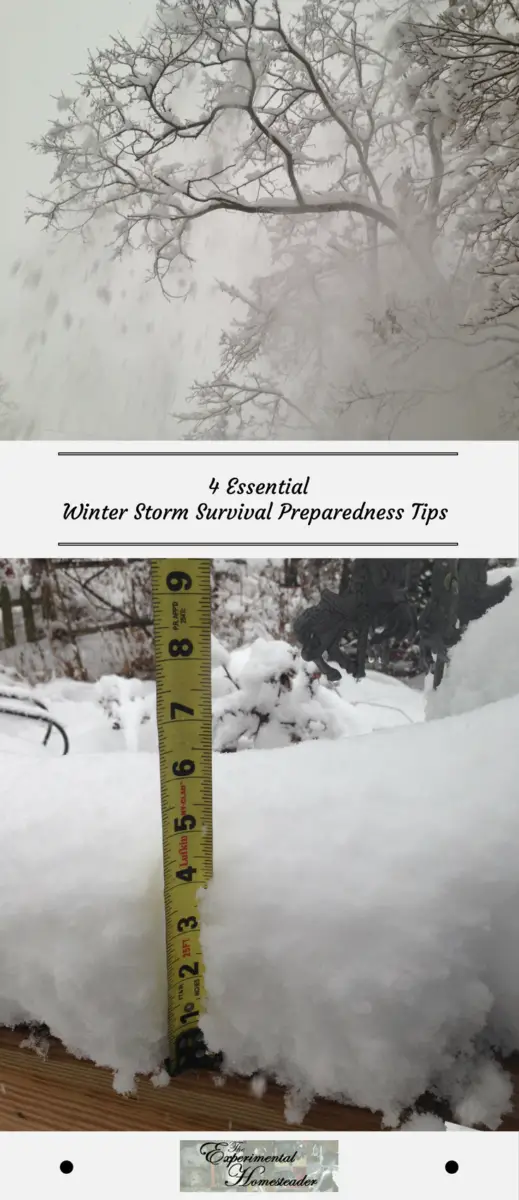 SaveSave