Disclaimer: This is a sponsored post. I received a free 72-Hour Kit from Patriot Pantry in exchange for my honest opinion several months ago and was also paid for this post.  All opinions are my own. There are also links below to products I recommend from companies I have a referral relationship with. I will be compensated if you make a purchase after clicking on my links.
These natural disaster survival prepping tips are ones everyone should not only be familiar with but put into practice because survival skills truly don't happen overnight and when disaster strikes, chaos is not far behind.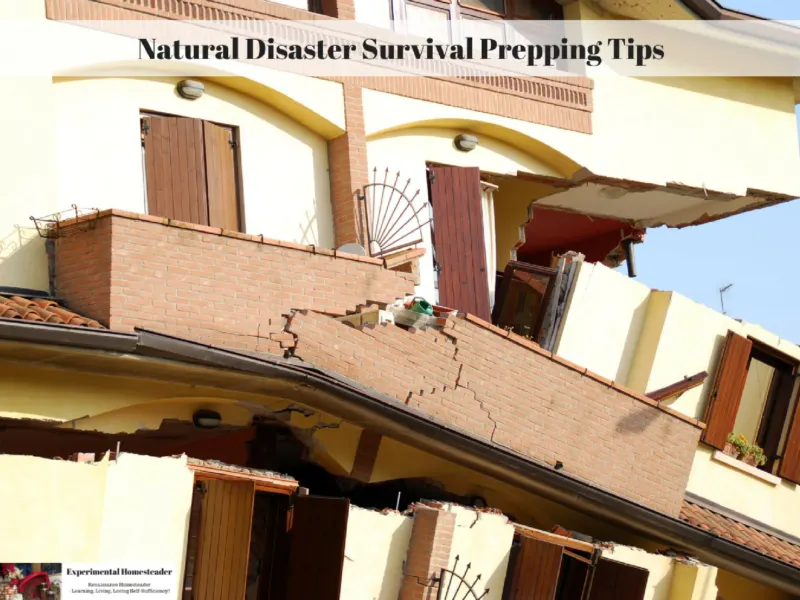 Being Prepared Is The Key
Natural disasters appear in all parts of the world, and no matter where you live, chances are that you will encounter several of them throughout your lifetime.
This is why it is a good idea to prepare ahead of time so when the chaos starts you remain calm knowing your plan is in place.
No matter how well stocked your home is, there is always a chance a natural disaster could destroy it, which is why having a plan in place and a packed evacuation bag that is ready to go is so important.
Know What To Expect
The first thing you need to know is what type of emergencies and disasters you can expect in your area.
We can all be affected by fire. Severe winter storms that shut down roads and power are likely across the country as well.
Other types of natural disasters such as  flooding, tornadoes, hurricanes, typhoon, earth quakes are specific to certain specific places and many people are never going to be affected by them.
This is why it is important to do your homework and figure our what natural disasters you should prepare for.
Watch the news and talk to your neighbors to see what natural disasters affect the area where you live.
A great source for information is your local government, particularly any emergency services.
Many will not only be able to make you aware of any dangers, but also have brochures, plans, and other resources that will help you prepare for any emergency.
When talking with them find out where local emergency shelters are typically set up so you can find out where they are in relationship to your home or office and plan out the quickest route there just in case.
Know How To Respond To Natural Disasters
Once you know what natural disasters you can expect where you live, it's time to learn how to best respond to them.
Will you wait things out in your home if possible, or will you evacuate even if it's not required?
Where are the emergency shelters or evacuation routes?
What can you do to make sure your property has the best possible chance to come out of the disaster undamaged?
Once you have the basics down, figure out a plan for securing your home, yard and vehicles.
Depending on the type of disaster, it might be necessary to come up with several options.
For example, in a flood situation it is possible to lift smaller items higher up and possibly save them from damage, but in a tornado it is best to just evacuate.
If you're in an area prone to flooding, having sand bags on hand can be invaluable.
Again, what you need will greatly depend on where you live and what natural disaster you might expect.
An Evacuation Bag Is Essential
Having a good emergency kit that includes easy to carry and prepare food, water, medication, first aid kit, flash light, radio as well as a few tools is a good idea.
It is also a good idea to include some non-GMO heirloom vegetable seeds in your kit just in case you end up somewhere where you can start a garden – indoors or out.
While this might seem like a crazy idea, think of sprouting seeds or imagine you end up locked underground for several weeks.
Fresh greens such as lettuce or sprouts are going to taste really good and add variety to the emergency survival food in your evacuation bag or shelter.
Every household should have a kit that is kept in good order, is easy to reach and carry in an emergency.
The emergency survival food that I recommend comes from My Patriot Supply.
They did send me a 72-Hour Kit for evaluation and I found the food delightful.
It was easy to prepare, and full of flavor plus I found other uses for some of it such as this Apple Crisp Dutch Oven Recipe.
Be Sure To Have A Communication Plan In Place
Make sure you are aware of the potential threats as early as possible so you can prepare.
Set up alerts on your phone, sign up for local emergency preparedness emails, and keep an eye on the news and social media if you think there is a potential for a disaster, but keep in mind if the grid goes down, so do these services.
The earlier you know what is going on or what to expect the better you can react and prepare.
Listen to local authorities and don't hesitate to evacuate should the need arise – and keep in mind sometimes it is better to leave early, especially if you have a place to go than to wait until the last minute when everyone else is starting to panic.
Also set up a communication plan and a place to meet in the event of an emergency for your entire family.
Be sure to include your pets in any evacuation plan.
Things can be replaced, people and pets can't.
I highly recommend the following articles:
Use the buttons on the right side of the screen to share this article with friends or family who might find it useful. Pin the picture below to your pinboard on Pinterest for future reference.