One way to make easy Halloween Cookies is to buy them already made and then decorate them.
Don't worry if you are not good with a cookie or cake decorating kit!

These Little Debbie Oatmeal Creme Pies were decorated using craft supplies such as construction paper, google eyes, raffia and sharpie markers!
The perfect time for decorating these easy and spooky halloween cookies is upon us!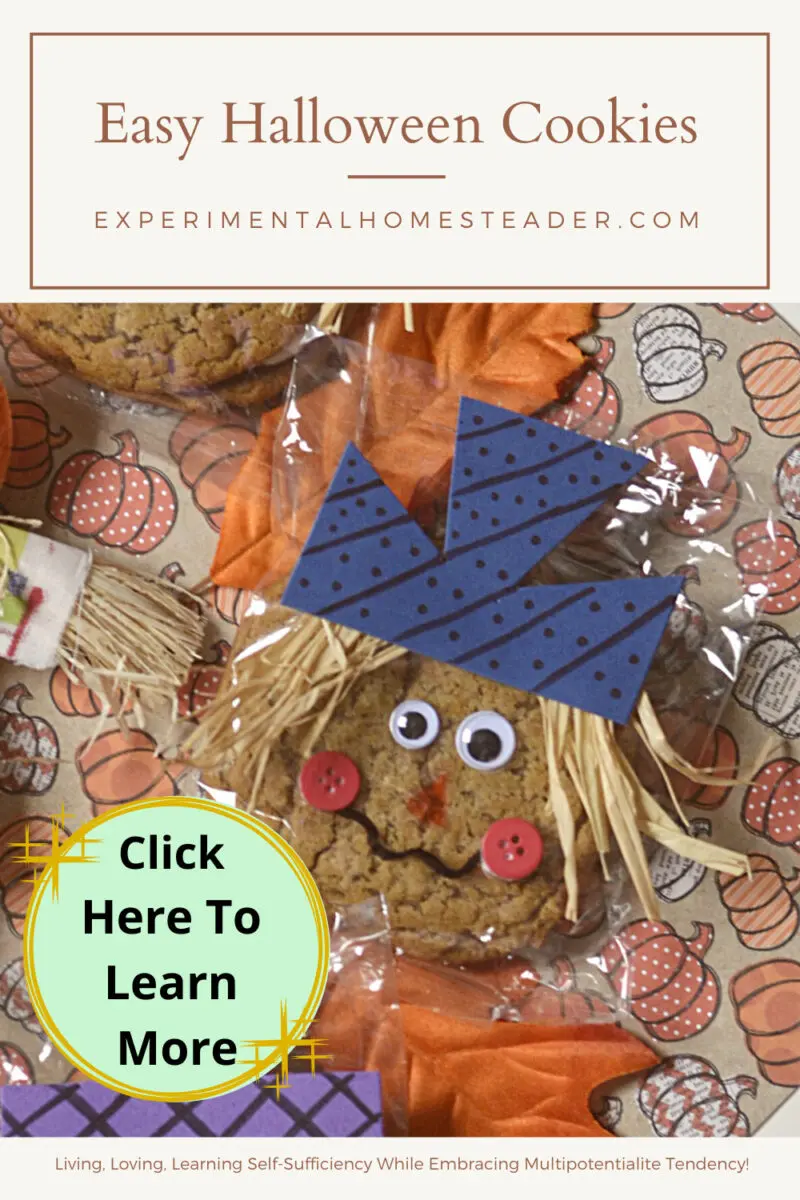 Create Memories By Decorating These Easy Halloween Cookies
Are you a fan of this holiday but too tired or busy to do so much work?
Well, this is the perfect cookie decorating craft for you and easy enough that the kids can help.
Halloween is a time for fun, treats and family bonding.
Decorating easy halloween cookies for this occasion is a great way to make memories with the kids and share some good old-fashioned spooky fun!
Decorating prepackaged cookies is a great activity for kids and adults.
There are many different ways to decorate them.
I know that this may not be as exciting as baking the cookies from scratch, but it still provides hours of fun for those who do not have the skills to bake cookies or simply prefer no bake cookies or even those who don't have time to make enough dough and frosting.
Plus, they can be made ahead of time and stored away for days until you are ready to hand them out.
Here is how to recreate these easy Halloween Cookies in your own kitchen.
Print
Easy Halloween Cookies
These cute decorated oatmeal creme pie scarecrows are an ideal way to add a festive holiday feel to store bought cookies. They are perfect for Halloween, Thanksgiving or any fall event.
Instructions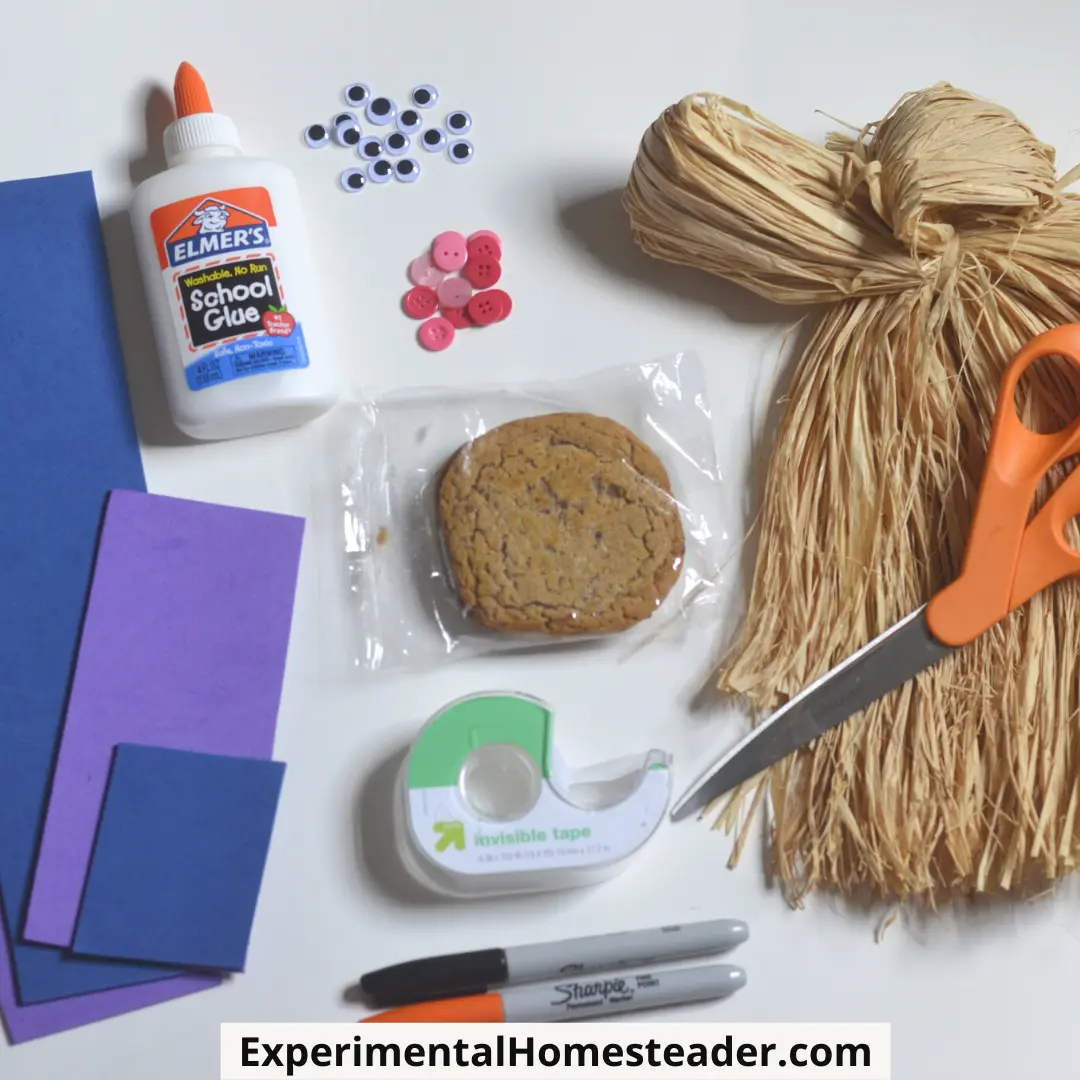 Gather your supplies.
Cut out a hat using the crafting foam or construction paper.
Decorate the front with some type of design using the Sharpies. Get creative with the shapes and try varying designs.
Cut the raffia in lengths of 1 1/2 to 2 inches to use for the scarecrow's hair.
Tape the raffia to either side of the back of the hat.
Glue the hat to the front of the oatmeal crème pie package. There is a packaging seam on the back, so it's easy to figure out which side is the front.
Glue on the googly eyes.
Draw a triangular nose on the packaging using the orange Sharpie. You may have to go over the triangle with the marker 2-3 times so that it shows up well.
Draw the scarecrow's mouth using the black Sharpie.
Glue on the button cheeks.
Set the oatmeal creme pies aside and let everything dry for at least an hour. Overnight is even better.
Notes
Note: When gluing on the hat, I recommend holding the cookie package upright so that the cookie falls to the bottom of the package. Then glue the hat on. If you don't do this, when someone picks up the cookie, the hat and other features may not line up well with the cookie and it won't look right.
Recipe Card powered by

Make Easy Halloween Cookies By Thinking Outside The Box
Now that you know another way to decorate cookies, let your imagine wonder.
Any pre-packaged cookie, brownie or similar treat with transparent packaging could be decorated in a similar fashion.
Even cupcakes in those clear containers could be dressed up a bit.
This is a great way to send treats with your child to school and still meet the criteria of it needing to be a store bought item in it's original packaging.
Best of all, it's easy to get the kids involved in decorating these types of cookies for their classmates.
While I do recommend that an adult glues the items to the package, there is no reason why kids cannot cut out the hats or do the drawing on the package.
In fact, instead of drawing on the package, you could let the kids cut out noses and mouths, then glue those on.
Final Thoughts On Easy Halloween Cookies
I hope you enjoy this holiday cookie decorating idea.
These would even make great treats to give out on Halloween night to all the little ghouls and goblins that visit your house.
I'd love to see some of your easy Halloween Cookie creations using this technique.
Feel free to leave photos in the comments below.